It was 4-1, again: Maple Leafs beat Lightning 6-5 in overtime to snap losing skid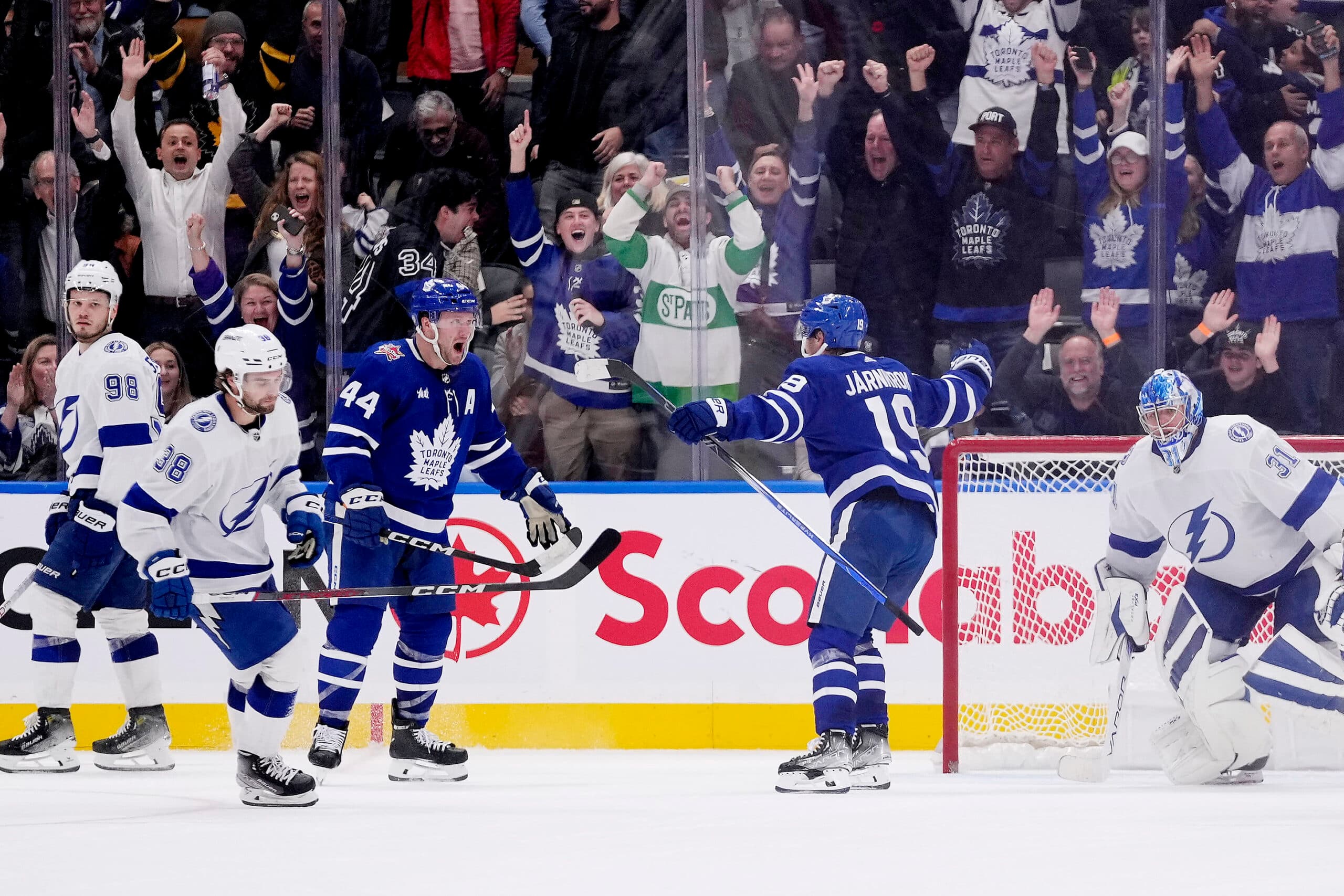 Photo credit:John E. Sokolowski-USA TODAY Sports
It's been a tremendous struggle for the Toronto Maple Leafs lately, and their four-game losing streak heading into last night's tilt against the Lightning is evidence. It's not even that they're losing games, it's how they have been losing games on this recent stretch.
Last night was no easy test either. Their four consecutive losses have come against the Predators, Kings, Bruins and Sabres, and they welcomed in the Lightning last night for a difficult task.
First period:
It was honestly a pretty good start for the Maple Leafs in this one. They exchanged some shots with the Lightning, and it was Matthew Knies who broke the ice, scoring the opening goal to give the Maple Leafs an early 1-0 lead just four minutes into the game.
However, just like in the Sabres game, the Maple Leafs had significant trouble keeping the puck out of their net following a goal. After Knies had opened the scoring, Tampa Bay went the other way after the face-off, and Victor Hedman potted home the tying goal to knot this game back up just 36 seconds later. They didn't stop there. Ilya Samsonov – who started this game and allowed three goals on four shots against this exact Lightning team a couple of weeks ago – allowed Nikita Kucherov to score another goal through his five-hole to give his team the lead just seconds after Scotiabank Arena was celebrating Knies' goal.
After an early goal from Toronto, followed by them allowing Tampa Bay to strike back immediately, the Lightning kept it coming with two more goals in the first period to extend their lead to 4-1.
It was truthfully an embarrassment of a period from the boys in blue. Just like the game against the Kings, it looked like no one gave a single you know what, and it also doesn't help when the defenders and goaltending continue to be a struggle.
Ilya Samsonov got the hook after allowing his fourth goal of the game, and Joseph Woll would come in relief. Why Sheldon Keefe went with Samsonov to start this game is beyond me, given his poor start against this team a couple of weeks ago. The Leafs left the ice with crowd boos raining down on them.
Second period:
It was a much different period for both teams. Toronto came out with a purpose and was determined to claw themselves back into this game. Tampa Bay, on the other hand, created some scoring chances, but this period was mainly the Toronto show.
Toronto, just like in the first period, would open the scoring early. This time, Auston Matthews would get in on the action to get his team within two goals on the scoreboard. He fired a shot from the high slot, and although Matthew Knies didn't get an assist on this goal, he did an excellent job at screening the goalie to help Matthews score here.
Just over three minutes later, it was Matthews again who found the back of the net yet again. A beautiful backhand pass from Knies, spinning off of Hedman, to find Matthews streaking to the net, and he snuck his second of the night, and 13th of the season, past Johansson.
Scotiabank Arena was bumping after these two quick goals from Matthews to get his team within one goal, and rightfully so after a dreadful first period from them. Matthews wanted to wake the crowd up, seen with his celly on the second goal, and it worked. But, similar to the previous games, we have yet to see a bottom-six player score a goal for this team. Toronto headed into the intermission period down by one.
Third period:
Well, ask, and you shall receive. A goal from the Leafs' bottom six has arrived, and it came at a crucial time in the game. The new-look third line of Nick Robertson, Max Domi and Calle Jarnkrok were having themselves a pretty solid debut through 40 minutes, and they took it over the top with this early third-period goal to tie the game up at four.
Just under two minutes into the period, the third line jumped over the boards and went to work. Nick Robertson was heavy on the forecheck, which helped this extended zone time for Toronto. The puck would eventually work its way back to Robertson, and he handed it off to Domi, who set Robertson up for the one-timer. Although Johansson made the initial stop, Jarnkrok was there to clean up the juicy rebound, and Toronto tied the game.
But hang on! Eight seconds later, off the faceoff, the Maple Leafs' top line went to work. Mitch Marner picked up the puck and zoomed into the Lightning's zone to snap his fifth of the season past Johansson to give his team the lead.
An embarrassing first period from Toronto that saw them down 4-1 turned into a crazy comeback after Mitch Marner gave his team the lead in the early going of the third period. It was quite a crazy game, but Scotiabank Arena was back on its feet. Both teams would continue trading chances. Toronto, who were given a power play, tried to provide themselves a little more insurance but couldn't find the back of the net for a sixth time. Tampa Bay, after blowing a first-period 4-1 lead, was slowly coming back, trying to get even with Toronto, but Joseph Woll stood tall after coming in relief.
However, with just over two minutes to go in regulation, a dump-in that Toronto couldn't retrieve ended in the back of their net. Brandon Hagel raced to the front of the Maple Leafs' net and poked home the tying goal.
As soon as that puck went into the back of the net, Toronto's brilliant comeback down 4-1 felt useless. Both teams headed to overtime, and there was that feeling that if Toronto were to lose this game, yes, they would get a point, but it would extend their losing streak to five games, and that can't happen.
Overtime period:
Sheldon Keefe went with Auston Matthews instead of David Kampf to begin this overtime period, as he should have. Matthews had another two goals on the night, so you might as well throw your best player over the boards to begin the overtime period. The Maple Leafs won the opening draw and gained early possession, something they didn't get against the Bruins or Predators in their last two games that went into overtime.
Toronto didn't generate plenty of chances in the early going, but nonetheless, William Nylander, who extended his point streak to begin the season on this goal, started the best scoring chance for his team in overtime. He spun off Hagel in the defensive zone and used his speed to enter the offensive zone. He stopped up, found a streaking Rielly, and Rielly found a wide-open Jarnkrok back door to bang home his second of the night and the game-winning goal.
Who stood out:
It was an ugly first period, it was apparent. But after that, I thought a lot of guys looked good.
For starters, the obvious, the top line was outstanding. The move that saw Knies move up to the first line with Matthews and Marner was long overdue, and tonight, they showed why it was. All three players combined for four goals and 10 points, helping cue the comeback win. Another line that looked good, though not as dominant, was the new third line. They had a big third-period goal to tie the game up, and even before they scored that fourth goal, I thought they had a couple of chances in the previous period that could've gone in also.
Two depth defensemen that probably plenty of people had no idea who they were did an excellent job last night. Willliam Lagesson and Simon Benoit were tasked to play 14:41 and 15:57 of ice time against a stingy Lightning team while their team was on a four-game losing streak. Both guys showed up and played a great game last night. They didn't do too much, and they knew their role on the ice. They combined for three shots, eight hits and three blocks, with Benoit making a couple of huge defensive plays on the same shift in the second period.
And, of course, you can't forget about Woll. Coming in relief for Samsonov again against this Lightning team isn't easy, but he made it look easy. He stopped 18 of 19 shots faced, and the one goal he did allow was a squeaker that took a deflection off of Domi's stick and trickled past him as it sat in the blue paint for Hagel to tap home.
Woll has improved his numbers against the Lightning (regular season and playoffs) to 3-0-0 in four games, with a .949 save percentage and one shutout. That's pretty darn good if you ask me.
You can catch the Toronto Maple Leafs' next game on Sportsnet Wednesday night against the Ottawa Senators as they continue their homestand. Puck drop is scheduled for 7:00 pm ET/4:00 pm PT.