'It was my 15th season, I love playing in Toronto, and I don't know' Rich Clune's hockey-playing career hangs in the balance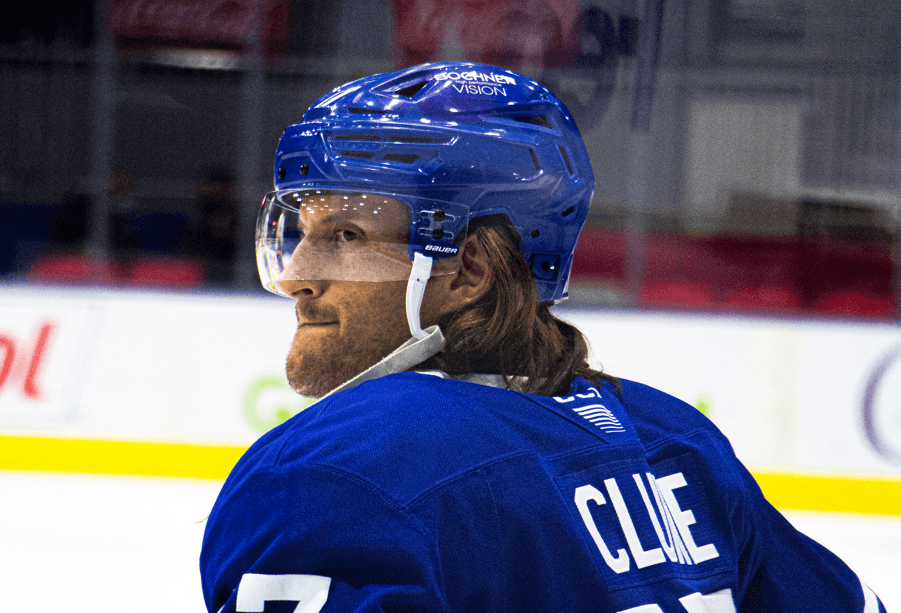 Photo credit:Nick Barden
When Rich Clune stepped off the ice on Saturday afternoon in Belleville, there was a feeling that this could be his last game in a Toronto Marlies jersey.
Toronto was taking on the Belleville Senators for the final ticket into the Calder Cup Playoffs. The Marlies needed either one point or a win to advance to the post-season.
They lost 5-2.
"It leaves a sour taste in your mouth," said Clune of the Marlies missing the Calder Cup Playoffs for the first time since 2010-11.  "I thought we worked extremely hard all year and to come up one point short, in the last game, it stinks."
This Marlies team was incredibly different than teams past. A number of players throughout the season discussed how comfortable they were entering that locker room every day and it showed with some of their play throughout the season.
Toronto was supposed to make the playoffs, but either way, the 35-year-old captain was proud of the group that was put together this season.
"I'm just proud of the way the guys worked," Clune said. "I thought we had a lot of authentic team comradery and I know that everyone in there — the coaches, the players — are pretty disappointed with the way it ended, but there's some positives to take and I try to focus on those in the short term."
For Clune, though, his future seems a little bit different than it did last season.
"I'm always hungry, brother, you got a game tonight, I'll show up."
Clune said to Todd Crocker nearly one year ago to this day
. "I'm always going to keep trying to play at the highest level possible. Everyone knows that I love it here. I will continue to do what it takes to do what's asked of me."
This year, when asked if there was any career reflection going on, Clune started of his answer with a 'Ye…' before pausing and giving his full answer to the question.
"I think that, like based on my whole track record of my career, you know, I've always been a year-to-year player," said Clune. "I'm just proud of the effort that I put in. I love coming to the rink every day and just leaving it all out there, having fun with the guys. And, you know, I tried my best this year and I thought that it was definitely a fun year."
The 35-year-old was asked right after if he'd like to come back next year to which he responded with: "Do I want to come back here?"
If there's any chance Clune retires after this season, it's most fitting that he does it in the Maple Leafs organization. The team he grew up watching and the two teams he eventually got to play for.
"I mean, I think that I — there's a lot of things I want to do in my life and there's a lot of interests I have other than hockey," Clune said. "It was my 15th season, I love playing in Toronto, and I don't know. I think I haven't come in here today (Tuesday) with any sort of plan set in stone or any concrete idea of what I'd like to do. I've been at this a long time and I don't know how much I let on, but I'm clearly a student of the game and probably watch more than I let on.
"So there's always possibilities of working in hockey, and obviously in my spare time I work hard at acting. And I think some people know that about me. So we'll see what happens, or I could come back and lead the league in fights again, who knows."
Clune never specified whether or not he was legitimately retiring or not. Like he said, there's a lot of things he'd like to do in life and keeping your options open might be the best thing moving forward.
But is it difficult to think about that question — to retire — from the game of hockey that he devoted his life to?
"It's not difficult in the sense that, I literally leave it on the table every day, so I could've walked away seven years ago," Clune said. "There's been different moments in my life where I've thought about doing something else. It's not difficult. I mean, I think that I'm just grateful that I've been able to play as long as I have, and then obviously everyone knows how I feel about this organization.
"The last seven years have been a blessing. And I don't know, I'm going to push myself athletically until I'm dead, so. I feel great, my body feels great, the motivation has always been there which is probably a torturous thing, I don't think that's every going to go away. So yeah, there's a number of different things I could do and want to do. I don't have a plan right now but that's about it."
POINTSBET IS LIVE IN ONTARIO
PointsBet Canada has officially launched in Ontario! Get a $25 free bet just for 
signing up right here!