'It's special to be a part of this': Ryan Tverberg thrilled to sign with Maple Leafs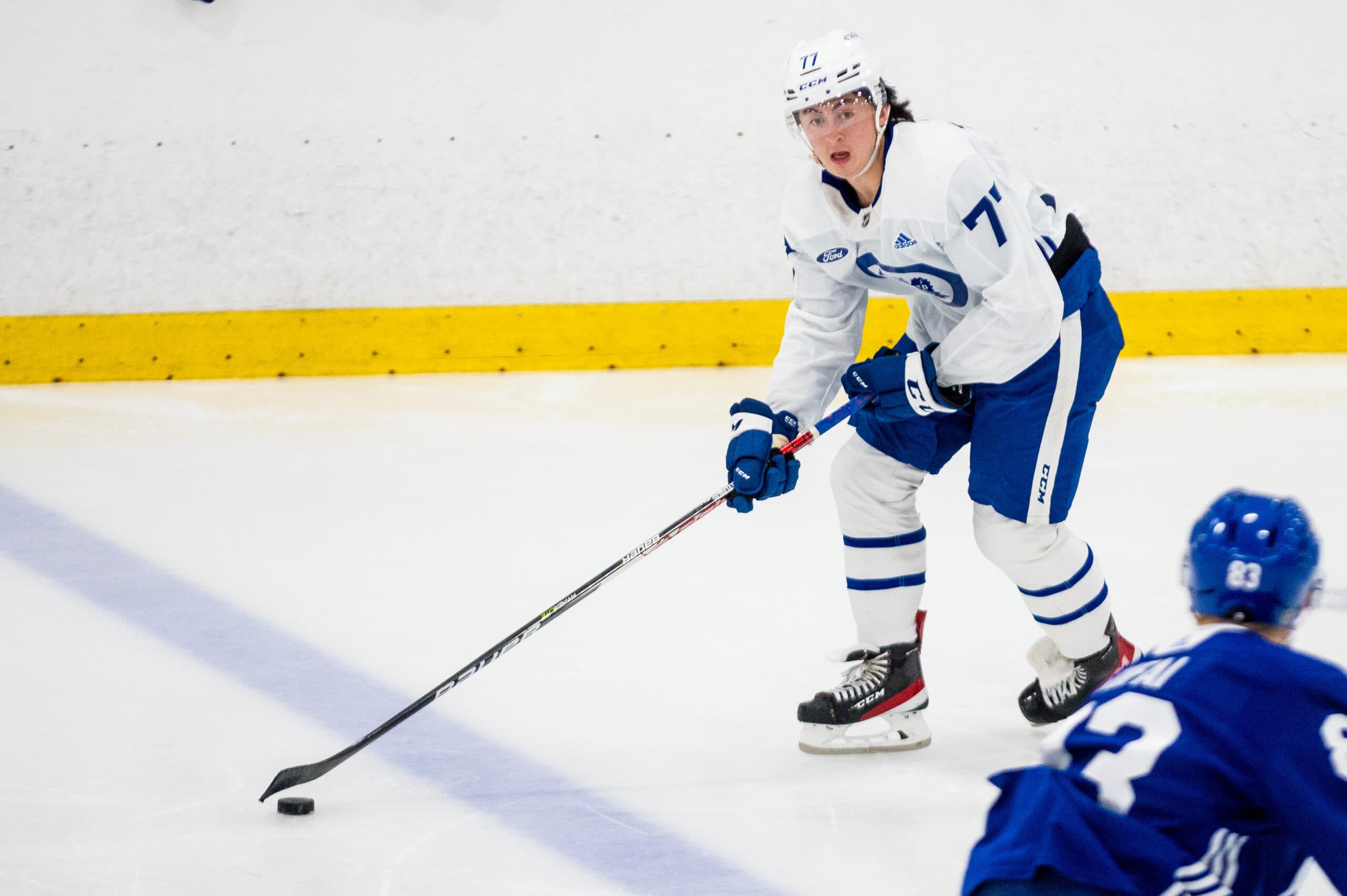 Photo credit:Ryan Tverberg (Steven Ellis/Daily Faceoff)
Ryan Tverberg — after three years at the University of Connecticut — dawned a new shade of blue on Wednesday.
Tverberg will spend the remainder of the season, and Calder Cup playoffs, with the Toronto Marlies on a PTO. He will sport the number 77, the same number he wore in Maple Leafs development camp last summer.
"It's special to be a part of this," the 21-year-old said earnestly after stepping out of his first AHL practice.
Standing at five-foot-11 and weighing 180 pounds, Tverberg brings a unique skill set from the University of Connecticut. One that could translate to both the AHL and NHL in the near future.
The 21-year-old provides a lot of energy, a fair bit of speed in a north-south game, and also plenty of physicality, which will help him in the early goings of his AHL career.
And it was all built from the work Tverberg put in, but it also came courtesy of the assistance from University of Connecticut's staff.
Cavanaugh had been UConn's head coach for seven years before Tverberg arrived. And ever since the 21-year-old stepped foot in school, the two worked really hard together to make Tverberg the best player he could be.
"All credit to UConn and Coach Cav," the 21-year-old said. "He brought me to the standard that I needed to be at, and just taught me a lot of good ways of how to play hockey, as a pro."
All of this — from his days playing for the Toronto Jr. Canadiens in the OJHL to spending three years in Connecticut — has led him to one thing.
An NHL contract with his hometown team, the Toronto Maple Leafs.
"It's a quick up and down, just from being with UConn." Said Tverberg of his last 24-48 hours. "But you know, it's a new start and it's great to be a part of; new guys, them teaching me things, me learning things from them today (Wednesday). It's just a great atmosphere altogether."
The 21-year-old joins the Marlies at a unique time. They're four points away from clinching a Calder Cup playoff spot with 13 games remaining on the season.
That could be enough of a runway for him to make an impression before the regular season concludes.
"He looked good out here." Marlies head coach Greg Moore said after Tverberg's first practice. "Definitely can make plays with the puck, has a lot of skill. It'll be fun to watch him insert himself with our group and see how he does."
With a rookie like him — although having some runway prior to the end of this season — it might be difficult to show enough that could allow him a spot in the Marlies' lineup at the beginning of the playoffs.
However, the 21-year-old will still get an opportunity to make his mark with this Marlies team, says Moore.
"We'll definitely give him an opportunity. Which game that is yet, I'm not quite sure. But we'll definitely put him in a game to see what he's capable of."
It shouldn't be understated, though. It's a big jump from college hockey to the AHL, both in terms of play and workload.
This will be an adjustment period for Tverberg, but it will also be a point where he can learn a lot, and possibly help push the Marlies, in any way possible, to a deep run in the Calder Cup playoffs.
"I feel like what I need to bring is just my energy and just being there, being a good teammate, and doing whatever I can. Whatever it is, however they want to put me in, however they want to use me. Anything I can do to help win."