It's time to move on from Frederik Andersen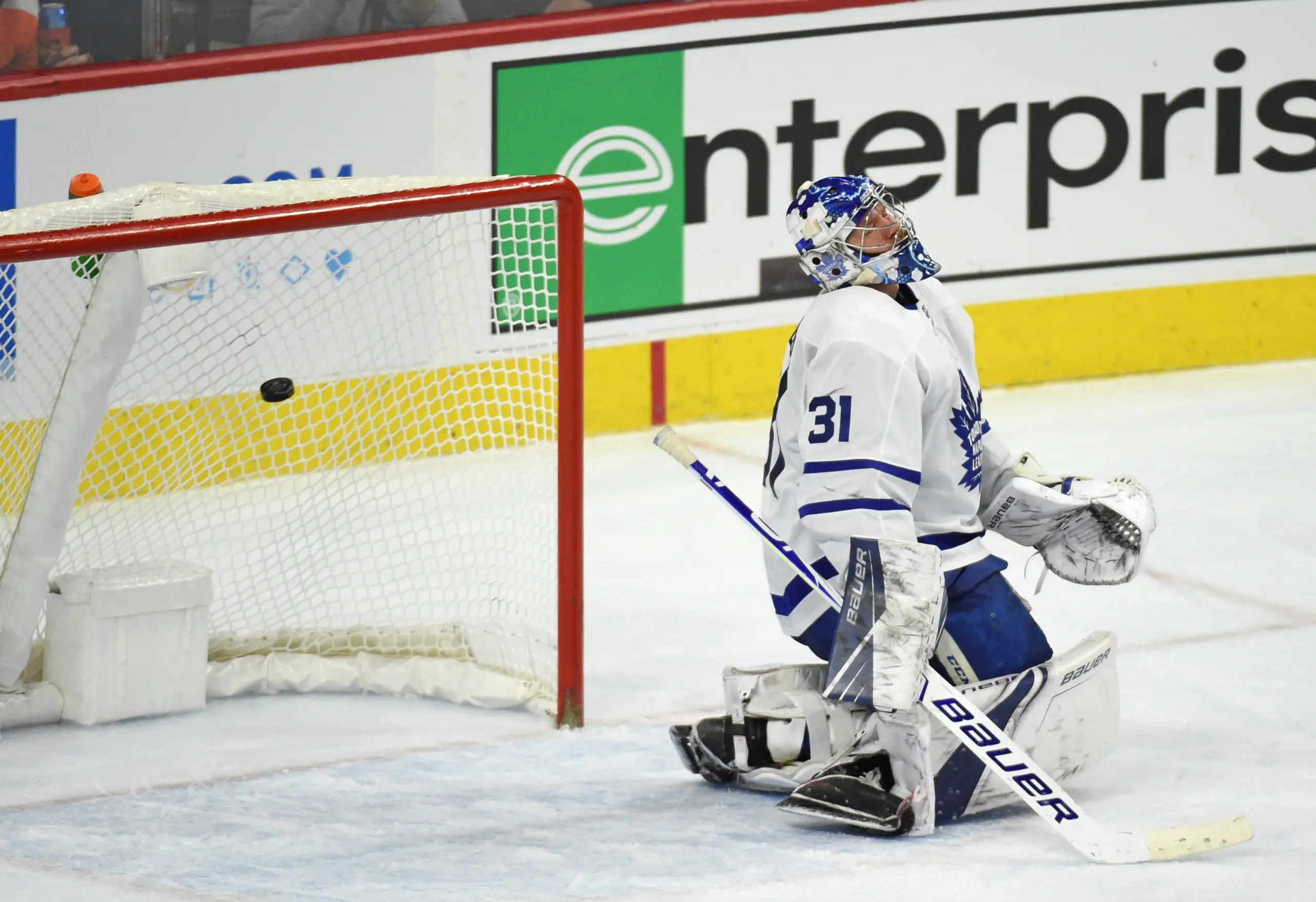 Photo credit:© Eric Hartline-USA TODAY Sports
Eight.
That is the number of consecutive times
Frederik Andersen
has lost a series-deciding game in his NHL career.
We saw the latest example last night, which might have been one of the most frustrating ones yet. Truth be told, he played well for the most part and did his darnedest to keep the Leafs in the game. But the two goals he allowed were very stoppable pucks that sucked the life out of Toronto's push to try and win its first playoff series since 2004.
The first goal
was a shot from the point that got deflected by a body in front, while the second goal came from a sharp angle and snuck through Andersen's pads. It looked awfully similar to
Joakim Nordstrom's goal against the Leafs
from Game 7 in 2019, which was also the dagger that ended their season. While he wasn't the reason the team in front of him struggled to produce offensively all game long, the two rough goals he allowed certainly didn't help Toronto's chances.
Let me preface what I'm about to say by acknowledging that this was Andersen's
best playoff series
of his Leafs tenure from a statistical standpoint, registering a .936 SV%, a 1.84 GAA, and a shutout. It's also not his fault the Leafs sported a measly
2% SH at 5v5 throughout the series vs. Columbus
. And I must acknowledge that throughout his four years in Toronto, he has never had the strongest defensive unit in front of him
However, with that said, the Leafs may never find success in the playoffs as long as Frederik Andersen is on the team.
While the Leafs do depend on him a lot during the regular season to win games, he also has the uncanny ability to allow bad goals in critical matches. I can recount
numerous instances
where Andersen
gave up a goal
in a similar fashion to the
one shown above
, which is not the kind of consistency you want to see in your team's starting netminder. It's also troubling to watch the Leafs participate in series-deciding games and get anxious whenever the puck gets near his crease for fear he'll let a gimmie goal slip past him.
Some may argue that Andersen was overworked by the Leafs in past seasons and this fatigue may have played a factor in his struggles with series-deciding games. However, let's not forget that he had almost five months of rest which should have given him a fresh start, yet the results remained the same.
I am not suggesting that Toronto acquiring Andersen four years ago was a mistake because it made sense at the time. He has delivered during the regular season by remaining consistent, posting a .916 SV% and a 2.77 GAA in 244 games as a Leaf. His postseason stats are eerily similar to his regular-season numbers as he sports a .917 SV% and a 2.75 GAA in 23 career playoff games.
The problem lies in the fact that in spite of all that, Andersen continues to struggle in keeping his team in the playoffs. This has now been four straight years of stagnation with the Leafs not being able to advance past the first round. It's also hard to recall moments throughout Andersen's time in the playoffs where he stole a game the Leafs didn't play well in. The only one that comes to mind is Game 3 back in 2018, which included
this stick save
on David Pastrnak. Want to know what else is hard to comprehend? In all four series Toronto has played since the start of the Auston Matthews era, Andersen got outplayed by the opposing netminder. This year, he got bested by two (!) goalies despite playing better than he ever has in the playoffs. Let's not forget that as thrilling as the comeback win in Game 4 was, part of why they had to dig themselves out of the hole was from Andersen giving up a couple of bad markers. So it seems that even when he is playing statistically well, it's still not good enough to help his team advance in the playoffs.
You may think this argument stems from an over-reaction to a season-ending loss, but we have seen this movie play out many times before. It is frustrating to watch this team showcase its ability to push a playoff round to the limit only to see its starter turn in a shaky performance in the series-clincher.  How many more times does the team need to experience this futility before management decides to make a change in goal?
This is why it may be time to move on from the Herning-native netminder and search for a new goalie to own the crease for the Leafs. Not only has Andersen proven on a consistent basis that he is not trustworthy in critical matches, but he is also getting up there in age.  He will be 31 once the 2020-21 season eventually begins, so it might not be a good idea to extend a goalie who continues to struggle in the playoffs and will soon be entering a decline in performance.
Strengthening this argument is the fact Toronto has plenty of quality netminders in its system who are knocking on the door of making the leap to the big leagues. The Leafs also struck gold with the acquisition of Jack Campbell who has proven to be a calming presence in the locker room and could be in a position to earn a bigger role with the team in due time. Andersen remaining on the team could prevent some of the younger goalie prospects from reaching the NHL, especially if he is extended beyond 2021.
Who knows, maybe Andersen proves us wrong in a year's time and finally gets the monkey off his back in a big way.  But that would mean he is still with the team and does anyone want to risk giving him another shot to exorcise his playoff demons?  I am not foreseeing him winning a series-deciding match as a Leaf and keeping him around longer may hold the team back from making strides in its development.
That's why I say thank you for your service, Frederik; it has been quite a four-year run, but it is time to move on.