It's time we start talking about Artur Akhtyamov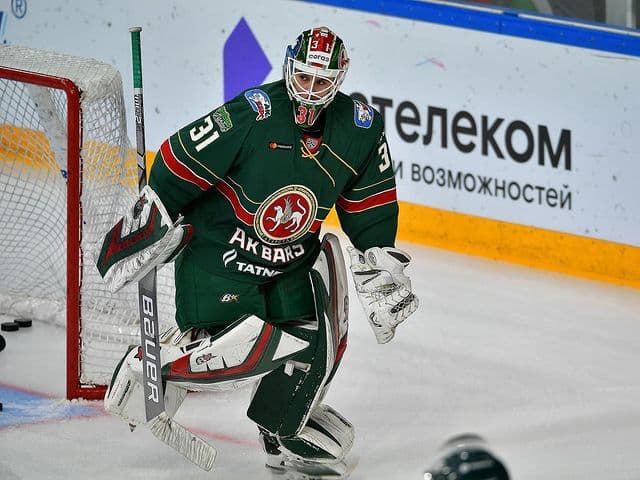 Photo credit:_akhtyamov_
The Toronto Maple Leafs have made a habit of drafting goalies over recent years, and it's understandable to see why. The drafting and development of goaltenders is considered to be the most volatile amongst any position in the sport. Star netminders such as Connor Hellebuyck, Igor Shesterkin, Juuse Saros, and Linus Ullmark were all drafted in the fourth round or later. With results like that, it's hard to fault a team for throwing a late round pick at a goalie every year or two.
However, with so many goalies moving through the system, it can be hard to keep track of who has been developing into a legitimate prospect, especially when most Leafs fans are too busy worrying about the NHL club's own starting netminders. While this year has seen 2016 3rd rounder Joseph Woll receive praise for his play for the Marlies this season, and 2022 4th rounder Dennis Hildeby stands out as the shiny new toy of Toronto's goaltender collection, one netminder has been quietly putting up dominant numbers.
Artur Akhtyamov, a 4th round selection by Toronto in the 2020 NHL draft, currently plays in the VHL, the AHL equivalent of Russia's hockey pyramid. With their season recently ending, Akhtyamov ended the year near the top of the goaltending leaderboards in every major category including third most wins, second best GAA, and leading the league in save percentage with a remarkable .943.
It's a significant improvement over last year, where the Russian goaltender averaged only a .912 during his first full season in the VHL. Though even before turning pro, the capacity to dominate was always apparent for Akhtyamov as he dominated the MHL, Russia's top junior league, and allowed only a single goal during his loan World Juniors appearance. 
Numbers don't always tell the full story though, which is why it's exciting to discover the goalie has been earning increased recognition from scouts and media members who have noticed positive developments in his game. Our very own resident scout Nick Richard moved Akhtyamov into the top 20 of his
organizational prospect rankings
earlier this year where he praises him as "a strong positional goaltender who scans the play well with the athleticism to make out-of-the-box saves."
The Athletic's Scott Wheeler echoes Richard's praise of the goaltender's positioning and quickness in his own
prospect pool rankings
where Akhtyamov was ranked 14th in the organization. Both analysts also raise the red flag towards the netminder's size, where his thin 6'1 frame has left many wondering if he's too small for the NHL. While shorter goalies have been able to find success in recent years, including Shesterkin and Juuse Saros, it's certainly the exception, and not the norm.
Another aspect of Akhtyamov's game that becomes immediately clear to anyone watching him is the quality of his puck tracking and rebound control, especially for a goalie of his size. Rarely is he beaten due to losing sight of the puck, and his smaller frame actually acts as a positive when it comes to covering up the puck where he can quickly squeeze it between his pads or drop to the ice and get a whistle. Take a look at any highlight reel of his, and you'll also notice his fearlessness when it comes to battling for those loose pucks, often throwing his body in the way of the opposition's swinging sticks.
Part of the mysterious intrigue behind Akhtyamov though is outside of these blurbs from Wheeler, Richard and other local writers, there isn't much being said about him. The lack of coverage is no indictment of his play, but rather a combination of circumstances that have caused the netminder to become a hidden gem in Toronto's system. Between political turmoil in Russia, alongside the fact he's been playing out of a city with a population of only 150,000, scouts can be excused for not making the voyage to see him play live. Couple this with the Maple Leafs benefiting from a number of prospects outperforming their draft position and it's easy to see why his performance has gone largely unnoticed by media and fans alike.
Of course, the jump to the NHL is a difficult one and there's no guarantee that success in Russia will continue on the other side of the planet. However, with his KHL contract expiring, it will be interesting to see what Dubas and co. decide is best for his development moving forward. While there is an opportunity for him to stay in Russia and see if he can make the jump to the KHL after a dominant season in its development league, the Maple Leafs may be inclined to have a more direct impact on his development, asking him to follow in the footsteps of countryman Yaroslav Askarov (who is widely considered to be the league's top goalie prospect) and come play in the AHL, seeing how his game adapts to North American play while allowing him to work with Maple Leafs coaching staff.
It wouldn't even be his first time visiting Toronto, having done so this past summer where he posed for a photo with agent Dan Milstein. While this could very well mean nothing, it's a positive sign that his agent and/or the Maple Leafs see him as a valuable enough prospect to fly over and meet in person.
Anyone who's been a sports fan long enough knows that the drafting and development of prospects is a dice roll more than it is a science. Can't miss prospects often end as busts, and some of the greatest athletes in history were considered nobody's until they took the league by storm. For a franchise that hasn't drafted and developed an NHL caliber goaltender since selecting James Reimer in 2006, the Maple Leafs look to be making up for lost time with an influx of goalie talent seemingly on the horizon.
While Joseph Woll has shown he may currently be the best of the bunch, looking more than competent during six NHL games over the past two seasons, Artur Akhtyamov could very well be next in line as the Toronto Maple Leafs' goaltender of the future. Following a dominant season at only 21 years old, it's about time people start taking notice.
THE DAILY FACEOFF TRADE DEADLINE SHOW
Join us on March 3rd for the Daily Faceoff Live: Trade Deadline edition as Frank Seravalli and the panel break down all of the latest rumours, news, and rumblings from around the NHL. The show will be live on 
YouTube
, 
Facebook
, and 
Twitter
from 12 PM – 4 PM ET to keep you up to date on all things trade deadline no matter where you're watching from.