Jack Campbell's improved play is a necessity not a luxury for the Leafs come playoff time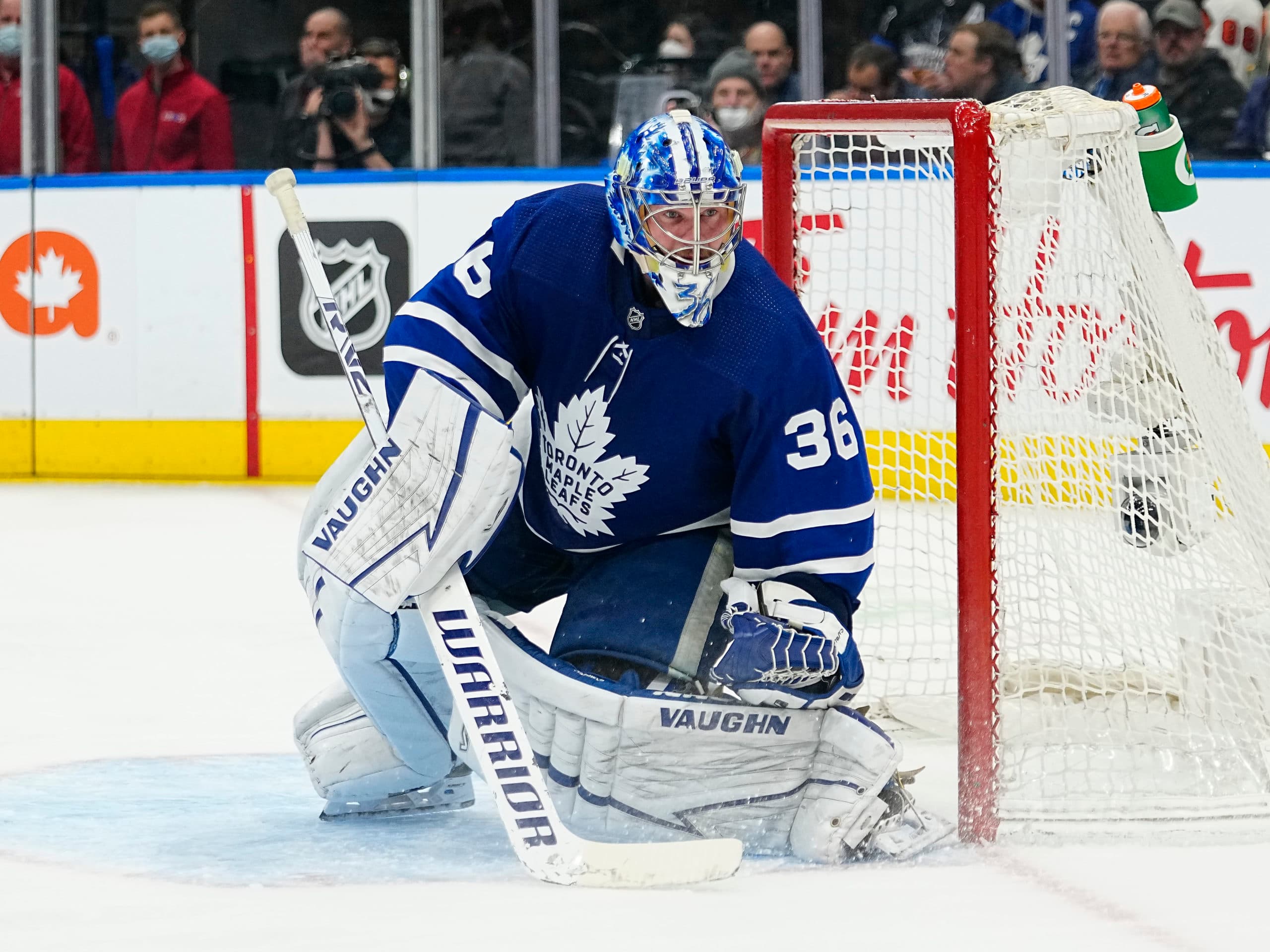 Photo credit:John E. Sokolowski-USA TODAY Sports
Goaltending in the playoffs is like a box of chocolates, you never know what you're going to get.
When the Maple Leafs began their season, the plan was to have two healthy goalies in Jack Campbell and Petr Mrazek for the playoffs. But, that unfortunately hasn't been the case this year.
Each goaltender has battled significant injuries this season. Mrazek has endured multiple groin injuries and is sidelined for the foreseeable future while Campbell has his fair share of bumps and bruises too.
So, Toronto is entering the playoffs, likely against the Tampa Bay Lightning with Jack Campbell and Erik Kallgren as their two netminders.
You can look at that from a ton of different sides, really.
The first side is, well, if Campbell gets hurt, then Kallgren has to come into replace him. Looking at Kallgren's numbers since joining the Maple Leafs back in March, he's got an .886 save percentage over the span of 13 games. Realistically, you'd hope he's not needed to come in for any games, especially after giving up eight goals to the team they're likely going to face in the first round just the other night.
But like I said at the beginning of the article, you never know what you're going to get. Goaltending is voodoo and anything can happen, especially when players' backs are against the walls. It's just like life — if you get thrown in and you have to sink or swim — most of the time you're going to swim.
If Kallgren is needed in this series at all, I believe he'll play just as good as we saw on Sunday night vs. Washington.
The other scenario, which is more likely, is that Campbell plays well in the post-season. Since returning from injury in early April, the 30-year-old has posted a .908 save percentage in eight games. But, that's in the regular season, what about his last playoff series?
During last year's series against the Montreal Canadiens, Campbell played all seven games and finished with an incredible .934 save percentage. Yes, he's been that good in the playoffs for Toronto. Obviously, Tampa has a lot more fire power than Montreal, but we've seen Campbell play well against Tampa this season.
In the three games versus the Lightning, the 30-year-old has allowed only seven goals while posting a .918 save percentage.
There's no reason to believe he cannot pull off a series like that again, especially against a rival like the Tampa Bay Lightning and Andrei Vasilevskiy down at the other end. We also know that with the more he plays, the better he performs, so keeping him in the series will likely be the only option for Sheldon Keefe.
I wouldn't go as far as saying the Maple Leafs' playoff hopes ride on Campbell's shoulders, but he'll be an important piece to that equation. If the defence in front of him can make his job easy, then I believe anything is possible for Toronto in these playoffs.
It'll be unfortunate if an injury occurs, from either netminder on the Maple Leafs, as their goaltending depth at the moment has taken a hit. But, if there's a chance another goaltender has to step in, I believe Toronto will play a tight enough game to allow success for any netminder behind them.
The bottom line is that Campbell has to stay healthy and play well, and if he can, the Maple Leafs will have a great playoff outing this time around.
---
POINTSBET IS LIVE IN ONTARIO
PointsBet Canada has officially launched in Ontario! Get a $25 free bet just for 
signing up right here!