Jake Muzzin's health could be a lingering concern for the Toronto Maple Leafs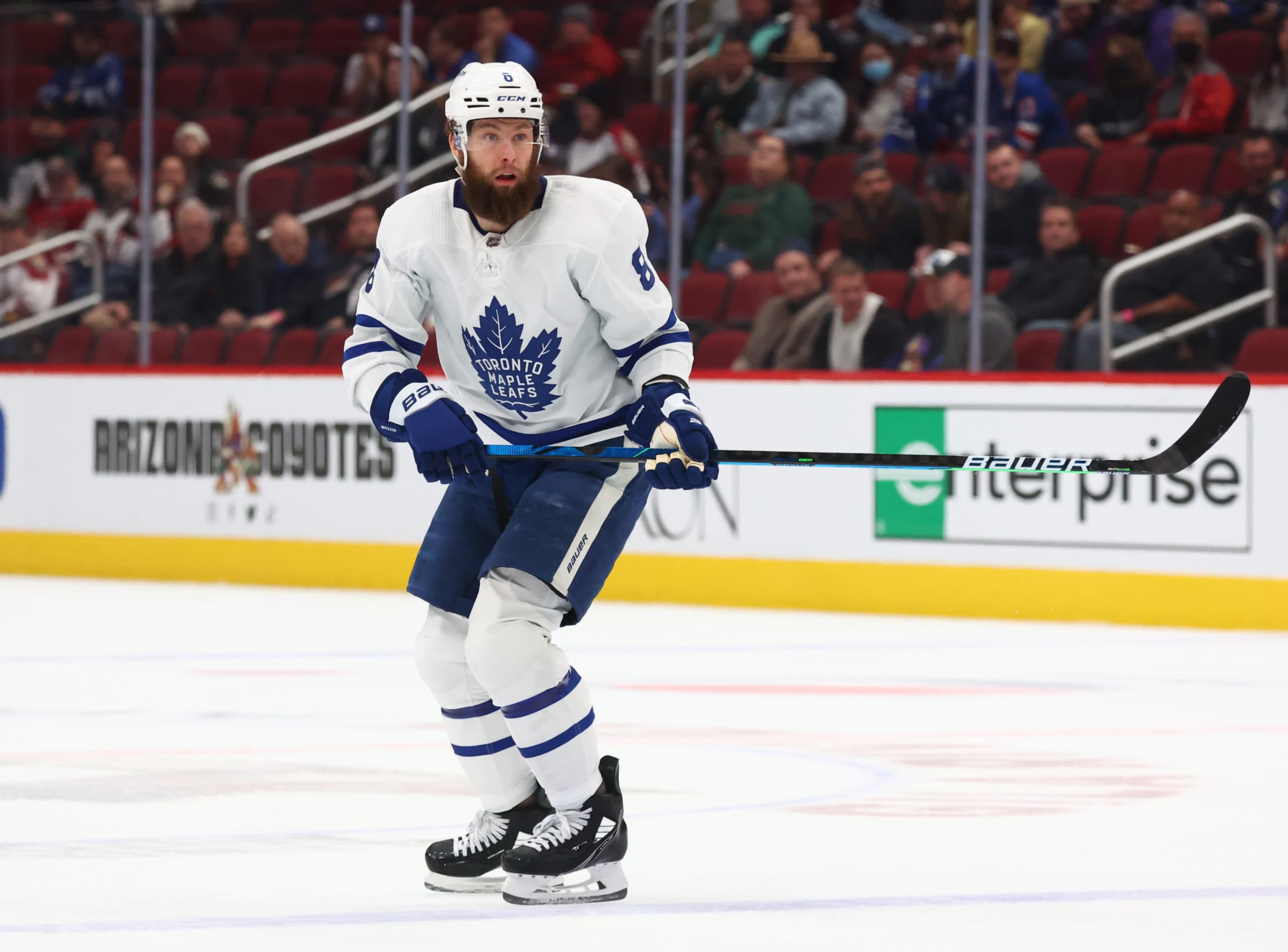 Photo credit:Mark J. Rebilas-USA TODAY Sports
The Toronto Maple Leafs
announced yesterday
that veteran defenceman Jake Muzzin will not skate with the team this week due to back discomfort, expecting him to link up with his teammate next week.
The news is an obvious blow to head coach Sheldon Keefe, his staff and Muzzin's teammates, as the 33-year-old Woodstock, Ontario native is a crucial part of the Leafs' puzzle. But it also raises some genuine concerns over the veteran blueliner's ability to stay healthy as he enters the latter stages of his career.
The grizzly 6-foot-3, 217lbs left-shot defenceman is well known for his physical style of play, with 1463 hits and 999 blocks in just 679 regular season games across his career, and it's clear that this continues to take a toll on his body. Last season alone, Muzzin battled through
a number of ailments
, including a couple of concussions that kept him out for almost two months and only managed to play in 47 games across the full 82-game campaign.
He was able to return before the end of the 2021-22 season and featured in all seven of the Leafs' playoff games against the Tampa Bay Lightning, but having him miss such a significant amount of time prior to that was tough. With Muzzin starting off training camp with this back discomfort, it will undoubtedly give the Leafs' hierarchy some lingering concerns about how much of the season he will likely be able to play through this time around.
Ideally, the Leafs would be able to call on Muzzin every night, seeing him play over 20 minutes a game as he has throughout the majority of his career. He has a big, bruising style of play that gives the Leafs an edge along the blueline that others players on the team don't provide, and he is a strong leader within the group. Add to that his
cap hit of $5.625 million
, and it's clear that having Muzzin available as often as possible is a priority for the team.
The Toronto Maple Leafs are a world-class organisation and will be able to assess Muzzin's condition very early on, determining whether or not he may require some form of load management to help him get through the regular season without major incident. This situation worked out for the Toronto Raptors during their famous run to the 2019 NBA championship with star forward Kawhi Leonard, and general manager Kyle Dubas has been known to talk to Raptors president of basketball operations Masai Ujiri. Perhaps this could be something the Leafs consider doing to help Muzzin through the year.
That doesn't mean he would miss stretches of games, but every now and then may be given a night off or a reduced amount of ice time, especially in games where the Leafs are dominating and the need to play Muzzin more often is greatly reduced. Somehow, some way, the Leafs will need to figure out how much they can keep him on the ice this year and manage it accordingly. The team is desperate to progress beyond the first round of the playoffs, and make a serious run at the cup, and to do so will require having Muzzin at full health and raring to go once the post-season begins.
Without him, the Leafs look fairly thin in terms of physicality on defence and his absence will be noticeable once again. Hopefully, this issue is as minor as it initially appears, and Muzzin is able to return quickly and overcome the difficulties of last season. Otherwise, the Leafs will quite a large hole to address in their own ice.