Jake Muzzin's value doesn't come just from his on-ice play with the Maple Leafs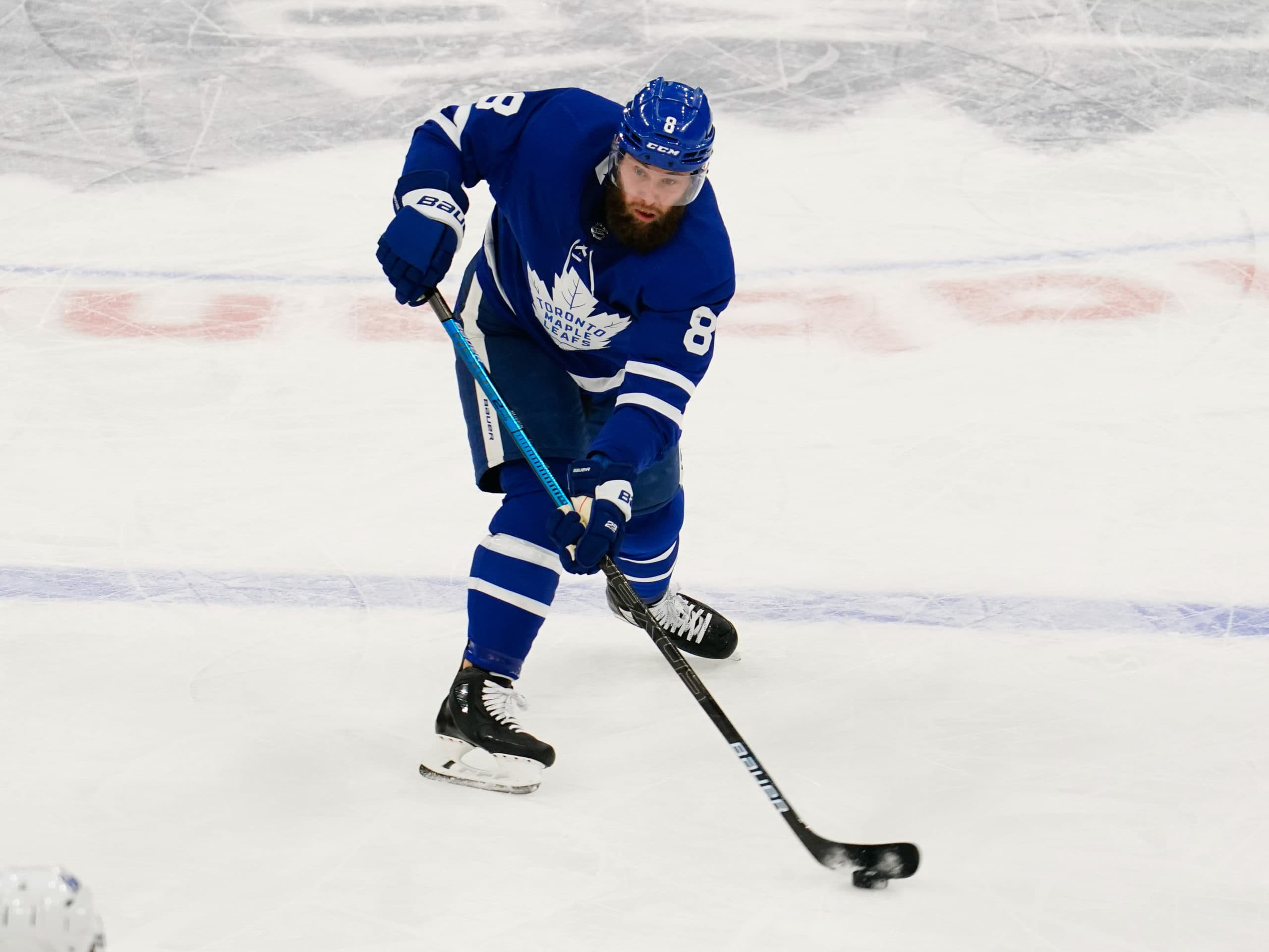 Photo credit:John E. Sokolowski-USA TODAY Sports
When @Jake Muzzin joined the Maple Leafs back in 2019, Toronto wasn't just getting him for his defensive abilities.
It's been almost a month since the 32-year-old played his last game, but it seems as though the Maple Leafs haven't missed a beat.
Since Muzzin left the lineup, Toronto has only lost one game — against the New York Rangers — a few days after the 32-year-old was injured.
If you look at the stretch of games in which Muzzin's been out for, the first thing you notice is growth.
The Maple Leafs have lost a key player for the foreseeable future, but the players play like they haven't skipped a beat.
@Justin Holl looks to have returned to last season's form and @Rasmus Sandin, in Muzzin's absence, has played particularly well.
It's a good sign, but also leads to question marks as to when Muzzin returns.
"It's different," said Muzzin on Sunday when asked what recovery from a concussion is like. "I mean, concussions or head injuries are a little finicky sometimes, so it's been challenging. But, it's part of the game, it's part of playing a physical sport, so hopefully it was the last one or we're clear from here on out."
During Monday's morning skate, Maple Leafs head coach Sheldon Keefe said it was a "positive day" for Muzzin on Sunday, but didn't specify when a possible return might be.
Keeping Muzzin out for the foreseeable future (and placing him on LTIR) would help create more cap space for Toronto ahead of the trade deadline. However, I doubt the 32-year-old wants to sit for more games than he has to.
This season has been as difficult as ever for Muzzin, who at all strengths this season, has been on the ice for 44 goals against and 33 goals for — a 42.9 goals-for percentage. (That number as it stands is his second-worst total in a season.)
But when discussing the 32-year-old with the media on Sunday,
Maple Leafs GM Kyle Dubas said
he thinks Muzzin will find his way back (via David Alter).
"The one thing about Jake Muzzin is that, especially when I think people start to count him out, or people think that he looks like he's starting to fade, is that he's very competitive and he has a lot of pride and he's able to find his way back," Maple Leafs GM Kyle Dubas said of Muzzin. "I think the type of time off, getting himself healthy and resetting himself on the ice, I think you'll see him come back and be back closer to what we all expect and the form that he's capable of."
Similar to what Dubas said, this time off allowed Muzzin to heal some bumps and bruises he may have had from the beginning of the season.
The 32-year-old may return as his normal self. Even if he doesn't, though, he still brings a lot to the table.
One of the main reasons as to why Toronto acquired him was for his leadership on and off the ice. He's won a Stanley Cup, plus a few international championships with Canada, but has led each team he's been on.
With Toronto, Muzzin has answered every tough question handed to him after a loss. He's been there throughout the teams lowest lows, and he deserves to be there at their best.
It's very possible that Muzzin comes back to Toronto's lineup and plays like he did in prior seasons.
If he does, that'll be a great thing for the Maple Leafs. But if his play remains to be a problem, it's going to make Dubas' trade deadline a bit more difficult.
But one thing remains to be clear.
Muzzin's leadership is a huge factor on the Maple Leafs and I don't believe Toronto will look to move him like some suggest they should.
It's entirely possible that they do, but I think that's something that happens a year down the line and not this summer.
Muzzin, in the locker room, is too valuable to lose.
(Stats via NaturalStatTrick.com & Hockey-Reference.com)