Jarome Iginla looks back on illustrious career, and what he would tell himself at the beginning of it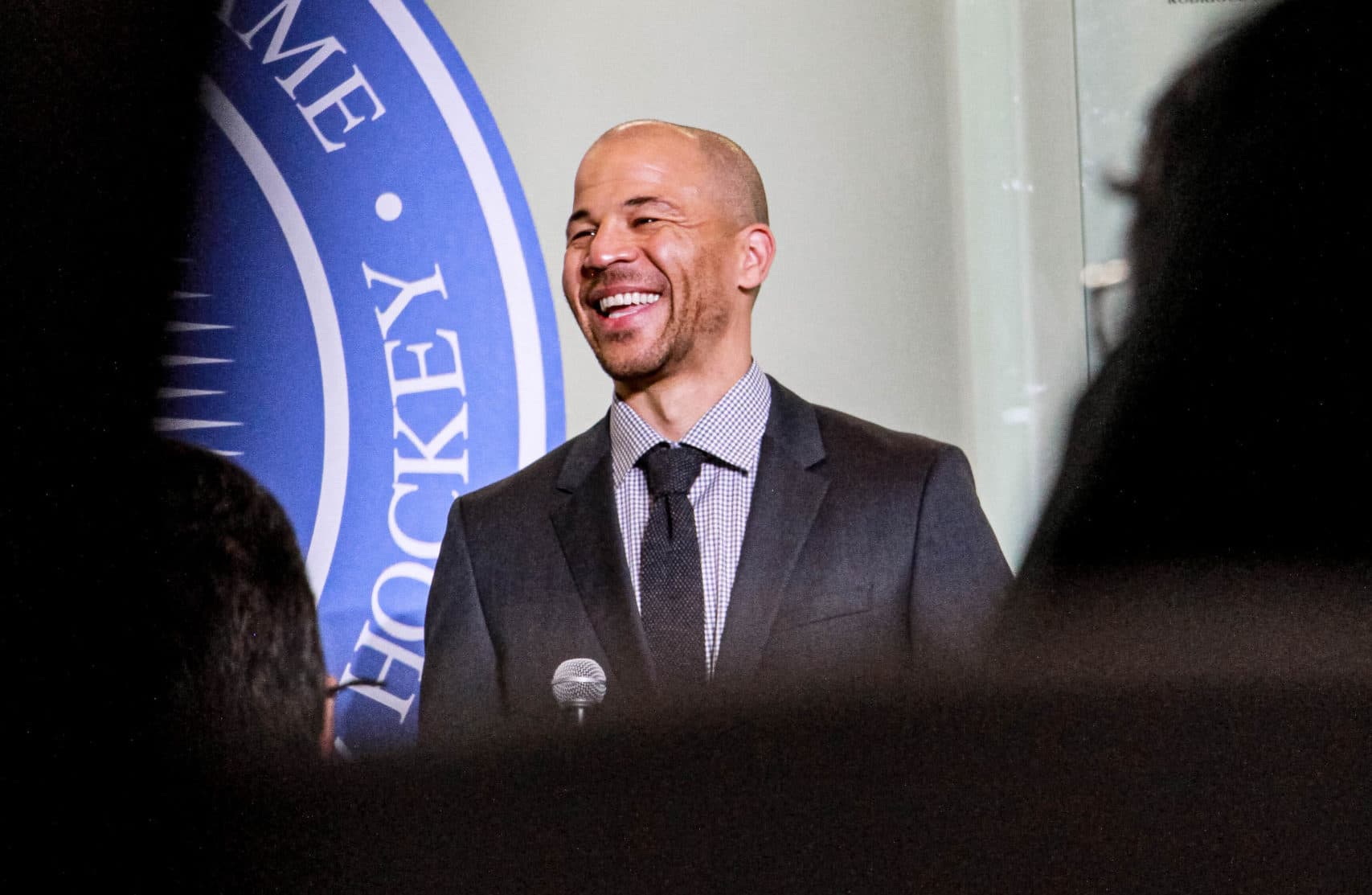 Photo credit:Nick Barden
"I never dreamt of being in the Hall of Fame. I dreamt of being in the NHL."
As a young child, Jarome Iginla was just having fun playing the game of hockey. The thing is — everywhere he played — he dominated.
Growing up, Iginla played a lot of sports. But he loved hockey the most. One of his biggest supporters was his late grandfather, who was at nearly every practice and game when he was young.
Iginla cherished those moments.
"He was amazing. I spent a ton of time with him." Iginla said of his late grandfather. "He was very, very intense sports wise. The way he did it was, he never ever said like, 'Oh, tough game.' Or you know, 'play hard,' or whatever. He didn't give me any advice. But the way he let it out, he'd politely, if the goal got scored on the other team, he'd be yelling 'There goes the shutout!,' And if the other team got a penalty, our big rivals, he would be yelling, like, 'Crying doesn't pay!'"

"He was a fan favourite amongst our team, and when I was younger it was a little bit embarrassing. But as I got older, I appreciated it for sure, and he was very popular around the arena with our group, but he wasn't, like, mean to the other guys. He just always had a joke to what his comments were. And that's the way he channeled it because he was ultra competitive."
One of the ways he got Iginla to be competitive, like himself, was to pay him for putting up points. Something a lot of parents do for their children in their minor years.
Little did his grandfather know, Iginla would get a lot of money.
"He paid me for goals and assists. It was controversial because it started out as two dollars for a goal, and a dollar for an assist. And I thought it was so awesome." Iginla said. "People don't always agree with that, but I thought it was so great and fun. And then, as it went older, he upped the goals, he never upped the assists. So, some parents weren't happy. I tried to pass, though."
At 15-years-old, he scored 34 goals and added 53 assists, which amounts to, well, a lot of money. Later, he went on to play for Kamloops Blazers, where they won two-straight WHL and Memorial Cup championships.
Then, Iginla went to the NHL, and we all know about his illustrious career.
20 years in the league, Iginla spent most of his career with the Calgary Flames, where he had 1095 points in 1219 games. Iginla served as the Flames' captain for 10 seasons and contributed to their cup run in 2004. He leads the Flames in career games played, goals (525), and points.
Throughout all of that and the rest of his career, Iginla also played on Team Canada at the Olympics and World Championships, winning four gold medals. He, most famously, set up @Sidney Crosby's golden goal at the 2010 Olympics in Vancouver.
But now, he's a Hall of Famer.
"I think he'd be over the moon." Said Iginla on what his Grandfather would've thought of this moment. "I could imagine how he'd have a big smile. One of my thrills was when I actually made the NHL in that Chicago series, and how happy he was. Just cause, you're always working away to try to get there, and until you actually get there, you don't know for sure, until you actually get it. When I first made the NHL, I remember eating with him after, and that was pretty special because he put a lot of time in and was very generous and kind, didn't put pressure on me, it was like he just enjoyed the journey."
Every player has a story about the phone call — where they were, what they were doing — Iginla's was both hilarious and special.
"Peter Hanlon is Vice President, Head of PR with the Flames and so I talked to him, and he said, 'Okay, here's the timeframe that if you get the call, that it will be within.'" Iginla said on Friday. "My in-laws were in town, in Lake Country, BC, and it's the morning, so I said, 'Well why don't they come over?' My dad lives close, so let's be ready and hope that it comes. And it was the morning and we were going to go mountain biking later and I was a little antsy, and I didn't want to sit around. So I had enough time, I had to go rent a truck to go mountain biking later, with the family, and I was in the line and I got a call and I'm like, 'This isn't the time frame Peter told me,' It was like Toronto time. I looked at my phone and went, 'Nope, not now,' It rang again, I'm like 'Ah no, maybe it's media,' I'm nervous, I'm anxious, I end it. I'm in the line, then it comes again and then I get a text. It goes, 'Pick up the phone, it's Lanny.' I'm like, 'Oh my gosh!'

"I just replied, I just had the car, I got in there. I was alone in there. It wasn't what I thought it, maybe if I got the call, I'd be with my whole family, but it was still — Peter didn't take into account, I guess the time change, but it was still awesome and I remember exactly where I was when I got it, and then I called my mom, dad, wife, all that and then, it was really cool."
The journey, though, was a grind. Iginla got so close to winning a Stanley Cup but ultimately lost in the Cup Finals. He talked about, how at times, there was stress, there was a level of wanting more.
But as the 44-year-old looks at the NHL now, with players speaking out more about mental health, he believes it's great for the game of hockey.
"It's so much more fun when you're winning." Iginla said on Friday. "It's literally all the thrills, and then there's a lot of agony, like when you're that close to winning and that's what your goal is. But I think the Mental Health Awareness is great for — you know, you have a platform as professional athletes, and people that follow you and kids that follow you so — that they can be strong and bring awareness to it, I think is wonderful and something that I imagine isn't easy. When you see some of that, it wouldn't be always who you'd expect. So, I think it can give other people courage to get help when they need it if they're not feeling great."
In terms of Iginla's legacy, he's left a massive impact on the game. And looking back on it all now, though, what's one thing the 44-year-old would tell himself before he got into the NHL?
"I don't know, relax a little bit more." Iginla said with a smirk. "You know, when I got traded, and I went to Pittsburgh and then Boston, then Colorado, it was an adjustment. So, there was some learning curves in there about how to still be yourself. But it was really good for me, it was fun. But it was challenging because I was the old guy for a long time and comfortable, and I knew where everything was from the tape to, see if someone needs a drink or whatever, I know where that is. You go to a new place, and you're just like a new guy. But just enjoy the ride. It would be almost the same things the older guys said to me is just, 'It goes so fast, just enjoy it.' And I think I did that, but it still went so fast."

"There's certain days where you just put so much, and I guess that's part of life. You make it such a big deal at certain points. Some of it really is, and some of it isn't, in the terms of being positive and looking forward to tomorrow."