Jeremy Swayman reveals that he hoped the Leafs would select him in the 2017 draft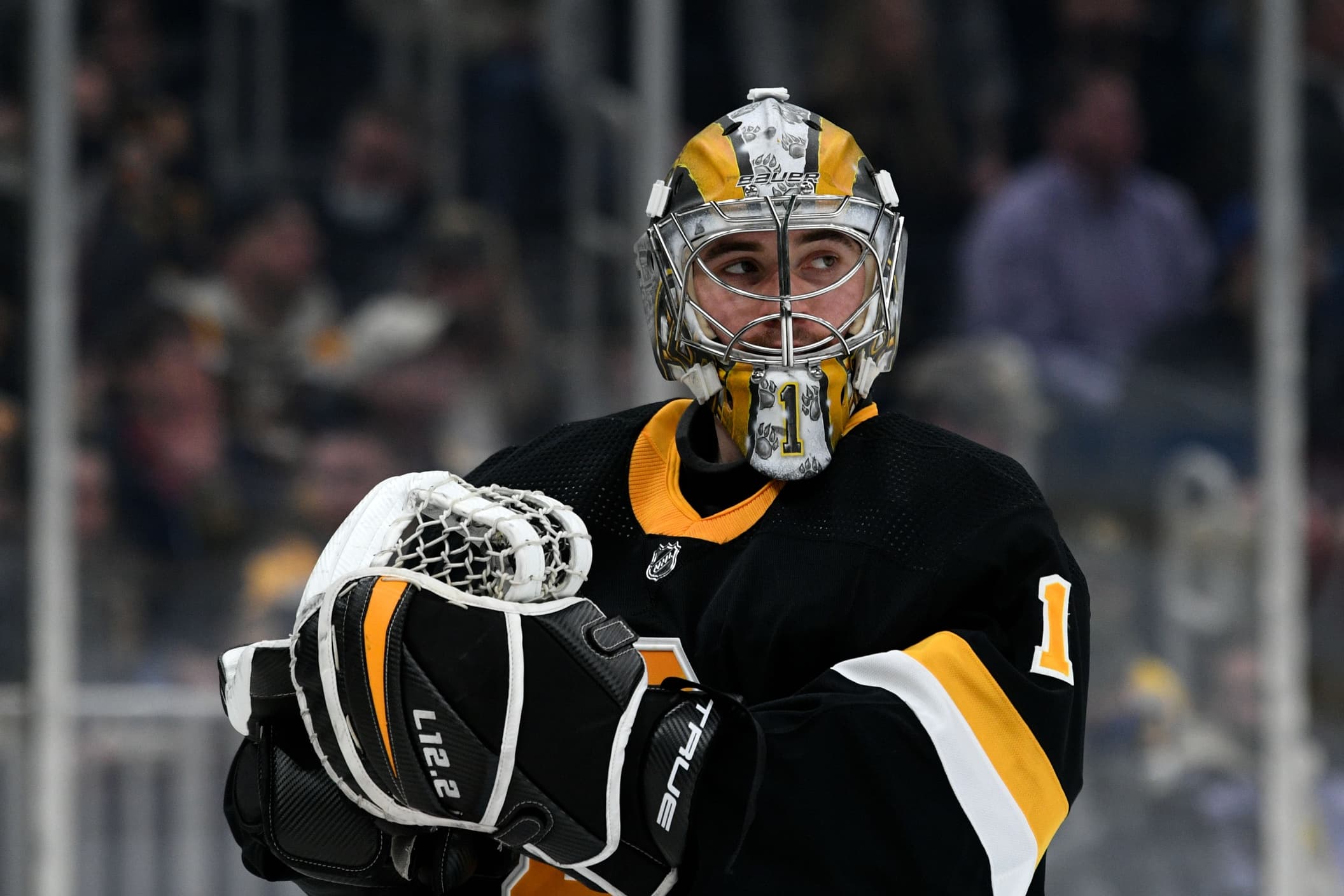 Photo credit:© Brian Fluharty-USA TODAY Sports
The Leafs have not had the best luck when it comes to drafting goalies.
@James Reimer is the most recent goalie that the team has drafted to play more than 100 games with the team, while the best goalie they have drafted since 2000 (@Tuukka Rask) never played a game for them. How @Joseph Woll will fare once he earns a permanent promotion to the Leafs remains to be seen, but with 30-plus years of brutal luck with drafted goalies, history is not on his side.
That certainly applies to @Ian Scott, whom the Leafs drafted 110th overall in the 2017 draft. He came in with a ton of promise after turning heads with an impressive stint with the Prince Albert Raiders where he helped guide the team to the Memorial Cup and won the CHL Goalie of the Year. Unfortunately, he ran into injury troubles after turning pro and would only play in a combined seven games between the AHL and ECHL in three years. The constant ailments that prevented him from getting a chance to develop
forced him to retire at the young age of 23
.
One pick after Scott, the Bruins selected @Jeremy Swayman out of the University of Maine. He is coming off an impressive rookie season that earned him a fifth-place finish in the Calder Trophy voting and appears destined to be Boston's goalie of the future.
It would be easy to place the blame squarely on Mark Hunter for deciding to pass on Swayman and going with Scott instead, but no one could have the foresight to see how things would turn out for both goalies.
When the
Leafs initially selected Scott
, they viewed him as a prospect with good size, mobility in the crease, and a calm demeanour that would have been prime for an intense market such as Toronto. He ranked third amongst all North American goalies
entering the draft
and was projected to be selected between the third and fourth rounds. The Leafs probably believed that Scott's mediocre numbers in his draft year were a by-product of the Raiders being bad that season and not because of his skill set.
By contrast, Swayman was ranked 12th among N.A. goalies and despite some promising play in the USHL and possessing a ton of upside, he was more of an unknown compared to someone like @Jake Oettinger. Swayman said that he was considered a C prospect and expected to be taken in the fourth round or later, hence why he was hoping to be taken by Toronto when they were on the clock at pick 110.
The Leafs definitely took notice of Swayman's impressive showing with the Sioux Falls Stampede, so it is not surprising that they spoke with him numerous times in the lead-up to the draft. I would like to imagine that in the lead-up to the pick, they were debating between him and Scott on who they believed would have better upside before deciding to go with the latter. Perhaps they were hoping to snag him up later on but could not have envisioned that he would be off the board on the very next pick.
Although it is clear now that they went with the wrong netminder, the Leafs' fourth-round pick not panning out has more to do with bad luck rather than pure incompetence by Hunter.
Toronto's draft class in 2016 and 2017 has gotten a bad reputation among the fan base and deservedly so. Aside from @Auston Matthews and @Timothy Liljegren, the vast majority of the players taken either failed to pan out or barely play any NHL games. @Carl Grundstrom has the second most games played among players in those two draft classes and none of them were with the Leafs. With only three players from that period remaining under contract with Toronto, it's no wonder many consider these two drafts as a failure outside the first round. One has to wonder how differently things would have panned out had the Leafs had better results on a few of those picks or gone with someone else instead.
As mentioned earlier, things took a turn for the worst after Scott turned pro. A nagging hip injury forced him to miss the 2019-20 campaign and the COVID-19 pandemic limited him to five ECHL games and a single appearance with the Marlies the following year. Continued ailments limited him to just a single period with the Growlers last season where he gave up a goal on six shots against. Scott tried his best to make a full recovery but was unable to do so and subsequently retired this past summer.
Meanwhile, Swayman continued to improve during his three years in college and won many awards, which included the Mike Ritcher award in 2020, which goes to the best goalie in the NCAA that year. After turning pro in 2020, he quickly gained the trust of Bruce Cassidy following a solid 10-game stint during the COVID-shortened season which propelled him to become the backup entering the 2021 playoffs.
His first full year with the Bruins saw him split the crease with @Linus Ullmark and showed promise to man the crease for years to come. In 41 games played, he finished with a 23-14-3 record, posting a .914 SV%, a 2.41 GAA, and three shutouts. Apart from finishing fifth in the Calder Trophy voting, he was named to the All-Rookie team and awarded the Seventh Player Award, which is voted by Bruins fans for a player who performed beyond expectations.
As I said, it's hard to blame the Leafs at the time for going with Scott because of his upside and high praise leading up to the draft.  And while Scott was robbed of a chance to showcase his skillset because of unfortunate injury troubles, it's hard to deny that Swayman would have been the better selection as he appears destined to have a productive career.
Had they gone with the Alaskan native, perhaps their franchise trajectory takes a completely different turn. Maybe the Leafs decide not to sign @Petr Mrazek in free agency and instead give Swayman a chance to be the backup behind @Jack Campbell. And should he have had a season akin to what he did in real life, one of @Matt Murray or @Ilya Samsonov likely does not end up in Toronto for the forthcoming campaign.
Suffice it to say, the Leafs made the incorrect choice in 2017 and it stings, even more, knowing that Swayman had spoken with the Leafs many times and had hoped to don the Blue and White.