Jett Alexander and the Leafs cruise to a 7-1 win over the Canadiens: Leafs Rundown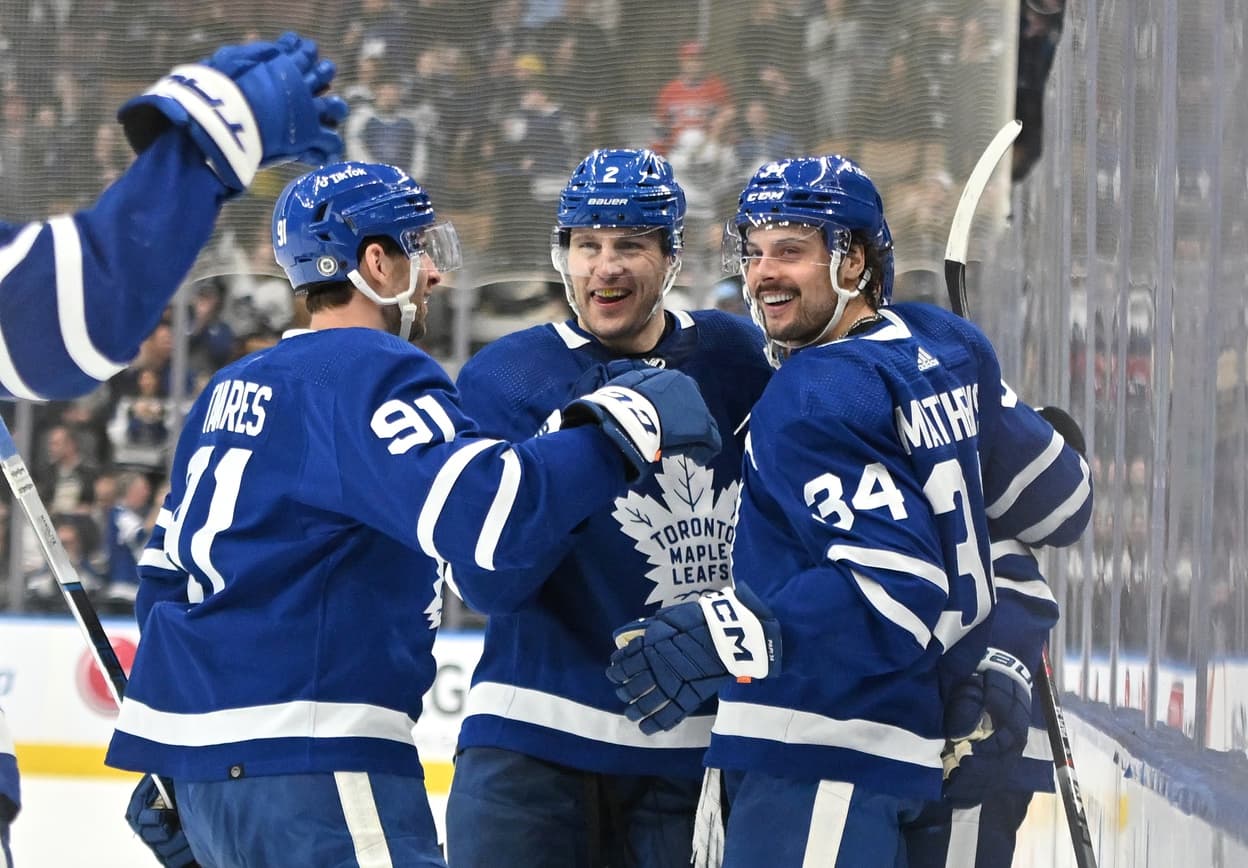 Photo credit:© Dan Hamilton-USA TODAY Sports
The Leafs ended their home schedule for the regular season in style, by destroying their long-time rivals 7-1 on Hockey Night in Canada.
It was a game that had just about everything you could have hoped for from a team that is well on its way to the playoffs and a date with Tampa Bay. Apart from a Johnathan Kovacevic goal early in the second period, the Leafs were far and away the superior team from start to finish.
It kicked off with Toronto outshooting the Canadiens 19-1 in the first period and tallying two power-play goals from Mitch Marner and John Tavares. The aforementioned Kovacevic goal did provide a bit of a scare, but that was as close as it came as William Nylander restored a two-goal cushion about 90 seconds later and then Marner got his second of the game a minute after that. Tavares added another goal early in the third period before Auston Matthews and Michael Bunting cashed in to round out the scoring.
All of this while Calle Jarnkrok, Morgan Rielly, TJ Brodie, and Matt Murray were unavailable for this game.
Ilya Samsonov gave the fans some pause due to
him looking to be in pain at times
, but he stayed in the game and only allowed a single goal. But the star of the show was Jett Alexander who got to play the final minute and change for his first taste of NHL action. The U of T goalie was signed to an ATO contract earlier in the day due to Matt Murray being unavailable, so the Leafs did right by giving the 23-year-old a moment he will never forget.
They got the win and no one got hurt. What more could you ask of them?
Three Stars
Big night for the Wayne Train
I would be remiss if I didn't mention how well Wayne Simmonds played in this one. He was noticeable all game long, throwing a bunch of hits,
getting involved in a scrum
, and drew a tripping penalty that led to a power play goal. Simmonds' most memorable moment was late in the first period when
he took out Michael Pezzetta with three punches in a spirited bout
. It's unclear how many more games he has left in him, but nights like this one show the value Simmonds provides in a pinch. Perhaps he gets another chance at some point in the playoffs?
Kampf attempted the Michigan
Lost in all of the memorable moments from this game, one play that nearly occurred could have topped them all as the highlight of the night. During the Leafs' dominant first period, David Kampf tried something that no one expected him to consider doing:
the Michigan
. To his credit, he got himself in a good position to do it and nearly pulled it off if it wasn't for Mike Matheson using his stick to deny the attempt before Kampf could get the puck toward the net. We have already seen this move pulled off by skillful players like Trevor Zegras, Evgeni Sochnikov, and Kent Johnson. Everyone expected Matthews to be the one to try it, but never Kampf. It goes to show just how talented today's players really are and how grateful we are to see hockey at its most creative.
The top guns came to play
With how well the Leafs played in this one, there are a number of things that get lost in the shuffle like Erik Gustafsson having a strong offensive game, Mark Giordano's biology teacher talking about
how the ageless veteran was smart in the subject
, or Luke Schenn doing a masterful job
boxing out the front of the net
. But if there's one thing to take from this dominant showing, it's that the Leafs star players came up large and led the charge. Ryan O'Reilly had three assists, Tavares had a multi-point game, Nylander bounced back in a big way, Marner closed in on the 100-point plateau, and Matthews got one tally shy of another 40-goal campaign. It goes without saying that the Leafs will only go as far as their best players can take them and nights like these show just how dangerous the team can be when everyone is clicking.
Highlight of the Night
Up Next
The Leafs hit the road for a three-game trip to wrap up the regular season. It begins with a match against the Panthers on Monday, with puck drop scheduled for 7 p.m. EST on Sportsnet.