'I've gotten back to more of my game' Joey Anderson's play and leadership on full display with Marlies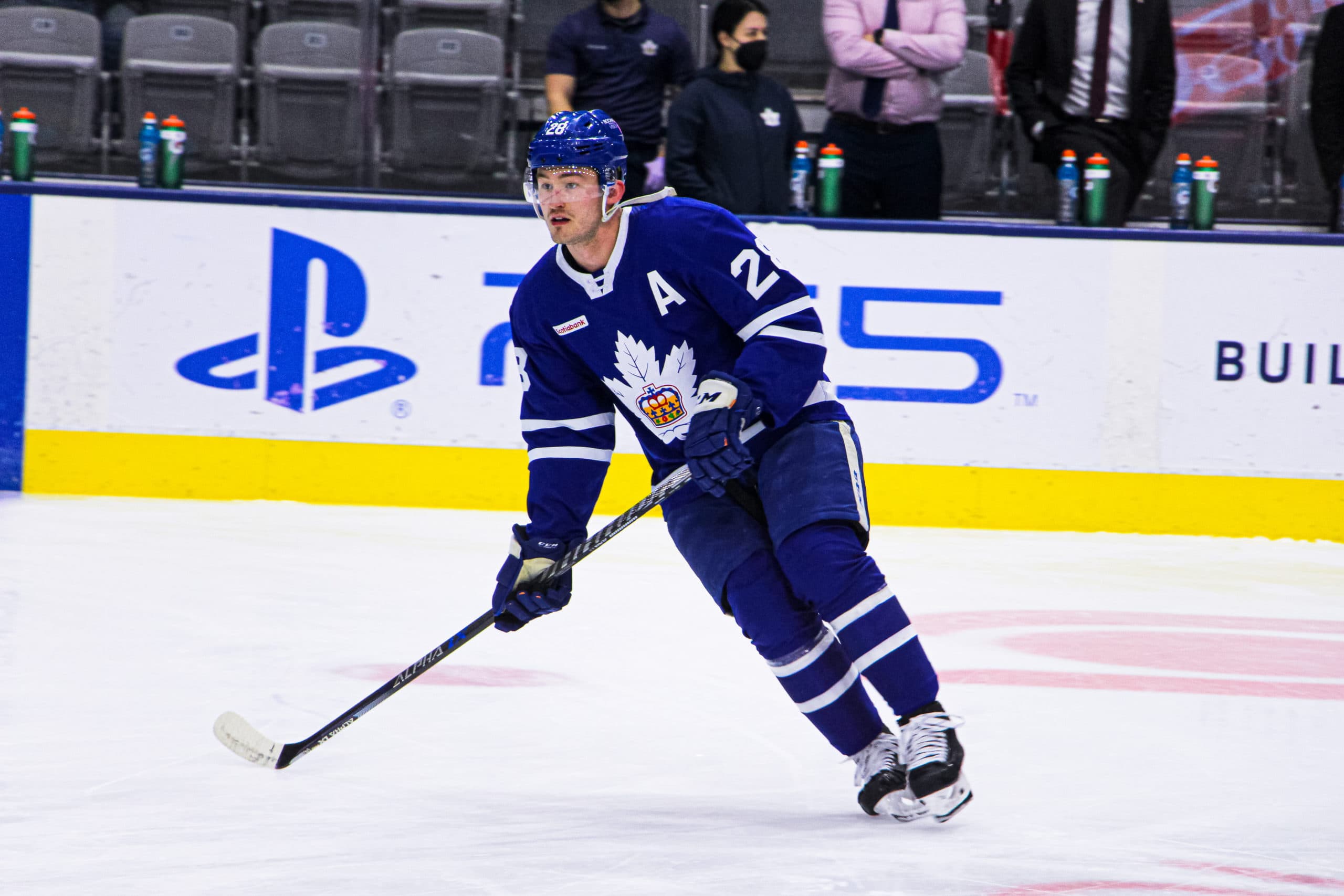 Photo credit:Nick Barden
Joey Anderson is a natural born leader.
Throughout the past year, people within the Maple Leafs organization have raved about the leadership Anderson brings. Some, even forgetting that he's still 23-years-old.
"It's just kind of the way my family is. We're pretty tight knit," said Anderson of where he developed his leadership qualities. "
I grew up watching my dad. My dad's a very to the point person and gets stuff done and I like to think me and my brother followed in his footsteps a lot and took after that. My mom made sure we were always being good people and try our best to help win in any way we can."
Anderson played junior hockey in the USHL before heading to University of Minnesota-Duluth for school. In both 2017 and 2018, the Roseville, Minnesota native made the US World Junior team. It was there where he learned more about the game of hockey, but also where he served as captain during the second year.
But before his first year of school, in 2016, part of his dream came true. He was drafted to the NHL.
The New Jersey Devils took him in the third round, 72nd overall. After spending two years at University, Anderson was ready to go pro, playing on both New Jersey and the Binghamton Devils from 2018 to 2020.
Some might strive to be full-time NHLers when they're that close. Anderson admitted that he had that mindset during his first year of pro hockey.
"My first year pro, I would've been a little bit more, you know, looking at trying to get up," said the 23-year-old of playing in the NHL. "Now I just take it day-to-day wherever I'm at."
On October 10th, 2020, Anderson was traded to the Toronto Maple Leafs for Andreas Johnsson.
At that point, Anderson was a restricted free agent. 20 days after the trade, though, Toronto locked him up to a three-year extension, and it's felt like home ever since.
"Just the treatment of people — they actually care about you and they want to put you in a situation that you're going to be successful in." Anderson said of what stands out about the Maple Leafs organization. "Obviously, the COVID year wasn't ideal for anybody, and they were very accommodating for everybody, trying to make sure everyone was doing well.
"Even this year, like, they're setting people up to get in a comfortable situation. They try and play guys with people that they're going to have success with, and they want to see everybody do well. It's a really neat thing because a lot of places you don't get that."
This has been Anderson's best season of pro hockey yet. So far this year, the 23-year-old has set a career-high in goals, currently at 19. But it's not just about the point production, it's also about feeling good in the situation he's in.
"It's kind of an interesting thing. Last year was a tough year, just for everybody, but individually it wasn't a good year." Anderson said. "I actually thought I took a big step back last year. I felt like my game was ascending really well my last year in Binghamton and New Jersey, then last year was kind of all over the place.
"But this year, I think it's really been nice playing a more competitive schedule, games that matter. Again, being with the guys, getting to do things, it's put me in a better place off the ice, and I think I've gotten back to more of my game, the way I was before the pandemic hit, which has been nice."
Anderson, like plenty of other Marlies, doesn't like talking about himself, though. While his good play might come from within, the 23-year-old still says it starts from his teammates.
"Throughout the last month or so, everyone knows how close me and Brett [Seney] are. But then even, you know, just other guys like [Joseph] Duszak on the power play, [Alex] Steeves, Bobby [McMann], [Josh] Ho-Sang, all these guys, like, these are guys I get to play with every day and it just puts me in such a good mood to come to the rink," Anderson said. "I always think good things happen when you're in a happy, good place, I should say mentally. This year, as a group for the most part, we've all been very fortunate to be in a good place."
But how do his peers around the Marlies view his leadership?
"Sometimes I forget just how young he is as far as the age is," Marlies captain, Rich Clune said with a smile. "I learn from him every day, he's helped me a ton, and he's just another player that I think is going to go on and have a National Hockey League career and we're lucky to have him while he's here."
"He's very mature for his age. I think a lot of guys in this sport who move away from home at an early age and chase the dream of playing in the NHL have to grow up and mature a lot faster than your average person." Said Marlies head coach, Greg Moore. "He has, just like Clune, a love and affection for his teammates and wants to do right by them and for himself, but he's a really special person."
As the season goes on, Anderson continues to get better and better. Along with his career-high in goals, the 23-year-old is only four points off his highest total ever in the AHL, which is 34. With 24 games remaining season, it seems like he's going to have a new AHL career-high by the end of it.
A lot of that is because of confidence, which Moore says has helped Anderson become a much better player.
"Last year, as an example, off the rush he'd come across the blue line, he'd be looking to make a pass or play and then would be a bit hesitant to step into where he needs to go support the puck next, or what the next play is." Moore said. "This year, it's direct, he is getting to the net. He makes a play, he is getting back on the inside, he's demanding the puck, and a lot of all the other intangibles of how hard he works and competes. He's just continuing to get stronger and better."
When it comes to the rest of the year, though, what does Anderson hope to see from himself?
"I couldn't really point out something personal that I want to see by the end of this year." Anderson said. "I'd almost even go the opposite and I would say 'I wanna see all the guys I play with have crazy success.' Usually that means, you know, my success follows too, but if Seney can put up 60 points this year, 70 points, like, that'd be so awesome. I wanna see Duszak have an assist per game, and I think those are gonna lead us to going on a deep run in the playoffs. I wanna see Källy [Erik Källgren], Woller [Joseph Woll], and Hutchy [Michael Hutchinson] have shutouts coming to them, like, I want everyone else to have that individual success.
"Like Josh [Ho-Sang] says that too, like the whole team, I think, guys just want to see each other do well and that's why it's so fun to go out there and play every night because we're doing it for each other."