John Tavares answered his critics in the regular season, but what comes next for him?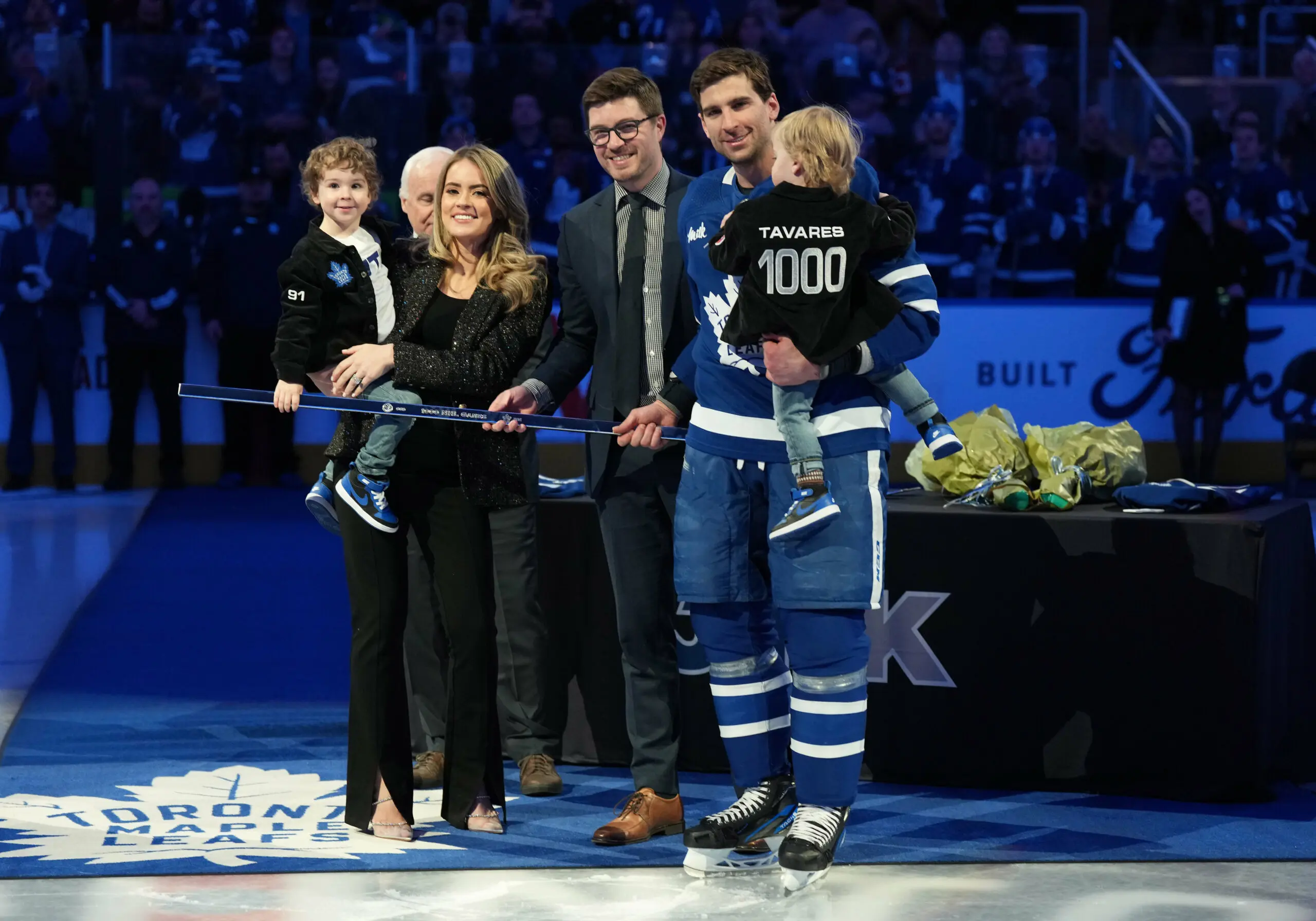 Photo credit:Nick Turchiaro-USA TODAY Sports
I'm sure this will be an annual tradition until John Tavares' contract expires and given the fact that he is very likely to want to re-sign a few summers from now, we could be spending the better part of the next decade asking, "what happens when John Tavares' play drops off?"
There certainly seemed to be a lot of concerns about what Tavares would look like this season. Admittedly I thought we'd be seeing the move to wing come earlier in the year rather than the occasional shuffle we saw after Ryan O'Reilly's arrival, but to some extent keeping Tavares at centre was based in the fact that Toronto didn't really leave themselves any other option but to keep Tavares up the middle. I don't think there was anything wrong with keeping him there, but the defensive drop off is one of those things to always keep in the back of our minds as well when factoring in whether Tavares is still the right guy to be centring the second line.
John Tavares seems to be the model of consistency and at 32 years old that isn't too shabby. The drop off that everyone has been afraid of could still happen in the final couple years of his contract, but with goal scoring up and generally everything else being consistent, John Tavares is living up to the player he has always been.
John Tavares living up to his abilities and John Tavares living up to his contract remain separate issues. John Tavares as a point per game player is great, but John Tavares as an $11M player leaves something to be desired and that is when playoff expectations also start creeping into the conversation. Here's where opinions on Tavares are born.
The criticisms of Tavares, largely due to his contract status led to concerns about the fact that his points are primarily from the powerplay. His defensive shortcomings and lack of speed begin to factor into the conversation, and while 8 points in 11 games isn't a terrible playoff showing, the fact that as an $11M player he wasn't able to maintain his regular season point per game pace definitely means that fair criticism is going to come his way.
Yeah, John Tavares isn't perfect, and he is expensive. He also has a no movement clause and that means any solution to what needs to be done with him needs to be found in house because he isn't going anywhere unless Toronto is imploding heading into his final trade deadline under contract.
So let's double back around to something that Kyle Dubas said last summer and that is he needed to find a way to put John Tavares in position where he can be successful. The top powerplay unit certainly remains a part of that, but it might be time to revisit the winger Tavares vs. centre Tavares usage. This seems especially important if part of the plan for the Leafs is to move on from either (or both) of William Nylander and Mitch Marner this summer. Does it make sense to use Tavares as a replacement for one of them and search for centre options elsewhere?
The free agency market certainly points to the answer being no, as Ryan O'Reilly and Sean Monahan are pretty much it when it comes to second line centre options that are available. The trade market is difficult to predict, but it seems that there are enough options like Schiefele, Hayes, and Dubois that it is a more viable option than free agency.
Having Tavares as a wing who can slide to centre as needed looks like a potential improvement for the Leafs and seems to be the best fit for Tavares where he's at in his career as well, but the number of moving parts involved still means the Leafs need to plan on Tavares being their second line centre and whether that still means as much as it did a couple of years ago.
So while it might not be showing up in his offensive outputs, there is some drop off in John Tavares' game. And the need to get more out of the Leafs second line will become a very real thing for the next two seasons.
If Tavares is staying at centre, it is worth asking who are the best options to work with him? When it comes to generating chances, Tavares has been more successful with William Nylander. For making the puck go actually go into the net, Mitch Marner. When it comes to defensive play, Mitch Marner has also been a lot better for Tavares than William Nylander, which doesn't seem surprising at all, but when John Tavares had Calle Jarnkrok on his wing he also helped reduce the chances the second line faced.
Interestingly, but not surprisingly, Matthews and Tavares were very successful together at 5v5 when given the opportunity. These numbers are likely driven from late in the game pushing to score situations and that will badly inflate the numbers, but it doesn't erase the idea that Tavares could be an interesting wing option for Matthews if transactions lead to that being a possibility.
What seems to be universally true for Tavares is that he needs at least one of his wingers to be capable of doing the defensive work for him and Tavares seems past the point in his career where he can elevate players beyond their skill sets. Tavares, maybe even more than Matthews, needs to have a top talent on his line to get the most out of him.
The other thing that seems like it needs to be talked about with Tavares is his captaincy. I've always held the belief that the captaincy is something that needs to be determined by the coach and the guys in the room and if the belief is that John Tavares is their guy, this is a non-issue. That being said all we have to go on is the public perception and when it comes to such a loud team like the Toronto Maple Leafs, John Tavares might be too soft spoken for the market. There has also got to be some consideration given towards how much the captaincy might matter to someone like Auston Matthews who is at the crossroads when it comes to whether or not he'll be staying in Toronto.
I don't think there needs to be a grand debate on what letter currently resides on the front of Tavares' jersey, but also there is something to be said for taking some of the pressure off of him and transferring some of the responsibility to players that very much want to be the face of the franchise.
The final thing that needs to be considered with Tavares is what will get him going in the playoffs and much like the common theme that has run through this post, it seems to point to putting Tavares on Matthews' wing and trying to find a second line centre solution. The Matthews as a shooter and Tavares as a net presence model seems to work and given their positions it is something we rarely see. If you look at how often the Oilers move to put McDavid and Draisaitl together when things aren't working, the Leafs' unwillingness to put Tavares with Matthews seems silly.
I know it sounds crazy but maybe there is something that can be learned from the Oilers. Having McDavid and Draisaitl down the middle is great, but what is also great is having Ryan Nugent-Hopkins who can either be a winger, take over as second line centre, or play as third line centre. That extra bit of depth affords a lot of flexibility in the roster and feels like it might be the Leafs key to unlocking to the best versions of John Tavares at any given point in the year.
The thing with Tavares is he is absolutely delivering at what you'd hope a 32 year old version of Tavares would be doing, it's just a matter of his contract being impossible to live up to and whether or not a strictly scoring second line second is the best fit for the Leafs at this point. It's hard to criticize him but the frustration over the situation involving him also seems perfectly reasonable. It will be interesting to see how it is mitigated in 2023-24.