Joseph Blandisi scores in overtime thriller to give Marlies 1-0 series lead over Utica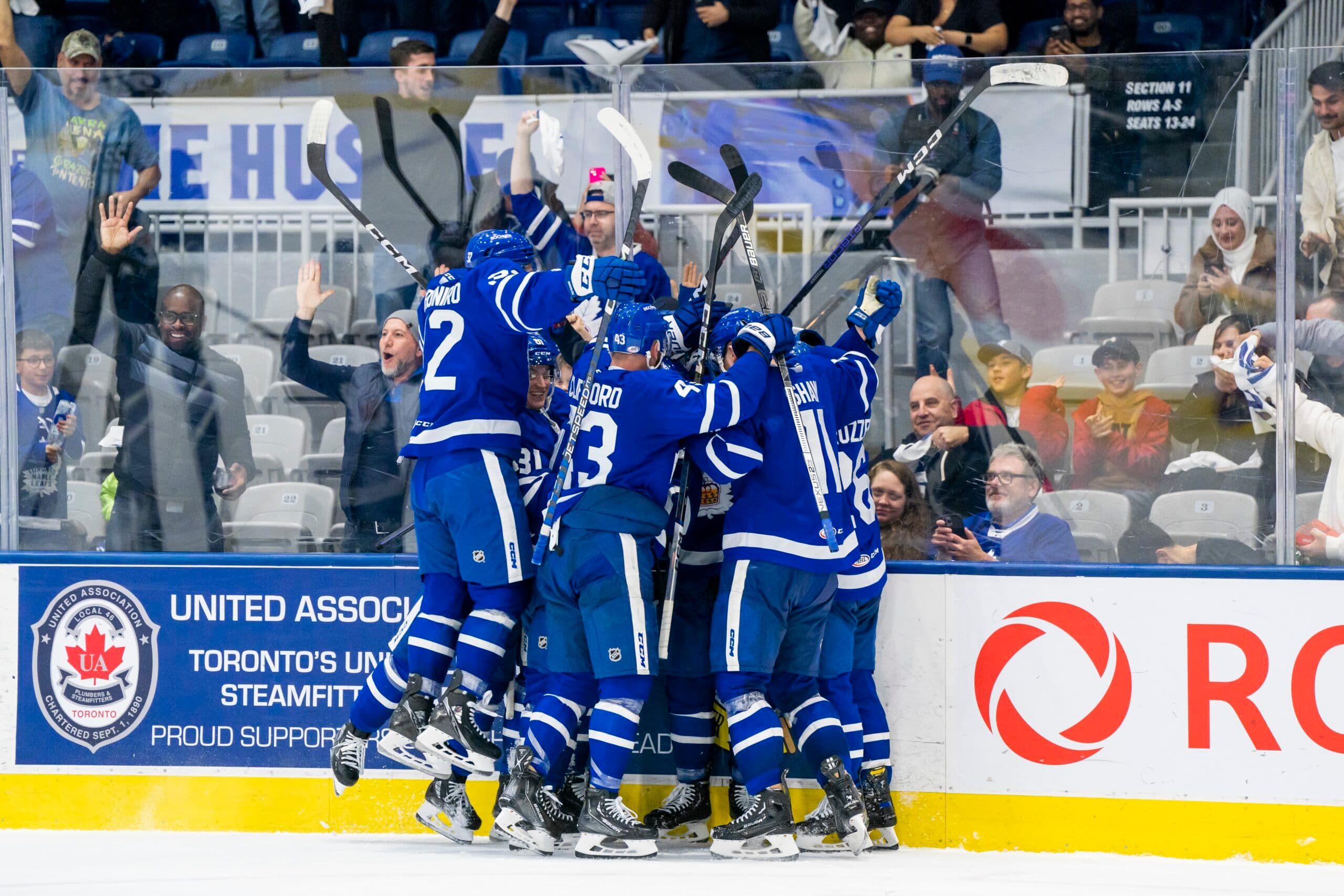 After 11 days out of game action, the Marlies looked a little rusty before returning to their old selves in Game 1 against the Utica Comets.
It wasn't the best start for Toronto as they began the game looking like that exact team that hasn't played a game in over a week and a half. Utica began the game scoring three-straight goals — two in the first, one in the second — to go up 3-0.
It looked like it was out of reach at that point for Toronto. But inside the Marlies' dressing room, that's not what the they thought.
Just three-and-a-half minutes after Utica found the back of the net for the third time on Thursday, Toronto answered back with a goal of their own.
Pontus Holmberg, a player who looked destined to remain on the Maple Leafs earlier this season, got the Marlies on the board. But it was a slick pass from Marc Johnstone which created the opportunity for Holmberg to find the back of the net.
1:17 later, Topi Niemela found the back of the net, beating Nico Daws over his left shoulder, to cut Utica's lead to only one goal.
Toronto — although late — was beginning to find their way back into this game. And then a couple minutes later, their leader, Logan Shaw, helped propel them to tie the game up at three, with his first of the postseason while on the power play.
However, a determined Marlies team didn't let that faze them, because 35 seconds later, Shaw, again, scored for Toronto.
A massive goal from the Marlies' captain in what's been a whirlwind season for the 30-year-old.
With nine minutes remaining in the third period, it felt like this game was destined for overtime. But with 7:19 left,
Semyon Der-Arguchintsev turned and fired a shot
that fooled Daws, sliding right along the ice into the back of the net.
At that point, it looked like Toronto had the game locked up. Until it wasn't.
With an empty net and an extra attacker out on the ice, Utica was pushing hard for a goal. Chance after chance after chance, though nothing was going in.
Alexander Holtz, though, found a way to beat Keith Petruzzelli, tying the game at five and sending the game to overtime.
Toronto entered overtime and played like they had for the last two periods: controlling the game and excelling in the offensive zone. Both teams traded chances back and forth with each having ample opportunities to end the game.
It looked like — similar to the third period — that this game was headed to double overtime.
That was until Joseph Blandisi had his say. After a great play by Shaw to steal the puck, the captain found Blandisi, and he held onto the puck before firing it into the back of the net. The rest is history.
"This team all year has proven that in moments like that (going down 3-0), they can dig their way out. Today was another example of that." Marlies head coach Greg Moore said.
The Marlies' first line of Abruzzese, Shaw, and Blandisi combined for eight points on the night, three of which were goals. They were spectacular, especially in the big moments on Thursday.
"They stepped up in big moments of the game," said Moore.
You could say the same about the Johnstone, Holmberg, and Kyle Clifford line as they combined for three points and 16 shots in the game. Those three players specifically played very well when it came to entries into Utica's zone.
"I thought they were our drivers today," Moore said. "Holmberg, Clifford, Johnstone were absolutely awesome.
"They were really hard to play against. They just played really direct and a brand of hockey that in the playoffs is much needed and those guys really brought a lot of momentum for us today."
Toronto's top-six played exceptionally well today, especially in very big moments. And that was led by Shaw, who had two big goals, and as I said, helped set up the overtime winner.
"(It was) a star performance," Moore said with a grin. "Our captain has done it all season and to get the two big goals that he had, and then in that effort, at that time of the period, to work back and strip the puck and then be the driver on the goal to be the flash screen was really really impressive and why he's our leader."
For a goaltender, going down 3-0 in a game can be really difficult mentally. That's what Petruzzelli had to deal with on Thursday night.
Though after allowing three goals, it seemed like he found his way, coming up with a lot of big saves in the process.
"That's what he's done all season," said Moore. "He has a great mindset for being a goalie. He's really consistent and doesn't let a lot rattle him. He's the perfect personality to have in net."
"Games like that, your goalie's gotta make saves, he's gotta be one of your best players." Said Nick Abruzzese. "And I definitely thought he was."
Mac Hollowell played his first game since suffering a fractured kneecap back in January. He, to me, looked like there wasn't a game missed. But how did he feel?
"I feel like the first, I kind of eased myself into it. But as the game went on, I felt myself getting better and better." The 24-year-old said.
"I was not expecting him to move as well as he did," Moore said. "He's always been a great skater, and that's what he relies on for his play, but he was really dancing out there. You could tell he looked confident.
"(I'm) just really happy for him, to have that much of an impact in an important game to be out for that long."
The Clifford-Holmberg-Johnstone line played incredible, there's no doubting that. Though Holmberg, in particular, looked very dominant in what was his first-ever playoff game in North America.
Whether it was with the puck or without it, the 24-year-old was very strong on the ice, most of the time outmuscling his opponent.
"(I saw) the Holmberg that we knew, especially from the beginning of the season." Moore said.
"So good to hold onto the puck and at extending plays in the offensive zone, and through the middle of the rink, he finds open space and he's very shifty and deceptive to find pockets that he can attack off the rush."
The Marlies are likely to practice on Friday before getting right back to it against Utica on Saturday. Game 2 is once again inside Coca-Cola Coliseum, with puck drop scheduled for just after 4 p.m. EST.