Keegan Kolesar could be a solid Wayne Simmonds replacement for the Leafs
Photo credit:© Isaiah J. Downing-USA TODAY Sports
When Wayne Simmonds first arrived in Toronto back in the fall of 2020, it was a move that many Leafs waited a long time for.
A local boy who brought physicality and tenacity to the lineup while being a solid leader on and off the ice was a dream come true for many in the GTA. Though he was nowhere close to the player he was in the prime of his career, seeing him don the Blue and White and make an impact in his first two seasons was a joy to watch.
Fast forward to this season and Simmonds' role has been diminished to the point where he is only used sparingly. Appearing in just 13 games to this point and registering but a single assist, he has not done enough to justify a more consistent spot in the lineup with so many talented forwards competing for ice time.
Simmonds' physical presence and leadership would need to be filled by finding a player of a similar vein but also brings a bit more to the table to be used beyond a few games here and there. Luckily for them, there is a near carbon-copy player on the Golden Knights who is also younger.
Not only do both players play the same position (right wing), but both stand at 6'2 with Kolesar having the edge in weight at 217 pounds. The two players have a knack for dishing out hits and dropping the gloves, though Kolesar is fifth in the NHL in
hits with 180
and tied for eighth
with six fights
at the time of writing.
Kolesar's big frame has been used at times to try and provide a net-front presence on the power play, similar to what the Leafs tried with Simmonds in his first two seasons in Toronto. Kolesar's point projections this year are also identical to Simmonds' from a year ago at 0.22 for a projected finish of roughly 20 points. Above all else, both players are leaders on and off the ice while also standing up for their teammates when needed.
One major difference between the two is that Kolesar is much more disciplined as his 0.88 PIM/game is far better than Simmonds' rate of 2.62. Given that the latter has taken too many needless penalties when drawn into the lineup, it would go a long way to ensure the Leafs kill fewer unnecessary penalties.
| | | | | | | | | | |
| --- | --- | --- | --- | --- | --- | --- | --- | --- | --- |
| PLAYER | CF% | FF% | SF% | GF% | XGF% | SCF% | HDCF% | HDGF% | PDO |
| Wayne Simmonds | 44.72 | 45.13 | 43.42 | 50.00 | 45.61 | 39.47 | 41.18 | 100.00 | 1.021 |
| Keegan Kolesar | 46.76 | 46.98 | 47.78 | 56.10 | 50.75 | 48.28 | 58.93 | 69.57 | 1.026 |
Kolesar's underlying metrics being the way they are make sense since he is primarily used in defensive situations, with approximately 70% of his shifts beginning in his own end. By contrast, Simmonds starts about 60% of his shifts in the offensive zone so the fact that his numbers are lower is quite telling of why his role with the team has diminished.
Now some may wonder why the Leafs would even want to go after a guy like Kolesar in the first place. After all, they could easily bring up Kyle Clifford if the goal is to simply move Simmonds off the roster. While Simmonds and Clifford bring the hits and fights, Kolesar does more to make him a more viable option for the Leafs to use in their lineup to complement the likes of Zach Ashton-Reese and Bobby McMann.
Throughout the season, Sheldon Keefe has consistently had his fourth line implemented to bring energy through a hard forecheck and a physical play style. It has been prevalent on nights when they square off against teams like the Bruins, Jets, and Lightning. While Simmonds and Clifford had their moments, there were also many instances
where the two were undisciplined
and put the Leafs
down a man at a bad time
. It's a primary factor in why Simmonds is used infrequently and Clifford has spent the majority of the year with the Marlies.
Kolesar brings what both players possess and is much better disciplined, something that Keefe would be happy to have in his arsenal. If the Leafs were able to acquire his services, they would be more comfortable giving him defensive responsibility due to his aforementioned usage in his own end by Vegas. They may also experiment with him being a net-front presence on the second power-play unit and on the penalty kill if needed. With him being 25 years old and in the first year of a three-year deal that comes with a $1.4 million cap hit, the Leafs would be getting Kolesar at his peak and keeping him under team control for the next two seasons.
Simmonds would be included in the trade to give the Golden Knights a player with a similar role to Kolesar, but that obviously would not be enough to make the trade work due to him being older and not playing as much. In order for this deal to work, the Leafs would need to include a draft pick that falls between the third and fifth round because that would make it fairer. It may not make sense at first to trade away a younger player for one in the latter stages of his career, but this is a move that would be the least disruptive to a team that is reeling and in need of a spark of any kind. Vegas would also get $500K in cap space cleared which could help get some of their pending RFAs re-signed for next season, and that pick acquired could be used however they see fit to help keep them in contention for the Pacific Division title.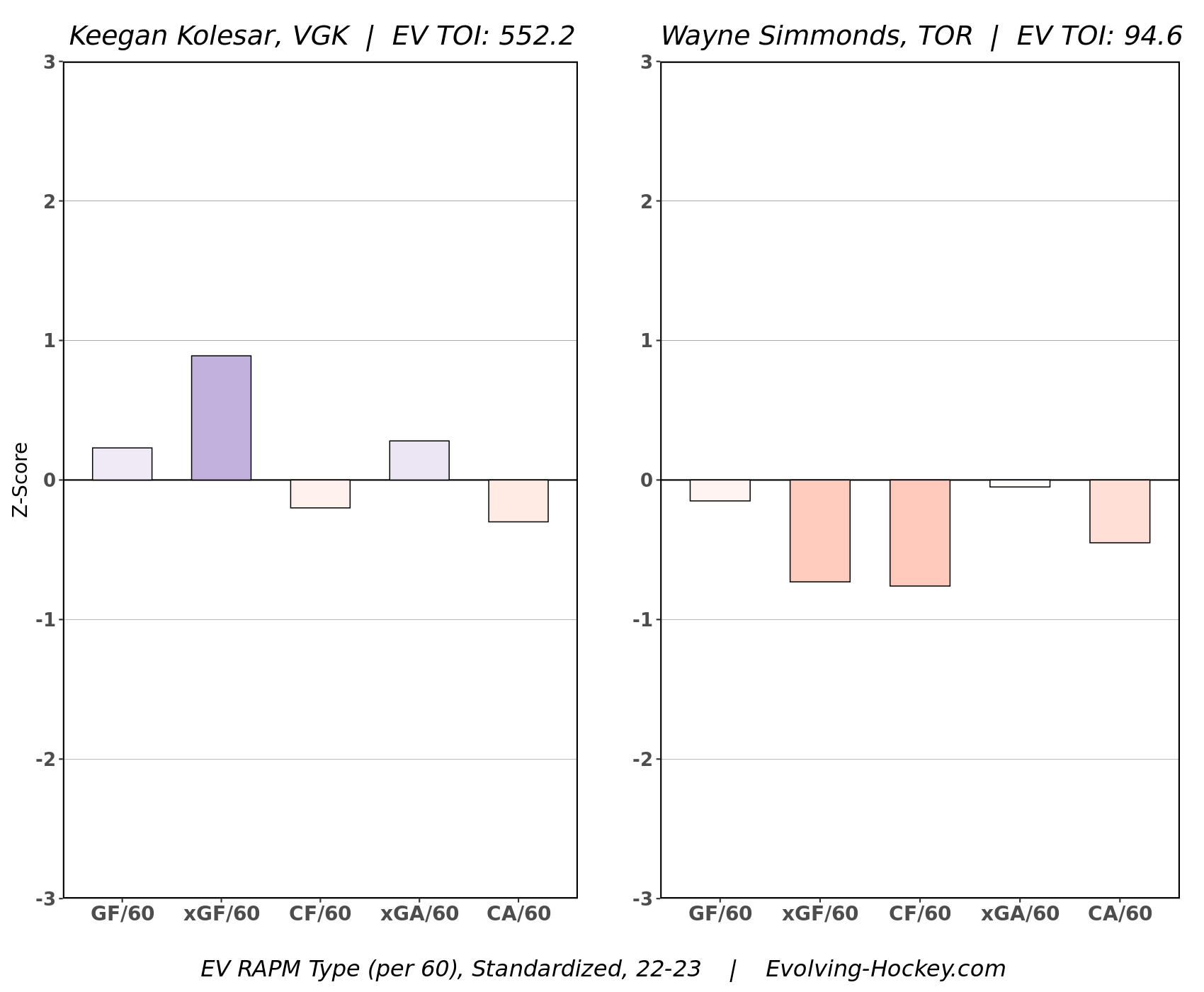 Seeing Simmonds get traded would no doubt be a tough one for many fans who loved what he brought to the team upon his arrival and how much the signing meant to many. But with his role significantly reduced and him already being made available for any team to acquire, the Leafs will need to try and find a replacement who does what Simmonds could do and more.
Kolesar would fill that void and have the added benefit of being younger, right in his prime, and under team control for the next two seasons. Add to that his more reliable play defensively and his high volume of hits, and he would be a worthy addition to the fourth line on a more regular basis.
If the Leafs want to find a replacement for Simmonds, they should look to acquire Kolesar.