Keith Petruzzelli's strong play could lead to a contract with the Maple Leafs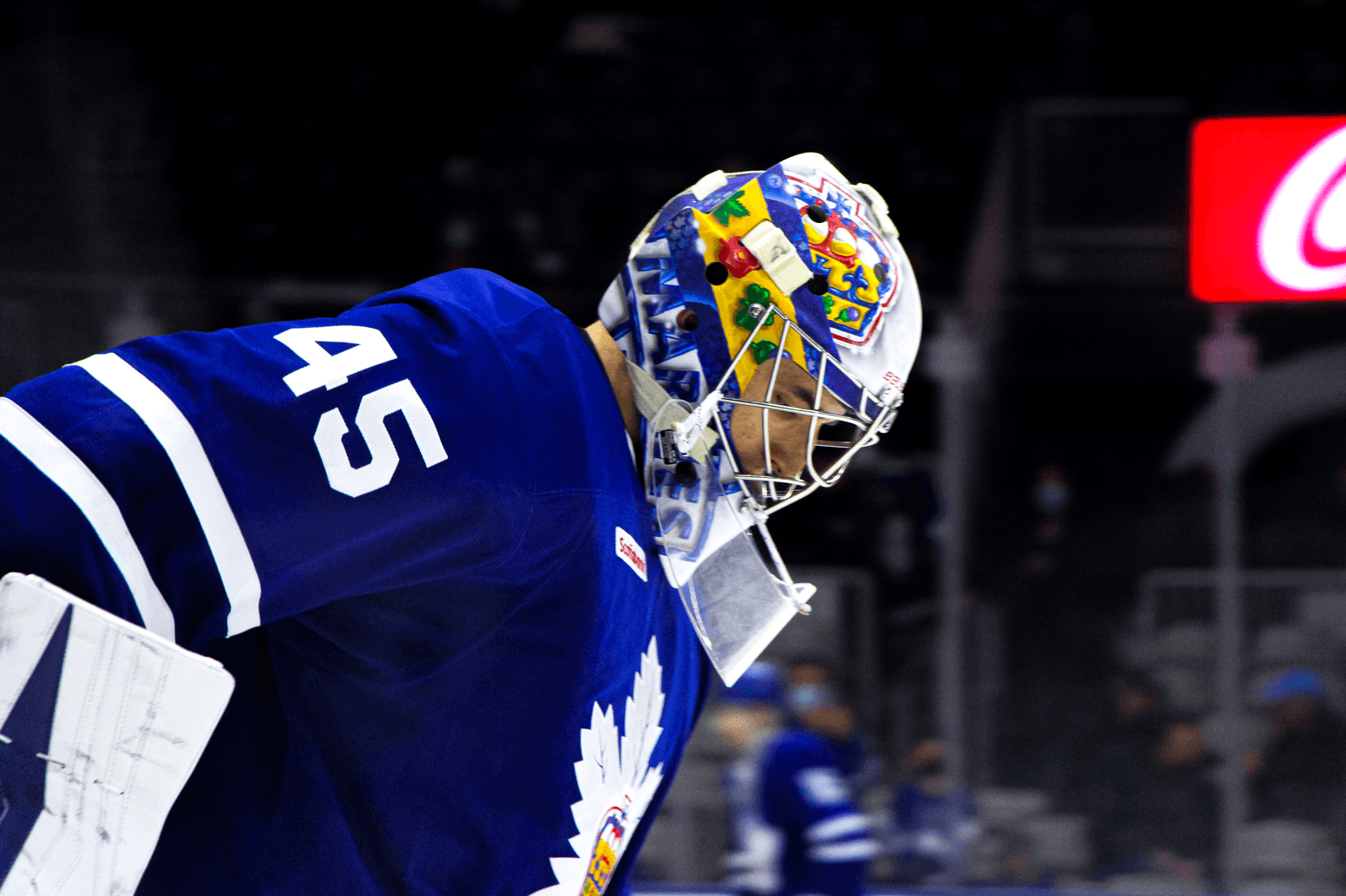 Photo credit:Nick Barden
Keith Petruzzelli — have you heard the name before?
The 23-year-old was drafted by the Detroit Red Wings in the third round of the 2017 NHL Draft but was never signed to an entry-level contract. Fast forward five years and Petruzzelli has made his way into the Maple Leafs organization.
There's a lot that stands out about the six-foot-five netminder. Yes, he's really that tall, but it's not just the size he's valued for. His athleticism, calmness, and positioning are all strong attributes that make him such a solid netminder.
And when you put them all together, plus his height, Petruzzelli makes for a scary goaltender.
"It is difficult (to score on) when you play as square and as positioned as he is with that size," said Marlies head coach Greg Moore of Petruzzelli. "There are some goalies out there that have the size, but try to rely on athleticism rather than just positioning for themselves, and they catch themselves out of the net or they lose their net at times, where Petruzzelli plays a really strong system. He's not trying to over play shots, he just keeps it calm, keeps it square, and allows the puck to hit him."
Petruzzelli signed a two-year AHL contract with the Marlies back in August and is making the most of every opportunity with the AHL club.
The 23-year-old has a .924 save percentage through 22 games with the Newfoundland Growlers this season and a .940 save percentage through three games with the Marlies.
"You just gotta take control of your opportunities," said Petruzzelli after a 32-save win against the AHL's second place Chicago Wolves. "You can only control so much, do what you can do, go where they tell you to go, and as long as you have a good attitude and good mindset, things are going to go well for you."
Petruzzelli hasn't lost a game at the AHL level yet. Part of that is because he can make saves like this one.
"My dad calls them my go-go gadget legs," Petruzzelli said with a smile. "They help me out quite a bit out there."
At the age of 23, and with the level of play that he's shown within the organization this season, Petruzzelli could soon see himself under contract by the Maple Leafs.
Goaltending depth makes for an incredible advantage throughout the NHL season, as we've seen with Joseph Woll and Erik Kallgren. Adding Petruzzelli to the mix would take Toronto's goaltending depth to another level.
Out of the three goaltenders making noise throughout this season, there's always a chance that one has future NHL starter potential. It's easy to say that a goaltender is very good, but it's another thing to predict where they end up in their careers.
Many asked why Woll was getting an opportunity with the Maple Leafs when he was called up. He then went out and won three of his four games, returning to the Marlies with a .911 save percentage in the NHL.
From what Petruzzelli has shown, the NHL contract might just be calling his name this off-season if his play continues. He'll get another opportunity to showcase his work on Saturday night as the Marlies take on the Bridgeport Islanders.
"We love Keith," said Marlies captain Rich Clune. "He just comes and got a big grin on his face. I see a goaltender that's just very square to pucks. He looks very technical to me, doesn't get flustered in the net, and every shift he's a big body, he's a big goalie, so he has that going for him. And then he had that big save in the third today, where he showed the leather there a little. A little flash."
"He's great energy for our team, and he's won some games for us. He's done well for himself."