Betting on Kerfoot is likely the best option for the Leafs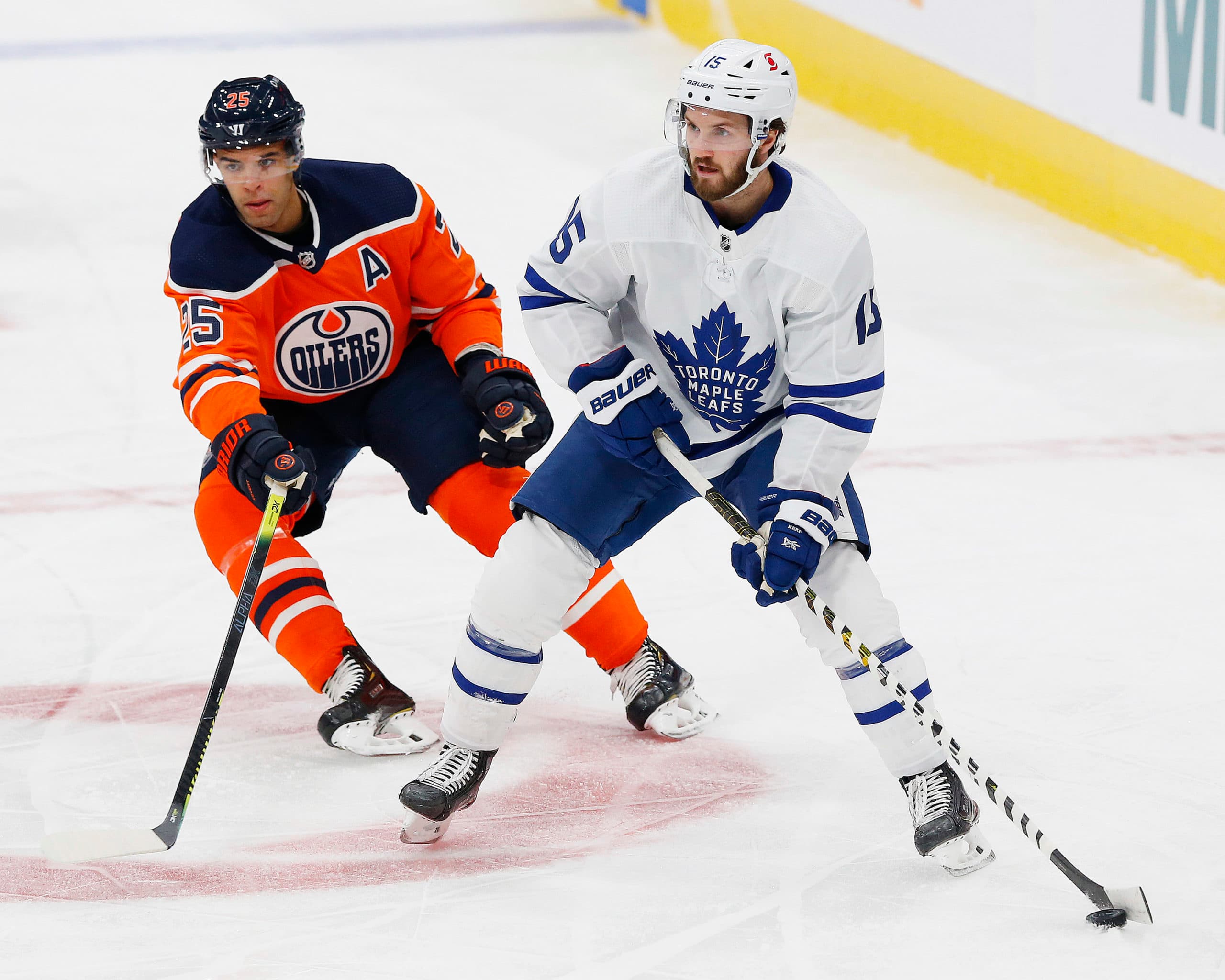 Photo credit:Perry Nelson-USA TODAY Sports
When Kyle Dubas said he believes in the Leafs roster, we should probably take him at his word. The fact that Kyle Dubas traded for @Jared McCann in hopes that he'd either be the replacement for Kerfoot or (what actually happened) that he'd be the bait in order to keep @Alexander Kerfoot probably proves that he wants to give it another go with this group.
As someone who has spent the better part of the last two years trying to trade Alex Kerfoot, I've now moved past denial and reached acceptance that Kerfoot will be a Leaf next season. It's September. The Leafs are essentially capped out, and unless one of the GM's around the league is a secret admirer of Kerfoot, there's no reason to believe that Alex is going to be on the move. There would have been several points over the past couple of months where a deal would have made sense, but at this point unless Toronto has been sitting on a true hockey trade all summer, it seems that he'll play.
The first couple of paragraphs so far probably have the tone of Kerfoot being a bad player, that absolutely needs to be unloaded. That's not at all the case and there's absolutely no evidence that the Leafs view him in that manner, in fact it seems to be the opposite. My criticisms, and I believe the criticisms of many, are that Alex Kerfoot seems to be a square peg that the Leafs keep on trying to hammer in to a round hole. He's a low event player, but he isn't a defensive standout. He lacks the size that traditionalists would call for in a third line center, and while he clogs the neutral zone well, and can cycle well enough in the offensive zone, he's not a catalyst for offense in any regards and that has been what makes him seem miscast as a potential top six winger as well. He doesn't have a pesty nature, and even if he does finish his checks they aren't much of a deterrent. Pretty much everything about Alex Kerfoot is decidedly middle of the road, and has the feel of a watered down Matt Stajan. And when a watered down Matt Stajan is your replacement for Nazem Kadri, well, I guess you get people like me who can't look past the fact that there truly isn't anything wrong with having a player like Kerfoot around.
The thing is the numbers point to an underwhelming year for Kerfoot last season as well, but the potential remains there. His expected goals against per 60 was worse than the other top nine forward regulars at 2.04, and his 2.01 expected goals for per 60 certainly doesn't justify offense against. When looking at the actual goals against his numbers were steady at 2 GA/60, which actually put him ahead of Tavares and Matthews as the best center of the top three lines, although using PuckIQ.com's quality of competition definition, the majority of Kerfoot's competition was bottom six and he saw less time against elite competition than any of the top nine regular forwards.
As for Kerfoot's offensive production last season his G/60 was the lowest of his career, and his P/60 was his lowest as a Leaf and second lowest after the year that saw him traded from Colorado to Toronto.
You could point to Kerfoot being tethered to @Ilya Mikheyev for part of his offensive woes (but also some of his defensive strengths), but reality is that over the past couple of years Kerfoot has played just over half of his time with Mikheyev. In fact, Kerfoot has played fairly regularly with anyone not named @Auston Matthews. There seems to be some acknowledgement that Kerfoot's lack of offensive skillset would slow down Matthews and Marner, but at the same time it's interesting to see that some of his best hockey in Toronto has come with @William Nylander, and by extension @John Tavares. It wouldn't be surprising to see Toronto move Kerfoot to the second line to make that a regular thing rather than continue to pair him with the Mikheyev's and Engvall's of the lineup card.
So what equals success for Kerfoot? What equals success for the Leafs?
Most of the evidence for getting success out of Kerfoot seems to be to find a way of getting him playing with Nylander. His numbers over the past two seasons have been solid with Willie, and the most recent evidence, the short lived, small sample playoffs point to the two of them working well together after Tavares went down for the series. The question remains whether it's feasible to put them together on a regular basis.
You could move Kerfoot up to the 2nd line, and place him on Tavares' wing and run with a very solid looking second line. That decision is putting a lot of faith in @David Kampf as the third line center, which right now there isn't a lot of evidence to say that will work out as the Leafs hope it would. You'd get a better Kerfoot, but a potentially worse third line.
You could take Nylander off of Tavares' line and put him with Kerfoot more regularly, but I can't imagine for the life of me why Nylander would accept that demotion, and while Tavares has a history of elevating his linemates, that was much more in his prime Tavares, and older Tavares could use a in his prime Nylander to do some of the heavy lifting on his line while they both try to elevate their left wing.
The third option is accepting that Kerfoot IS the third line center, and while moving him up from time to time seems to work, he's primarily on this team to give Toronto a workable third line despite the limited cap resources. If that is the plan, the Leafs need to find a way to get more out of the third line offensively and that might mean separating Ilya Mikheyev from Kerfoot. Mikheyev has added an important defensive element to Kerfoot's line, but the offensive trade off might not be worth it. In the past players like Spezza and Simmonds haven't got it done with Kerfoot, but a versatile middle six forward like @Ondrej Kase seems like an ideal candidate for Kerfoot's line, and sparkplugs like @Michael Bunting or Nick Robertson could be worth a look as well.
Ultimately the Leafs have options, and options that seem like they can embrace what Kerfoot is.
The idea of keeping Kerfoot to see what they can get out of him isn't the ill conceived notion I wanted to believe it was a couple of months ago, and from an asset management standpoint and team depth standpoint it makes sense.
The Leafs having capable winger/center options like Kerfoot improve the depth and keep things afloat during the inevitable injuries that will occur. And with $1.95M of Kerfoot's 2022-23 salary being paid as a signing bonus, that means only $750k would be paid to him as regular season salary making him a very moveable asset if the Leafs want to either sell high or just clear cap space.
After two years of being underwhelmed by Kerfoot, I'm ready to clean the slate and give him a fresh start. With the right linemates Kerfoot seems like he can be a successful middle six forward, and the Leafs are probably right to see if he can live up to that.