Kim St-Pierre shares Hockey Hall of Fame phone call, and talks about Women's Hockey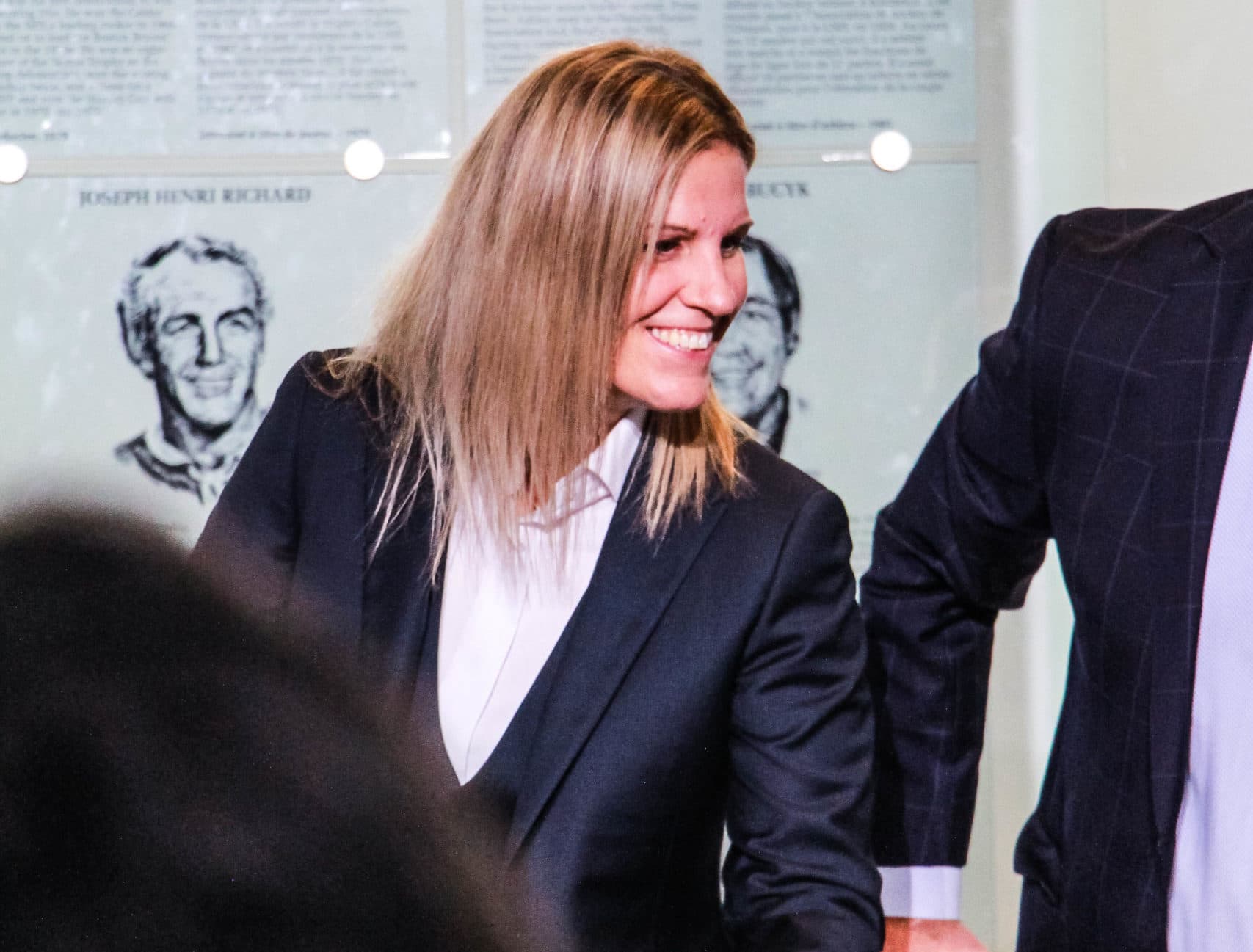 Photo credit:Nick Barden
Kim St-Pierre was out for a round of golf with her husband and two children when she got one of the most important phone calls of her life.
Throughout her career, the 42-year-old has answered the phone many times. Some were from the Canadian National Team saying she's going to the Olympics or World Championships. There was even a point where a call came in from the Montreal Canadiens asking her to come practice with the team.
But on June 24th, 2020, this call was different.
"Every year people say, 'Ah, maybe it's gonna be you!' and you're like, 'There are so many great players.'" St-Pierre said about her thoughts about getting the call from the Hall of Fame. "That day, I knew the press conference was happening. It was probably just half an hour away and I was just playing golf with my kids and my husband, so I was like, 'It's not this year!' I was like, 'I can't wait to see who's gonna get in.' And finally, the phone rang with a 416 number, and I was like, 'Uhhhhhh.' And then I stopped, I didn't know what to do. 'Do I answer or not?'"
And then it happened.
"I hid in the car to just try to take it all in, and I don't even remember what Lanny [McDonald] said." Said St-Pierre with a massive smile on her face. "But what stuck out is when he said, 'You're the eighth woman,' I'm like, 'Oh my god.' Like it's crazy to be part of this history and he announced I was the first goalie. I never even realized that. We didn't have any goalies yet in the Hall of Fame, so it's just something you don't really think about. And when it happens, it's just so incredible."
St-Pierre's journey began at the age of eight years old. She first started as a forward, but she decided she wanted to be a goalie after playing one year in the position.
"One of the coaches came in the room one day and he dropped off some goalie equipment. It was all brown, nothing attractive. But I'm like, 'I wanna try!' and my mom's like, 'Are you sure?' Because she was there to help me that morning, and she said, 'Ah, just for one practice.' So then I was like, 'Okay, I practice,' And then I said, 'Just one game, and then I'm done with it.'" St-Pierre said. "And then, I lost my first game 8-0. So my mom was probably happy and saying, 'Okay, we're really done with the goaltending.' But, they saw how disappointed, how sad I was, so they just decided to give me another chance. And thank god they gave me that chance because maybe I would not be here today."

"I remember it just got better and better. And I was just like eight years old, and I just loved everything about it. I would just watch a bunch of Montreal Canadiens and put my gloves on, and pretend I was making the saves. So, I just loved everything about the goalie equipment, so that's probably what helped me stay in the game."
She would go on to win three gold medals at the Olympics with Team Canada, five gold medals and four silver medals at the World Championships, and then one gold medal at the Women's 4 Nations Cup back in 2010. St-Pierre is an incredibly decorated hockey player.
But she once had that dream, like a lot of little girls who love the game of hockey do. And she made it into a reality.
"It's all about enjoying the process." St-Pierre said when asked about what she'd say to younger girls and women who have the dream to play hockey. "When I was playing boys hockey, I didn't think about making it to the Olympics, or you dream of the NHL, but if you don't enjoy the process, the people you meet, to be a good teammate, there's so many things that goes along the way. And to make it to the pro level or the Olympics, you need many many factors that goes your way. So, if you don't enjoy every year, with your team, it's not going to make it possible. Like that's how I approached it, and once you get the big opportunities, that's when you need to be at your best. You need to be ready. It's your chance."

"I want to help the little girls dream about playing professional hockey." St-Pierre said. "We need to make hockey available for everybody. For me, there was not a lot of options. It was the NHL. But now, a little girl that is asking their parents, then she can play university hockey. She can play at the Olympics, World Championships, and hopefully professional league at some point. It's all the opportunities I didn't have, that now are at least available. But, we still need to work in the right direction to make it a professional sport."
When you look at Women's hockey, there's another step that's needed. Everyone wants it to become similar to the WNBA. But how close is that to happening and is the NHL willing to help?
"I think there's been many discussions, and because of COVID, I think everything is — not postponed — but everything is going very slow." Said St-Pierre while speaking at the Hockey Hall of Fame. "We've had a lot of support from many NHL players as well, wearing the PWHPA hoodie. So I think people are ready for the next step, I just think we need to be a little more patient. But we're feeling the support as much as the basketball players that are getting from their male counterparts. I just think it's great. We need to see more of the NHL players involved, maybe at the higher level as well. But I think people believe in what we can offer, and they believe we deserve our league as well."
St-Pierre dawned one of the biggest smiles in the room on Friday. With everything she's been through, the 42-year-old is thankful for the game, but also the people within it.
"

It means everything." Said St-Pierre. "It's so special to see the women that were there before me and what they've done to the game. When I started playing on the women's team, I looked up to these players, and even [Cammi Granato] and [Angela Ruggiero] from the US. I was so impressed by everything they were doing on the ice, and playing against them made me very nervous. But they did so much for women's hockey and what impresses me is all the work that everyone is still doing for the game."
And when St-Pierre steps back to think about this moment, she's forever thankful.
"It seemed something just impossible to achieve because there was not a lot of people that are able to be in the Hall of Fame. So, once it happens to you, it's hard to realize how big it is. But for me, it's an opportunity to talk about women's hockey, to talk about the fact that never giving up is something that we need when we want to achieve big things. I'm so proud to be a part of this history."