Knee Jerk Reaction: Joseph Woll tightens grip on Leafs crease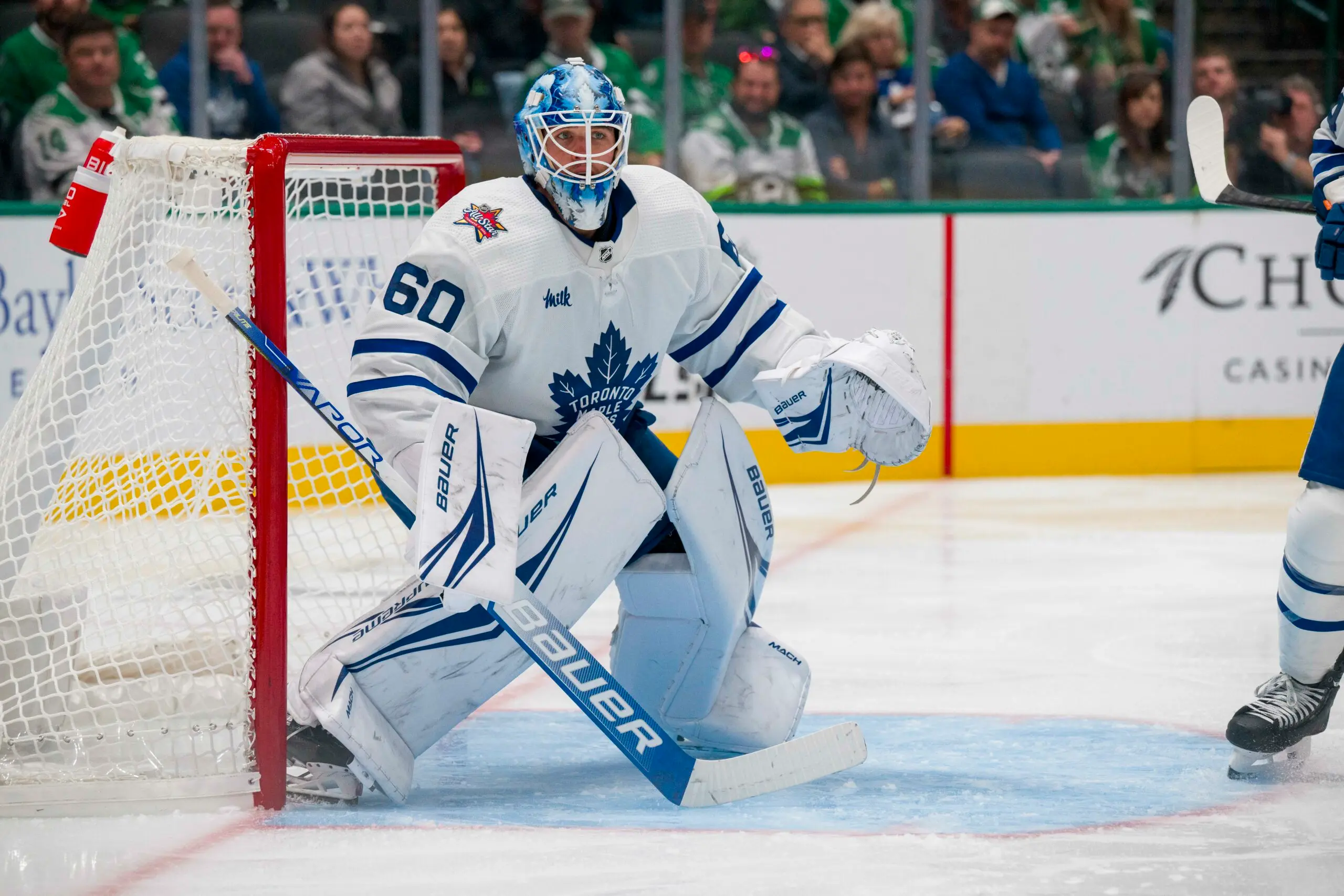 Photo credit:© Jerome Miron-USA TODAY Sports
There has been some hesitation in the Toronto market to anoint Joseph Woll as a legitimate NHL starter, and understandably so. To say the Leafs' track record of developing goaltenders is spotty would be an understatement, and Thursday's matchup against Dallas was just Woll's 15th appearance in the NHL regular season, but Toronto's third-rounder from the 2016 draft continues to build his case with each passing game.
Woll was spectacular again in Thursday's 4-1 win, stopping 31 of 32 shots the Stars managed to put on net, including a handful of highlight-worthy saves. After the Leafs came out strong and played a nearly perfect road period to start the game, fatigue appeared to set in, and Dallas controlled the run of play for the better part of the second and third periods. With the Leafs bleeding dangerous chances against, Woll stood tall as he has all season, but his run of dominance goes back further than that.
He began last season on the injured list but hit the ground running upon his return to the AHL, setting a new Marlies record for consecutive wins to begin a season. In 21 AHL games, he set career-highs with a 2.37 GAA and a .927 SV%, but he was even better in limited action at the NHL level. Woll got into seven regular season games with the Leafs last season as Ilya Samsonov and Matt Murray dealt with various injuries, going 6-1-0 with a 2.16 GAA and a .932 SV%. He even picked up his first postseason win when thrust into duty during the Leafs' second-round playoff series against the Panthers.
Woll dealt with his fair share of ups and downs through the early part of his career, but he capitalized on his opportunity last season and is doing so again in the early part of the 2023-24 campaign. With Samsonov struggling to the tune of a 4.34 GAA and .831 SV% through four games, Woll has steadied the ship, and following Thursday's win, he is now 3-1-0 with a sparkling 1.33 GAA and a ridiculous .961 SV%.
Those numbers obviously aren't sustainable, and Samsonov will have an opportunity to get his game back on track when the Leafs wrap up their road trip in Nashville on Saturday, but Woll has done enough to earn the lion's share of starts in the immediate future. No matter how Samsonov fares on Saturday, it seems likely that Woll will be back between the pipes when the Leafs return home to take on Los Angeles on Tuesday, and at this point, he should have a longer leash than Samsonov.
Beyond Woll, many of the usual suspects showed up to help the Leafs earn two points. William Nylander was flying in the early part of the game, setting up Morgan Rielly with a gorgeous pass to open the scoring. Nylander and John Tavares, who picked up a late empty-netter, extended their season-long point streaks to seven games while Mitch Marner scored the eventual game-winner shortly after the Stars had tied the game in the second frame. Rielly's goal was his second in as many games, and he added an assist on Tyler Bertuzzi's power play insurance marker in the third period.
The likes of Nylander, Tavares, Matthews, and even Woll have drawn a lot of the headlines early this season, but Rielly deserves some praise for how he has played. He looks like the same player who was unquestionably Toronto's best blueliner in the playoffs last season and stepped up to handle over 26 minutes of action on Thursday after Jake McCabe left the game following his first shift. Rielly and TJ Brodie have rekindled their chemistry, and that pairing continues to be a bright spot on a Toronto blue line that has had its issues.
The possession numbers weren't in the Leafs' favour on Thursday, but the entire defensive core stepped up to withstand the loss of McCabe, and Woll was there to shut the door when they needed him. That has been the case with Woll for a while now, and he has earned the opportunity to show he can keep doing it with a heavier workload.
It's been a long time coming, and there is plenty for Woll left to prove, but it looks like the Leafs might finally have their next homegrown starting goaltender.
Statistics from EliteProspects.com & NHL.com