Knies, Kampf & Jarnkrok could be an interesting third line for the Maple Leafs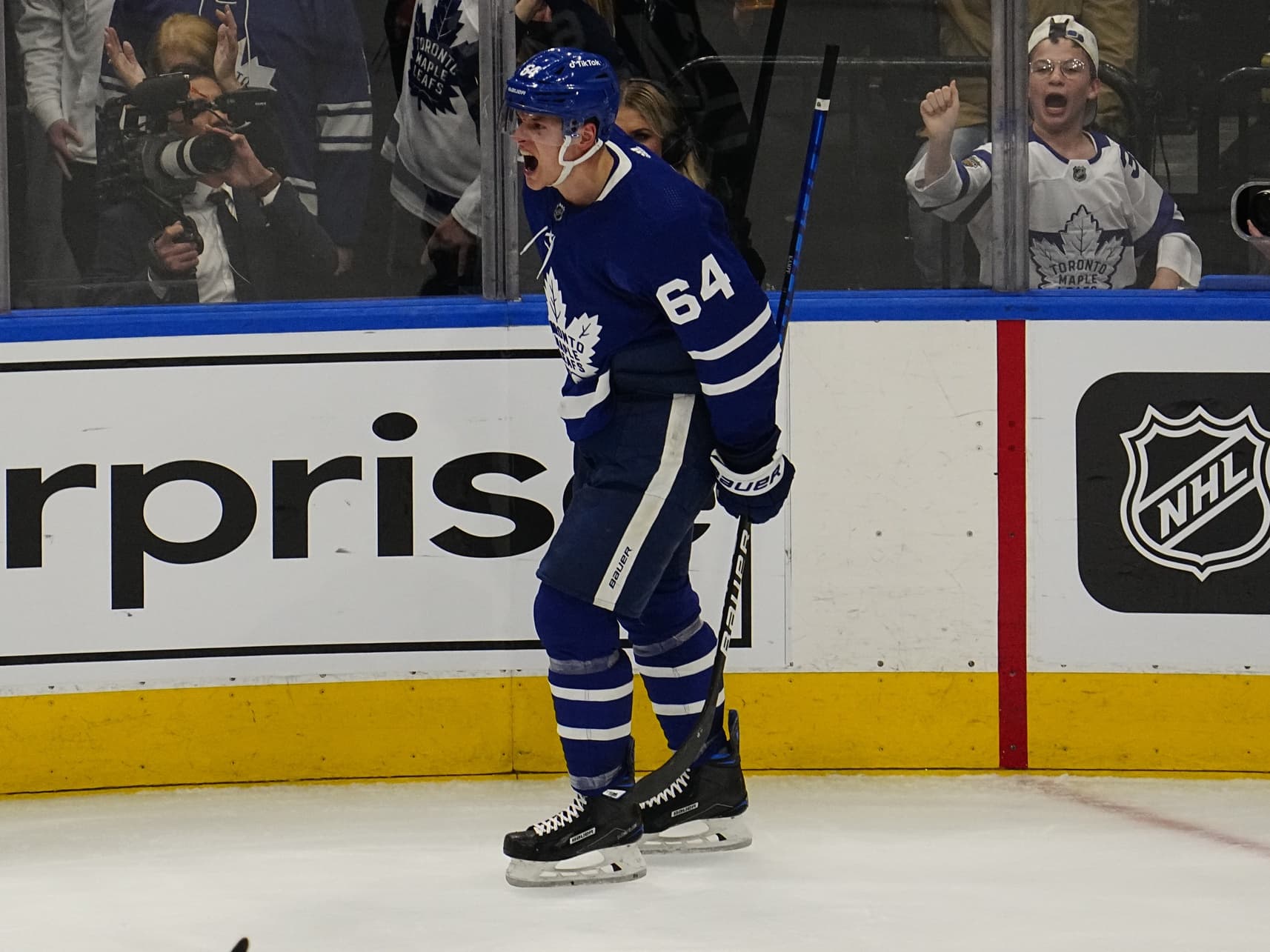 Photo credit:© John E. Sokolowski-USA TODAY Sports
The Toronto Maple Leafs open training camp in less than a week and it's time to start thinking about who will be playing with who when the puck drops on opening night. We've brought you some
interesting predictions
over the last two weeks and for today's piece, let's ponder what a potential third line could look like in Toronto.
While rookie forward
Matthew Knies burst onto the scene
towards the end of last season, Knies is getting set for his first training camp, preseason and season opener. A good spot for the potential super rookie? How about the third line alongside David Kampf and Calle Jarnkrok?
This trio could be effective for head coach Sheldon Keefe as it does have a little bit of everything. The Maple Leafs are going to need a third line that can shut down opponents and give their big guns a break from defensive duties, but also the third line needs to chip in with some secondary scoring and overall, be tough to play against.
Kampf Has Golden Opportunity in Toronto
With a
new four-year deal, the 28-year-old centre
has been presented with a golden opportunity to creep up the depth chart and solidify himself a huge role on this team moving forward. Kampf has the inside track at the three-hole and rightfully so. He's shown throughout his tenure with the Leafs that he's capable of being an integral piece of the team, on both sides of the puck.
Kampf was 52% on faceoffs last season and starting with the puck the majority of the time always helps. He's able to use his speed and be effective when it comes to shadowing opponents, and expect this part of his game to continue to excel this season.
Kampf's a decent option for a third-line centre and among the best fourth-line centres in the league if he does get pushed down. I think Pontus Holmberg may have that spot in mind this season.
With a long-term contract in his back pocket and his team's need for a steady third-line pivot who can shut down opponents, the time is now for Kampf. Durability is not a concern as he was one of the only Leafs to play all 82 games last season. He's actually 164 of 164 in a Leafs uni; impressive stuff.
Kampf has the size at 6-foot-2, he's not afraid to muck it up in the dirty areas of the ice and he's not too proud to solely focus on the defensive side of the game when his team needs it most. Kampf knows his role, making him an integral piece for the Leafs. He doesn't try to do too much and this season he's going to be
an x-factor for coach Keefe.
Knies and Jarnkrok Fit in Nicely on Third Line
Regardless of who is down the middle, it would be wise for Knies and Calle Jarnkrok to start on the team's third line. At 6-foot-3 and 210 pounds, Knies is ready physically for the NHL, it's now just getting the feel for the speed of the game. Jarnkrok on the other hand, is basically in stone as the team's third-line right winger behind Mitch Marner and William Nylander. His versatility and loaded toolbox make him a fantastic complimentary piece.
The 6-foot-3 210-pound Knies proved in a very short sample last season that he's going to be a huge piece for the future success of this franchise. He has the game and wants to be great, which is a huge attribute for a young player to have.
Having Knies on Kampf's left wing makes a ton of sense to me as the veteran centre can help out the rookie winger when needed. Kampf's a great communicator and someone who could almost be seen as a security blanket out there defensively. Watch for Knies to be much more defensively sound than you think as well. He showed last season he's capable of pouncing on pucks and uses his stick check effectively.
Offensively, this line would have some potential as well as Knies has 20 goals in him as soon as this season and Jarnkrok potted a career-high 20 last season. Kampf's career high is 11 and if he hits 30 points this season that would be a good year. Out of the three, he'll likely have the least amount of points this season as Knies and potentially Jarnkrok should also see second power-play minutes.
A defensive-minded centre, a rookie left winger with size and all the tools to be great, and a savvy vet on the right, who has 20 goals in him and a motor that's unmatched. The Maple Leafs have a very interesting trio to consider for the third line.