Knies ready and waiting, Minten returns, Voit comes up clutch: Leafs Prospect Roundup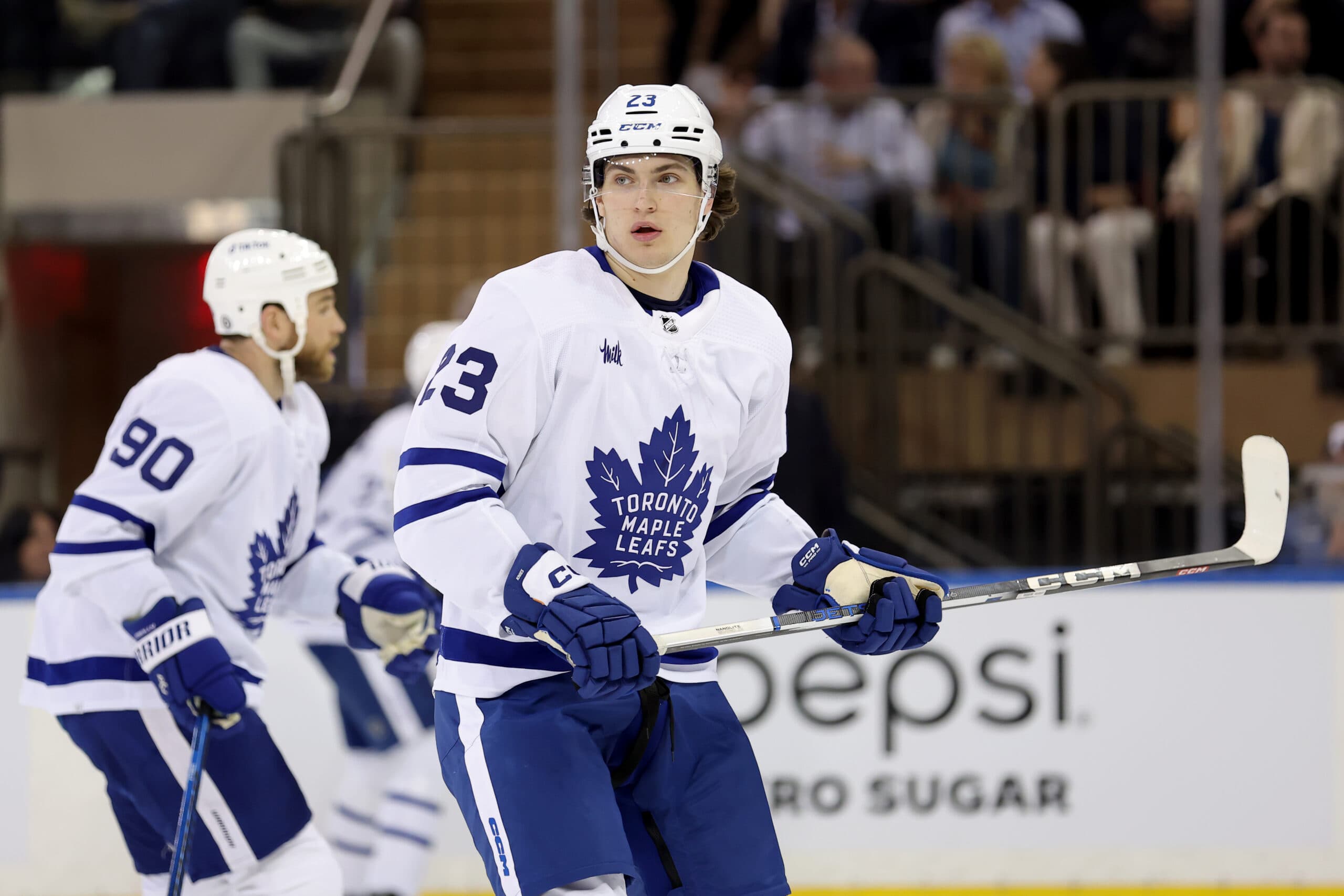 Photo credit:Brad Penner-USA TODAY Sports
Matthew Knies made his long awaited NHL debut with the Leafs last week, showcasing his potential as an impact player through the final three games of the regular season, but it appears he will be on the outside looking in when the Leafs begin their pursuit of postseason glory on Tuesday.
Knies' first taste of NHL action came against the Florida Panthers last Monday, skating on a line with Noel Acciari and Alex Kerfoot. Despite a few rookie mistakes which were to be expected, he didn't look out of place and showed flashes of how he could help this Leafs team. Known for being a handful along the boards because of his quick hands, willingness to engage physically, and his ability to protect the puck, Knies put those skills to use when he put veteran Marc Staal in a blender on one of his first pro shifts.
He forced a couple of risky plays when facing pressure in his debut, but that is to be expected from anyone stepping out of college hockey and directly into the NHL. For the most part, Knies handled the pace admirably and made some of those slick small-area plays that were such a hallmark of his game in the NCAA. His ability to execute skilled plays in tight or along the wall with opposing players closing in on him was immediately apparent when he did some great work on the boards to come away with a contested puck and find Kerfoot with a lane to the net.
With the Leafs resting some of their big guns against Tampa last Tuesday, Knies was handed a more prominent role as he skated on Toronto's second line with Ryan O'Reilly and William Nylander. He took advantage of the opportunity and picked up his first NHL point on the eventual game-winner. After a great play by Nylander to steal the puck in the offensive zone, Knies recognized the turnover and beat his check to the high slot where he called for the pass and fired a hard one-timer that found it's way through Andrei Vasilevskiy, and Ryan O'Reilly banged the puck home from the blue paint.
Knies looked more comfortable with each passing game and continued to initiate offense in the Leafs' season finale against the Rangers. His most noteworthy play of the night was prototypical Knies, as he made a strong play to shake a check before pulling the puck off the wall and driving straight to the net for a great scoring chance. It was a play he's made so many times at the college level but one that not many guys can make consistently at the NHL level, so to see that ability translate so early in his pro career was certainly encouraging.
The newest Leaf also took a couple of shifts alongside Auston Matthews and Mitch Marner, including some time in John Tavares' spot on the top powerplay unit, and looked capable of playing with two of the best the league has to offer. Knies nearly notched his second assist in as many games when he took a pass from Marner in the slot and made a slick play to get the puck to Matthews around a sprawling defender.
It is probably fair to say that Knies exceeded most expectations in his first few NHL contests. He displayed tantalizing skill, an ability to play through contact and make plays along the wall, and even came up with a handful of strong defensive plays. Unfortunately for the young winger, this is a deep Leafs' forward group that has performed at a high level all season and head coach Sheldon Keefe has been especially pleased with the bottom-six in recent weeks.
It was always going to be difficult for Knies to steal a job from one of the regulars in a short three-game audition, but he certainly didn't hurt his stock with the way he played. Keefe now has another weapon to turn to should the need arise, and the Leafs' bench boss says he would be comfortable doing so.
Having Knies start the postseason as the 13th forward isn't an indictment on his play by any means, and should be viewed as a positive. Fans can't be blamed for wanting to see him in the lineup for game one on Tuesday after what he showed through his first three games, but it has been a whirlwind couple of weeks for the Leafs' 2021 second-rounder and giving him a chance to settle in and get better acclimated before throwing him into a high-stakes playoff series won't hurt.
Knies didn't even take part in his first full practice with the team until Sunday, and the case could be made that the group that was in place before his arrival has earned the right to have the first crack at the Lightning in the postseason. Having Knies continue to practice with the team, watch from the press box, and stay ready for when he's needed seems preferable to starting him and having to pivot off of it if he struggles with everything amplified in the playoffs.
Everyone is focused on the first-round matchup with Tampa Bay, and understandably so given Toronto's complete lack of postseason success in the last two decades, but this Leafs' team has designs on going well beyond that. If they are going to make a deep run, chances are that it's going to take more than the 12 forwards who start game one on Tuesday, and the Leafs have to feel good about what Knies will be able to contribute when his opportunity comes.
Notes from the rest of the prospect pool:
After an interesting few days that saw a pair of ATO backup goaltenders suit up for the Leafs, the club was finally allowed to recall Joseph Woll for the final two games of the regular season. Considering his age and the way he has played this season, he is probably closer to "NHLer" than he is to "prospect" at this point and he continued his impressive season with a pair of victories over the Lightning and the Rangers. Woll's 45-save performance against Tampa Bay may have been his most impressive to date, and after another solid performance against New York, he finished the regular season with a 6-1-0 record to go along with a 2.16 GAA and .932 SV% in seven games with the Leafs this season. With no definitive timeline for Matt Murray's return from a concussion, it appears Woll will start the playoffs as Ilya Samsonov's backup and he may have done enough to hold onto that role, even when Murray is healthy.
Fraser Minten missed all four games of Kamloops' first-round sweep of the Vancouver Giants, but he was back in the lineup for game one against Portland, and scored his first goal of the postseason. He was held off the scoresheet in game two but fired six shots on goal as the Blazers dismantled the Winterhawks to take a 2-0 series lead. Kamloops looks primed for a deep run and Minten will have a chance to contribute while gaining valuable experience along the way.
Roni Hirvonen's club was eliminated from the Liiga playoffs last week, but they will play for Liiga's third place trophy later this week. The 2020 second-rounder had a strong second half of the season but his production slowed in the postseason, and he finished with two goals and two assists in 11 games. Hirvonen is expected to join the Marlies following the consolation playoff, but he will be in tough to earn playing time with the AHL playoffs already underway.
Sarnia began their second-round series with Saginaw on Friday, and Ty Voit has been instrumental in helping his team get out to a 2-0 series lead. He tallied an assist in a 3-0 shutout win in game one, then opened the scoring and helped set up the overtime winner in game two. Voit now has two goals and eight assists through eight postseason contests.
Nick Moldenhauer had a five-game point streak snapped on Friday but got back on the board with a pair of assists in Chicago's 6-3 win over Dubuque on Saturday. With just two games remaining on the Steel's regular season schedule, Moldenhauer has 29 goals and 42 assists in 53 games.
The Marlies wrapped up their regular season on Sunday, and Semyon Der-Arguchintsev finished strong with a point in each of the club's final three games. The club has scuffled to the finish line but closed the schedule on a high note with a 7-2 victory over Belleville, with SDA notching his 13th goal of the season. He finished the campaign with 32 points in 51 games.
Ryan Tverberg returned to the Marlies lineup after missing the previous four games with an upper-body injury. He ended up getting into six games for the Marlies down the stretch and was held off the scoresheet, but his speed and tenacity were starting to become a factor prior to the injury. Tverberg could be an important player for the Marlies as they gear up for the postseason.
The Saskatoon Blades closed out a spirited first-round tilt with Connor Bedard and the Regina Pats with a victory in game sevenlast Monday. Bedard was spectacular but it wasn't enough as the Blades moved on to the second round to face Red Deer. The Rebels came away with the victory in game one on Sunday with Brandon Lisowsky and Josh Pillar held off the scoresheet. Lisowsky now has two goals and three assists through nine playoff games, while Pillar has registered a single goal through eight appearances.
(Statistics from EliteProspects.com)