Matthew Knies, Joseph Woll ready to lead the next wave of Maple Leafs talent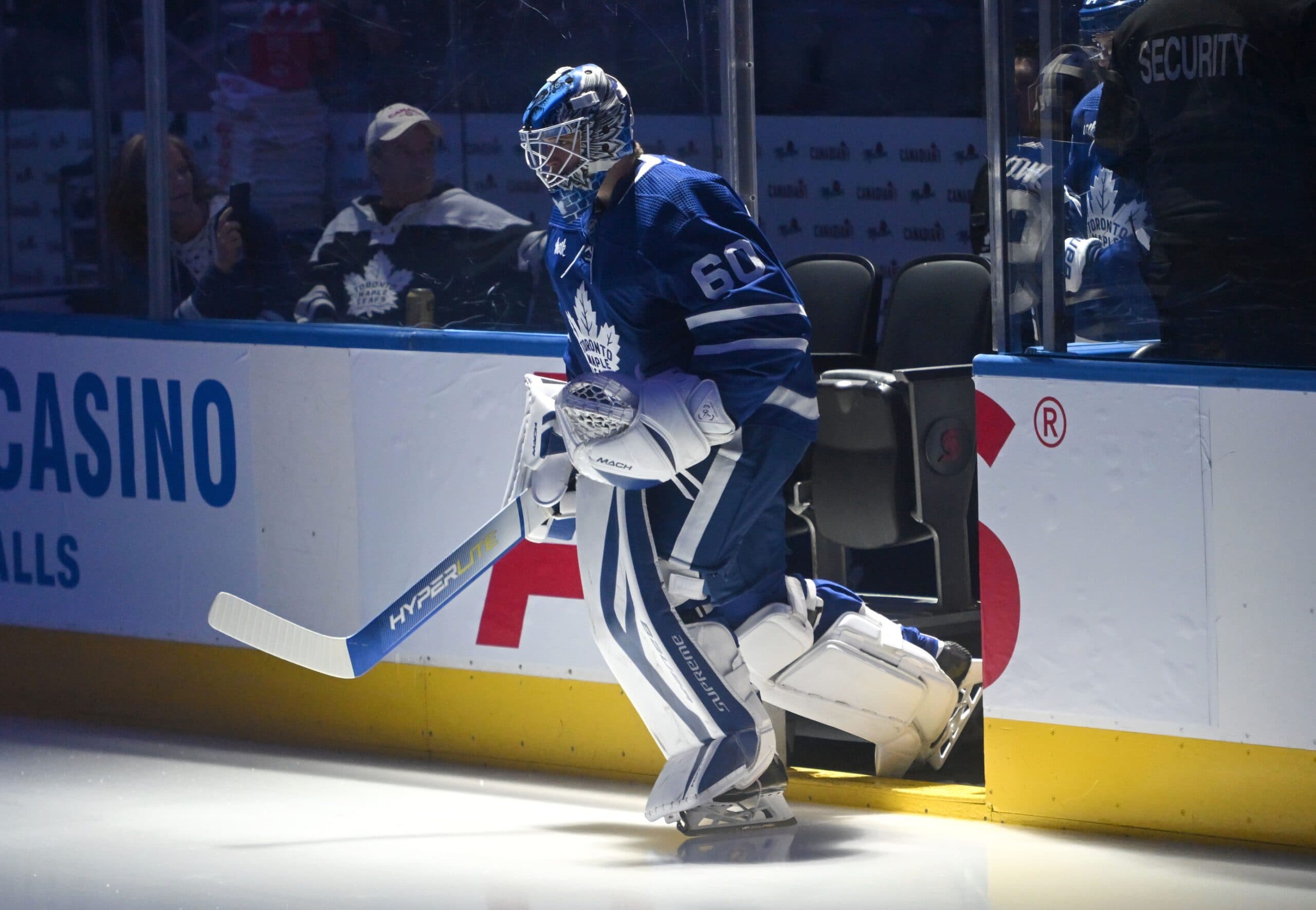 Photo credit:Dan Hamilton-USA TODAY Sports
The last time the Toronto Maple Leafs had two rookies who were impact players on their roster was back in 2016-17 when Auston Matthews and Mitch Marner burst onto the scene. Now, it's Matthew Knies and Joseph Woll's time, and the next wave of Maple Leafs talent has arrived.
Let's start with Knies. The 6-foot-3 power forward has been showing off his ability to hunt down pucks and be ferocious on the forecheck, and his underrated wrist shot is only going to get stronger and more accurate as we go. Knies is currently playing alongside David Kampf and Max Domi on the third line for head coach Sheldon Keefe but let's be real, it's only a matter of time before he's moved up to the top line with Matthews and Marner; a boost that will be welcomed whenever it happens.
Knies has recorded two goals and two assists so far through seven games. He's getting some reps on the penalty kill, which is quite the sign for a 21-year-old rookie and shows how much Keefe trusts the youngster. Give it some more time this season and it's likely Knies gets an extended stretch on the power play as well. The Arizona native has all the tools and will eventually be an all-situational player in Toronto.
When it comes to Woll,
get excited Leafs Nation
. It's been a treat watching how calm, cool, and confident he is, and the former third-round pick is currently on a heater, among the top-two goalies in the league with a 1.33 goals against average and a .961 save percentage. It's still early, and he's young, so it doesn't hurt to pump the brakes a little bit, but there's
no shame in getting excited
for what's to come. Woll has all the tools and the work ethic needed to master the craft and become elite.
Woll's started strong, however the same can't be said for Ilya Samsonov. Don't write 'Sammy' off just yet though, and why try? The Leafs will need two goalies in the mix this season regardless of
how well Woll plays
. The duo makes under $5 million combined, what a luxury.
The Time is Now for the Maple Leafs
General manager Brad Treliving needs to take advantage of how cheap both Knies and Woll are against the Leafs' salary cap. Treliving's walked into an ideal situation having a stud goaltender, 25 years old and signed through next season at just $766,667.
Same with Knies, a power forward who has top-line potential and could easily hit 50 points in his first full season. Another integral piece of the Maple Leafs lineup at under a million, Knies is set to make $925,000 this season and next. No performance bonuses to worry about either. This ties into William Nylander as well. With Treliving having Knies and Woll locked in at such a bargain, there's no excuse for the Leafs GM to not sign Nylander. He also happens to be the type of talent you move people out to keep if you have to, which could mean walking away from TJ Brodie this summer depending on how much he asks for on his next deal. That's a long way away though and let's enjoy the ride of this season before we get ahead of ourselves with all the financials.
It won't be long before Woll and Knies are signed to expensive long-term deals. Treliving needs to capitalize having them outplay their contracts. Needless to say, it's a refreshing scenario having another wave of talent for the Maple Leafs to expand their core around. The big guns producing in their prime as the next wave arrives in Toronto.