Know Your Enemy: How the Maple Leafs matchup against a slumping Oilers team missing McDavid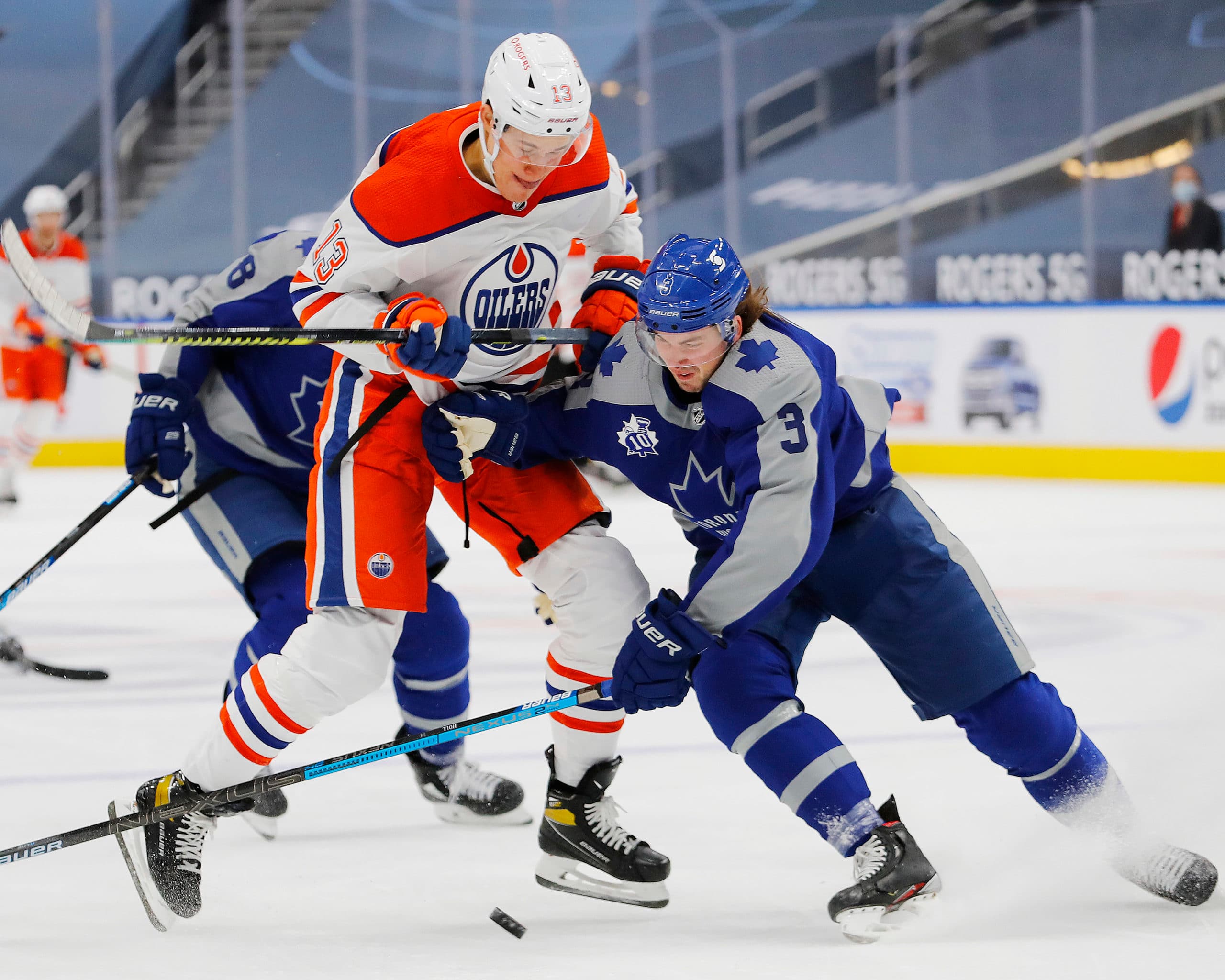 Photo credit:Perry Nelson-USA TODAY Sports
Not that the Leafs really needed any help to be better than the Oilers, they got even more help with Connor McDavid testing positive for COVID while Auston Matthews was confirmed a false positive and will be back in the lineup. We already saw what an injury depleted Leafs team did against a mostly healthy Oilers team in December, so a mostly healthy Leafs team against an injury depleted Oilers team favours quite heavily for the Leafs. Obviously this is the Leafs, so it seems like one of those games that is inevitably a loss, but I'm going to ignore the fact that the Leafs are cursed and dive into the statistical reasons why this bodes well for the Leafs.
Tale of the Tape (via Mark Norman)
Projected Lineups
Toronto Maple Leafs
Edmonton Oilers
Forwards
The first line of Warren Foegele, Leon Draisaitl, and Kailer Yamamoto hasn't had much time together (just under 13 minutes), but so far they've been a line that gets shot attempts, but not scoring chances, with a 64.47% CF% but a 44.44% xGF%. Draisaitl has always been a bit of an impostor superstar, as he tends to get by just on his skills (which admittedly are there), but pretty much every other facet of his game is definitely not at the level of someone like Auston Matthews. Take him away from McDavid and off the power play, and he's even more exposed. Translation: he puts up points, and doesn't bring much else to the table. The fact that Yamamoto is having a rough season, and Foegele is a little bit out of his element in a top six role with Nugent-Hopkins out makes this a line ripe to be exposed if the Leafs wanted to.
Being without McDavid tonight is a huge hit for the Oilers against a stronger Leafs team, especially when their depth was struggling already. If there is one slight upside to the shakeup of what is usually the top line, it's that Jesse Puljujarvi will get a little bit of support defensively on this line with Ryan McLeod. It might surprise some that Puljujarvi is the defensive player on a line with McDavid and Zach Hyman, but McDavid has more or less sacrificed defense for the sake of offense, and Hyman usually hasn't had strong defensive results aside from last season, so Puljujarvi has taken the mantle. Meanwhile, McLeod has put up the best defensive results out of Oilers forwards this season, with a 2.1 5v5 goals above replacement, and is one of only three forwards on the team with a positive GAR, so he should at least keep the line afloat defensively. This combo hasn't even had a minute of ice time together so there's not much to comment on how much success it's had, but on paper, it could at least not cause problems defensively for the team.
Tyler Benson, Devin Shore, and Zack Kassian also haven't played much time together, so once again we're just going to have to look at how the players look on paper, and how those skills could potentially work together, or clash. And it doesn't look super promising. Kassian has at least been competent this year, producing at a solid pace and at least being able to drive play to some extent, but Benson and Shore are both drags offensively and defensively, so Kassian isn't the kind of guy you expect to excel in spite of that.
McDavid being out of an already depleted Oilers lineup gives the Leafs a really strong opportunity to exploit all three lineups. While Keefe might be inclined to put the Kampf line out against Draisaitl, I'd actually take this opportunity to go "best on best" considering what we know about Draisaitl's play beyond his finishing ability. The fact that the Matthews line is also one of the best in the league at controlling play and creating chances just means that they can really hammer it down with that line. After that, I'd probably go the route of putting Kampf up against the McLeod line, since they'd probably be the best chance defensively of stopping either the Matthews or Tavares line, and the lack of scoring touch from that Oilers line means you're not as worried about getting burned. That leaves the Tavares line to feast on that third line that hasn't had any playing time together, and doesn't have a lot of promise anyways.
Much like the rest of tonight's forward group for the Oilers, the combo of Colton Sceviour, Kyle Turris, and Brendan Perlini has had no time together. If there's any hope out of this group, it's that Sceviour is one of those other two forwards on the Oilers with strong defensive results with a 1.4 5v5 GAR, but with Turris and Perlini not being able to do much of anything, it doesn't inspire much for Oilers fans tonight. It also helps that Nick Ritchie being on the fourth line with Jason Spezza and Wayne Simmonds turns it from one of the best fourth lines in the league to an average line, so they won't be totally outclassed tonight by the Leafs in the battle of fourth lines.
Defense
The Oilers have gotten a (deservedly) bad rap for their defensive game, but if they have one thing going for them, it's the current top pair of Darnell Nurse and Evan Bouchard. The duo have been one of the better pairs in the league this season, with a 58.13% CF% that ranks 33rd and a 57.61% xGF% that ranks 54th (out of 341 pairings, mind you). This may come as a bit of a surprise considering that Nurse has notoriously been poor defensively and Bouchard's lack of experience, but Nurse has turned around his overall game this season and improved defensively overall. In fact, the only part of the game he's struggled in is driving actual goals, but that's mostly just regression from last season. Bouchard's defensive game isn't quite there, but his offensive game makes up for it, and with Nurse there to keep him propped up, it's made for a good pair to start the season.
Duncan Keith and Cody Ceci also hasn't been surprisingly terrible this season considering the two players involved, but even then it's been pretty average results with a 51.02% CF% and 50.41% xGF% at 5v5. A lot of that comes from the fact that Ceci is actually quite competent defensively, at least results wise (visually, it's not always pretty). He doesn't generate a thing offensively, but he can at least prevent shot attempts and scoring chances well enough to keep you afloat. Keith hasn't been great this season, but he also hasn't been as abysmal as he usually is, just painfully average, which has led to the pairing being able to have okay numbers.
I'd probably try and keep Jake Muzzin and Justin Holl away from that top pair for the Oilers based on their play so far this season, but considering Muzzin hasn't played in over three weeks, maybe he's a bit more rested and back to his old self, which then means Holl can actually play against tough competition again. Still, they'd probably be better suited against the more average Keith-Ceci pair while Morgan Rielly and TJ Brodie take on the stronger Nurse-Bouchard pair for the Oilers.
While losing McDavid tonight will definitely hurt their chances, Tyson Barrie being one of the players out is probably a blessing in disguise for the club, as he's usually been a drag on any pairing he's played with, and the fact that he's being subbed in for William Lagesson is an even better sign for Oilers fans. Lagesson has had solid results all around this year, but hasn't had much playing time so far this season at the expense of a player like Barrie, so that will help the Oilers chances. Koekkoek hasn't really been all that good this year, so that could hurt the pairing a little bit, but still, at Lagesson will be there to help stop the bleeding, as opposed to Barrie, who would've just cut the wound open more. Lagesson and Koekkoek also have barely played a minute together, so we don't really know what they'd be like together, but it's still better than anything with Barrie. That said, they'll be up against Rasmus Sandin and Travis Dermott, who crush weak competition even better than Lagesson does, so it'll probably be a good matchup for the Leafs.
Goaltending
Mike Smith will get the start tonight, and while he hasn't played much this season, when he has, he has been pretty bad. Among goalies who have faced at minimum the same volume of work as Smith this season, Smith has the 11th worst 5v5 save percentage with 90.49%, the 7th worst delta Fenwick save percentage with -1.86%, and the 21st worst goals saved above expected with -3.01. The fact that the latter two stats are as low as they are despite just five games from Smith is pretty telling how bad he's been in that short span, something also evidenced by his -2.6 goals above replacement, 13th worst in the league. Even if Jack Campbell's numbers were average instead of how elite they've actually been, this still wouldn't be a close goalie matchup.
Overall
While the Oilers haven't looked great on their current slump, they aren't quite as comically bad as they may seem sometimes this season, this matchup is just a situation where everything they can do well, the Leafs can do just as good or better. The Oilers have a high scoring top six with a power play that's been good at times? The Leafs have that, except their players don't do it at the expense of offense. The Oilers have a bottom six that can at the very least not bleed chances defensively? The Leafs have that, except their bottom six can chip in from time to time as well. The Oilers defense core has surprisingly worked well? So has the Leafs. The Oilers have bad goaltending? Leafs don't. With a healthy lineup, this would at least be interesting, but without McDavid this really isn't close. Draisaitl might burn the Leafs for a goal or two tonight, but he'll probably get burned for three or four as well, and everything else in the lineup probably won't be able to help much offensively to compensate.
Projected lineups and starters via Daily Faceoff
All scoring stats via NHL.com
All WOWY stats via Natural Stat Trick
All advanced stats and line combo statistics via Evolving Hockey