Know your enemy: How the Leafs match up against a young but flawed Red Wings team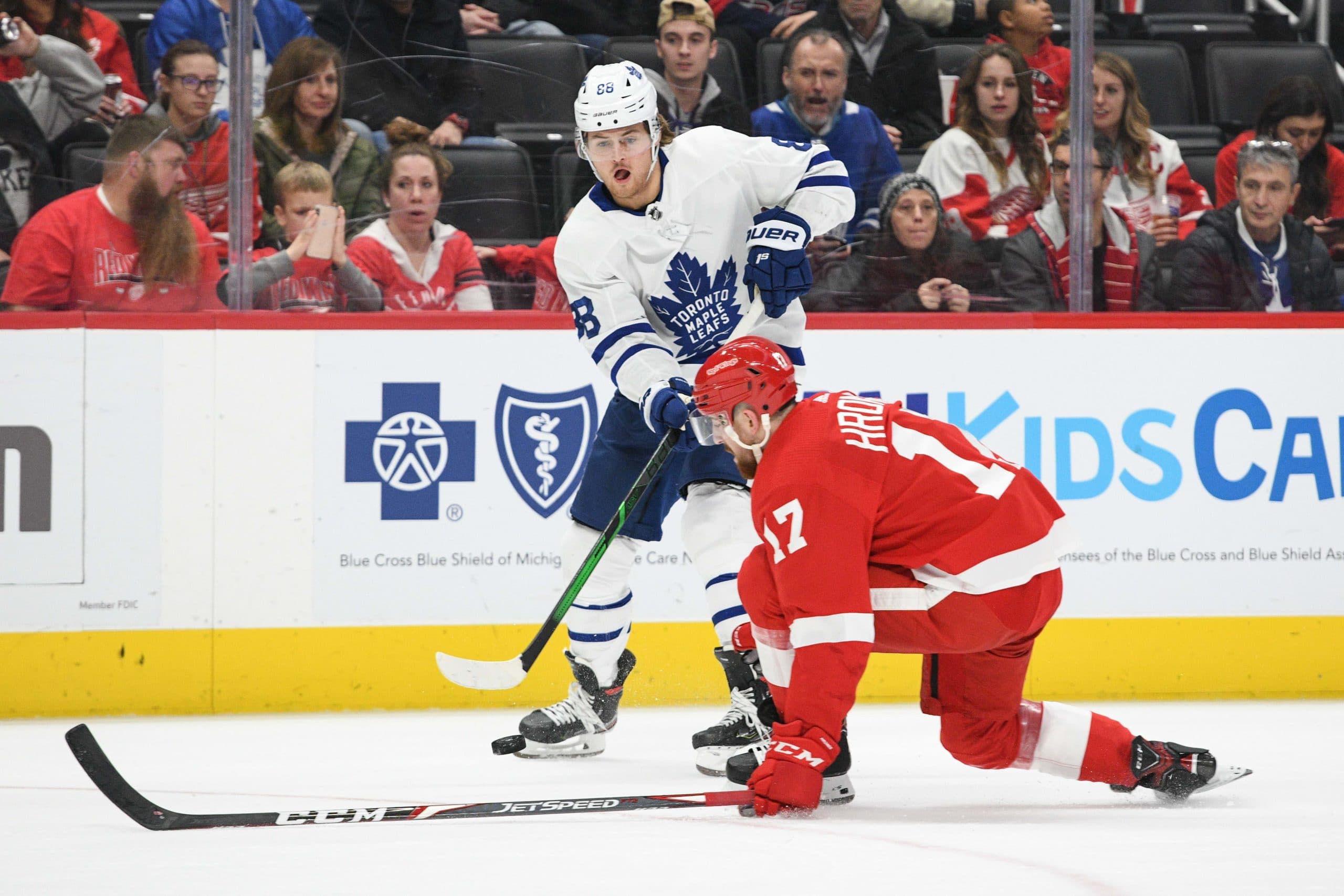 Photo credit:© Tim Fuller-USA TODAY Sports
Apparently the Leafs decided to get most of this years rookie class out of the way in one week, as after a close call in a shootout win against @Trevor Zegras and the Ducks, the Leafs now find themselves against @Lucas Raymond and @Moritz Seider and the rest of the Red Wings. The Wings surprised many off the hop with a strong start, but have since faded to an even .500 record, and while they are the best team outside of a playoff spot, they still find themselves nine points out of the closest playoff spot with three extra games, so at this point of the season, they're just here to have fun and show the hockey world what they should be afraid of next season.
It'll be another battle of rest vs. fatigue, as the Leafs haven't played since Wednesday while the Red Wings played just last night. They managed to rebound from a three game losing streak with a 3-2 shootout win over the Pittsburgh Penguins, but the extra time and intensity of a close game meant that it was even more work to pull out the win, so they could be even more tired as a result. But, they're a bit more in game shape than the Leafs, so that could prove to be an advantage as well.
Note: This is based on projected lines and starters at the time of publishing. Coaches really love to surprise us right before game time, so there's a solid chance that some of the matchups aren't accurate for the actual game because of that.
Tale of the Tape (via Mark Norman)
Lineup
Toronto Maple Leafs
Detroit Red Wings
Forwards
The first line of @Dylan Larkin, @Lucas Raymond, and @Vladislav Namestnikov is actually one of the few lines that Detroit has put together this year that can actually drive expected goals at a rate of actual substance with a 59.83% xGF% at 5v5, even though their playdriving isn't quite there at only 50.43%, but they don't exactly have a line that has anything that reaches 51% anyways. Larkin is the guy this team is building around, and deservedly so, as he's always been an offensive threat, and now that he has talent around him and has seen his defensive game improve, he's hit another level for the Wings. Raymond is another future piece of the team, and while his defense is a huge flaw in his game, it's expected in just his rookie season, and I don't think the team cares anyways with his 34 points in 44 games. Namestnikov is the complimentary piece on this line, meant more to be some defensive support, something he's capable of even against top competition. This is certainly a line that can give you trouble at both ends, although Namestnikov won't hurt you too much in the offensive zone, and Raymond might be able to be taken advantage of in the defensive zone.
The second line of @Tyler Bertuzzi, @Pius Suter, and @Robby Fabbri is on the other end of the spectrum for the Red Wings, as they have a similar 50.54% CF% at 5v5, but they get hurt a lot in the expected goals department at just 45.5%. That's because the Wings lack a strong defender on this line, even though they all have their benefits offensively. Suter is a strong finisher that can drive offense, and is surprisingly a really good penalty killer despite his defense lacking at 5v5. Bertuzzi has also had a really good season goals-wise with 20 in 44 games thus far, but he also can't defend, and also hurts the team's power play a little bit despite the eight points on there. Fabbri also has really good finishing skills, but can't drive offense or defense either. This line will probably burn you once or twice, but will also get burned themselves several times.
The third line hasn't exactly had much success either for the Red Wings, as they find themselves on the wrong side of the puck more often than not with a 46.13% CF% and a 44.54% xGF%. @Adam Erne can at least defend in tough minutes, but not to a level that he can do it on his own, so he's a bit in over his head here. @Michael Rasmussen is a former top ten pick for the Wings, and was one of the safer picks in the draft, but hasn't amounted to much in the NHL aside from being a solid penalty killer. @Filip Zadina was a pick that fell into the Wings laps at 6th in 2018, but he hasn't quite found his NHL game yet aside from being a power play specialist that can draw penalties well. Playdriving wise, it's not a good combination at all, with no one there to drive offense, and only Erne being competent defensively, so if it's used against the top two lines for the Leafs, it'll likely get eaten alive.
The Leafs are rolling with the same new look lines from Wednesday's game against the Ducks, and honestly, I'd roll them like Keefe did in that game. It's a similar lineup with some skilled pieces but not consistent depth to the point that it would overwhelm the Leafs, and the only thing that kept the Ducks in that game was their goaltending, as the Leafs dominated otherwise with these new combinations, so I'd probably try to do the same thing tonight.
The fourth line combination of @Givani Smith, Joe Veleno, and @Sam Gagner is an interesting one, as they aren't too bad at maintaining possession, at least by the Red Wings standards, as they have a 50.88% CF% at 5v5 together, but they aren't good at generating expected goals, as seen by their 36.07% xGF%, the 40th worst by any line combo in the league. That comes from a lack of offense, not their inability to defend, and it's not a surprise looking at the personnel. Smith is still new to the league, and has looked really strong defensively in the early running, but hasn't really provided much else of substance, Veleno comes with a much stronger draft pedigree, but hasn't done much of anything since he joined the league (and makes Leafs fans feel a lot better about taking @Rasmus Sandin), and Gagner is still a solid playdriver, but age has definitely taken it's toll on the rest of his abilities. It makes for a fourth line that can at least defend, but can't provide much else. They'll be up against a Leafs fourth line that normally dominates competition, but had an off night Wednesday, so they could potentially be looking for a revenge game tonight.
Defense
Defensively for the Wings, it's still very bleak, but the lone bright spot on that blue line is @Moritz Seider. Part of why some of the team's offensive weapons are doing better is that they finally have someone to move the puck up the ice on the back end with Seider, and he really helps drive their offense. He's also really strong defensively despite rarely getting a good teammate, and playing against tough competition, and doing all this while in his rookie season is incredibly impressive. He's got a lot of work to do with @Jordan Oesterle tonight, who can't drive play or defend, and that's against weak competition. That's why the duo have just a 46.87% CF% and 45.5% xGF% together, as Seider can only do so much to keep that pairing afloat.
@Filip Hronek used to be a really strong defensive option for the Wings, but has fallen off in the last few years, and hasn't really been good at either. Being paired with @Marc Staal isn't much of a help either, as the only consistency to his game is being one of the worst defensemen in the league year after year, and that's even when he plays against weak competition. Together the pair have a 41.58% CF% and a 43.31% xGF%, so it should make for a really easy matchup for the Leafs as well.
Honestly, I wouldn't even be too worried about which lines and pairs you want to matchup against the Wings defense. As long as you get someone to pressure Seider and get the puck off his stick and onto his partner, it should make for an easy night for the Leafs, as it'll be hard for the Wings to get the puck up the ice otherwise.
@Gustav Lindstrom is the only other solid option on this Wings blueline, as he can at least drive play and defend, but it really doesn't extend much beyond a sheltered role, so there isn't much to get excited about if you want to bring him up beyond that role. He's paired with @Nick Leddy, who is one of the fewer players who actually saw their numbers get worse when Barry Trotz took over the New York Islanders, and that's a lot more telling to how bad Leddy has become, as he doesn't really provide much of anything for the team. The pairing has a 45.8% CF% and 49.72% xGF%, which are some of the better numbers coming out of this blue line of Detroit's, but they'll be up against @Travis Dermott and @Timothy Liljegren, two defensemen who crush sheltered minutes, but haven't quite found their groove together. It won't be a smooth sailing matchup for the Leafs, but on paper, they should have the better pair.
Goaltending
In net, it's a bit of a reunion between two Carolina castoffs, as we see @Petr Mrazek in the crease for the Leafs, and @Alex Nedeljkovic in net for the Red Wings. Nedeljkovic had an inconsistent start to his NHL career, but ever since a breakout last season, he's been one of the best young goalies in the league. Why the Hurricanes gave up on him (for little in return too), we'll never know, but the Red Wings are paying dividends for it, as they have someone in net that will grow up at the same time as the core. He's got a solid all around game in net, with his biggest issue being his rebound control, so the Leafs will have to take advantage of that, especially with guys who have hard shots like Matthews can utilize it to bounce some off his pads.
Mrazek is in net for the Leafs after a strong showing last Saturday, and he's starting to get into more games in general, something that should really help with his consistency problems so far this season. While his numbers haven't been pretty, he's still been good at stopping shots from low and high danger areas, but it's those chances in between those areas where he struggles. Like Nedeljkovic, he also has rebound control issues, so there might be a fair share of scoring chances between both teams.
Overall
On paper, we have another matchup that isn't entirely a close one, but you can still see a path to a potential win for the Red Wings. It wouldn't surprise me at all if they take the fact that they're warmed up because of last night's game as an advantage and come out swarming the Leafs while they get up to speed, as well as the fact that Mrazek hasn't quite found his consistent form in Toronto yet. If they do that and capitalize with 2-3 early goals, it could take the Leafs out of the game before they're even ready, and even though the Leafs have the firepower to get 2-3 back, scoring those without allowing Detroit to get more could be a problem.
All that said, the second the Leafs are caught up to game speed, this won't be a close one, so if their only down 1-0 or it's still tied, we're likely looking at a Leafs win, aside from the usual luck shenanigans that can come into effect. They outclass them at even strength and at special teams with the Leafs having the best special teams proficiency (power play % + penalty kill %) in the league at 114.9%, while the Red Wings are 27th at (93.2%), and the only advantages the Red Wings have is being better at drawing penalties (which isn't impressive when the Leafs routinely get screwed in that department and are the worst in the league at it), and goaltending, but that's only if Mrazek doesn't carry over from last Saturday's performance.
Maybe the Red Wings get off to that strong start with the Leafs being a bit rested, but otherwise it's hard to see a Leafs loss here, especially if they can keep the Wings young talent quiet.