Know Your Enemy: Even a tired Maple Leafs team should probably have no problems with the Coyotes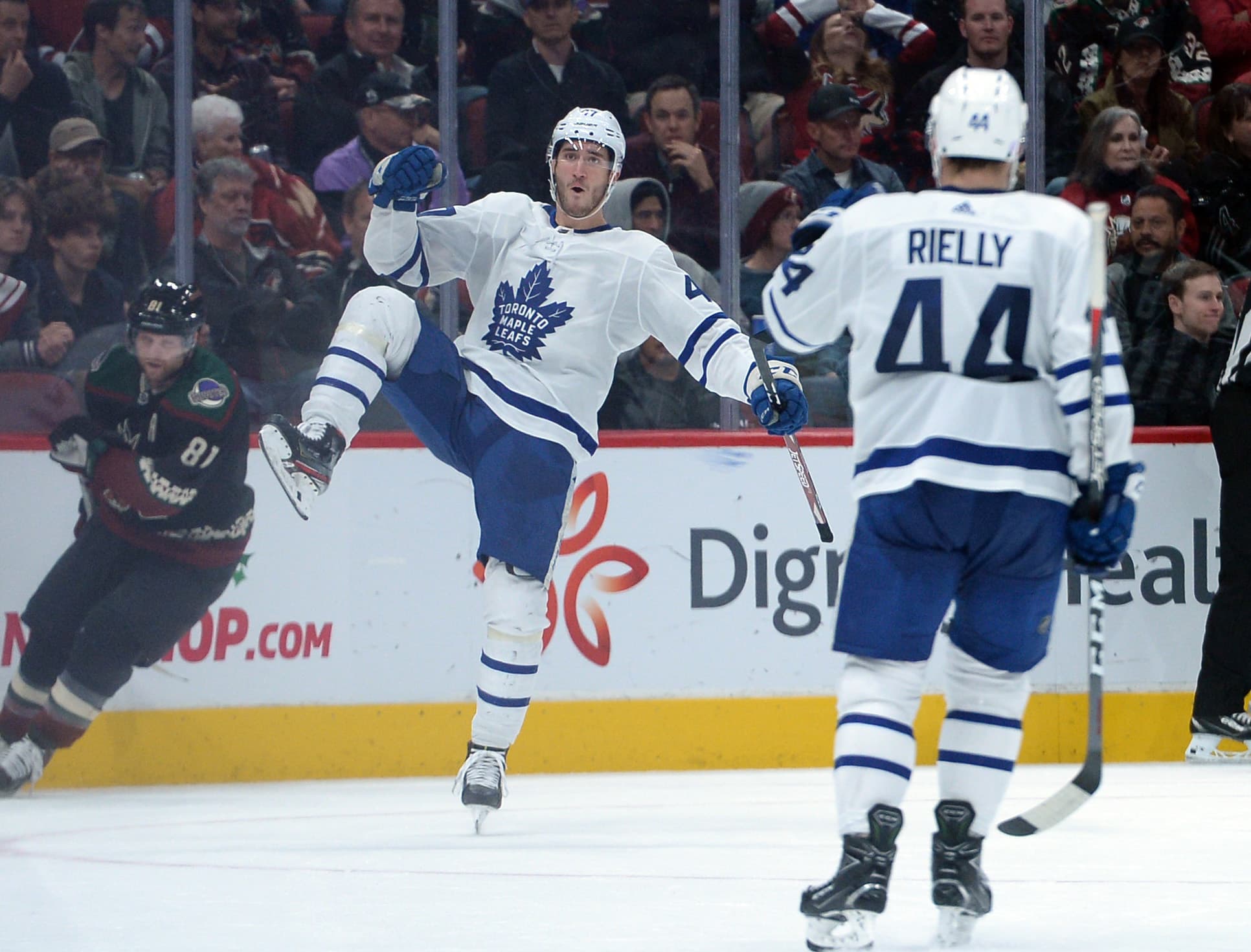 Photo credit:© Joe Camporeale-USA TODAY Sports
The Leafs had another game where they dealt with injuries and got caved in by another dominant Western team, only to be rewarded by getting no calls as they came back to tie it and send it to overtime. Thankfully, the Leafs held on this time and got the win in the shootout, and while they now have to deal with the second half of a back-to-back, it's with a very weak Coyotes team. They're one of the worst in the league this year, and have a lineup reminiscent of the 2015-16 Leafs, and are more often than not an automatic win. They have a couple things that they aren't bad at, but it doesn't mask what the rest of the lineup does, making for what should be an easy matchup for the Leafs.
Note: This is based on projected lines and starters at the time of publishing. Coaches really love to surprise us right before game time, so there's a solid chance that some of the matchups aren't accurate for the actual game because of that.
Tale of the Tape (via Mark Norman)
Lineups
Toronto Maple Leafs
Arizona Coyotes
Forwards
As terrible as the Coyotes have been, and as weak as their forward group is, their top line of @Lawson Crouse, @Johan Larsson, and @Phil Kessel have actually been a great combination together, particularly at driving scoring chances with the 50th best xGF% with 63.53%. That may be surprising considering that Kessel has been known for being an all-offensive winger while Crouse has been known for, well, not doing much of anything, but that's the power of playing with Larsson. He's a really strong defensive center, although that's usually come in a bottom six role. He's been fed to the wolves in Arizona on the top line, not only just by being given top competition, but also having to play with two wingers with no defensive capabilities, and that hasn't phased him at all, not only making the line passable, but a strong possession top line.
@Andrew Ladd, @Travis Boyd, and @Clayton Keller is another trio that's worked surprisingly well, since this is the Coyotes and all. They only have a bit over 20 minutes together, but in that time, they've had a 56.55% CF% and 52.79% xGF% at even strength. The Leafs remember Boyd well, who emerged as a solid depth option for the team until he got claimed on waivers by the Vancouver Canucks. He signed with the Coyotes in the offseason and has looked good, but much like a lot of his career, that comes with a high 24.2% shooting percentage. Ladd comes in as a salary dump, but he's also been salvaged a bit with the Coyotes, turning into a solid defensive forward and being part of the reason for this line's success together. Keller brings the offense to the line, and can drive it well as well, but struggles defensively. There's a good chance that this line's success hinges a bit on luck, but for now it has worked for the Coyotes when together.
Leafs fans will also remember @Riley Nash from last season, as he was brought in on a cheap gamble deal to potentially be a shutdown center for the Leafs, but that didn't quite work out for them. He's moved around a fair bit this season, starting with the Winnipeg Jets before getting claimed on waivers by the Tampa Bay Lightning and now the Coyotes. He's got just one game in with them, but in that game, the line of him, @Antoine Roussel, and @Christian Fischer worked really well in their brief five minutes together, not allowing a single goal, scoring chance, or even shot attempt against. They aren't going to be that good, but between Nash and Fischer's reputations as strong defensive forwards, it's a possibility, although Fischer hasn't even been close to that this season. Roussel isn't as strong defensively, but can usually drive offense, although he hasn't been able to do that this season either.
Of course, I make it sound like these lines will be tough to match up against, but the reality is that they aside from Keller and Kessel, none of them can can actually score on a consistent basis, so while they might make it tough for the Leafs to score, they aren't going to burn them either. The Leafs will be rolling the same lineup as last night, which didn't quite click against Vegas, but in their defense, they were getting screwed over in penalties for the second game in a row. Much like the Vegas game, I'm going to say that the Leafs shouldn't worry about line matching too much, except this time it's because there isn't really a matchup they need to avoid. Their forward group should still dominate this Coyotes group, even if they can play solid defense.
The fourth line contains another familiar face in @Alex Galchenyuk, who returned to the Coyotes but hasn't quite found the success that he had with the Leafs. He centers @Liam O'Brien and @Nick Schmaltz, creating a line that currently has 60.48% CF% and 73.91% xGF% together despite the fact that none of the forwards have shown any sign of driving play on their own, never mind together. That said, they've played less than 8 minutes together, so that's probably just a small sample size and the result of playing easy competition, so it shouldn't be a huge concern for the Leafs fourth line of @Kyle Clifford, @Jason Spezza, and @Nick Ritchie, who haven't quite found success together in their limited time yet.
Defense
@Shayne Gostisbehere has had a bit of a resurgence in Arizona, but a lot of that has come from just getting a lot of ice time due to a lack of better options. He puts up points, but is still has the same problems defensively, and still comes out as a negative as a result (great for your fantasy team though). It doesn't help that his partner right now is a rookie in @Dyson Mayo who would definitely not be in the NHL on a competitive team, so the two have just been eaten alive in top four competition, creating a pairing with a 32nd worst 39.36% CF% and 75th worst 42.02% xGF%.
Injuries and COVID have depleted the Coyotes defense right now, so they have to look to rookies @Victor Soderstrom and @Janis Moser to be the shutdown pair if they don't want to expose Gostisbehere and Mayo to tough competition. Early results have shown that their actually somewhat competent defensively, but considering that they have just 19 career NHL games between them, and this pairing has also never played together at all, never mind in a shutdown role, it's going to be hard to count on it to do the job, especially against a strong offensive team like the Leafs.
Rookies on defense continues down to the third pair, as @Vladislav Kolyachonok will be making his NHL debut tonight on the third pair. My expertise on hockey players is minimal beyond the NHL, so I consulted our two TLN prospect connoisseur in @Kyle Cushman and @Nick Richard. Kyle's report is that "He's from Belarus so I have to like him, but he should not be anywhere near an NHL roster this early lol" and Nick said "I have no idea who that is, straight up", so in case you can't tell, the Coyotes are scraping at the bottom of the barrel right now. He'll be playing alongside @Ilya Lyubushkin, who is the Coyotes version of @Travis Dermott and puts up strong results in third pair minutes, but hasn't risen up the lineup much, which is incredibly surprising considering how depleted the blue line. He isn't driving offense like he normally does, but his defensive results are still as strong as ever.
Instead of splitting it up like usual, I'm just going to say the same thing for all three defense pairs like I did for the forwards for the Leafs: you probably don't need to worry about matchups tonight. Just roll out three pairs, especially considering it's a back-to-back, so there's no need to run any of the top 4 into the ground at the expense of a win. They can probably handle this.
Once again, no starting goalie confirmation for the opposing team so I won't bother doing the matchup, but even with @Petr Mrazek not quite performing well in the early going for the Leafs, the Coyotes have been throwing out anyone in the crease this season, so it should still be a matchup that favours the Leafs.
Overall
It should be no doubt, the Leafs are the better team in this matchup. They are far better than the Coyotes in every facet of the game except for drawing penalties, and the only thing the two teams are even close together for is shooting percentage, which considering the skill gap between the teams, is still bad news for Arizona. Their current combo of forwards have solid possession results together, but aside from a couple players, they have minimal finishing talent, so the Leafs still won't be too overwhelmed even if the Coyotes end up the better possession team tonight. They probably won't still, as their blueline shows no signs of being able to consistently move the puck up the ice to create that possession. There really isn't a specific thing the Leafs can exploit because just about everything can be exploited. No win is automatic in hockey, luck is always going to be a factor, but this game is just about as easy as they come.