Know Your Enemy: How the Maple Leafs match up against a youthful Ducks team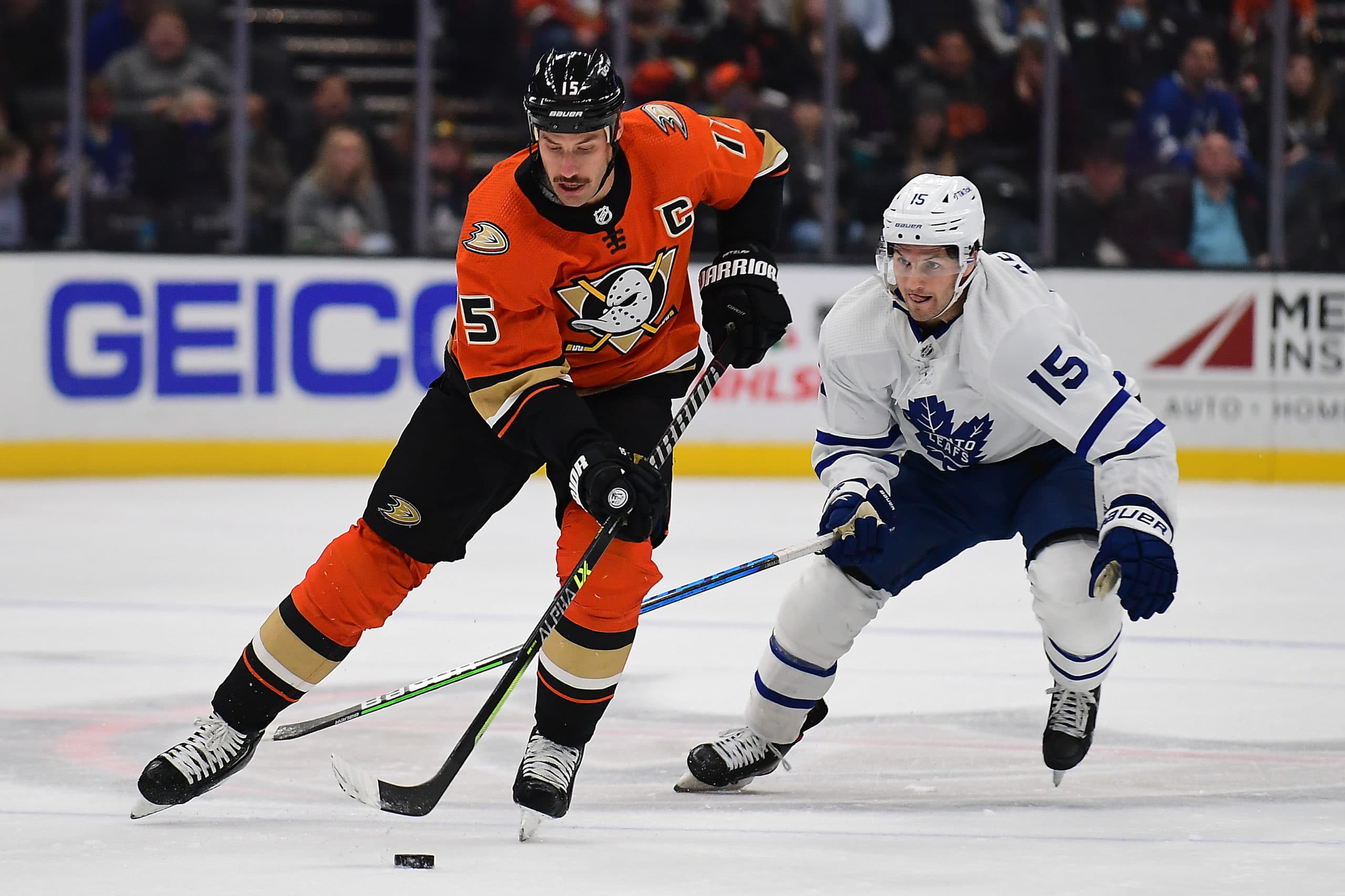 Photo credit:Gary A. Vasquez-USA TODAY Sports
The Anaheim Ducks have been one of the more captivating stories in hockey this season, as a young team full of promising superstars has been getting win after win, and it just keeps looking more likely that they might make a surprise run to the playoffs. It reminds me a lot of the 2016-17 Toronto Maple Leafs team when @Auston Matthews, @Mitch Marner, and @William Nylander first joined the team. No expectations, just a lot of fun.
This team is similar in many ways as well. While they don't have a player as talented as Matthews, @Trevor Zegras and @Jamie Drysdale have loads of skill and will only get better, while the slightly older @Troy Terry and @Sonny Milano are having breakout years for the Ducks as well. They don't have dominant possession numbers, but it's far from terrible, and definitely sustainable, especially in a terrible division like the Pacific. And much like that Leafs team had @Frederik Andersen to bail them out when they needed it, so do the Ducks in @John Gibson. The Leafs are still the better team overall, but that's because they're five years ahead of what the Ducks currently are. It's a nice reminder of where they came from, and all I can say to Ducks fans is enjoy the fun before the expectations set in.
Note: This is based on projected lines and starters at the time of publishing. Coaches really love to surprise us right before game time, so there's a solid chance that some of the matchups aren't accurate for the actual game because of that.
Tale of the Tape (via Mark Norman)
Lineups
Maple Leafs
Anaheim Ducks
Forwards
It's hard not to talk about the Ducks without mentioning Zegras, their dynamic rookie who's a big driving force for the Ducks climb up the standings this year. He's emerged as an excellent playdriver, and an even better playmaker, and he makes for a tough matchup, especially alongside @Rickard Rakell and Milano, who complement him perfectly. Milano is out right now, so it looks like @Ryan Getzlaf takes his place, and that line is still a good combination, as both Getzlaf and Rakell help drive the offense. It lacks a true finisher like it usually has with Milano, but some of that is probably a product of Zegras, so he'll probably turn one of Getzlaf or Rakell into that as well. All that aside, it's a line that drives play with a 58.09% CF% and a 50.68% xGF%, so they can hold their own and provide a bit of skill to make for a tough matchup.
The trio of Terry, @Maxime Comtois, and @Sam Steel haven't played together enough to give us anything of substance to quantify it, but it's certainly a mixed bag of players. Terry is the big name on the line, as he's had a breakout year with 23 goals this season, and he's really stepped up his overall play, being a really strong playdriver on top of that. The same can't be said for Comtois and Steel, who have shown shades of this in the past, but have been really underwhelming this season. Comtois is a solid finisher with bad shooting luck this season, while Steel is more or less just a solid defensive center who doesn't provide much else. Obviously Terry is a threat to burn you on any given night, but if you can keep him quiet, you'll probably keep the whole line quiet.
The third line of @Isaac Lundestrum, @Derek Grant, and @Jakob Silfverberg has been a mainstay for the Ducks this season, but it hasn't exactly been a good one, with a 43.48% CF% and 40.03% xGF% this season. Lundestrom and Silfverberg are in similar boats, as they are both solid defensive players with good finishing ability, but can't drive offense at all, so it hurts their overall play, and this line. But nothing hurts it quite like Grant, who doesn't bring much of anything to the table. Some of that probably comes from playing against tougher competition, but it probably means that he should be in a fourth line role for the team.
The Leafs finally find themselves with a healthy forward group, so Keefe has mixed up the forward groups just to see what works, and at game 39 of the regular season, it's the perfect time to do so. The first line is a bit of a reunion of sorts, as @Ondřej Kaše is with Matthews and @Michael Bunting again like when Marner was hurt. Marner reunites with @John Tavares with @Ilya Mikheyev on the other side, while both @Alexander Kerfoot and Nylander find themselves on the third line with @David Kämpf. There's not a lot of data on any of these combinations aside from the 56 minutes the first line was together with a 56.7% CF% and a 62.39% xGF%, and almost five minutes of the third line together with a 40.73% CF% and a 52.24% xGF%, so it's hard to really say what the matchups should be. The best idea would be to honestly just roll the lines and see what you got in these lines, and tweak the matchups as such as the game goes on. Maybe put the Matthews line more against Zegras', but otherwise just have fun tonight, this might be the most balanced we've seen this Leafs lineup since @Nazem Kadri was here.
The fourth line of @Nicolas Deslauriers, @Sam Carrick, and @Buddy Robinson is a surprisingly solid one, as they've found themselves on the positive side of playdriving with a 51.09% CF% and a 54.21% xGF%. A lot of that comes from Carrick, who's a really good defensive center with finishing ability, at least as far as fourth line centers go. Deslauriers is basically just a good defensive fourth liner, but his inability to do anything doesn't give him much value, while Robinson hasn't had too much of an NHL career, but he's at least shown good defensive results in that time. Unfortunately for them, they'll be up against what is arguable the best fourth line in the NHL statistically, as when @Pierre Engvall joins @Jason Spezza and @Wayne Simmonds, that line has the fourth best CF% in the league at 71.3% and the sixth best xGF% at 73.37%. Engvall can drive play in tough competition, so he'll be a force against a fourth line tonight, so that will be a fun matchup to watch.
Defense
The Ducks are also without @Josh Manson tonight, which means that they'll need to lean on @Kevin Shattenkirk in a tougher role for tonight. Shattenkirk's been pretty good this season as a power play specialist who can drive play in a sheltered role, but he's struggled a bit more when outside of that role. He'll be alongside @Cam Fowler, who's seemed to salvage his career after being one of the worst defensemen in the league as recent as 2018-19. He can put up points and drive play against tough competition, so he'll be a good partner for Shattenkirk, and all things considered, they've done well together this season with a 48.58% CF% and a 54.38% xGF%.
The second pair is a similar situation, as @Hampus Lindholm has been a consistent defensive presence on the Ducks blue line for a long time now, and while the point totals have never quite been there to get more credit as one of the better defensemen in the league, he's always been a strong option on their blueline. Drysdale has been his partner for a lot of the season, but he probably shouldn't be, as he has struggled mightily in a top four role. It's far from an indication of what he's capable of down the road, but he probably shouldn't have been thrown to the wolves as quickly as he was, and it has the potential of becoming a @Rasmus Ristolainen situation for the Ducks. The result of two defensemen on opposite ends of the defensive spectrum is a pairing with a 48.77% CF% and a 49.26% xGF%, so it looks like Lindholm is doing his job to shelter Drysdale.
I wouldn't say there's so much a matchup to be exploited but a strategy with this blueline, and that is exploit that right side that's in over their heads. Pressure them a lot in the defensive zone, because odds are they won't be able to handle it, although keep in mind that if you do give them time and space, they can move the puck up the ice. Since both pairs are pretty similar, there isn't really an advantage to be had with the specific matchups, so just pressure the right side and hope for the best.
The bottom pairing of @Greg Pateryn and @Josh Mahura have had just two games together, but seem to have done well in that limited time, with a 55.99% CF% and 66.67% xGF%. That said, it's probably more of an aberration. Pateryn is a solid defensive defenseman when put in a depth role, but doesn't provide much of anything else, while Mahura hasn't really shown any kind of play driving, even in a sheltered role, so I could see those numbers falling down to earth a bit. They'll be up against @Timothy Liljegren and @Travis Dermott, who, despite their success elsewhere, haven't had great numbers together with just a 44.09% CF% and a 36.45% xGF%. That's just in a bit over 27 minutes of ice time, so I'd expect that to improve a bit more, unless @Rasmus Sandin is just a lot better than we seem to acknowledge. Regardless, I'd imagine they get the better of Pateryn and Mahura tonight.
Goaltending
Gibson is the confirmed starter for the Ducks, and he's had a bit more of a return to form this season, although he still isn't at that elite level he was at before. That said, when he's on, he's tough to beat, so the Leafs best hope that they can beat him early to try and shake him and not let him get a groove going. He's a strong goalie on the PK, as well as stopping low danger shots, so the Leafs should focus more on quality instead of quantity with Gibson if they want to beat him.
They'll have @Jack Campbell in net tonight, who's been struggling a little bit these past few weeks, but hopefully after a week off, he should be a bit more rested and provide a strong performance for the Leafs. Like I mentioned, it might be needed against Gibson, because if he's on his game, the Leafs will need a goalie duel to win this one, and at his best, Campbell can certainly provide that.
Overall
As I said off the top, the Leafs are obviously the better team in this situation, but that's because the Leafs youthful core is in their prime, while the Ducks is just establishing itself, like that 2016-17 Leafs team. But, that means that they can't be taken lightly either, as they've surprised a lot of teams to get to where they are right now. The Ducks have the advantage on the PK and at drawing penalties, so it'd be best to stay out of the penalty box tonight. Other than that, roll out this new look lineup and see what works, make sure to target the right side of the defense, and try to get to Gibson early on, and the Leafs should find themselves in a winning position.
Projected lineups via @dalter and Daily Faceoff
Standard stats via NHL.com
Line data via Evolving Hockey
Player information via JFresh's Player Cards