Know Your Enemy: The Maple Leafs and Golden Knights match up well despite injuries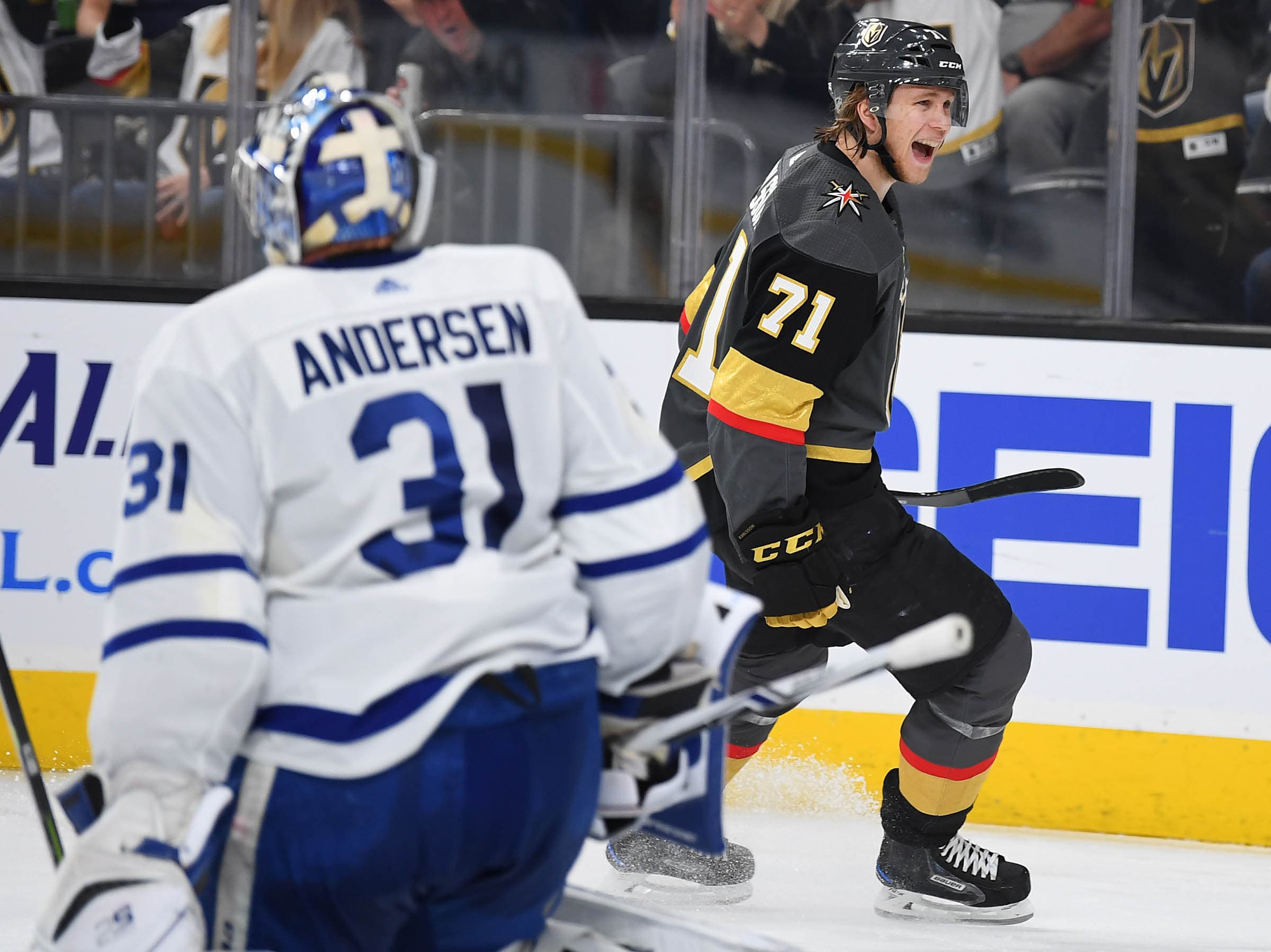 Photo credit:Stephen R. Sylvanie-USA TODAY Sports
Despite the fact that the Toronto Maple Leafs just about got the result you could expect from a game against the Colorado Avalanche while dealing with injuries, the way they got to that result was a disappointing one. They'll be looking to rebound against the other big contender in the Western Conference in the Vegas Golden Knights, who are also dealing with injuries from important players, with @Max Pacioretty and @Jack Eichel still on the shelf for a while (although Eichel looks closer to returning). Despite that, they've seen a rise in the standings from a slow start to the season, although they're on a bit of a cold streak losing three of their last four. It'll make for an interesting matchup regardless of both teams, and is a potential Stanley Cup Final preview with how strong both teams can be.
Note: This is based on projected lines and starters at the time of publishing. Coaches really love to surprise us right before game time, so there's a solid chance that some of the matchups aren't accurate for the actual game because of that.
Tale of the Tape (via Mark Norman)
Lineups
Toronto Maple Leafs
Vegas Golden Knights
Forwards
The first line shouldn't be much of a mystery to any fan, as it's a trio that's been together for pretty much the entirety of the Golden Knights history in Jonathan Marchessault, William Karlsson, and Reilly Smith. Karlsson isn't the 40 goal scorer that he broke out as in his first season with Vegas, but he's emerged as a solid defensive center that can still bring value even when he isn't producing. Marchessault is the other way around, an all-offense winger who struggles defensively, while Smith is the best of both worlds and does both well, which is surprising considering he always seems to be the most expendable. It's that mix of dynamics that makes this line work as well as it has for the past five seasons, with this season being no different with a 57.23% CF% and 52.19% xGF% at 5v5.
That first line also gives the Golden Knights a lot of flexibility to play their best player on his own line and lift up other players on the team, especially while the team is dealing with injuries. In a healthy lineup, @Mark Stone is probably playing with Eichel and Pacioretty, but for now he gets @Chandler Stephenson and @Evgenii Dadonov. That said, it's something Stone can handle, as he's been one of the best defensive forwards in the league for a while now, although he never really gets credit for it because he doesn't take faceoffs or something. He's struggled a bit more defensively this season, but between dealing with his own injuries and not exactly having the greatest linemates, you can cut him some slack. Stephenson's breakout year has been a lot of help for him though, as he hilariously leads the team in scoring despite the fact that the team made a blockbuster trade to bring in a better center for that line. Like Stone, he's also normally a strong defensive forward, but his results have been mixed as well. Some of that probably has to do with the fact that when Pacioretty hasn't been on the left wing for that line, it's been Dadonov, who's good offensively but really struggles defensively, and even then, his offense hasn't been the same since his first two seasons in Florida after returning from Russia. All in all, it creates a line that can burn you, but also be burned, but with a 49.92% CF% and 59.72% xGF% at 5v5 together, it still favours them more than the opponent, especially when you have two strong lines surrounding you.
A lot of has been made of the Leafs shutdown third line, but the Golden Knights have an even better one to boast, as the combination of @Mattias Janmark, @Nicholas Roy, and @Keegan Kolesar has been a dominant one this season. In their almost 53 minutes of 5v5 ice time together, they have a 61.79% CF% (good for 36th in the league), and a 70.14% xGF% (good for 14th in the league). That said, it's mostly driven by Roy, who has the best results out of the three on their own. Roy and Janmark do bring some interesting chemistry, as Roy is a center that really drives offense well, while Janmark is a winger that has a solid defensive game (although he's struggled in that regard this year), and Kolesar compliments it well overall. While none of them are world-beaters scoring-wise, they aren't incompetent and can burn you if you give them the chance, all in all making a line that could frustrate one of the Leafs top lines tonight.
With @Ondřej Kaše back in the lineup, and @Mitch Marner and @Pierre Engvall still in COVID protocol, the Leafs still have some different looking lines, but it's much deeper than Saturday's showing against Colorado. @Alex Kerfoot moves back down to the second line with @John Tavares and @William Nylander, while Kaše takes his spot on the top line with @Auston Matthews and @Michael Bunting. The bottom six gets a bit of shuffling as well, as @Ilya Mikheyev moves down from the second line and @Wayne Simmonds moves up from the fourth line to join @David Kämpf, while @Jason Spezza and @Nick Ritchie are back on the fourth line with @Kyle Clifford. The top line has had some playing time together, and has worked somewhat well, although not quite as well as with Marner there, obviously. We all know that the second line produces but doesn't quite drive play like the rest of the lineup can, while the third line has had less than a minute together and had underwhelming results in them, but it has the potential to work well knowing what we know about the players, although Simmonds playing in a less sheltered role is slightly concerning. Honestly, this might be one of those games where I say just roll all your lines and don't care too much about line matching. Give Kämpf's line most of the defensive zone starts and other than that, just have fun.
@William Carrier has been another mainstay from that original Golden Knights team, finding a home as a really strong all-around forward for them in a fourth line role. He doesn't score a ton, but you also won't get scored much when he's on the ice either. Or at least, he shouldn't. His current linemates are a couple of reclamation projects for the Golden Knights in former first round picks @Nolan Patrick and @Brett Howden. Patrick obviously has a bit more draft pedigree as a former second overall pick, but neither of them have amounted to much in their NHL careers up to this point, so it was a solid gamble on Vegas to bring them in when their value was low in case they reached their potential finally. That said, that hasn't happened this season, as they both have remained pretty mediocre and have fallen to fourth line duties, with Patrick barely making the lineup on a regular basis despite Vegas' injuries. This creates a line with a 38.59% CF% and 33.7% xGF% in their limited time together, something that the Leafs fourth line would normally eat up, but with Clifford and Ritchie on there, it's a line that has only a 32.71% CF% and 4% xGF% (in less than two minutes admittedly). Not 40% xGF%, 4%. If both coaches were smart, they'd probably only match their fourth line up against the other fourth line because they'll both get eaten alive otherwise.
Defense
@Alex Pietrangelo and @Brayden McNabb is supposed to be the shutdown pair, and while their individual play this season would have you think that it wouldn't end well, they've actually worked out pretty well together. Pietrangelo is normally one of the best defenseman in the league, especially in his end, with the ability to eat a lot of tough minutes, but he's struggled defensively this season even after adjusting for his usage, with a 2.74 xGA/60 that puts him among players like Tyson Barrie and Marc Staal. McNabb is also one of the better defensive defenseman in the league, but has been pretty unremarkable as well after adjusting for his usage. Together, it's a pairing that really shouldn't work on it's own, never mind given the tough minutes, but so far it's worked to the best that you can expect, with a 50.24% CF% and 51.81% xGF% at 5v5. It's not amazing, but if you're up against the league's best and breaking even, that's all you can ask for.
That frees up the second pair of @Shea Theodore and @Zach Whitecloud, which has been one of the better defense pairings in the league when they've been together, with a 56.89% CF% that's 52nd in the league, and a 62.18% xGF% that's 24th in the league, and much like a bunch of other combinations for the Golden Knights, it's because of how well they compliment each other. Theodore is what the casual hockey fan though prime Erik Karlsson was, as he drives offense and scoring chances like crazy (although not as much this season), but struggles defensively. That works perfectly for Whitecloud, who has emerged as one of the better defensive defensemen in the league, or at least in the minutes he's been given. He was mostly a third pair defenseman until he started playing with Theodore, but he's one of the best in the league at suppressing scoring chances, with a 1.94 xGA/60 at 5v5 that ranks 20th in the league, so it works well with an offensive defenseman like Theodore.
I know I've only just started this series this month, but I think you can kind of clue into what my choices for the top four matchups will be. Give @Morgan Rielly and @TJ Brodie the tougher matchup against Theodore and Whitecloud, and give @Jake Muzzin and @Justin Holl the easier matchup in McNabb and Pietrangelo. Which also works out for the mainstream opinions on these pairings anyways, because they probably consider the Pietrangelo and Muzzin pairs the tougher of the two.
The third pairing of @Ben Hutton and @Dylan Coghlan are about as average as third pairings go, as neither of them really bring much to the table at even strength, but don't hurt you either, and maybe also bring a few special teams benefits as well. The duo have a 56.32% CF% and 48.34% xGF% in their time together, so they can maintain possession well, but when they slip up, it's usually a good scoring chance. That said, @Rasmus Sandin and @Travis Dermott aren't a typical bottom pair, so it should be an easy matchup for them.
With no confirmation for Vegas' starter, there won't be a goalie matchup. That said, the Leafs have had the better goaltending by a wide margin, and @Jack Campbell has been better than both @Robin Lehner and @Laurent Brossoit this season, so this matchup heavily favours the Leafs.
Overall
Usually it's the other way around when these teams face, but the Leafs have the advantage defensively and with goaltending, while the Golden Knights have the advantage offensively. That said, both of those are also weighted by luck a bit, so if you account for the inevitable regression, both teams seem to meet right down the middle. The Leafs best advantage in this game is taking advantage of Stone and Pietrangelo's weaker seasons and exploiting them when the coach will probably rely on them against the Leafs big guns. That doesn't mean they aren't capable of having a strong game, but that's their best bet of exploiting anything, otherwise this is just going to be a very entertaining and fair fight. Well, there's the goaltending mismatch, but that's always the case with Campbell having as good of a season as he is.