Kyle Dubas' 5 worst moves during his time with the Toronto Maple Leafs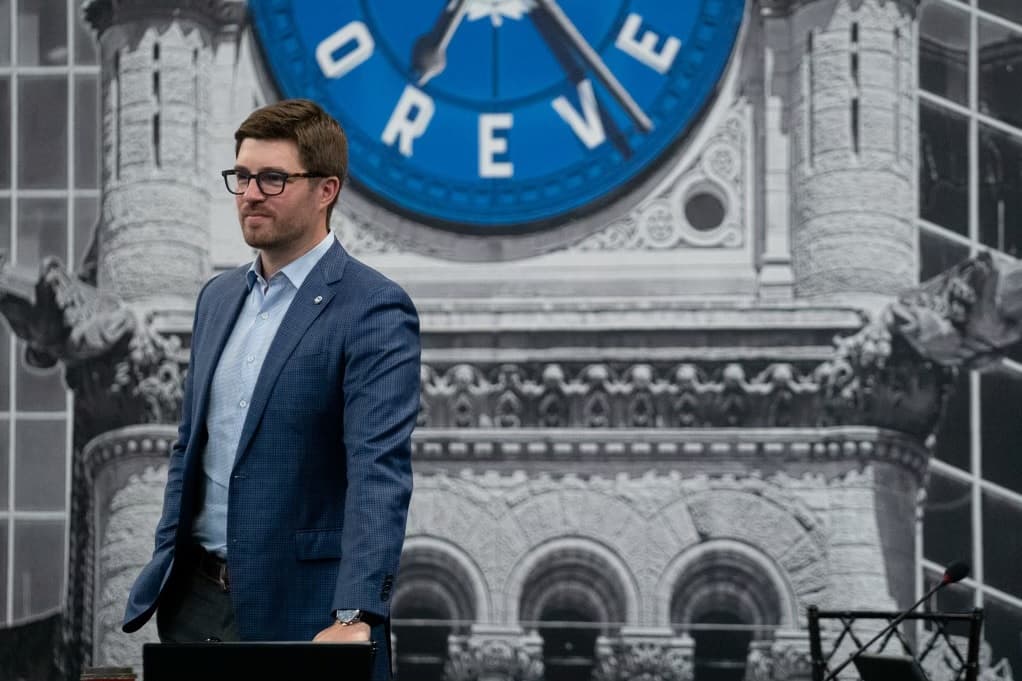 Photo credit:twitter.com/mapleleafs
As I've said plenty of times, Kyle Dubas wasn't a perfect general manager, nobody is, but he did a lot of good things for this team while he was here, and yes, he even did some questionable things for this team that has hurt them at times.
When I was writing my five best moves from Dubas, I felt like that list could look different for other people, but as I was writing this piece, I thought to myself that my list probably looks similar to a lot of others because of how big these moves were at the time.
Honourable mention: Allowing Frederik Andersen to walk in free agency to sign a two-year, $9M contract ($4.5M AAV) with the Carolina Hurricanes
Although there was an argument about letting Frederik Andersen leave in free agency, it also sucked to see him leave and have a bounce-back season in 2021-22 with the Carolina Hurricanes. And, as we all know now, he has been great for them during the 2023 playoffs.
After being acquired by the Maple Leafs in the summer of 2016 and signing a five-year, $25M contract ($5M AAV), Andersen's last couple of seasons in Toronto didn't go quite as planned for the Maple Leafs or the Danish netminder either.
Although his first three seasons in the blue and white were something special, and he was one of their best players every season from 2016-17 to 2018-19, the 2019-20 season and 2020-21 season were the two years where his play started to decline with Toronto, and injuries were sidelining him from the ice.
The last season of his contract got to a point where you had a legitimate argument as to why they decided to let him walk in free agency. After posting save percentages of .918 and .917 in his first three seasons, he followed that up with a .909 SV% in 2019-20 and a dreadful .895 SV% in his final year with Toronto while battling multiple injuries, and that's when Toronto turned to Jack Campbell to take over the crease for the rest of the season and in the 2021 Stanley Cup playoffs.
You could argue that the reason for his poor play was due to injuries, but even with that, he was almost always sidelined for Toronto, and when he would return to the lineup, he would struggle and not only allow a lot of goals but a lot of soft ones as Maple Leafs fans used to see in the playoffs.
When Andersen signed his two-year deal with the Hurricanes in the 2021 off-season, the netminder publicly said he was willing to return to Toronto, but obviously, the two sides couldn't agree on a contract. In an article by
CanesCountry.com
, Andersen stated that the two sides were "a little bit too far apart to get something going" and "talks with my agent and the Leafs' management had was just tough."
Unfortunately, the contract talks didn't get resolved between the two sides, and he went elsewhere, but good on Freddie for having a couple of bounce-back seasons with the team that drafted him in the 7th round in 2010.
5. Toronto Maple Leafs sign free agent Petr Mrazek to a three-year, $11.4M contract ($3.8M AAV)
Although Kyle Dubas signed Petr Mrazek to this three-year, $11.4M contract during the 2021 off-season after losing Frederik Andersen to the Carolina Hurricanes, Dubas was able to get out of this contract by dumping him to the rebuilding Chicago Blackhawks during the 2022 NHL draft.
It's honestly easy to look back on that singing and criticize it, and rightfully so, but when Toronto initially signed Mrazek, I didn't think it was a terrible deal whatsoever, and I'm sure others felt the same way as well. Obviously, last season didn't go as planned for both sides, and Mrazek had his worst season in the NHL career, but for a goalie who was rocking a .910 SV% through his first 263 games from 2013 to 2020, a cap hit of $3.8M for a goalie like that wasn't a crazy price tag, in my honest opinion.
Now, Dubas had to pay Chicago a sweetener to get rid of him given there were still two years on his deal and Toronto – who eventually lost Campbell in the off-season – needed to create some cap space to fix their goaltending and other areas.
This signing makes this article simply because of how terrible his first – and only – season as a Maple Leaf went and the fact that Dubas had to pay a 1st-round pick to dump him to Chicago. However, it's not like Toronto didn't get anything in return. They got the 38th overall pick in the 2022 draft (Fraser Minten), so in a way, they got rid of Mrazek and his $3.8M cap hit for the next two years and only had to move back 13 spots.
4. Toronto Maple Leafs acquire Denis Malgin from the Florida Panthers in exchange for Mason Marchment
Now comes the trade that took place on February 19, 2020, between Toronto and Florida.
The Maple Leafs swung a deal with their divisional rival by sending Mason Marchment to the Florida Panthers and receiving Denis Malgin in return.
At the time of this trade, my initial thoughts were, Why? Marchment went undrafted but later signed with the Maple Leafs, and although he was a full-time Marlie for the 2017-18 and 2018-19 seasons, he didn't get a chance at the NHL level aside from four games during the 2019-20 season when he registered just one assist.
At the age of 24 and only being an AHLer in the Toronto system, Kyle Dubas and company traded Marchment to the Panthers for another forward in Denis Malgin who – at the time of the trade – had 184 games of NHL experience at just 23 years old. So maybe that's why they agreed to this deal, but at the same time, Marchment had a couple of good seasons in the AHL, and his 6'4 210 lbs frame could've been useful in Toronto's bottom-six at the time.
Since the trade that saw Marchment and Malgin switch sides in early 2020, Marchment went on to play 87 games with the Panthers between 2020-21 and 2021-22. In those 87 games, he scored 20 goals and added 37 assists for 57 points while also being a physical presence on the ice. He had a breakout season last year as he put up 47 points in 54 games and has since signed a four-year, $18M contract ($4.5M AAV) with the Dallas Stars.
Denis Malgin, on the other hand, that's a different story.
Malgin only played in eight games for the Maple Leafs during the 2019-20 season registering zero points. He then signed a contract overseas for the next two seasons. He returned to North America this past season and signed with the Maple Leafs on a one-year, $750K contract. He made the Maple Leafs roster out of training camp but only played in 23 games – two goals and two assists – before being traded to the Colorado Avalanche for Dryden Hunt.
Malgin was more of a mainstay in Colorado's lineup this past season, but that was also due to the injuries the Avalanche were dealing with. In 42 games for Malgin, he scored 11 goals and added six assists for 17 points. That tied a career-high in goals for him and is just five points shy of his career-high that he set back during the 2017-18 season with Florida.
3. Toronto Maple Leafs protecting Justin Holl and Alex Kerfoot over Jared McCann in the 2021 Seattle Kraken expansion draft
This one was just confusing. I kind of understand why they did it, but at the same time, why?
It was 2021, and the NHL was adding their 32nd franchise to the league, the Seattle Kraken, and when a new team enters the league there is an expansion draft and the new team selects one player from every team to form their new team. Every other team in the league can protect certain players on their team too, so it's not like the team entering the NHL can snag a Connor McDavid or an Auston Matthews that easy.
Toronto had two choices: Protect 11 players (seven forwards, three defensemen, and one goalie) or protect nine players (four forwards, four defensemen, and one goalie) Toronto went with the second option, which wasn't a terrible idea until you realize they made a trade for a pretty good player just to expose him in the expansion draft over guys like Alex Kerfoot and Justin Holl.
On July 17, 2021, Toronto acquired Jared McCann from Pittsburgh in exchange for Filip Hallander – who they acquired from the Penguins the previous off-season for Kasperi Kapanen – and a 2023 7th-round pick. However, Toronto – although they just acquired a pretty darn good player – went with the decision to expose McCann in the expansion draft just so they can protect Kerfoot and even Holl.
Toronto's expansion draft list was the following: Marner, Matthews, Nylander, Tavares, Brodie, Holl, Muzzin, Rielly and Campbell.
Now that we're looking at it, they definitely could've and should've gone with protecting seven forwards, three defensemen and one goalie just to make sure they kept McCann. McCann was in the last year of a two-year contract that had a cap hit of $2.94M and was a pending RFA at the end of the season. You essentially gave up a low-end prospect and a 7th-rounder just to keep Kerfoot and Holl, when in reality could've kept McCann, protected him, and if anything flipped him for better assets if you didn't want him that bad.
McCann is currently one of the Kraken's better players, and in 153 games with the two-year-old organization, he has 120 points, 67 of them being goals. I don't know about you, but that's pretty good. It's almost like Toronto had this guy on their roster and decided to lose him for free to keep someone who couldn't find a fit on any line.
2. Toronto Maple Leafs acquire Nick Foligno (CBJ) and Stefan Noesen (SJ) in a three-way trade in exchange for a 2021 1st-round pick, a 2021 4th-round pick and a 2022 4th-round pick
We're now getting into the worst of the worst trades.
During the 2020-21 season, the Maple Leafs were in an all-Canadian division due to COVID-19 restrictions, and when that division was put together, it was clear as day that if there was ever a year for Toronto to cruise to the Stanley Cup Final or at least the Conference Final, it was that year.
Toronto had a great season finishing the 56-game campaign in 1st place – winning their division – with a record of 35-14-7 (77 PTS). By finishing first place, they had a date with their longtime rivals, the Montreal Canadiens in the first round, and everybody knows how that played out. I don't have to remind you.
However, before the playoffs even took place, there was the trade deadline. Kyle Dubas did some shopping ahead of this trade deadline, and he might have spent too much on somebody that didn't play much for the Maple Leafs.
On April 11, 2021, Toronto completed a three-way trade with the Blue Jackets and Sharks. Toronto received Columbus' captain, Nick Foligno to Toronto along with Sharks forward Stefan Nosen in exchange for a 2021 1st-round pick (to CBJ), a 2021 4th-round pick (to SJ), and a 2022 4th-round pick (to CBJ).
When Dubas swung this deal, I was kind of excited, to be honest. Toronto was missing a player like this in their lineup at the time, and although the price was a little steep, it made sense to me given Foligno's contract was essentially 75% retained, and you sometimes have to pay a premium when players are that cheap.
It just sucked because Foligno didn't play much during his time here. He got into only seven games in the regular season (four assists) and four games in the playoffs (one assist) as he was battling multiple back injuries before and during his brief playing days with Toronto.
Looking back at it now, paying a 1st-rounder and a 4th-rounder for a player past his prime – but still effective in a checking role – while only playing in 11 games between the regular season and the playoffs is not ideal. That, on top of the fact Toronto also got Noesen in the deal and only played him in one game before giving up on him way too soon and having him leave in free agency to sign with the Hurricanes on a one-year deal was not good on Toronto's end.
Noesen then re-signed with Carolina on a cheap two-year deal, and in his first full season with the Canes, he put up 13 goals and 23 assists for 36 points in 78 games while having that physical aspect to his game too. He's signed to just a $762.5K cap hit next season, and if he can replicate that season next year or at least a similar version, then that is insane value for them.
1. Toronto Maple Leafs acquire Tyson Barrie, Alex Kerfoot and a 2020 3rd-round pick from the Colorado Avalanche in exchange for Nazem Kadri, Calle Rosen and a 2020 6th-round pick
Now is the time we take a trip back to 2019 when Toronto fans had to go through losing a major fan favourite.
On Canada Day in 2019, the Maple Leafs and Avalanche made a trade that shocked the hockey world, or at least the Maple Leafs' hockey world.
Trading a player like Kadri was weird, but when you take into consideration the fact that he got himself suspended twice in back-to-back playoff series against Boston in 2018 and 2019, it made sense, but at the same time you just wish they could've kept him and he would've learned.
Toronto gave up Kadri, who had three years left on his contract, Calle Rosen, and a late draft pick in exchange for one year of Tyson Barrie, Alex Kerfoot, who later signed a four-year deal with Toronto and a 3rd-rounder.
Barrie, as we know, only lasted one year in Toronto as he walked in free agency and signed with the Oilers. Kerfoot was with the Maple Leafs for four seasons. However, he never found a legitimate spot in this lineup despite posting a career-high in points last season (51 points) in 82 games.
Kadri, on the other hand, well, we all know how it ended for him in Colorado. A shiny ring on his finger, and his name on a beautiful cup. Although he won his cup in his last year with the Avalanche in 2022, Kadri got into more trouble in the playoffs the year prior as he was suspended eight games for his hit to the head on St. Louis' Justin Faulk.
I guess you can make some an argument that Toronto made good on this trade too, given Barrie played a season with Toronto and they got four years out of Kerfoot (285 games), but losing a player like Kadri – who had himself a career-year last season – is a big loss. Now I know there was without a doubt a scenario where Toronto could've ended up trading him given the tight salary cap, and he was no longer Toronto's second-line centre, but imagine if they somehow kept him all these years or at least, have gotten a better package in return for the former Maple Leaf.