Late goal from Amadio gives the Leafs another preseason win in Ottawa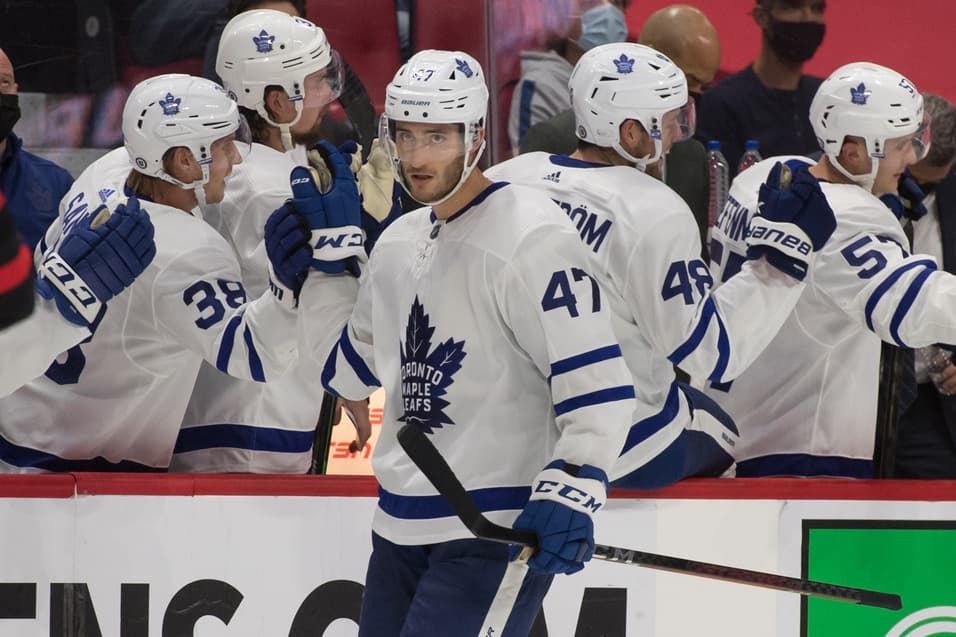 Photo credit:Marc DesRosiers
For the second game in a row, we got some preseason action from the Leafs' "best of the rest", as the highlights of the roster featured Justin Holl and Alexander Kerfoot, while all the players on the fringes battled it out for the remaining spots in the lineup.
Unlike last game, the competition wouldn't be quite as easy, as they'd be up against most of the Ottawa Senators NHL lineup. I mean, it's still pretty easy, just not as easy as their AHL lineup like last time.
Not surprisingly, this group managed to hold their own, never really finding themselves hemmed in by Ottawa, and keeping the score close despite lacking the obvious finishing talent. From a long term perspective, it's not a bad thing to have practice with if the Leafs get a couple injuries from the big guns. They kept it close and competitive, and capitalized on their chances when they got them.
The scoring didn't open until the second, when Pierre Engvall of all people got a power play goal with a really nice shot. He also managed to get another shot off like that later in the period, but no goal to show for there. The Sens followed that up with a goal late in the second to tie it, and it would remain that way until the dying minutes of the third when Adam Brooks would make a nice cross feed pass to Michael Amadio to bury it into a wide open net. Engvall would score a buzzer beater empty net goal to ice it, and the Leafs would leave with a win, not like that really matters in the preseason.
While the Leafs practice lines suggest that Sheldon Keefe seems to have some idea as to what the Leafs will put out on opening night, tonight showed that it definitely shouldn't be made up just yet. Several players on the fringes played like NHLers tonight, and should at least make a case for the opening night roster.
3rd Star: Pierre Engvall
Engvall gets a bit of hate from the Leafs fanbase, but I think a lot of that stems from the fact that he's not someone that jumps out at you. But people forget that he is still a decent NHL player, and he showcased that tonight with some great play, and he showed off that nice shot he can pull off from time to time as well.
2nd Star: Michael Amadio
Probably one of the biggest surprises on the roster, Amadio is definitely making his case to make the lineup in the preseason, and he did it with a great night tonight. He was driving play all night with a 73.68% shot share and 75.94% of the expected goals at even strength, and he capped it off with the game winning goal. He won't be a game changer, but he could probably end up as a solid depth forward based on his preseason so far.
1st Star: Jack Campbell
Despite an excellent season last year, Campbell has a lot to prove this year as to whether he can maintain that level of play year after year. His start against Montreal may have been slightly concerning, but tonight he was rock solid, stopping 26 of 27 against what was pretty much an NHL lineup – even if it's the Senators.
40th Star: Alexander Kerfoot
It's not that he was bad per say, but he definitely didn't stand out, and when you're the highest paid player in this lineup, and a lot of players making league min are showing you up, it's probably not a good sign. He's had good flashes this preseason, so hopefully it's just an off game, but if this continues, it won't be the best look.
After almost a week off, the Leafs are making up for it with back-to-back hockey. Tomorrow, they face off against the Montreal Canadiens for the final time this preseason with a match up at home at 7pm on TSN.
Considering the lineup of fringe NHLers tonight, there's a good chance tomorrow we're going to see a lot of the top lines and pairs play tomorrow. It's not likely that that includes Auston Matthews, who's still recovering from his wrist surgery, but hopefully he can get into at least one preseason game before the regular season starts.