Leafs development camp and rookie tournament: What we know so far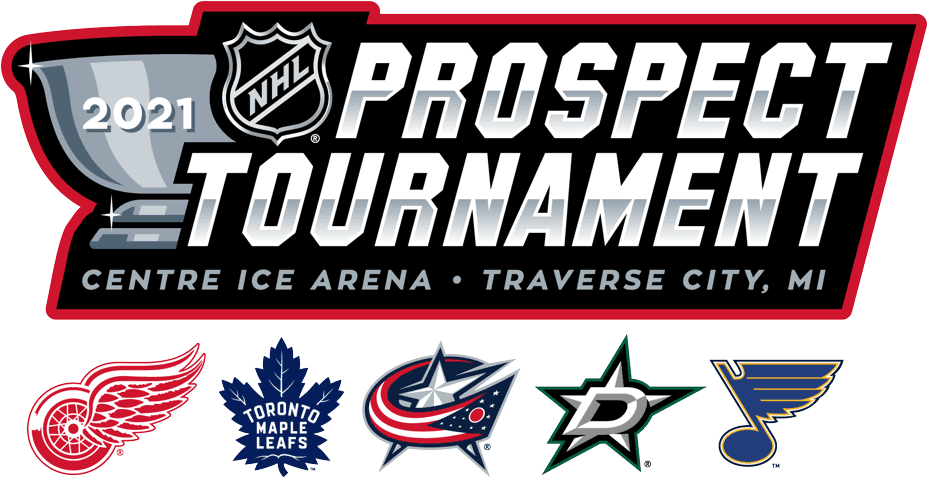 It's been two years since the Toronto Maple Leafs were able to get a bulk of their prospects together on one rink for what is usually their annual development camp and rookie tournament. With COVID restrictions preventing both offseason fixtures a year ago, next month will be the first time selections across two entry drafts will have the opportunity to work directly with the Leafs development staff all at once.
Normally, development camp takes place the week or two following the draft, right at the end of July and beginning of August. Later in the offseason, just before training camp starts, a rookie tournament is held featuring much of the same group. Obviously, this isn't the case this time around. Rather than hosting a separate development camp and rookie tournament, it appears the Maple Leafs staff is looking to streamline the process and make things as easy as possible with the COVID restrictions.
It's confirmed that Toronto will be participating in the Traverse City rookie tournament hosted by the Detroit Red Wings from September 16-20, where they will also face prospects from the Columbus Blue Jackets, Dallas Stars, and St. Louis Blues.
| | | | |
| --- | --- | --- | --- |
| Toronto Maple Leafs | Columbus Blue Jackets | September 16 | 3:00 pm EST |
| Toronto Maple Leafs | St. Louis Blues | September 17 | 3:00 pm EST |
| Toronto Maple Leafs | Dallas Stars | September 19 | 2:00pm EST |
| Toronto Maple Leafs | Columbus Blue Jackets | September 20 | 1:00pm EST |
Speaking of invites, teams will use these two events to get a closer look at undrafted prospects. In past years, Toronto has invited as many as 35 undrafted prospects to attend their development camp. While the number certainly won't be that high this year given the inability for European based prospects to attend, we already know quite a few players that will be coming to Leafs camp as invites.
Since the entry draft on July 23-24, numerous junior teams have announced that their undrafted players will be attending NHL development camps and rookie tournaments. We have confirmation of 14 invites to the Leafs development camp, with multiple likely sticking around for the Traverse City rookie tournament.
There will almost certainly be more invites that have yet to be announced, but here are the 14 we know so far:
| | | |
| --- | --- | --- |
| Name | Position | Junior Team |
| Brett Budgell | LW | Charlottetown (QMJHL) |
| Landon Cato | RD | Niagara (OHL) |
| Ryan Del Monte | C | Barrie (OHL) |
| Taylor Gauthier | G | Prince George (WHL) |
| Jacob Guévin | RD | Muskegon (USHL) |
| James Hardie | LW | Mississauga (OHL) |
| Braden Holt | G | Everett (WHL) |
| Braeden Kressler | C | Flint (OHL) |
| Francesco Lapenna | G | Drummondville (QMJHL) |
| Lleyton Moore | LD | Oshawa (OHL) |
| Ethan Peters | RD | Edmonton (WHL) |
| Théo Rochette | C | Québec (QMJHL) |
| Colby Saganiuk | C | Erie (OHL) |
| Vincent Sévigny | LD | Victoriaville (QMJHL) |
I wouldn't be surprised to see the Leafs sign one of these invites to an entry-level contract. Even though most are still draft-eligible, NHL teams have until the start of the next CHL season to sign undrafted prospects. We've seen the Philadelphia Flyers do this in recent years with @Philippe Myers and @Egor Zamula, both of whom were still draft eligible when they signed their entry-level contracts as undrafted prospects.
After drafting just three players, Toronto could look to supplement the 2021 draft class with an undrafted prospect. The most recent Leafs invite to receive an entry-level contract was Trevor Moore, who decided against going back to the University of Denver in 2016 to begin his professional career.
A few invites that I would look to contend for an ELC include Taylor Gauthier, James Hardie, and Théo Rochette.
With the invites out of the way, what prospects can we expect to see from the Leafs organization at these two events?
We can rule out any European based prospects as restrictions and European leagues starting in early September make it unrealistic for any to attend. We won't be seeing any of @Rodion Amirov, @Pontus Holmberg, or Topi Niemelä at these two events.
It's also unclear whether NCAA bound prospects will be attending. In a usual year, NCAA and USHL prospects attend the development camp and skip the rookie tournament as it overlaps with the beginning of the fall semester. I would guess the likes of Veeti Miettinen, Nick Abruzzese, and Matthew Knies won't be attending, but the invite of the University of Nebraska-Omaha bound defenceman Jacob Guévin could mean they are bringing those NCAA prospects.
Here's a list of the Leafs and Marlies prospects and their likelihood of being at development camp and the rookie tournament:
| | | |
| --- | --- | --- |
| Very Likely | Possibility | Unlikely |
| Mikhail Abramov | Nick Abruzzese | Joey Anderson |
| Ryan Chyzowski | Joey Duszak | Jack Kopacka |
| Semyon Der-Arguchintsev | John Fusco | Timothy Liljegren |
| Curtis Douglas | Mac Hollowell | Brennan Menell |
| Ben Finkelstein | Erik Källgren | Marc Michaelis |
| Pavel Gogolev | Mikey Koster | |
| Gordie Green | Matthew Knies | |
| Matt Hellickson | Veeti Miettinen | |
| Noel Hoefenmayer | Joe Miller | |
| Brennan Kapcheck | Ryan O'Connell | |
| Filip Král | Matteo Pietroniro | |
| Riley McCourt | Nick Robertson | |
| Jeremy McKenna | Wyatt Schingoethe | |
| Bobby McMann | Ryan Tverberg | |
| Ian Scott | Joseph Woll | |
| Alex Steeves | | |
| William Villeneuve | | |
| Ty Voit | | |
In the 2019 development camp and rookie tournament, the Leafs did not bring the prospects that had established themselves with the Marlies. A 32 player roster was brought to the rookie tournament that year, I would expect a similar number this time around.
That's all the information that has been publicized in one form or another to this point regarding these two events for the Leafs. With the anticipated start of development camp in 15 days, expect to see official details and camp rosters within the next week.