Leafs erase 4-1 deficit in the final 11 minutes, win 5-4 in overtime: Game Highlights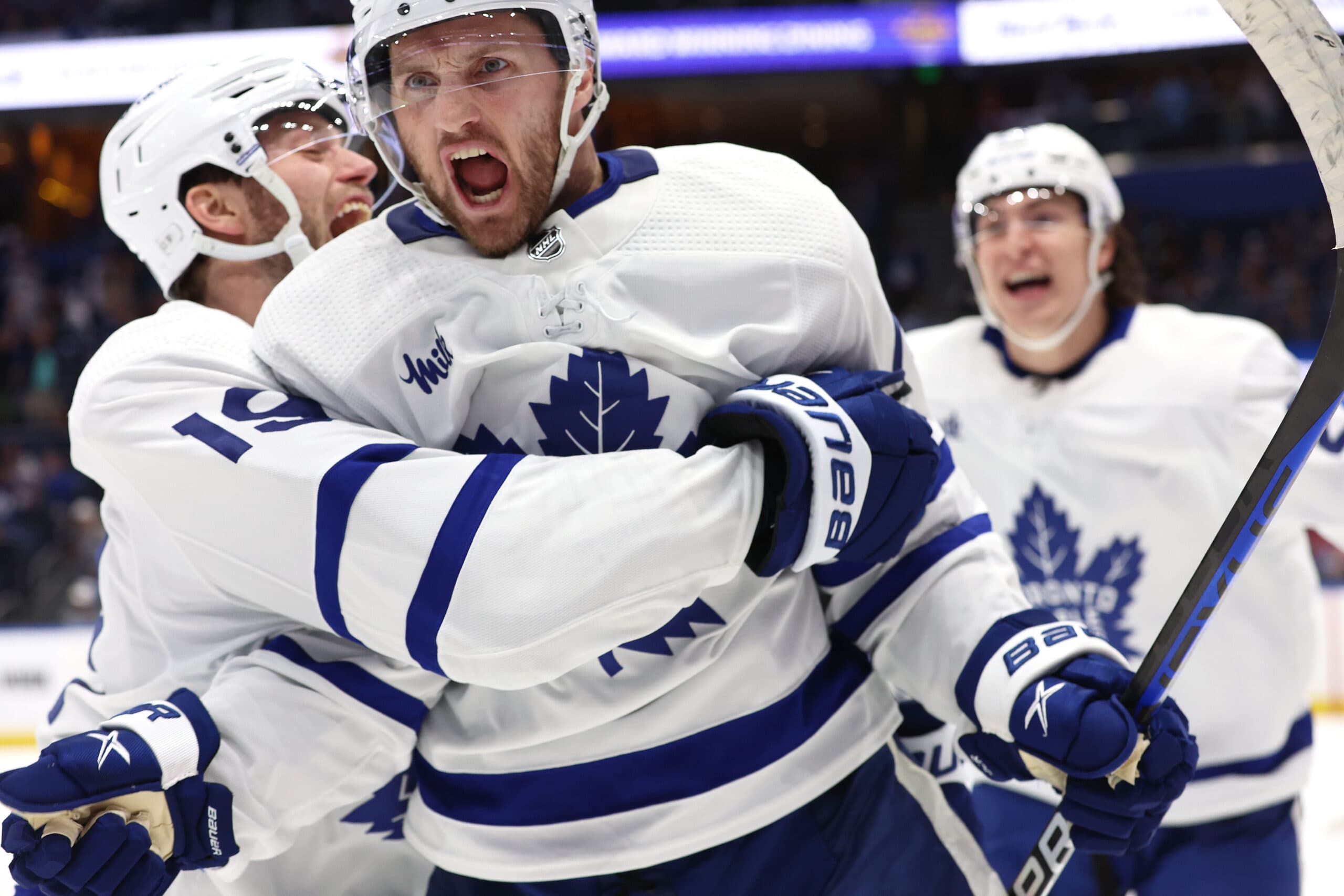 Photo credit:Kim Klement-USA TODAY Sports
The Leafs had one of their most clutch performances of the last decade on Monday night. They found themselves down 4-1 with just over ten minutes remaining and somehow managed to tie it up. Alex Kerfoot scored the game winner in overtime to give Toronto a 3-1 series lead.
Ilya Samsonov stood tall early on. After Brandon Hagel drew a penalty shot shorthanded, Samsonov calmly denied the Lightning winger…
A couple minutes later Alex Killorn got off the schneid. The two time cup champ hadn't scored in 29 consecutive playoff games before this tally. He finished a beautiful touch pass from Nikita Kucherov to put the Bolts up 1-0…
Late in the first Mikhail Sergachev double Tampa Bay's lead. Kucherov with another primary assist moving the puck across the seam…
Noel Acciari got things going for the Leafs in the second period. Ryan O'Reilly stripped Kucherov to keep the play alive. He found Justin Holl at the point and the Toronto defender threw the puck on net. Acciari tipped it past Andrei Vasilevskiy to bring the game within one…
The Lightning kept pressing for an insurance goal and nearly got it. Anthony Cirelli pushed the puck towards the net but Matthew Knies was there to prevent the goal…
A few minutes later Steven Stamkos scored his first goal of the series. Just after his penalty expired Victor Hedman shot the puck off the foot of Stamkos to give the Lightning a 3-1 lead…
With 1:11 remaining in the second period Killorn scored his second of the game. Sergachev hit Hagel with a beauty stretch pass and he dropped it off for Killorn who fired a shot off the post and in. 4-1 Lightning…
It took almost half the third for the Leafs to get the comeback started. William Nylander made a slick drop pass to Mitch Marner and he found Auston Matthews to cut the lead to two…
A couple minutes later Matthews found the back of the net again. He tipped in a long wrist shot from Nylander for his second goal in less than three minutes. 4-3 Lightning…
Morgan Rielly completed the comeback with 3:56 to play. His point shot found it's way through a ton of traffic in front and beat Vasilevskiy to force overtime…
In the extra frame Kerfoot capped off a wild night for the Leafs. Mark Giordano put the puck to the net on the powerplay and Kerfoot deflected it to score the game winning goal and put a strangle hold on the series. Four unanswered goals by the Leafs to take a commanding 3-1 series lead heading back to Toronto for game 5. 5-4 Leafs final.