Leafs face the difficult challenge of a lineup without John Tavares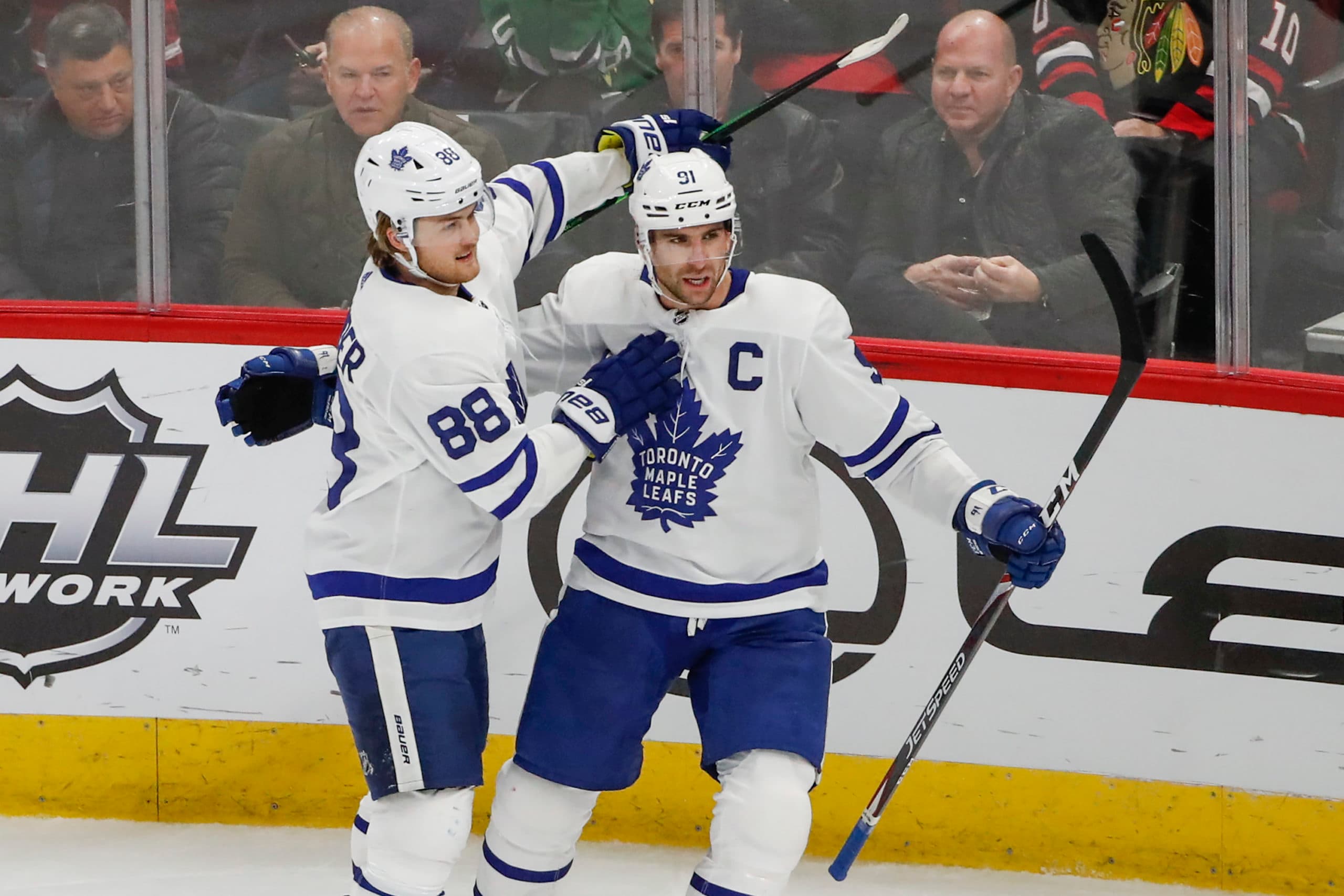 Photo credit:© Kamil Krzaczynski-USA TODAY Sports
First and foremost, there's no replacing John Tavares. The Leafs don't have a point per game center sitting around, nor a spare leader and captain. The loss of Tavares makes the Leafs roster worse, but that isn't a call for him to return at anything less than 100%. We'll put our faith in the Leafs organization and their doctors that they will first do right by Tavares, and the roster is a second thought.
In fact when we, as a TLN team, started discussing what the new lines could look like, the one thing that came through loud and clear from our group is the need to emphasize how important it is to do right by Tavares, and after that terrifying incident we just want the captain to be okay.
John Tavares has since provided the following update:
We'll definitely take that as a positive sign for his recovery, and again we wish him all the best.
The Leafs have begun reorganizing themselves to begin to manage their roster without the captain, the lines at practice were as follows:
The most significant piece is probably the move of Foligno to center and the inclusion of Alex Galchenyuk in the lineup and on the second line. It's a bit of a wingers who have played center committee on the line, and hopefully they can all call on enough of their previous experience to make that a competitive line. The other change is the Riley Nash is out for Pierre Engvall, which might just speak to the group wanting to go with players who have played together longer at this point.
Our writers discuss their preferred lines and thoughts on John Tavares below:
Michael Mazzei:
Who replaces Tavares depends on what the Leafs need. If they need more offence, it might be a good idea to put Galchenyuk in. If they desire a two-way presence, Engvall is the way to go. Then comes determining who will centre that line. First off, Kerfoot should not be the second line centre and it would put them at a disadvantage matchup wise. This may seem ludicrous, but I think we may see Engvall centre the second line. Simply put: he's on a hot streak and he is someone Keefe sees a lot of potential in so what better way to see what he's capable of than with the captain out.
Nick Richard:
Let me start by saying that discussing line combinations feels somewhat insignificant after seeing what happened to John Tavares last night. It was a truly horrifying incident no matter who you cheer for, and it's difficult to comprehend how hard that must have been for Tavares' teammates and loved ones to witness. Hockey aside, the captain's health is of the utmost importance and it's encouraging to see that he is now recovering at home.
With all that said, Tavares would probably be the first to tell us all that the show must go on and Sheldon Keefe will now be tasked with finding a way to move forward without one of the most important members of his team.
The Leafs have plenty of depth but replacing a player like Tavares would be next to impossible for any club. Having someone that can shoulder the defensive responsibilities against tough competition while being able to keep up with William Nylander will be important, and that's why I would look at shifting Nick Foligno into the middle on the second line.
It appears as though Alex Galchenyuk will be the forward that draws in for Tavares and he has had some success playing alongside Matthews and Marner this season, so I'd slot him in on that line while bumping Hyman down.
Hyman has been something of a fixer for every line he's played on this year, and while Matthews and Marner are at their best with Hyman, I think the combination of Foligno and Nylander could need him more than they do.
There's no easy answer here and we'll likely see Keefe try some different looks but if the Leafs are going to make a run, they're going to have to do it without their captain.
Dylan Murphy:
First things first, the Tavares injury was one of the scariest things I've ever seen happen on the ice. It sucks to lose him but I was overjoyed to see the update that he's out of the hospital and doing well. Here's to a full recovery. Take your time and rest up captain, the boys got this.
Back to the task at hand, I'm pretty much in agreement with the lines they used in practice. You don't really need Nash to shut down the offence of a team with 4 third lines, so might as well get the speed of Engvall-Kerfoot-Mikheyev out there to outwork the opposition and try to pot a few goals. Foligno has played center more recently and more effectively than either Galchenyuk or Nylander, so its worth giving him a look in that role. The top line was excellent, no need to change anything there. I do feel like Thornton and Simmonds need to deliver a big-time rebound performance because I wasn't impressed by either of them.
One last thing: #WinItForJT
Brendan Mori:
Galchenyuk – Matthews – Hyman
Nylander – Kerfoot – Marner
Foligno – Nash/Engvall – Mikheyev
Simmonds – Brooks – Spezza
With Tavares out, I think you need to split up your gamebreakers (Matthews, Marner) and spread the load around. The Leafs cannot be a one line team.
Like others have said, I don't like Kerfoot at 2C, however I think he's the best option (other than Nylander at 2C which I can't see Keefe doing). So to help him out, I'm putting Marner on this line to give it a boost offensively. Nylander becomes the shooter on this line. All Kerfoot needs to so is hunt down pucks and get them to either of his wingers.
I have Galchenyuk with Matthews and Hyman to add some of the creativity lost with Marner gone. Galchenyuk will be on a short leash however and will need to tighten things up defensively. I strongly think Matthews will be fine without Marner and he has proven in the past that he can score while playing with anyone.
The third line depends heavily on how game ready Riley Nash is. In Game 1 it was apparent he was relying on instinct and was still shaking off the rust. Regardless of who is 3C (Nash, Engvall, Brooks) they need to shut things down defensively when they are out there.
The fourth line look abysmal in Game 1, with Thornton making 2 huge turnovers that led directly to the goals against. I'm taking him out (even though we know Keef won't) and am plugging
Brooks in at 4C between Simmonds and Spezza. That should help the line play with more pace.
The key to success going forward will be what kind of production the Leafs get from the second line. That will go a long way in limiting the loss of Tavares.
Lastly, wishing Tavares a healthy and speedy recovery. Glad he's doing okay and is now at home.
Nick Barden:
There aren't many words to describe how I'm feeling right now. Honestly, I can't find any words. The hit on Tavares was scary, it was bad, it was, really, just horrific. All I'm hoping for is a recovery. Not a speedy one, but one where when he returns he's 100%. Maybe even 110%.
As far as the lines go, the best move is to put Nick Foligno at centre. I don't believe there's anyone else who could fit that role that's on the team right now. Sure, put William Nylander there but if you have a natural centre, it might be best to try that. I don't know if replacing Riley Nash for Alex Galchenyuk is the right decision, but I respect and believe in what Sheldon Keefe does.
But for now, I'm thinking of Tavares and hoping for the best possible outcome to such a scary situation.
Jori Negin-Shecter
It's hard to argue with the lines the way the Leafs have put them together since they were announced earlier today. Finding a way to get Engvall and Galchenyuk back into the lineup, both of whom were scorching hot before the playoff began, is definitely the right move in my eyes. I would have liked to have seen Nick Robertson potentially get some consideration as well, but the team understandably has bigger plans for him than burning his ELC in the first round of the playoffs.
Beyond the lines and the potential ramifications on the ice, I'd like to echo what others have said regarding John Tavares and his health. Tavares is a special player with a special place in Leafs Nation. It's hard to put into words what he means for this city, and I'm sure I speak for people across not only Toronto but across the hockey world in wishing him a speedy recovery. Here's hoping the Buds can rally together and win it for JT.
Ryan Hobart:
It's very good news that Tavares is recovering well. While we're all still reeling from such a terrifying incident, the playoffs pause for no one.
As such, Keefe has to come up with a new set of lines, and here's what I'd go with:
Hyman – Matthews – Nylander
Galchenyuk – Kerfoot – Marner
Engvall – Foligno – Simmonds
Thornton – Brooks – Spezza
I honestly haven't liked much about Mikheyev this year, and so I'm substituting Engvall for him. Then, I'm putting in Brooks and Galchenyuk to try to have a collective effort to replace the offense that Tavares generates. I've also moved Marner down to the second line to create more of a matchup concern for Montreal.
Jon Steitzer:
Honestly, what Keefe pulled together seems about right to me and my usual desire to galaxy brain up new lines isn't there right now. I think they have a strong first line that they know they can count on, and they have done a great job of offsetting the loss of a star center by relying on three guys who know the position to get through it together. Foligno might be the most capable Leaf of playing the down low positioning in the manner that Nylander used to working with on that line, and Galchenyuk has also had strong chemistry with Nylander this year. And make no mistake, that is Nylander's line.
I was a little shocked to see Riley Nash get removed so quickly, but potentially platooning him with Engvall makes sense, and there doesn't seem to be much desire in breaking up the old dogs line just yet. I was surprised that Simmonds didn't get moved up to the third line role to add some physicality to that shutdown unit, but when you look at his numbers with Kerfoot and Mikheyev, it starts making more sense why that didn't happen.
If I was to pitch a different set of lines, maybe something along the lines of:
Thornton-Matthews-Marner
Galchenyuk-Nylander-Hyman
Foligno-Kerfoot-Mikheyev
Simmonds-Nash-Spezza
As much as I think I'd still want to get Engvall in there, I'm not sure I'm ready to Nash, Simmonds, or Spezza out for him. Or they can just go with what Keefe put together. That makes sense too.
No matter who plays with who it will unfortunately be a different look Leafs team on Saturday night, and one that is now having to dig itself out of a hole. We can only hope the Leafs feel compelled to do right by their captain and rally for him, and while his absence hurts, this is still the top team in the North Division and hopefully they play like that.