Mimico's Reilly Smith pots OT winner, Leafs fall to Golden Knights: Muzzy's Muzings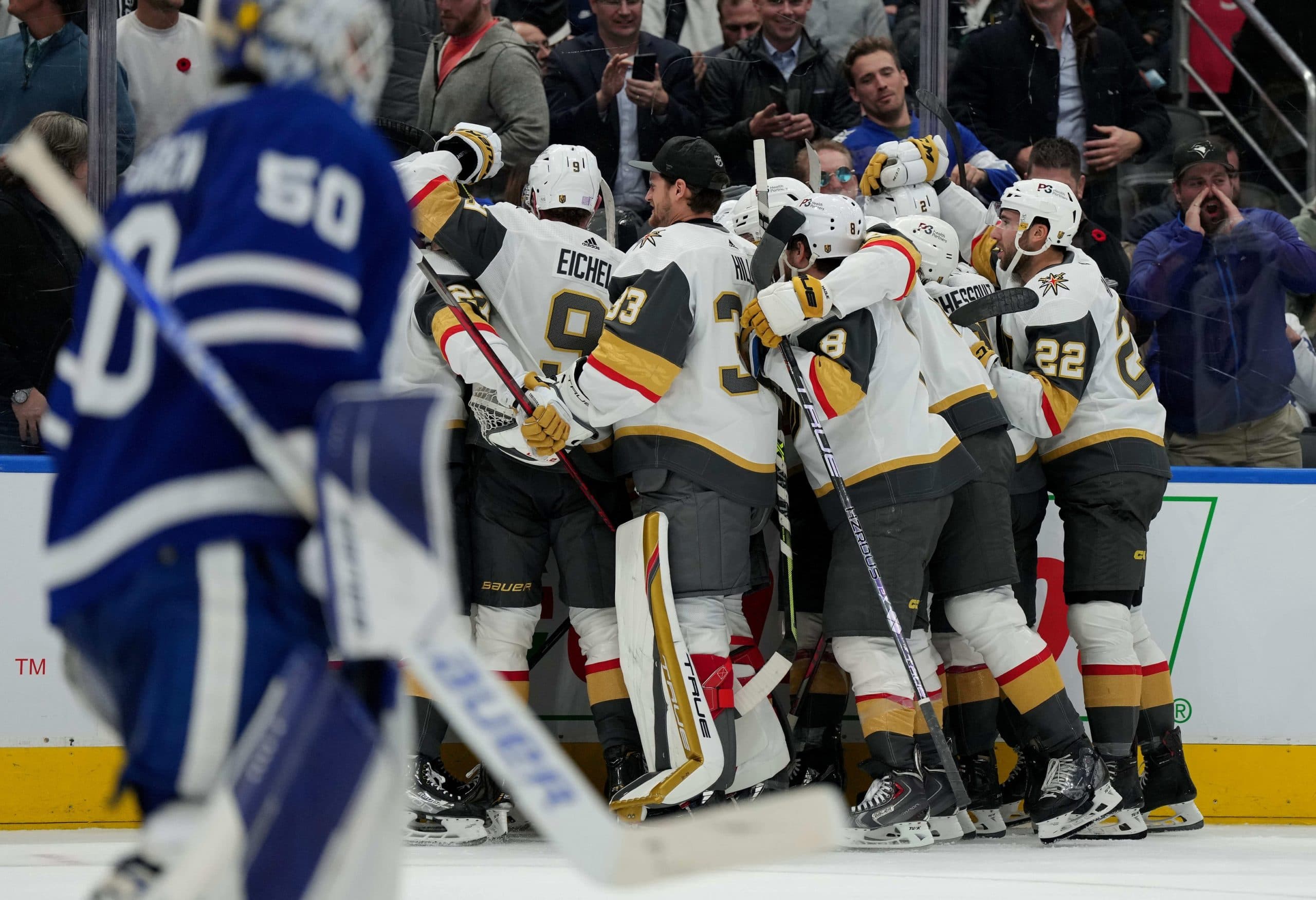 Photo credit:Nick Turchiaro-USA TODAY Sports
If you were to tell me back on Friday that Toronto would go 2-0-1 against Boston, Carolina, and Vegas, I would've laughed in your face.
But that's exactly what they did.
It wasn't the outcome they wanted on Tuesday night, but the Leafs did extend their point streak to four games (3-0-1) to start November. Look at me being all optimistic.
Mimico's Reilly Smith tied the game shorthanded in the third period, then he scored the game winner 23 seconds into overtime as Vegas edged Toronto 4-3. The Golden Knights (12-2-0) have now won eight straight games.
Meantime, the loss snapped Toronto's modest three-game win streak. They fell to 7-4-3 on the season. Timothy Liljegren scored twice; Mitch Marner notched the other. Erik Kallgren deserves a lot of credit. The 26-year-old only made 16 saves, but a lot of them were high danger chances. I had no problem with his outing.
And so that's it, that's all for the season series with Vegas. The Golden Knights took both meetings with the Maple Leafs (0-1-1).
Muzzy's Muzings:
POOR PUCK MANAGEMENT
All things considered, Toronto played well enough to win that game. Once again, some costly turnovers and defensive breakdowns did them in. As mentioned in my lead-up, Vegas will eat you alive if you turn the puck over, and that's exactly what happened in this one. Rasmus Sandin's muffin led to the game's opening goal, then it was Timothy Liljegren who coughed it up on the 2-1 goal. Furthermore, some tough puck luck led to Smith's shorthanded tally and some poor gap control contributed to the OT winner. Thankfully, this is all fixable stuff. It's a long season, mistakes will be made.
WAKEY, WAKEY
What's with the slow starts? For already the fifth time this season, which unsurprisingly leads the NHL, the Leafs surrendered a goal in the first minute of a period. It's easier said than done, but they need to clean that up. I could only imagine how deflating that is on the bench: The ice is still wet, people are not even in their seats, and boom, another goal against. For me, the only remedy is for the team to supply double the smelling salts, that will ensure that everyone will be awake for puck drop.
TIMOTHY LILJEGREN
Through three games, Liljegren has looked very steady, which is a positive development for a team that needs the blue line help. On top of that, it's always nice to see guys like him chip in offensively from time to time, it takes some pressure off the big boys. Honestly, I wonder how much a two-goal game for Liljegren paid out. He went cheese on both too, you love to see it.
COMPETE LEVEL
Even though they didn't get the two points, I was impressed with the overall compete level of the team tonight. Most importantly, it was the big guns that led the way. They played with passion and urgency. To be honest, watching games like that enrages even more when I think back to losses like the ones to Arizona and Anaheim, we all know they have way more in the tank than they lead on sometimes. We'll call it a work in progress.
MITCH MARNER
By far, that was probably Marner's most complete effort of the season thus far. He played with speed, pace, skill, and tenacity; it was an absolute treat to watch. Honestly, performances like that make it easier for me to stomach some of the non-sense we saw go down last month. Now, it's all about demonstrating consistency, Marner's really starting to turn it on. He no longer looks like he's fighting it out there.
Highlight of the Night:
WHAT'S NEXT?
The Leafs will be off until Friday night when they host the Pittsburgh Penguins in the annual HHOF game. That will be the first of three against the Pens this month. Toronto went 1-2-0 against Pittsburgh last season.