Leafs knocked down a peg, losing second game against Vancouver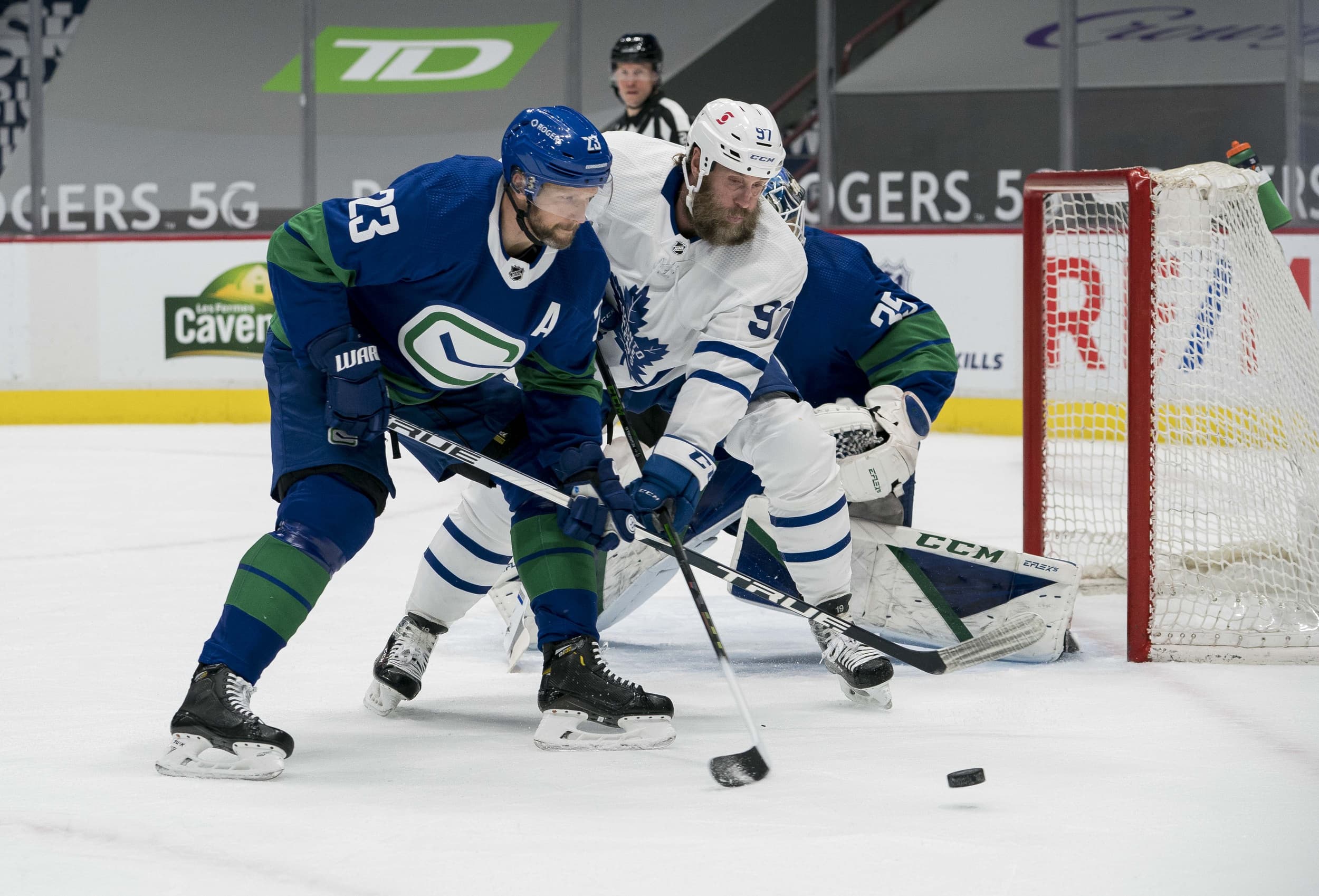 Photo credit:Bob Frid-USA TODAY Sports
After a quick goal the Canucks scored to take an early lead in the first period, the Toronto Maple Leafs continued their excellent play this season to take over this game for the rest of that period.
Their defending looked excellent, limiting the Canucks to low-danger chances mostly. They also showed elite passing and movement in the offensive zone to create zone time.
John Tavares capitalized first with this ripper of a slap shot that fools Demko:
Into the second period, the show continued, as the fourth line and Jimmy Vesey continued their good form by creating a smart in-zone 2-on-1 against a walking pylon in Tyler Myers and found the back of the net:
However, after this, the tide turned in favour of the Canucks, as they started to generate some more sustained offense, and killed off a penalty with what seemed like ease.
The Leafs began to look sloppy and the Canucks were trying to make the most of that. However, they made no serious attempts against Andersen, and none that got behind him, so the period ended 2-1.
That score held through most of the first half of the third period, with the game settling into a more balanced pace, with each team playing somewhat more reserved than the first two periods. However, the Canucks picked the pace up around half way through the 3rd, scoring two goals in the span of two minutes to make it 2-3.
Then as the Leafs pushed the pedal to the floor to get a tying goal, it was instead the Canucks who added one to their tally. The Leafs gave up a 3-on-2 rush that was broken up on a backcheck, but then the Leafs immediately gave up another 3-on-1 rush that Nils Hoglander sniped home to seal the Canucks' victory.
Most Valuable Leaf: Zachary Hyman
There's nothing the man can't do. He can play up and down your lineup, in the same game, and dominate wherever he goes. Zach Hyman is the perfect utility class character to match the surplus of Leafs' high damage characters (sorry, I have Dungeons and Dragons on the brain).
Least Valuable Leaf: Travis Boyd
It felt like Boyd was in the way as often as he was in a good position. While he's not expected to be a top player, he was the least impressive player for Toronto tonight.
Tweet of the night:
What Next?
The Leafs will face the Winnipeg Jets next on Tuesday March 9th, after the Jets were demolished by the Canadiens tonight. With both teams losing their previous game, it will be a contest of constitution to see which team can respond from that loss better. The game will be in Toronto at 7:00 PM Eastern.