Leafs' Latest: Jake Muzzin unavailable for New York trip after suffering concussion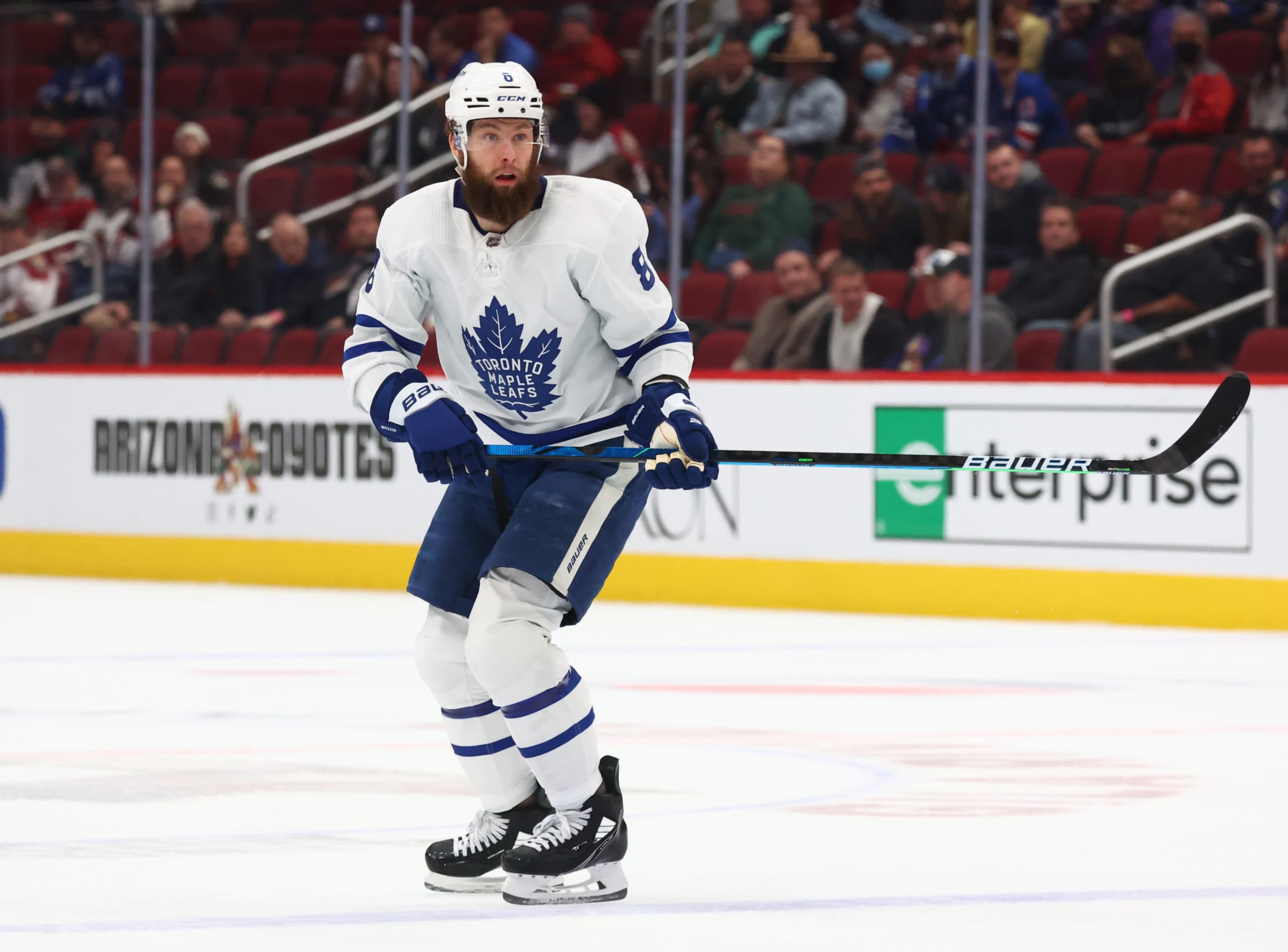 Photo credit:Mark J. Rebilas-USA TODAY Sports
After a day full of snow yesterday, in which the Maple Leafs still held practice, they take one final day to prepare for their two games in New York.
Toronto is coming off a road trip that saw them give up a few leads, but still come out with five points from four games. When you look back at the Maple Leafs' recent play, there's things to be happy about. But, other teams in the Atlantic Division are playing just as good, or better.
Sheldon Keefe understands that and wants that to be the focus going forward,
"We're 7-2-1 in our last 10 games, but over that span, we've actually lost ground on Boston," said Keefe after Monday's practice. "That's just the nature of the way the division has gone. Obviously, Florida and Tampa don't lose very often. We've been fortunate to stay up with them, but despite the fact that there's a lot of season left, you can't take days off, can't take nights off. That's why it was frustrating that we gave up those points on the road like we did, whether it was giving up a lead, or giving up two points in Arizona. Those are tough points. Those are things that you have to be able to find a new way to get your share of points every single night because everybody around you is not giving you any room to breathe."
@Jake Muzzin the only non-COVID protocol player missing from practice on Tuesday. Keefe didn't have good news on the Maple Leafs' defenceman.
Keefe said that the concussion likely stemmed from a hit he took vs. St. Louis on Saturday night.
This was the hit that Keefe was referring to.
Muzzin isn't the only one missing from practice. If you remember back to January 14th, all three of @Nick Ritchie, @Ondrej Kase, and @Justin Holl were placed in COVID protocols. With the mandatory five days almost up, it's possible that a few players return on the Maple Leafs' trip to New York.
Maple Leafs lines at practice on Tuesday
With the four players named above absent, here's how Toronto's lines shaped up at their final practice before New York.
With Muzzin and Holl out, @Rasmus Sandin and @Timothy Liljegren have moved up to the second pairing. Alongside @Travis Dermott on the third pairing is @Alex Biega, who's only played one game for the Maple Leafs this season.
Keefe said Biega will play on Wednesday night vs. the Rangers.
From what it looks like, there are no changes to the forward lines. There looks to be no changes to the power play, either.
One of the pieces of news that came out today was that the NHL will not test asymptomatic players and staff after the All-Star break.
After the Maple Leafs' practice today, @Jason Spezza provided his opinion on this decision by the NHL.
Spezza also gave us a hint of how excited @Jack Campbell is to suit up for the All-Star game. This is good to see.
Campbell joins @Auston Matthews as the two Leafs headed to Las Vegas. @John Tavares did not get in through the 'Last Men In' contest.
As for the Maple Leafs, though, their next game is Wednesday vs. the New York Rangers at 7:30 PM. They then play the New York Islanders on Saturday before returning home.