Leafs' Latest: Mitch Marner hopeful that Auston Matthews enters history books against Rangers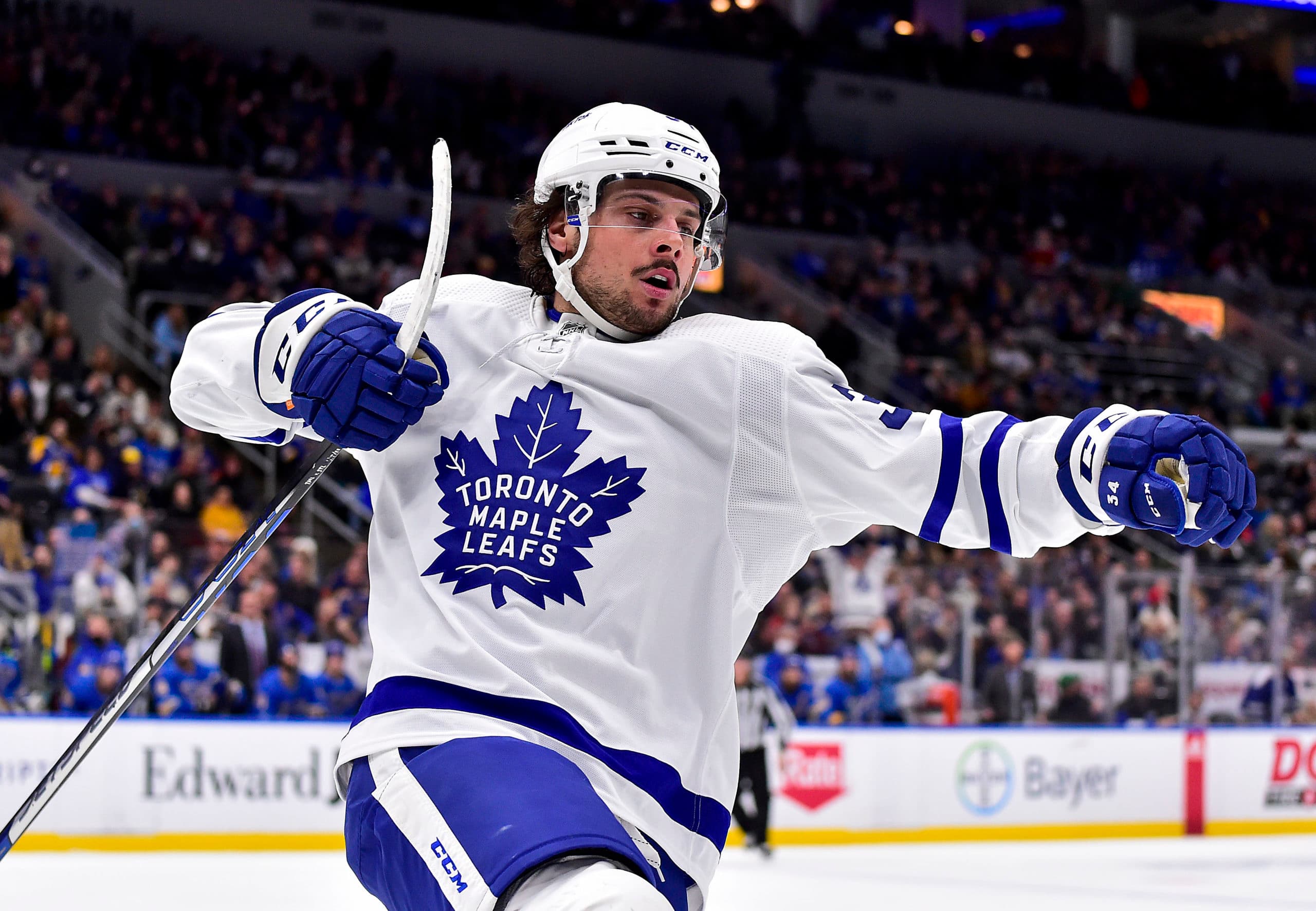 Photo credit:Jeff Curry-USA TODAY Sports
The Maple Leafs are visiting Madison Square Garden for the first time since Febraury 5th, 2020 to take on the New York Rangers.
In their last 10 games, the Rangers are 6-3-1 and sit first in the Metropolitan Division. @Adam Fox, who's averaging a point-per-game is going to be the biggest difference maker for New York. He's likely going to match up against @Auston Matthews' line during the game.
@Artemi Panarin has the highest point total among forwards with 38 points (10G, 28A) in 34 games. Right behind him is @Chris Kreider and @Mika Zibanejad, who both have 35 points in 39 games and make up two-thirds of the Rangers' second line.
Another challenge for Toronto will be New York's penalty-kill, which is third in the league at 85.6%. (You can't forget about @Igor Shesterkin, who's playing incredible for the Rangers.) The Maple Leafs' power play is second in the NHL, which will make tonight's game an exciting special teams bout.
Maple Leafs lines vs. the Rangers
@Nick Ritchie skated this morning in New York, but won't be available for the game. Also not playing tonight is @Jake Muzzin, who suffered a concussion vs. St. Louis while on their road trip. Coming in for Muzzin will be @Alex Biega.
With Ritchie returning from COVID protocols, the only two that remain are @Justin Holl and @Ondrej Kase. They're both still in Arizona in protocol, according to Keefe.
@Jack Campbell was in the road net for the morning skate and he projects as the Maple Leafs' starter. It's not known who'll be starting for the Rangers, but I expect it to be Shesterkin. In 23 games this season, the 26-year-old has 17 wins and a .939 save percentage.
If New York runs with @Alexandar Georgiev, his numbers are not as good, sitting at seven wins and a .908 save percentage in 17 games.
It'll be a difficult task either way when you think of it. Shesterkin has had a stellar season so far for New York, but on the other hand, Georgiev always seems to goalie the Maple Leafs. I'm keen to see who the Rangers go with for tonight.
@Mitch Marner won't "give away anything" on the challenges Toronto faces with Shesterkin, if he does in fact start for the Rangers.
But the biggest piece of news is @Auston Matthews having the chance to put his name in the record books, again. The 24-year-old is currently riding a 10-game consecutive goal streak on the road. If he scores tonight, he'll tie an NHL record of 11 games set by Pavel Bure (1993-94) and Steve Yzerman (1988-89).
Another interesting storyline is @Timothy Liljegren and @Rasmus Sandin getting second-pairing duties tonight. Keefe said this will be a "terrific opportunity" for the two to showcase how well they can play together that high up in the lineup.
The two Swedes will likely face some of the tough matchups in this game against the Rangers. It'll be interesting to see how they handle more responsibility at the NHL level.
There's a lot of exciting storylines ahead of the game, which should make it a thrilling matchup tonight. Puck drop is at 7:30 PM. You can tune into the game by watching Sportsnet.