Leafs Legend George Armstrong passes away at 90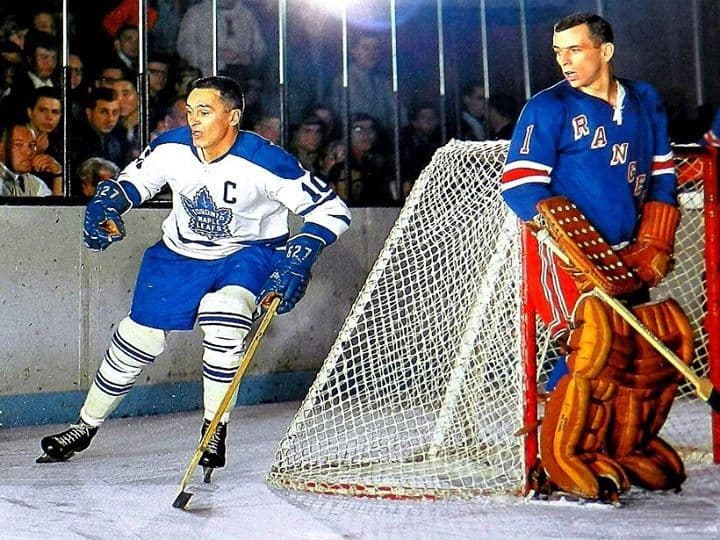 For many of us now, the idea of the a Leafs Stanley Cup dynasty is a difficult concept to wrap our heads around, but today we mourn the passing of one of the legends who made that success possible as George Armstrong has passed away at the age of 90.
Armstrong played a 21 season career, and most significantly we captained the Leafs for 13 seasons of it. 13 years where it was common place for Armstrong to receive the Stanley Cup and pass it around amongst his teammates. Thirteen years of captaining the most dominant team Toronto has ever known.
Armstrong was never the most skilled player on his team, and while he was certainly talented, it was his work ethic and willingness to do what was necessary to win that led him to his Hall of Fame career and was the catalyst behind naming him the captain.
Since Armstrong belonged to my father's Leafs and I never had any first hand experience watching him, I rely on my Dad's frequent compliment to me following my games. Like Armstrong, I wasn't the strongest skater, and when I would put in a strong checking effort, and came back to cover my own zone, or scored an effort goal off a rebound or as a net presence, he'd compare me to Armstrong. On days like this I reflect on what the comparison met to me and how much George Armstrong meant to people like my Dad.
Armstrong's life away from hockey was equally significant. Half Ojibway, the path to the NHL already wasn't easy, and becoming the captain was a true testament to how hard Armstrong worked. Armstrong used his celebrity in Canada to become an advocate for Indigenous rights and was a positive role model to Indigenous children.
Armstrong has an important distinction in Leafs lore, as the final Stanley Cup goal scored by a Leaf belongs to George Armstrong. The Leafs never returned to the Stanley Cup in his lifetime and when we think of 1967, that was the last cup that Armstrong lifted.
We send our condolences to the Armstrong family and those close to him. A member of Legends Row, a Hall of Famer, one of the 100 Greatest Leafs, and the longest serving captain in Leafs history, four Stanley Cups, seven All-Star appearances, it is safe to say that the Leafs community has truly lost a legend today.