Leafs/Lightning Recap + Tim Micallef: Leafs Morning Take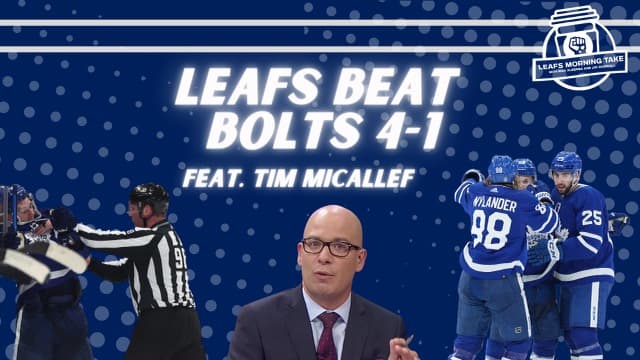 Photo credit:Tyler Yaremchuk
What a bounce-back effort for the Maple Leafs!
Michael Bunting scored his fourth goal in the past five games and Auston Matthews' 17th of the season stood as the game winner as Toronto spanked the Lightning 4-1 to end Tampa's five game win streak.
It goes without saying but it was a festive mood on the Wednesday edition of
Leafs Morning Take.
After back-to-back losses, the Leafs responded the way they needed to against a budding rival. They were dominant.
Meantime, one of the sidebar stories from the game was a mini little altercation at the end of the first period between Michael Bunting and NHL linesman Dan Kelly. Considering Jay Rosehill probably and likely had a decent rapport with officials back in his day, I was looking forward to his analysis on the situation.
Furthermore, I asked guest Tim Micallef about it as well.
After that, we talked with Micallef about Toronto's success this season, and ultimately, what it means in the long run. Is this real? Well, only time will tell on that front. Having said that, it's always fun to talk about the trade deadline —that's for sure. It's March 3rd..by the way.
Once again, I'll be flying solo for tomorrow's show. Join me at 11 AM ET as I preview the Next Gen game between the Leafs and Flyers from Scotiabank Arena, plus former Leaf Carlo Colaiacovo will drop by. Also, hope you're ready for another instalment of 3 Hits With Rosie!
Don't forget to subscribe, like, and leave us a review wherever you're checking us out!