Leafs Milestone Watch: December 2021 Edition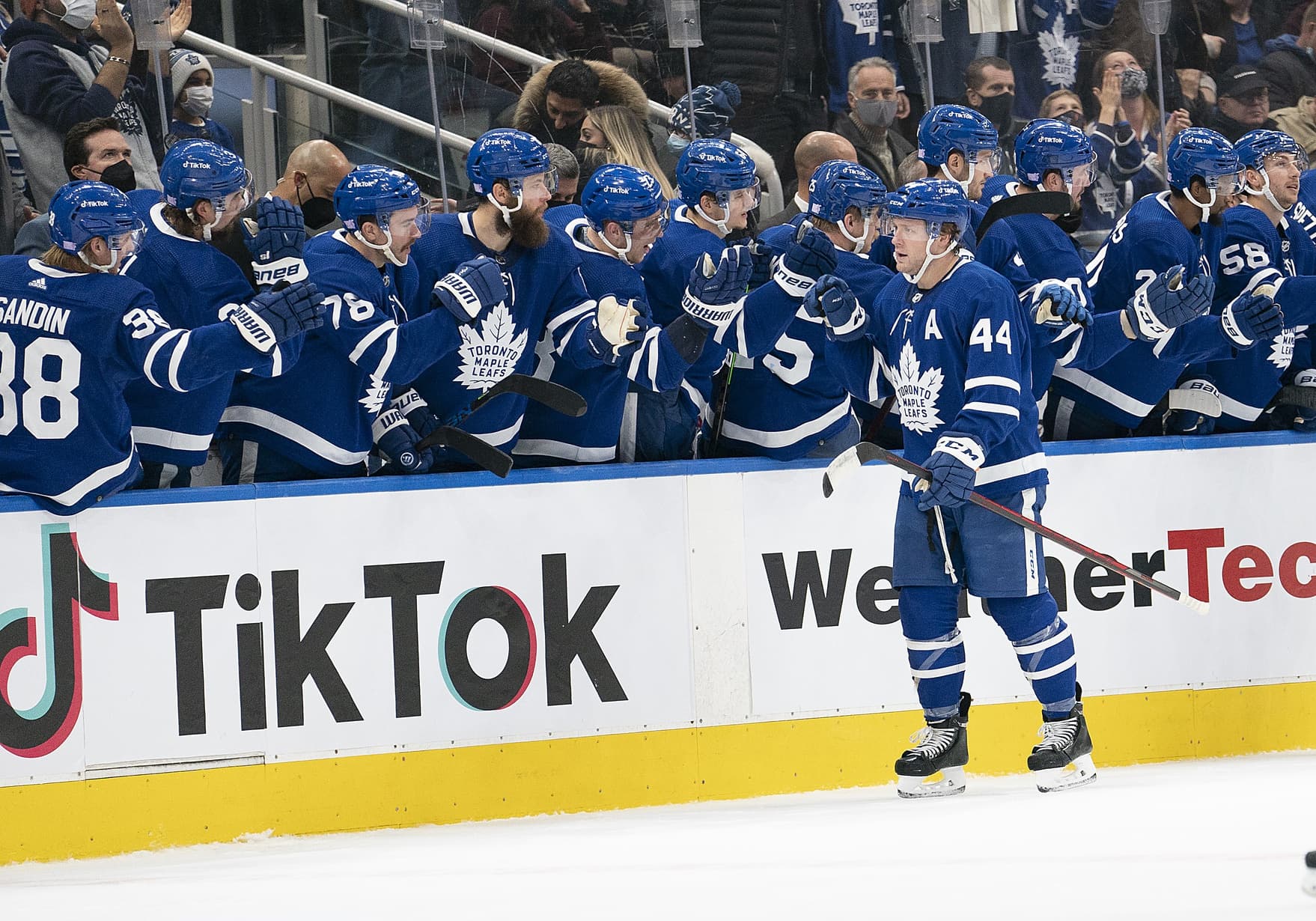 Photo credit:© Nick Turchiaro-USA TODAY Sports
In this monthly Leafs Milestone Watch column, we'll be recapping the milestones of the previous month and setting up which milestones are likely (or even farfetched) to occur in the upcoming month.
Last Month
November was a busy month for milestones.
@Pierre Engvall (100), @Jack Campbell (100), @Alexander Kerfoot (300), TJ Brodie (700), and @Jason Spezza (1200) all reached games played milestones.
Spezza's milestone was especially noteworthy, as he became the 117th player in league history to cross the 1200 games threshold. He's currently 48th in points-per-game among that group, ahead of the Sedin twins, Ray Whitney, Rod Brind'amour and Vincent Lecavalier, just to name a few stars he suited up against in his legendary career.
@John Tavares scored his 100th goal as a Leaf on this beautiful deflection of a @Morgan Rielly point shot in the Leafs' 5-4 victory over Buffalo on November 13th. I had predicted that Tavares would accomplish the feat by the 18th, so kudos to JT for getting it out of the way earlier.
Coming into November, @Ondrej Kase was one point away from 100 in his NHL career and accomplished that feat on November 10th against the Philadelphia Flyers.
This Month
The Leafs play 13 games this month, which means three games played milestones are within reach:
Morgan Rielly – 600 NHL/

Leafs

GP (4 games away)
– Earliest he could reach: Dec 9 vs. TBL
@Ilya Mikheyev – 100 NHL/

Leafs

GP (7 games away)
– Earliest he could reach: Seven games from when he returns. *shrug*
MILESTONE OF THE MONTH:

John Tavares – 900 NHL GP (8 games away)
– Earliest he could reach: Dec 18 vs. VAN
None within reach
Alex Kerfoot – 100 NHL Assists (3 assists away) – Prediction: Dec 11 vs. CHI
Points
@William Nylander – 300 NHL/

Leafs

Points (14 points away)
– Prediction: Dec 29 vs. PIT (This may be somewhat unlikely, but I don't want to count Willy after he put up 15 points in November.)
LONGSHOT OF THE MONTH:

@Mitchell Marner – 400 NHL/

Leafs

Points (21 points away)
– Prediction: Dec 29 vs. PIT (It feels pretty out of reach but Mitch is one of the few hockey players on the planet who could pull off a month like this.)
Wins
None within reach
Shutouts
@Petr Mrazek – 25 NHL Shutouts (1 shutout away) – Prediction: Dec 18 vs. VAN (He's gotta return at some point, right?)

All-Time Leafs Leaderboard
*Top 50 placements only
Games Played
Morgan Rielly (596):

5 games away from Sid Smith (20th)
12 games away from Wendel Clark (19th)
Goals
@Auston Matthews (212):

7 goals away from Lanny McDonald (11th)

William Nylander (113):

1 goal away from Alexei Ponikarovsky (48th)
2 goals away from Miroslav Frycer (47th)
3 goals away from Eddie Olczyk (46th)
5 goals away from Steve Thomas, Tom Fergus, Vincent Damphousse (t-43rd)
6 goals away from Red Kelly (42nd)
7 goals away from Dave Andreychuk (41st)
Assists
William Nylander (173):

3 assists away from Bill Derlago (40th)
4 assists away from Joe Primeau (39th)
6 assists away from Tom Fergus (38th)
8 assists away from Bill Harris, Wendel Clark (t-36th)
9 assists away from Ron Stewart (35th)
10 assists away from Sid Smith (34th)
Points
Mitch Marner (379):

16 points away from John Anderson (21st)
17 points away from Phil Kessel (20th)

Auston Matthews (373):

6 points away from Mitch Marner (22nd)

Morgan Rielly (320):

4 points away from Charlie Conacher (35th)
7 points away from Jim McKenny (34th)
9 points away from Vincent Damphousse (33rd)

William Nylander (286):

1 point away from Billy Harris (44th)
5 points away from Nik Antropov, Steve Thomas (t-42nd)
8 points away from James van Riemsdyk (41st)
11 points away from Bryan McCabe, Tom Fergus (t-39th)
Jack Campbell (33):

5 wins away from Grant Fuhr, Wayne Thomas (t-24th)
6 wins away from Jonas Gustavsson, Andrew Raycroft (t-22nd)
9 wins away from Terry Sawchuk (21st)
Jack Campbell (6):

1 shutout away from Jonathan Bernier (18th)
2 shutouts away from Allan Bester, Jacques Plante (t-16th)