The Leafs Nation's 2023 NHL Mock Draft: Picks 25-32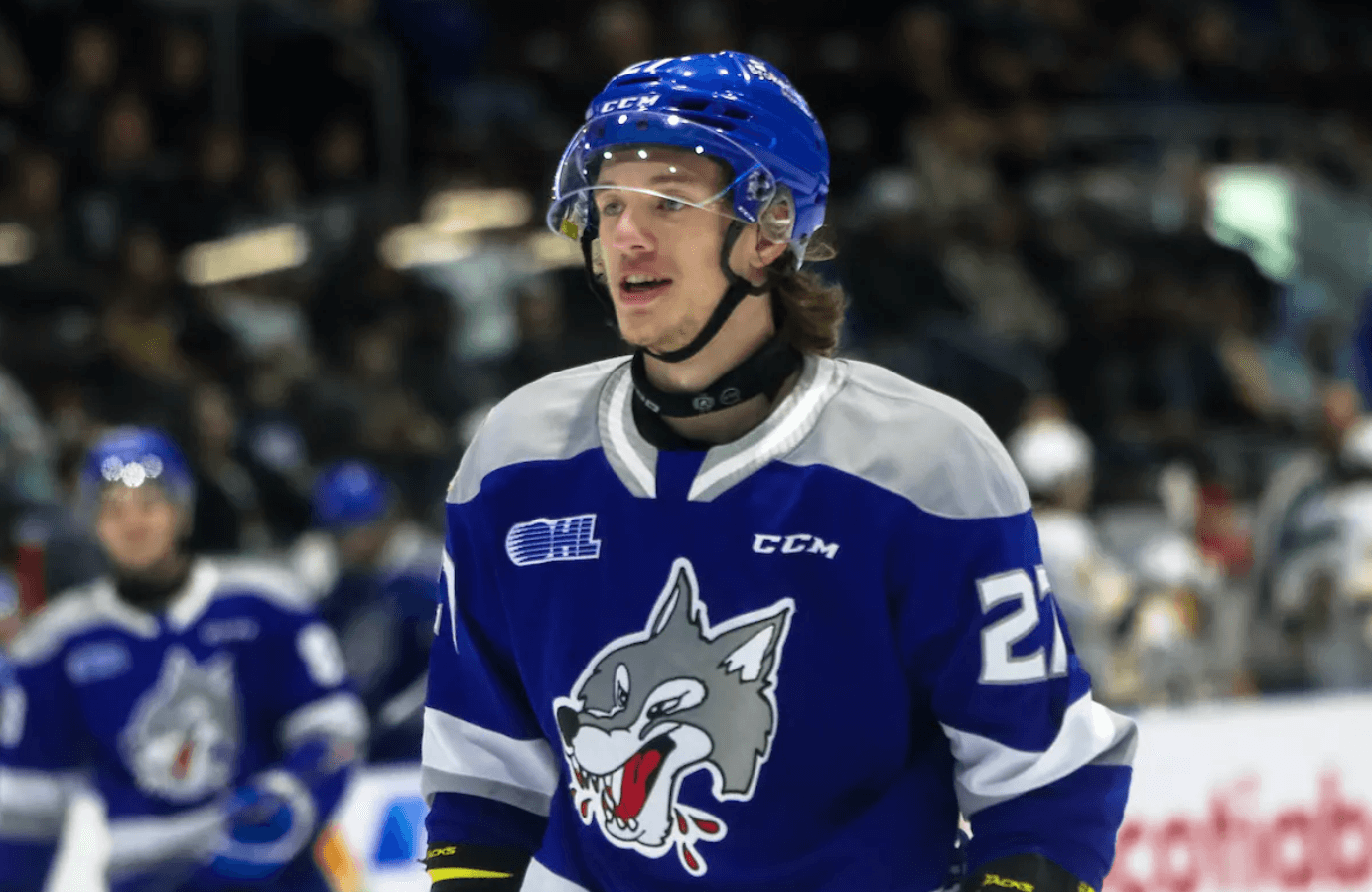 Photo credit:NATALIE SHAVER/OHL
Welcome back to the fourth and final part of The Leafs Nation's full first round mock draft. We've covered picks 1-24 so far, with the last piece beginning with the Detroit Red Wings' hypothetical selection of defenseman Lukas Dragecevic, and finished with the Nashville Predators' hypothetical selection of Riley Heidt.
Today's piece will feature picks 25-32 to close out the first round, including the Toronto Maple Leafs' pick at 28 should they keep it. Before we get to that, though, let's kick things off with the team that owns the Maple Leafs' original pick, the St. Louis Blues.
25. St. Louis Blues (from TOR)  – Nate Danielson (C, Brandon Wheat Kings, WHL, 6-foot-1, 187 pounds)
With the Blues having stacked up on winger prospects such as Jimmy Snuggerud and Jake Neighbours in recent years, and already having drafted a defenseman (hypothetically) in my mock, I have them going for a centre in Nate Danielson. The Red Deer, Alberta native plays the type of game that coaches love, with few noticeable flaws in his game. After an impressive first full season in 2021-22, he earned the Wheat Kings' captaincy in 2022-23 and added 78 points in 68 games.
He's of the older crop of first-year draft eligible players with a September 2004 birthday, but that just means he's further along in his development and probably closer to a job in the NHL. Between Robert Thomas, 2021 first round pick Zachary Bolduc, and potentially Danielson, the Blues could set themselves up really nicely down the middle for the foreseeable future. 
26. San Jose Sharks (from NJD) – Mikhail Gulyalev (D, Avangard Omsk, KHL, 5-foot-10, 170 pounds)
When the Sharks picked Ryan Merkley in the first round of the 2018 draft, they had hopes that he would be one of their top puck-moving defenseman and a go-to power play quarterback for years to come. That experiment clearly didn't work out, but they have an opportunity to make good on that miss with their second of two first round picks, and Gulyalev could fill a void they have in their prospect circle.
Although he only appeared in 13 games with Avangard Omsk's KHL team, he had an impressive showing with Omskie Yastreby of the MHL, Russia's junior league, tallying 22 points in 25 games. He's poised to make the KHL team full time in 2023-24, where we'll likely get a better look at how he stacks up against older players. If new Sharks GM Mike Grier somehow walks away from the draft with Michkov and Gulyalev, you can't ask for a much better first draft with the team.
27. Colorado Avalanche – Gavin Brindley (RW, University of Michigan, NCAA, 5-foot-9, 165 pounds)
It's been a great few years to be an Avalanche player…not so much if you're an Avalanche prospect. The 2022 Cup champions achieved the ultimate goal last season, but completely wiped out their farm system in the process.They had only four picks in the 2021 draft, and only had two picks in the 2022 draft, in the sixth and seventh round. As a result, they should be aiming to draft the best player available at 27, and there might be nobody else who fits that bill better than Gavin Brindley.
In 41 games with the University of Michigan, the Florida native recorded 38 points. Each year, a skilled player falls much more than they probably should simply because of their height. Alex DeBrincat and Cole Caufield both come to mind, and it's looking like Lane Hutson could be the latest example from the 2022 draft. Don't be surprised if Brindley slips, and also don't be surprised if we're having the same conversation about him that we've had about players like DeBrincat. 
28. Toronto Maple Leafs (from BOS) – Quentin Musty (LW, Sudbury Wolves, OHL, 6-foot-2, 195 pounds) 
Under former GM Kyle Dubas, it was always relatively easy to predict what he would do at the draft. He was always big on maximizing value and trading down to accumulate more picks, but there's a whole lot of uncertainty under new GM Brad Treliving. It's been rumoured that the Maple Leafs are exploring moving their pick for a roster upgrade, but for the purpose of this mock, we're going to assume they keep their pick, and if Quentin Musty is on the board, he should be a no-brainer for the team to select. 
The Hamburg, NY native was the first overall pick of the 2021 OHL priority selection, and took a massive step forward in his sophomore season with 78 points in 53 games. If he learns to polish the physical aspect of his game, he would be a glowing addition to their prospect pool and make for a good one-two punch on the left side with Matthew Knies. He's a great playmaker and has power forward potential in the NHL if he can find that physical edge, which would set the Maple Leafs' top six up nicely in the future.
29. St. Louis Blues (from NYR) – Kasper Halttunen (RW, HIFK, SM-Liiga, 6-foot-3, 207 pounds)
The Blues' late decision to sell off pieces like Ryan O'Reilly and Vladimir Tarasenko last season left them with three first round picks, and while they may not use all three picks, we have no way to predict the future here. So, assuming things go exactly as I've mapped it out (which they certainly won't), the Blues already have Axel Sandin Pellikka and Nate Danielson under their belts, so we'll give the forwards the advantage here and have them take Kasper Halttunen. 
If you were to simply look at European prospects' numbers in the pros, you'd be convinced that none of them have any offensive ability. But, I always like to note that European pro teams are more focused on building the best possible roster and less focused on developing prospects for North American teams to eventual poach. That said, Halttunen will have more of a chance to prove himself in 2023-24, and his whopping 18 goals and 24 points in 18 games with his junior team inspire confidence for his odds with HIFK's pro team next season.
30. Carolina Hurricanes – Charlie Stramel (C, University of Wisconsin, NCAA, 6-foot-3, 216 pounds)
The Hurricanes have lots of dynamic moving parts up front, but they lack a true power forward that can play in the top six. While Stramel's ceiling is unknown, he strikes me as a player who has a pretty safe floor as a middle six forward in the NHL. He can also play multiple positions up front which will increase his odds of being able to stick in the lineup eventually.
While his stats don't jump out at you on paper, with 12 points in 33 games, he plays a game that coaches love and will likely see a boost in performance with a full NCAA season under his belt heading into next year. If the Hurricanes were to select him, he would make for a nice compliment to one of their high end forwards such as Sebastian Aho or Andrei Svechnikov.
31. Montreal Canadiens – Ethan Gauthier (RW, Sherbrooke Phoenix, QMJHL, 5-foot-11, 183 pounds)
We're way past the days of the Canadiens selecting French players simply because they're French, but sometimes it just lines up naturally. The Canadiens have been building a really good looking forward group over the past few years centred around Nick Suzuki, Cole Caufield, and Juraj Slafkovsky. They're almost 99.9% destined to land one of the top forwards not named Bedard or Fantilli with their fifth overall pick, and a player like Gauthier would be a perfect compliment to the rest of them.
Standing at 5-foot-11, he's not a big player next to a measuring tape, but he's tenacious for his size and can bring it offensively too. He scored 30 goals and added 69 points in 66 games for the Sherbrooke Phoenix in 2022-23. It will be interesting to see how he performs with a new team in 2023-24, having since joined the Drummondville Voltigeurs, and how his development shakes out going forward.
32. Vegas Golden Knights – David Edstrom (C, Frolunda HC J20, Swe-Jr, 6-foot-3, 187 pounds)
Fresh off of their Stanley Cup victory, the Golden Knights likely aren't too worried about knocking their 32nd overall pick out of the park. That being said, it's going to be pretty hard to mess up a pick in this draft given how deep the class is. And even if they don't shoot for the stars and take the best player available, they'd still be getting a strong player even with a safer pick like Edstrom. 
The 6-foot-3 Swede scored 15 goals in 28 games this season and impressed in his brief appearance with the SHL club, registering four points in 11 games. He's likely one of those players that stays overseas for the first few years of his development before he transitions to North America, but for a team like Vegas, they're not really in a rush to get prospects onto the roster, so it would be a good match for both sides.