The Leafs Nation's 2023 NHL Mock Draft: Picks 9-16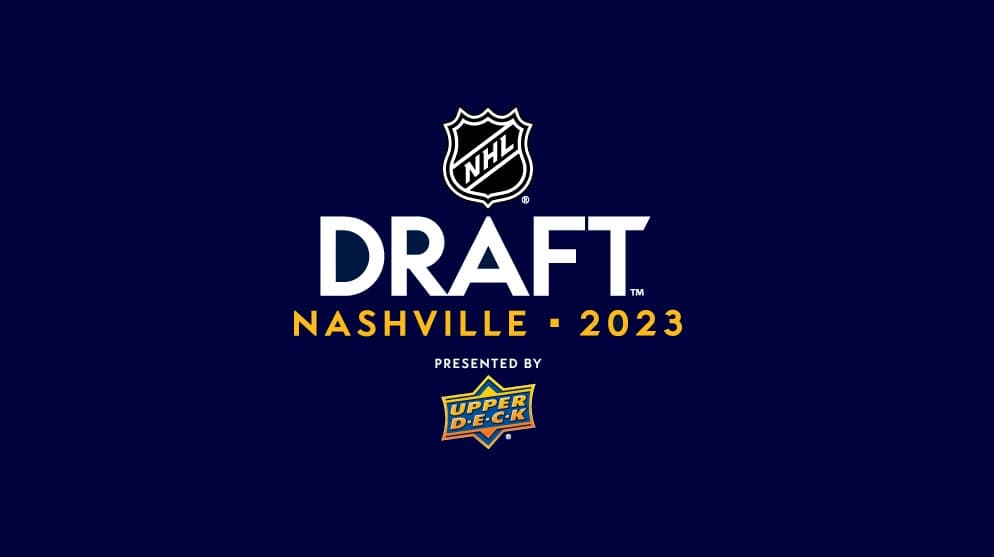 Welcome back to the second edition of The Leafs Nation's first round mock draft. Last week, we kicked things off with draft phenom Connor Bedard going first overall to the Chicago Blackhawks (shocker, I know), and ended it with the Washington Capitals' selection of U.S. National Team forward Ryan Leonard.
We're going to continue the draft today, starting with the Detroit Red Wings taking the hypothetical podium at ninth overall.
9. Detroit Red Wings – Dalibor Dvorsky (C, AIK, Swe-2, 6-foot-1, 201 pounds)
The Red Wings have done a great job getting value out of their first round picks in recent years, drafting a number of young core members to all positions including defenseman Moritz Seider, wingers Marco Kasper and Lucas Raymond, and goaltender Sebastian Cossa. One area they haven't touched in the first round for a while is the centre position. They're set long term with captain Dylan Larkin up the middle for the next eight years, but after that, it gets dicey.
They're still waiting on proper breakouts from Joe Veleno and Michael Rasmussen, the last two centres they drafted in the first round, but Dvorsky has a higher ceiling than both players. The Slovak-born centre spent his draft year playing in Sweden's Allsvenskan league and amassed 14 points in 38 games. Like Larkin, he's a 200-foot player, so having him and Larkin as a tandem up the middle for the foreseeable future would set them up nicely for success in a stacked Altantic Division.
10. St. Louis Blues – Axel Sandin-Pellikka (D, Skelleftea AIK, SHL, 5-foot-11, 181 pounds)
Like the Flyers, the Blues have next to no prospect depth on defense, so I could see them grabbing one of the top two defensemen available. In my opinion, if Sandin Pellikka's height started with a "6" instead of a 5, he'd be ranked higher (for convenience purposes, I'm going to refer to him as ASP for the rest of this piece. His hockey IQ is very strong for his age, and with a smooth development process, he could be everything a team wants in an offensive-minded- puck moving defenseman who can quarterback a power play.
The Blues' first round selections in recent years have been dominated by forwards. Between Jimmy Snuggerud last year, Zachary Bolduc the year before, and Jake Neighbours the year before that, they've dedicated a good chunk of their draft capital to their forward group. While there will be forwards on the board who are probably more talented than ASP, the team desperately lacks prospects on the back end outside of Scott Perunovich, who himself has only played 19 games in the NHL since being drafted. Depending on who's available, I see them taking one of Reinbacher or ASP depending on who's available.
11. Vancouver Canucks – Colby Barlow (LW, Owen Sound Attack, OHL, 6-foot-1, 187 pounds)
The Canucks are another team that needs some help on the back end. After parting with two of their last three first round picks in trades, they're in the unfortunate position of being a middle-to-bottom of the pack team standings-wise without a great prospect pool. Like the Flyers and Blues, they could probably use a defenseman more than any other position, but I think more than anything, they'll just be after the best player available. And Colby Barlow sticks out to me at 11th overall for a number of reasons.
First of all, his goal scoring touch. He scored 46 goals in 59 games for the Owen Sound Attack in 2022-23 and finished with 79 points overall. To add icing on the cake, he's a born leader and he's arguably the smartest player in the draft, both on and off the ice. He was named the youngest captain of the Attack in franchise history in only his second season in the league, and he was the recipient of the OHL's Scholastic Player of the Year for his work in the classroom as well. I can't imagine the Canucks will have him taking math tests at any point, but smarts off the ice generally translate well to on the ice, so they'd be getting a complete package in Barlow.
12. Arizona Coyotes (from OTT) – Oliver Moore (C, USNTDP, USHL, 5-foot-11, 176 pounds)
After spending the first of their two first round picks on Benson, I have the Coyotes going back into the forward pool to select Oliver Moore at 12th overall. He's got the reputation of being one of, if not the fastest forward in the draft, and in a league where speed is valued more than it's ever been in the past, a pick like this one holds more value than it may have ten years ago. On top of his strong skating ability, he's also a strong playmaker and plays the game a step ahead of everybody else, finishing last season with a combined 100 points in 84 USHL games.
The Coyotes are doing a solid job of making up for the disaster that was their 2020 draft class by drafting a high-octane winger in Dylan Guenther two years ago and following that up with Logan Cooley last year. They're pretty thin on defense as well, so if one of Reinbacher or ASP are available at 12th overall, I could see them pivoting in that direction instead. But, in my own mock draft, I have to draft according to my own picks, so in this case they'd be getting the best player available rather than going for positional need.
13. Buffalo Sabres – Matthew Wood (LW, University of Connecticut, NCAA, 6-foot-3, 190 pounds)
To say the Sabres have freeloaded on centres in the past few drafts would be an understatement. They used all three of their first round picks on centres in 2022, with Matthew Savoie, Noah Ostlund, and Jiri Kulich, and Dylan Cozens, their first round pick in 2019, has already developed into a core member of the team. Should they add a winger to the mix, a power forward type like Wood would be a very nice compliment to the skilled forwards they have up front.
The 18 year-old led his team in scoring in his freshman season with the University of Connecticut, a strong indication of his current ability to play against players older than him. I think he's somebody that you could see get a look in the NHL sooner than others in this draft class simply because of his frame and his ability to produce at higher than a junior level. The Sabres have Jeff Skinner locked up for the next four years on the left side, but Wood can play all three positions, which helps his chances of jumping into the big league sooner rather than later.
14. Pittsburgh Penguins – Andrew Cristall (LW, Kelowna Rockets, WHL, 5-foot-10, 167 pounds)
Drafting players in the first round has been a bit of a foreign concept for the Penguins in recent years, having used only two first round picks in eight years. But, if they were going to hold onto any of them, it might as well be the one in the year they missed the playoffs where the draft class is the deepest it's been since 2015. And, to add a little extra layer of spice, this will be former Maple Leafs GM and current Penguins President of Hockey Operations Kyle Dubas' first draft in his new role. And, assuming he doesn't trade back like he usually does, there isn't a more Dubas player than Andrew Cristall.
As a player, he's all offense, full force, all the time. He finished the 2022-23 season with 39 goals and 95 points in 54 games, and to add to his high-octane style of play, he's also got among the best hockey IQ in the draft. What he lacks in size he makes up for in his play with the puck, and although there are still some kinks to be worked out on the defensive side of the game, he's got all the makings of a future top-six forward.
15. Nashville Predators – Tom Willander (D, Rogle BK J20, Swe-Jr, 6-foot-1, 179 pounds)
Historically known as a strong defensive team, the Predators have sort of broken away from that philosophy in the past few years, draft-wise at least. After drafting forwards in back-to-back years and a goaltender the year before that, I have them pivoting back to the defensive side of things in this year's draft. The Predators have a strong back end right now, but will need some help in the near future, especially after the departure of Mattias Ekholm, and Tom Willander can help with that.
While his play style doesn't mirror Ekholm directly, they're both safe, reliable defensemen with the ability to chip in some offense. With 25 points in 39 games for Rogle BK of Sweden's junior league, there's definitely potential there, but how he produces against players older than him remains to be seen. Either way, he's worth the pick and the potential project should the Predators select him at 15.
16. Calgary Flames – Eduard Sale (RW, HC Kometa Brno, Czechia, 6-foot-2, 174 pounds)
Once a projected top-10 pick in this draft class, Sale's stock dropped slightly in 2022-23 largely due to the fact that he didn't take as much of a step forward as expected. He posted sheer video game numbers in Czechia's junior league in 2021-22, with a whopping 89 points in 39 games, so perhaps he cast unfair expectations on himself. Either way, I think there's some nice potential here, and Sale could be the biggest high-risk, high-reward type in this class.
While his 14 points in 43 games aren't exactly eye-popping, it's important to remember that not every player adjusts to playing against older competition at the same pace. Plus, whoever drafts Sale could opt to explore different routes for his development if things aren't working next season. While he likely won't be a top ten pick, he's certainly worth a gamble in the middle to late first round of the draft.