The Leafs need to add more guys who can effectively work the NHL's flawed system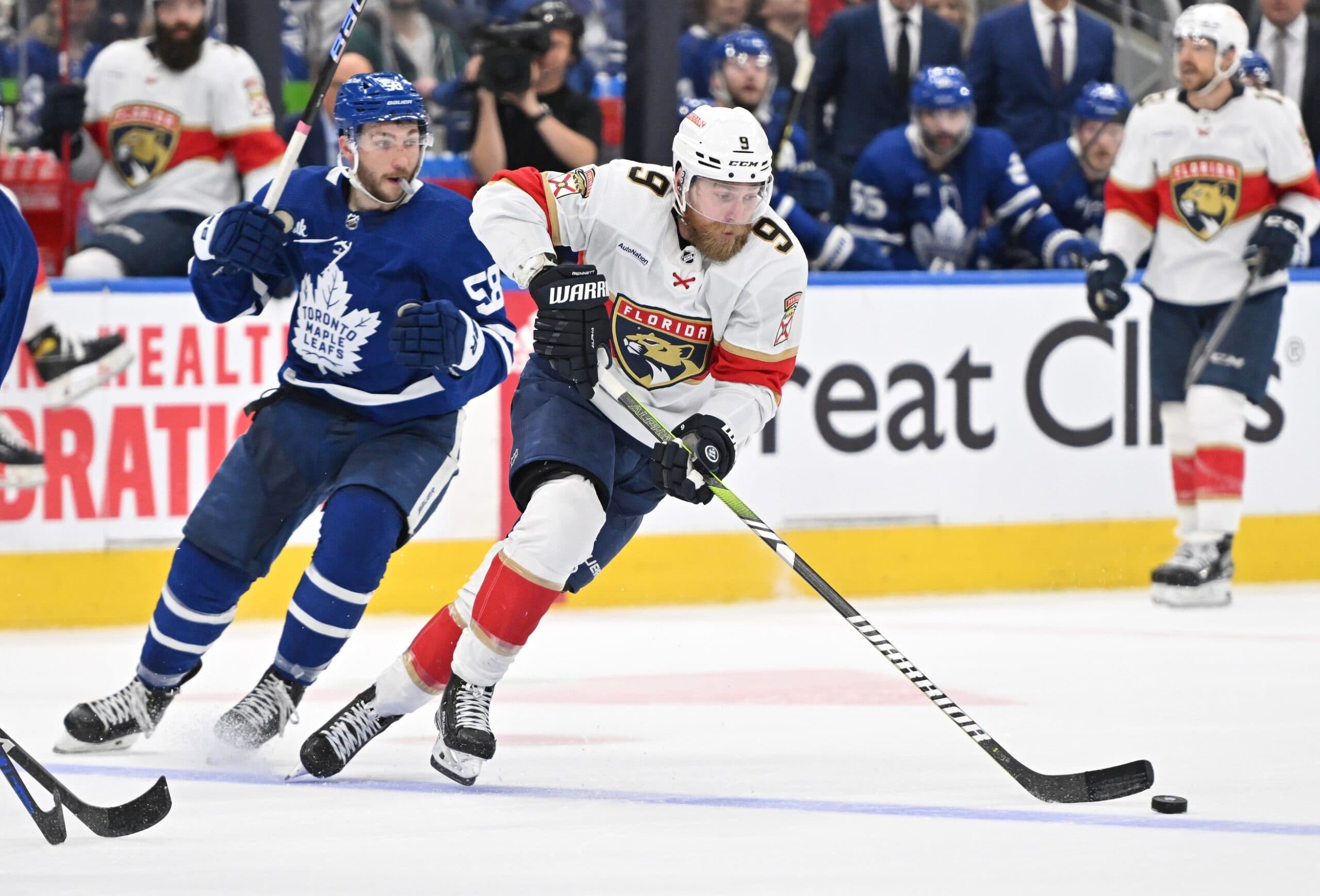 Photo credit:© Dan Hamilton-USA TODAY Sports
When it comes to assessing a team's shortcomings in the postseason, it is a complicated answer that has many layers to it.
It could be that the opposing goalie made more saves, the key players went ice cold at a bad time, one team failed to adjust to what the other threw at them, or one side just got more lucky and opportunistic with their chances. Sometimes it's the simple fact that one team was miles better than the other, while perhaps there is enough evidence to suggest that a team got royally screwed. Regardless of which reason it ends up being, one thing fans will always point to as a contributing factor to the loss is the referees missed a lot of calls.
That last point remains a hot-button topic for hockey fans across the board, but Leafs fans especially have plenty of reasons to feel frustrated with how the officiating went in their second-round series against the Panthers. After all, there were plenty of questionable moments that the referees opted to let go and Florida appeared to have a lot of free rein to do as they pleased. Combine that with the Leafs having an
all-time playoff record of 0-9 with games officiated by Wes McCauley
and you get a good chunk of the fanbase feeling like the league is conspiring against the team from achieving postseason success.
Fans have every right to be frustrated with how the series played out since it came on the heels of
the Leafs getting past the first round for the first time since 2004
. However, complaining about the refereeing and missed calls will not change the fact that the Panthers did a masterful job of working a flawed officiating system to their advantage, which is one of the reasons why they are still playing and the Leafs are not.
Florida may have been a team that barely squeaked into the playoffs with a roster full of players who are strong offensively, suspect defensively, and a goalie who can be hit and miss. But one of their primary identities this season was that they were a hard-nosed team who played on the edge which resulted in a lot of their games being decided by special teams and a good chunk of them not going in their favour. It is an approach that is risky to pull off in the regular season but works wonders in the playoffs when the whistles get put away and the referees manage the game by keeping the calls even. And should a game go to overtime, the referees straight up won't call anything that isn't an automatic penalty like a delay of game or tripping.
This disparity is apparent when analyzing two different games between the Leafs and Panthers from this season. I
n their very first matchup way back in January
, Florida had 10 total penalties to Toronto's six in a game where the Leafs won 5-4 in overtime.
By contrast
, Game 5 saw just two penalties called for each team the entire game despite plenty of evidence suggesting the Panthers should have been called for a few more. Toronto may have had the early edge in the first two games by getting eight power plays, but things dried up afterwards and the referees only called a combined four penalties on the Panthers (aside from the brawl at the end of Game 4).
In a fair and just league, the Panthers would have gotten way more penalties in this series and the Leafs would have had far more chances to generate offence on the man advantage. The frustrations would have lied more on Toronto's inability to cash in on the power play had the referees called more infractions and the Leafs still go on to lose the series.
But the NHL is not a fair league and this allows for a lot of questionable things to slip through the cracks. Florida correctly identified this disparity and exploited it to their advantage, while the Leafs did not and got burned as a result. Why else was Sam Bennett able to get away with slamming Matthew Knies' head to the ice and only getting a $5000 fine for cross-checking Michael Bunting in the neck and back, Marc Staal's elbow on Mitch Marne going uncalled, and Radko Gudas having the freedom to hold Calle Jarnkrok's stick to help Nick Cousins score the series winner.
There is no denying that being an NHL referee and linesman is not an easy job because trying to maintain consistency in a fast-paced game like hockey is difficult, to say the least. Advancements in technology and new rules have helped officials have a better chance of getting the calls right more often than not, though there will be the odd occasion where human error allows for infractions to go unchecked.
However, we have also known for the past two years that referees practice game management and will look for makeup calls whenever one team is getting more penalized than the other in an attempt to keep things equal. It goes against the very nature of what professional sports should be since the system should be
what the NBA does
: call an infraction whenever one occurs and
hold the officials accountable when there are discrepancies
. Yet the NHL shows no signs of changing its system to match the NBA anytime soon so controversial penalties and non-penalties are going to remain a thorn in the side of hockey fans indefinitely.
Beyond Bunting, there really aren't enough quality players who can work the system to their advantage and up their physical presence to tire out the opposition. Chief among this small crop of Leafs is Noel Acciari, Jake McCabe, and Luke Schenn, all of whom have a sandpaper playstyle in their arsenal that is extremely valuable in the playoffs. The rest of the team either does not engage in that practice at all or does not do it enough to discern that it is part of what they bring to the table on a nightly basis.
The Leafs need to find as many quality players as they can who will be able to match up with their top guns skill-wise while also gaining the flawed system and working it to their benefit. Think of guys like Tom Wilson, Travis Konecney, Brendan Gallagher, Adam Lowry, Pierre-Luc Dubois and Blake Coleman. All six of them would be excellent additions to the team and go a long way in giving the Leafs a better chance at winning more series in the playoffs. There is a reason why Matthew Tkachuk garnered such a hefty return last summer and the Panthers are reaping the rewards of it now.
It would also do wonders if the Leafs' top guns
started playing with that "screw you" attitude
that will help make the Leafs
tougher to play against
. A big part of why Tampa Bay was able to reach three consecutive Finals is not only was that mindset present in some of the lesser guys, but their best players in Steven Stamkos, Nikita Kucherov, Victor Hedman, and Braydon Point led the charge both in skill and grit. If you bring in one or more of the players mentioned in the previous paragraph and then Auston Matthews, Mitch Marner, and William Nylander develop a mean bone in their body, it would go a long way in helping work this flawed system in their court.
It is unfair
that teams essentially have to cheat their way to the top by exploiting
the NHL's flawed system
of game management, but it has to be done so long as it remains in place. Obviously, this was not the sole reason why the Panthers were able to beat the Leafs in five games, but it certainly helped in keeping their team out of the box and playing the bulk of the series at 5v5 which is where Florida is at its best.
There are a lot of things the Leafs can learn from their latest shortcoming at the hands of the Panthers. One major takeaway is that they need to accept the fact that there are no changes coming to an unfair system that allows for controversial antics to go unpunished unless it is to even up calls. So instead of constantly complaining about it on the ice, they should instead embrace the broken structure and utilize it to their benefit.
As cruel as it may be, this is the reality of today's NHL and the Leafs will have to adapt to it if they want a better shot of going deeper into spring next year.