Leafs Practice Notes: Hyman out a minimum of two weeks, Mikheyev questionable, Sandin & Andersen return to practice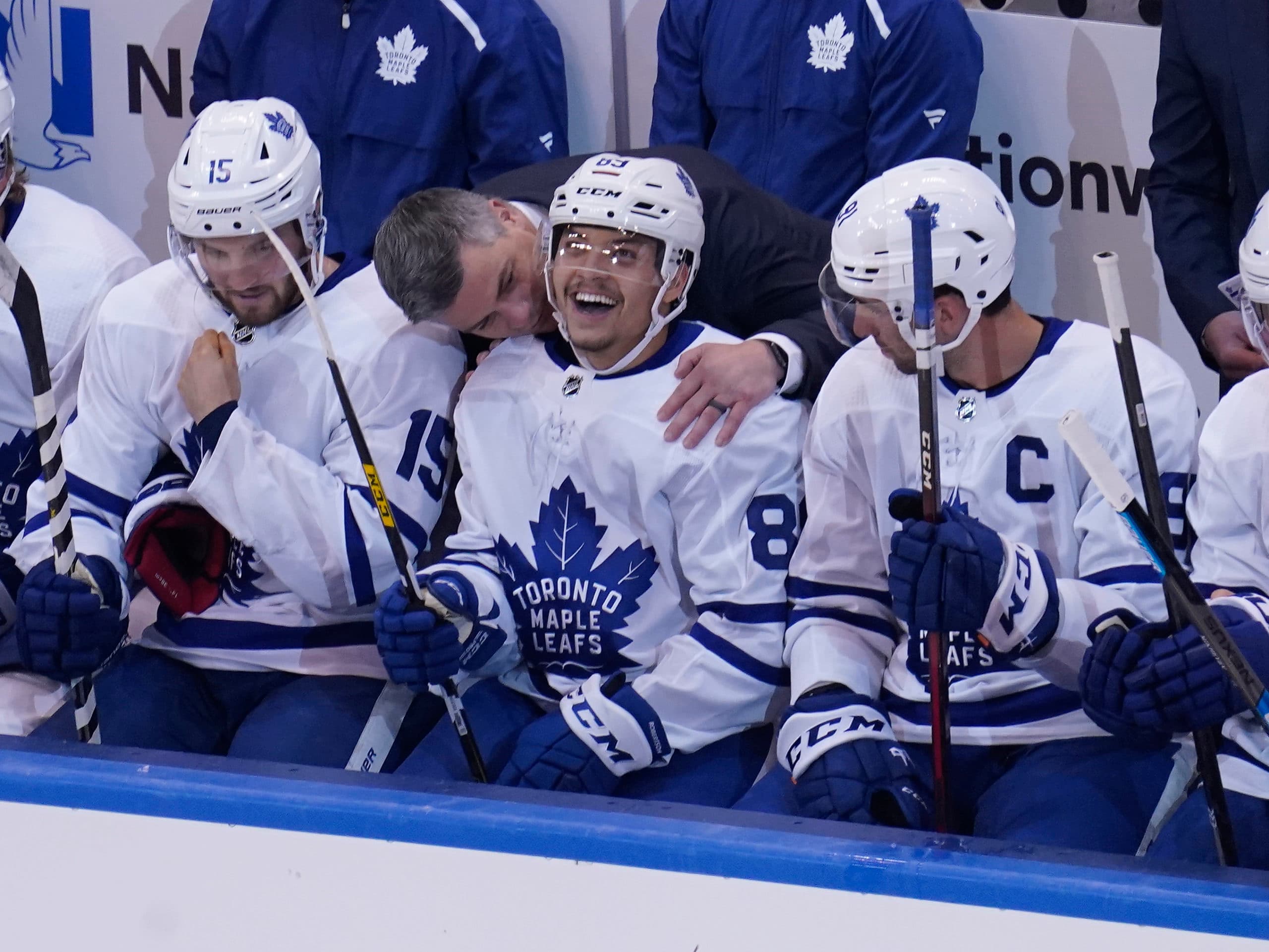 Photo credit:© John E. Sokolowski-USA TODAY Sports
The Leafs returned to practice on Monday following a disappointing overtime loss to the embattled Vancouver Canucks who were playing their first game since March 24th due to a COVID outbreak. Losing out on the extra point in overtime seemed rather insignificant, however, as Zach Hyman was also lost to injury after taking a brutal knee on knee hit from Alexander Edler who earned a two game suspension for his troubles.
Sheldon Keefe revealed after practice that Hyman has suffered a sprained MCL that will keep him on the shelf for at least two weeks. Given the fact that he has already had this knee surgically repaired once, and how the hit looked, it could have been a lot worse.
Some alarm bells went off when William Nylander stepped onto the ice for practice in a grey sweater typically reserved for extras or members of the taxi squad, with Pierre Engvall and Adam Brooks shedding grey for regular white practice sweaters. Nylander ended up skating in his usual spot alongside John Tavares, flanked by Alex Kerfoot in place of Nick Robertson on the other wing, but Keefe stated after practice that his status for Tuesday's rematch remains undecided after he was late for a team meeting on Monday.
Sunday night's third line of Mikheyev – Kerfoot – Hyman could be entirely dismantled when the Leafs and Canucks go at it again on Tuesday night, with Kristen Shilton of TSN reporting that Mikheyev left practice early on Monday. There has been no indication as to what is ailing Mikheyev but he is questionable for Tuesday night's contest.
Top prospect Nick Robertson skated on Sheldon Keefe's second line with Tavares and Nylander on Sunday night and though it looks like he may have been bumped from that spot by Kerfoot for the time being, his lineup spot appears safe after taking some reps with the Leafs' slumping powerplay unit during practice. Robertson could end up the biggest benefactor of Hyman's injury and will likely see a significant role down the stretch.
Another notable addition during special teams work was Rasmus Sandin who hasn't played since breaking his foot in the Marlies' season opener way back on February 16th. He took reps on the second powerplay unit in place of Jake Muzzin while skating on the third pair with Zach Bogosian, and could step into the lineup in place of Travis Dermott on Tuesday. Keefe has indicated that he wants to get a look at players like Sandin, Ben Hutton, and Timothy Liljegren down the stretch so don't be surprised if we start seeing more of a regular rotation on the third defensive pairing over the next couple of weeks.
Last but certainly not least, Frederik Andersen rejoined his teammates on the ice for the first time since he last played on March 19th. He took the ice towards the end of practice and fielded shots for a few minutes before the session wrapped up. There is still no definitive timeline on his return to game action but having him on the ice with the rest of the team is an encouraging development nonetheless.
In non-practice related news, Keefe also confirmed that new acquisition Nick Foligno will join the team on Wednesday in Winnipeg and his first full day with the Leafs will be on Thursday. It is expected that he will make his debut when the Leafs take on the Jets on Thursday night and he will certainly be a welcomed addition with the news of Hyman's injury.