Leafs Prospect Mailbag: Answering all of your prospect questions heading into the draft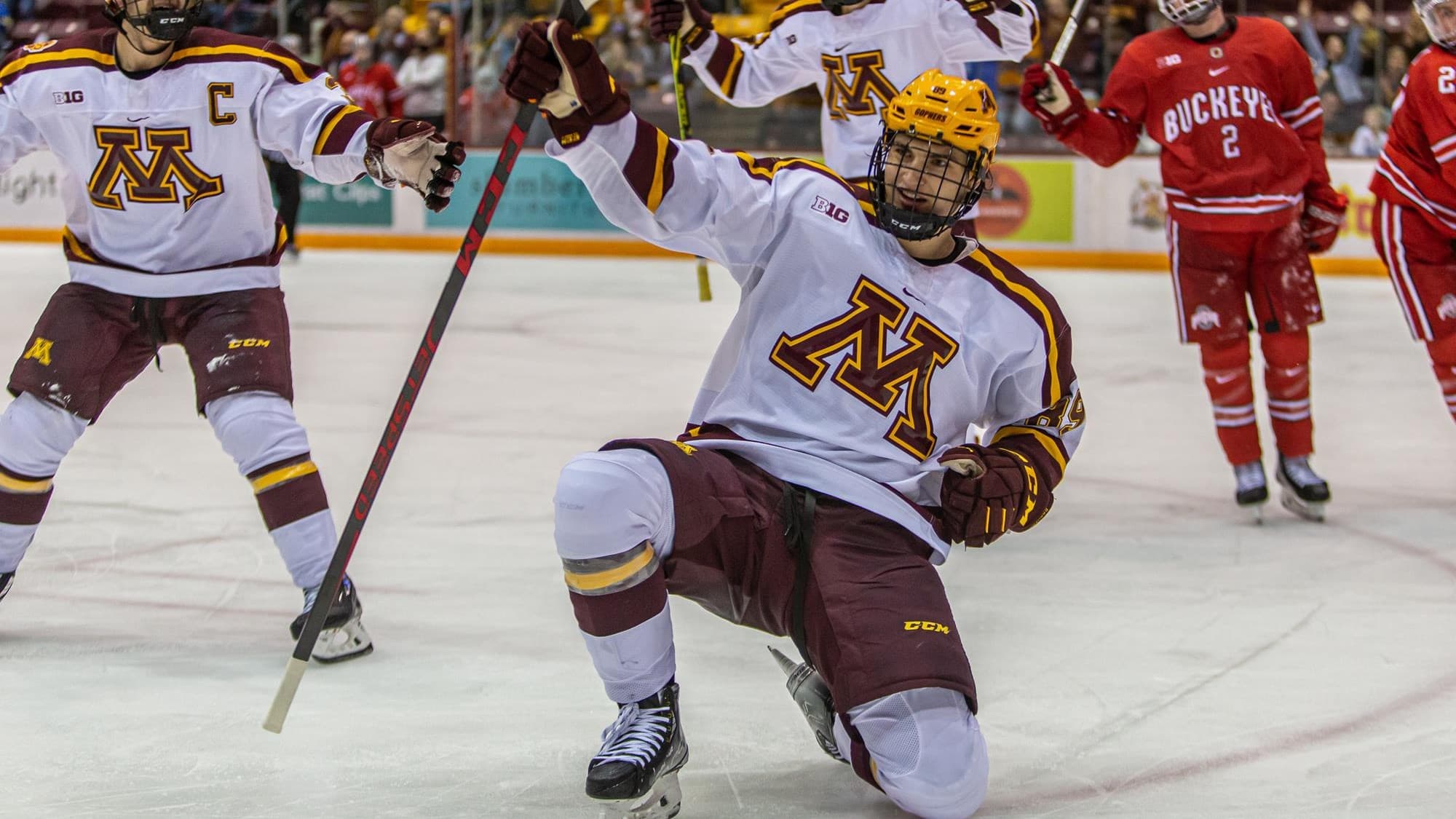 Photo credit:gophersports.com
It's prospect mailbag time, folks!
Over the past couple of days, we compiled questions on Twitter regarding the Toronto Maple Leafs prospect pool, from the Marlies to the Growlers and those outside of the system, as well as some on tomorrow's NHL Entry Draft.
After Nick Richard and I (Kyle Cushman) teamed up for the last prospect mailbag, Jon Steitzer and Nick Barden are joining us for this one. There's plenty to get to, so let's dive right into things.
2022 NHL Entry Draft
Assuming Toronto takes the highest-ranked player available at 25, does that prospect instantly become the top prospect in the organization? (@Matt06121981)
KC: I don't think so. The advanced timelines for the top three prospects currently in the system (Knies, Robertson, and Niemela) and the quality seasons they had likely mean whoever the Leafs pick will slot in as the organization's #4 prospect to start, at least for me.
JS: If we're going off of Craig Button's list and Toronto magically ends up with Frank Nazar, then yes. He's the top prospect in the organization. Otherwise, the player that comes in at the 25th spot has a good chance to earn that spot over the course of the next season but is unlikely to be a surefire top organizational prospect. The Leafs have done well enough without 1st round picks to make it an automatic thing.
NB: I'm going to say no. When I look at the top prospects in the Maple Leafs organization, I see how close they are to making the NHL. Unless there's a pick that comes into training camp and impresses, I don't think many pass Knies or Nick Robertson.
NR: It all depends on how the board falls but the NHL proximity of players like Knies, Robertson, and to a lesser extent,
Niemelä makes it unlikely that the 25th pick will immediately surpass any of them as the top prospect in the organization. That might sound strange considering that all of those players were drafted well beyond the 25th pick in their respective draft years but they have all outperformed their draft slots rather significantly since then as well.
What is the biggest need for the Leafs prospect pool? (@Omnicrons604)
KC: Goaltending. It's a glaring position of need at the NHL level and they have no prospect in the system with legitimate, realistic starting upside. Other than that, centre, as all of the prospects in the system aside from Curtis Douglas still have questions about whether they will need to shift to the wing.
NB: Looking at everyone Toronto has right now, if they all pan out, I don't think there's a *biggest need*. The goaltending has been somewhat promising, however, with the likes of Dryden McKay (who could do some damage) and Keith Petruzzelli (he could do damage too), there's a lot of excitement there.
JS: I want to believe that Curtis Sanford can right the goaltending ship, but there is already some good raw talent to work within the organization and that makes the biggest need a scoring centre. If the Leafs don't select a centre with their first-round pick I'd be shocked.
NR: The Leafs have taken a lot of high-upside swings in the draft in recent years and I think it's time to start supplementing those risk/reward picks with some more projectable NHL talent, particularly at centre. By no means am I saying the team should be looking to draft their future fourth-line centre, but if the decision comes down to a player with a bit more upside and a bit more risk versus a player with a little less upside and a lot less risk, I think it is time to seriously consider the latter.
Marlies & Growlers
4C for the Leafs, UFA or prospect? (@BKBK1995)
KC: UFA at 4C. I can't see them gifting a spot to any of the prospects.
JS: Can I just say I think it's going to be Derek Ryan. I'm not sure how, but I'm going to say Derek Ryan.
NR: I think they look to the free-agent market. The Leafs may see a player like Holmberg or Douglas as having a shot to fill that role eventually but they won't go into the season with them as their primary options.
22-23 expectations for Robertson? (@BKBK1995)
KC: I expect Robertson to be a bottom-six contributor for the Leafs all season. Start lower in the lineup and hopefully work his way up. He was excellent to end the AHL season and the Leafs need him to be a cheap scorer.
JS: Wishful thinking and the salary cap might get me daydreaming about Robertson on the Leafs roster to start the year, but that probably shouldn't be the expectation. I'd love to see him embrace an energy-type role and add that to his game so that when he's not scoring he's still doing something. My expectation is that he finishes the year with regular shift on the Leafs and the AHL is in the rearview mirror for him after this year. 
NR: I expect Robertson to be given every opportunity to make the team out of camp next fall and if he does, I think he will be given plenty of runway early in the season to cement his place in the lineup. Depending on what moves the club makes this summer and how healthy they are once the season gets going, he could eventually earn a look playing on one of the top two lines and he has the talent to make good on that opportunity.
Other than Robertson, who do you think makes the NHL next? (@kyle_nw)
KC: Alex Steeves has a shot, though his production dropped off in the second half and I think he could use more AHL time. The next full-time NHLer after Robertson, who I think should be on the NHL roster all season, is probably Matt Knies after he signs in March.
NB: I really like Alex Steeves as someone who could take a spot on the Maple Leafs next year. I think he could even get one before Robertson. Joey Anderson is another player who needs to prove something and I assume he will try his best to stand out in training camp.
Dark Horse pick: Bobby McMann
JS: He's not a prospect in our defined sense but Kristians Rubins is someone to keep an eye on as a seventh defenseman. I also think Anderson is going to get every opportunity to start as a fourth-line energy winger. I'd love to go out on a limb and say Holmberg, but I think there are going to be some solid free agent options who will take league minimum deep into the summer that could fill depth roles.
NR: I'll walk out on that limb that Jon is scared of. While I think Steeves probably gets into more games before Holmberg gets a look, I see Holmberg as more likely to carve out a regular role over time. He is a well-rounded, energetic, and versatile forward who has been on a pretty steady upward trajectory over the last 12-15 months. I expect the Leafs will add some fourth-line depth before camp rolls around but there will be opportunities throughout the season, whether it be due to injuries or poor performance, and if Holmberg can carry his SHL play over to North America, he will be in a good position to get the call from the big club.
What kind of a season would Semyon Der-Arguchintsev need to have in order for us to be saying: "2023-24 lineup: Matthews 1C, Tavares 2C, SDA 3C"? (@clairevoix498)
KC: I appreciate your optimism. Honestly, I don't see any realistic scenario where this happens. Der-Arguchintsev had a fine rookie season with the Marlies, improving quite a bit from the beginning to the end of the year, but still has a long way to go before being an NHL option. The goal for Der-Arguchintsev in 2022-23 will be to continue developing his defensive game, create more at even strength, and become a legitimate top-six centre at the AHL level. Hoping for anything more than that is setting the player up for disappointment.
JS: It might need to be a season where he repeatedly wins the LottoMax and buys the Leafs prior to 2023-24. 
Slightly more seriously, SDA would need to be a league leader in the AHL as well as live in the Marlies weight room for the entirety of the 2022-23 season. His age is on his side and while playing him as a centre at the AHL level makes a ton of sense, if he finds his way to the NHL it seems like it will be on the wing. Maybe in the 2024-25 season.
NB: SDA really switched it up in the back half of the 2021-22 season. He became more confident, got bigger in the gym, and learned more about the AHL. If there was any chance of him becoming an NHL third-line centre, he's going to need to have a monster season. There's always the possibility that he does something because he did have a spectacular finish to this past season. However, I don't see it likely that he gets there next season.
NR: I usually push back against the notion that certain players need to be top-six forwards or they shouldn't be NHLers but SDA is the exception to that for me. His value stems almost entirely from his offensive creativity and vision as a playmaker, and he doesn't currently provide much utility beyond that. If he grows into a dominant offensive force in the AHL next season, I'd say he has a shot but I don't think his chances of ever becoming an NHL regular are particularly high, never mind in just a year from now.
Where will Pontus Holmberg play? Will he be centre or wing? Can he score at a PPG in the AHL? (@Omnicrons604)
KC: He's a Marlie to start the year and probably as the first-line centre. I don't think the offence is quite there to be a point-per-game AHLer. Holmberg might get a few games with the Leafs depending on who they add at centre in free agency.
JS: Given the lack of centre depth in the organization the Leafs would be wise to explore Holmberg at centre as much as possible before ultimately giving up and moving him to the wing, as they did with Engvall.
NR: I'll be shocked if Holmberg isn't slotted down the middle with the Marlies and he should be a prominent player in his first full season with the club but scoring at a point per game is too lofty an expectation, in my opinion. He isn't without offensive upside but it isn't exactly his calling card either and I expect the organization will be more focused on his ability to play a complete game as they groom him for a potential role in the bottom-six at some point.
Curtis Douglas. Legit or not? (@bobbyduncan1234)
KC: Legit for me, to an extent. His rookie season blew away my expectations. He's a bit quicker than I anticipated and has good hands. He needs a couple of more years to continue to round into form, but there's a unique 4C to be unearthed that can be a defensive presence, net-front scorer, kill penalties, and absolutely destroy people.
JS: As far as bottom sixers can be legit, Douglas is legit. There's going to be a learning curve, but with his skill set, there is going to be some patience for him to figure it out and the season is long. Anyone expecting him to be Mason Marchment needs to pump their brakes though. That was a right player in the right environment thing.
NR: It all depends on your definition of "legit" but I think he has legit potential as a fourth-line centre at the NHL level. His size alone makes him a unique player but he skates fairly well for a big man and isn't without offensive skill. Add in the fact that he has become increasingly physical and responsible away from the puck, and I think there's a player there.
Which of the many goalie prospects do you think will be in the NHL, AHL, and ECHL? (@out_sid_e)
KC: If everyone is healthy: Kallgren, Woll in the AHL. Petruzzelli, McKay, Cavallin in the ECHL. The odds of everyone being available all at the same time are minimal. Woll is out to start the season and McKay is still suspended for the first week. Expect Petruzzelli to begin in the AHL until Woll returns, that will be his chance to keep a spot with the Marlies. Really interested to see where McKay plays and what his role is.
NB: Kyle is spot on.
JS: I'm worried there won't be room to re-sign Michael Hutchinson.
NR: I'm with Cushman on this one.
Gogolev potential rebound year? What went wrong with his game last year? (@BKBK1995)
KC: It seemed like Pavel Gogolev came into the season expecting the AHL to be straightforward after his success in a small sample in 2020-21. If he trains hard this offseason and enters camp revitalized, I could see a bounceback. Lots of competition on the wings though.
NB: If a few Marlies make the Maple Leafs, I think there'll be a chance for Gogolev to have a full-time spot in the AHL. All of that, though, is up to him and if he chooses to work incredibly hard this off-season.
NR: I think what went wrong for him was that the AHL's talent pool wasn't as diluted with other ECHL players as the NHL did away with taxi squads for the 2021-22 season. There is no questioning Gogolev's offensive skill but he isn't a great skater and his play away from the puck leaves a lot to be desired. If he can improve in those areas and use those improvements to create more of his own offence, I could see a rebound year for him.
Do you think Dmitry Ovchinnikov starts next season with the Growlers? (@Aofoley)
KC: Dmitry Ovchinnikov has played minimal minutes above the MHL level and a jump to full-time AHL action would be a massive step up in competition. I would like to see Ovchinnikov start with the Growlers and work his way up, but that depends on whether he's willing to go down to that level. I liked when Toronto did this with Martins Dzierkals back in 2017-18, but that ended with Dzierkals becoming disgruntled and going back to Europe. If the player is comfortable with it, I'd like to see it to ease Ovchinnikov's transition and get him much-needed ice time.
JS: I don't think players coming over to North America are eager to be sent to the ECHL and dealing with their agents about that decision sounds like a pain in the ass. I wouldn't doubt that the Leafs organization will find any reason possible to keep Ovchinnikov on the Marlies, but if he struggles he'll have to do his time on The Rock like anyone else.
NR: I think this is a difficult question to answer before training camp. Ovchinnikov didn't exactly light up the AHL in his brief stint last season but I don't think he looked particularly out of place either, and even a single offseason can make a huge difference for young players. He should be more comfortable and better adjusted to not only the North American game, but life in another country by the time camps get going in the fall and that could go a long way in terms of determining where he is best suited to play. That said, I will be surprised if the Leafs take a Russian prospect they just brought over and stick him in the ECHL before seeing whether he can hang in the AHL over the first few weeks of the season.
Should Jeremy McKenna get another shot? (@Aofoley)
KC: It could still happen, but I doubt Jeremy McKenna returns. He struggled in a depth role with the Marlies and while he was a good scorer in the regular season for Newfoundland, McKenna only produced eight points in 19 playoff games. He's from out east and is still only 23, so I wouldn't hate a return by any means and there could still be a fit with the Growlers. With a new crop of AHL signings coming in, though, there may not be room depending on how many more signings are made in the next month or so.
JS: When it comes to McKenna I feel he is going to become increasingly lost in the shuffle. Before the Leafs even get around to their July depth signings and AHL contracts it already looks like McKenna is at best fighting for a depth role in the Marlies forward group and with the Marlies being more focused on developing Leafs than winning in the AHL, it's unlikely McKenna is going to snatch minutes away from the players the organization prioritizes.
NB: McKenna was a great story during the COVID season. Learning about how he was called up and how he produced so well in that season was really enticing at that time. In a real AHL season, though, he struggled mightily and eventually found himself in Newfoundland. He's got the tools to do something good, but I don't believe he'll get another shot in the Maple Leafs organization.
NR: McKenna's time in the Leafs organization has probably come and gone, and I expect him to seek out an opportunity elsewhere – especially with all the recent AHL signings the organization has made.
Rest of the System
What would it take for you to trade Matt Knies? (@KwnStorm)
KC: Knies is a unique prospect in the Leafs system and has the skills that every team covets. Given Toronto's need for ELC contributions in the near future, it would take a significant impact player that has team control for me to move him. Something comparable to how it took Kevin Fiala for the Kings to move Brock Faber.
JS: There's something said about how the proven player is always the way to go over the prospect, but I think when you consider what a unicorn Knies is for the organization, that proven NHLer would have to play a very similar game to Knies, still be on a manageable contract, and have plenty of hockey left in him for Knies to be part of the deal. I'm sure this will go over poorly but an example of a player I'd trade Knies for is Drake Batherson.
NR: As the saying goes, everyone has a price. That said, I would wager that Knies is about as close to untouchable as it gets in terms of prospects that the Leafs would be willing to move. Two of the biggest current organizational needs are legitimate, cost-effective contributors and forwards who can play a heavier style of game. Knies certainly checks the second box already and he doesn't appear to be far off from checking the first one as well. To justify including him in any trade, the Leafs would have to be getting back a comparable player type on a contract that provides surplus value while fitting into both their salary structure and current competitive window, and there just aren't many players who fit that bill.
NB: While there might be a trade that could change Toronto's mind, I don't think there is much sense in trading Knies. When he joins the Maple Leafs, he'll be able to provide a lot while still on his ELC. The only way I'd let him go is if there's someone of better value coming back, possibly in a bigger trade. But, I doubt any of that happens and he remains in Toronto for a long time.
Can Hirvonen be our Cirelli-like player who is good defensively and has some offence in him? (@UnitedTreb99)
KC: Anthony Cirelli is one of the best defensive forwards in the NHL, so those kinds of expectations are unrealistic. That being said, Hirvonen had standout results at 5v5 this season in a third-line role in Liiga, finishing top ten in the league in Corsi-for. He's had a terrible PDO and on-ice save percentage that has hurt his defensive results, but I can see him becoming a positive impact defensive player.
JS: Let's start with a possible successor to David Kampf.
NR: Cirelli? No. Cirelli-like? Maybe. Hirvonen doesn't have the same kind of mobility – among other things – but he is an intelligent player who competes hard all over the ice. I still think he will provide more value in the offensive end than he will as a defensive forward but he has the potential to be a reliable 200-foot player down the road.
What is holding back Veeti Miettinen? (@knieskarmy)
KC: Size is the biggest issue. He's got the offensive skills but a lack of size made it difficult for Miettinen to find other ways to be effective when his scoring stagnated this past season.
JS: Being an undersized forward that doesn't have a standout set of tools or skills at this point probably means a lot is holding him back. I mean never say never, but most of the prospects aren't going to pan out and Miettinen needs to stand out in some way if he's going to be more than a future second-line AHL forward.
NR: As Kyle alluded to, his lack of size or ability to make an impact when he isn't scoring is the biggest issue for him right now. He is still young but heading into his junior season at St. Cloud State, he will have to show that he is more than a one-dimensional offensive player if he is going to be seriously considered for an entry-level contract.
When do you realistically see Slava Peksa or Artur Akhtyamov signing ELCs or starting to move into the Leafs system? Do you expect any of Toronto's current goalie crop to be able to make some real noise in the NHL in the nearish future? (@SwedishBuries)
KC: We're still a couple of years away from Peksa or Akhtyamov being considered for ELCs. They are in the system of a top KHL team, so I could see a scenario where they look to bring one or both over before they get consistent KHL games for the sake of playing time. Tampa did this last year with Amir Miftakhov, who also was in the Ak Bars system. Realistically, Akhtyamov and Peksa have to at least cement themselves as starters in the VHL before Toronto considers bringing them over. I'd have their current timeline around 2024-25 to come to North America, maybe a year earlier for Akhtyamov.
As for the rest of the Leafs current goalie crop, it looks unlikely any of them will make any noise other than maybe as a future backup. Erik Kallgren had his moments but will be 26 by the start of next season. Joseph Woll took promising steps in a minimal sample in 2021-22, he's the most likely in the system to become an NHL goaltender but needs a healthy season as the Marlies primary netminder. The AHL-signed trio of Keith Petruzzelli, Dryden McKay, and Luke Cavallin are wild cards. If they hit, it's also likely with backup upside. 
JS: I don't pretend to know much about either Peksa or Akhtyamov but I'd want to see some success in the KHL before truly being excited about either one of them. My guess at what is best for them is to be developed by Russian goaltender coaches to the point that the Leafs are confident in them and then bring them over.
As for the current group of goaltenders making noise in the NHL in the near future is going to be 100% on how they respond to Toronto's new goaltending coach. It's a clean slate for guys like Woll and Kallgren, and Petruzzelli and Cavallin I'm not putting much stock in at all. McKay on the other hand does have me excited and optimistic that he could be further along than the group and at least earn an NHL contract by the end of the season.
NR: Generally speaking, prospects are rarely considered sure things and goaltenders present even less certain or predictable timelines than skaters typically do. It is still very early in the development cycles of Akhtyamov and Peksa but they have at least found varying levels of success in the VHL and/or MHL since being drafted. Before they are considered for ELCs, however, the Leafs will likely want to see them competing at the KHL level and they have the benefit of time on their hands as they hold the rights to both players indefinitely. Akhtyamov has a chance to compete for playing time at Russia's top-level this coming season and if it goes well, the Leafs could potentially look at bringing him over for the 2023-24 season but that should be considered the best-case scenario at this point.
As far as the goaltenders who are already signed and in the system, I still have some hope for Joseph Woll – if he can finally put together a healthy season. He dealt with various injuries again last season but also showed signs of developmental progress when he was healthy. If he can put together a consistent stretch of solid play for the Marlies next season, he could eventually force his way into an NHL role.
Max Ellis, some insight as to why he was signed to an NHL contract with average college numbers? (@BKBK1995)
KC: Max Ellis was a point-per-game in the first half of the NCAA season and had terrible luck in the second half. He's a good even-strength scorer, he has some pace, and he gets lots of shots on net. The NHL deal gets him out of college early.
JS: The Leafs have clearly been watching a lot of Notre Dame games. They brought in players on AHL contracts as well as Ellis on an ELC, and of course, brought in Steeves the year before. While his numbers are somewhat average, the jump in scoring in his junior year might have turned some heads.
NR: I think it's a fair question but I also don't think Ellis' numbers tell the entire story. His lack of size will be difficult to overcome but he plays with good pace and competes hard, giving him potential as an energy player who can chip in with some secondary offence. He is a longshot to ever make the NHL, to say the least, but could serve as solid organizational depth in the coming years.