Leafs prospect Nicholas Moldenhauer is having himself quite the season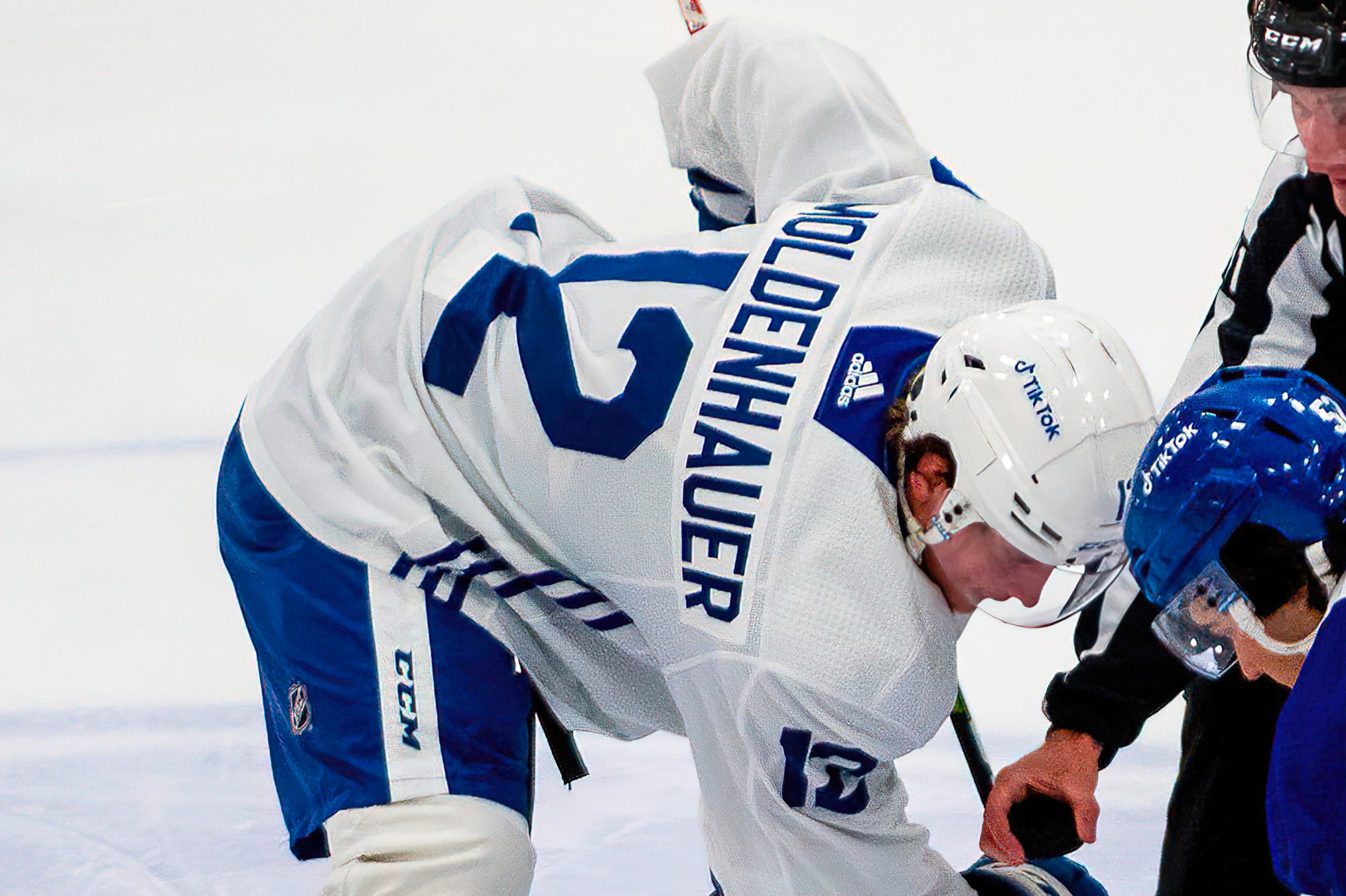 Photo credit:Steven Ellis/The Leafs Nation
Leafs Nation needs a good prospect pick-me-up, doesn't it?
It's been a rough few weeks for the Toronto Maple Leafs, with the team nearly getting shut out during the entire trip out west. They're headed back home to Scotiabank Arena for a date with the Philadelphia Flyers on Wednesday, a team on a mission right now.
Things are a mess with the big club right now. So let's change it up by discussing the future. For that, let's head down south to Illinois.
Toronto didn't have one of the more inspiring drafts in franchise history in 2022, they may have found some tremendous value in 18-year-old forward Nicholas Moldenhauer out of the USHL's Chicago Steel.
Moldenhauer exploded on the scene with a solid 43-point effort in 41 games – respectable numbers for a USHL rookie. Adam Fantilli, one of the top 2023 draft prospects, was far and away the best USHLer and helped carry Chicago's offense. Jayden Perron and defenseman Jake Livanavage also finished just ahead of Moldenhauer in the scoring race, giving the team five players in the top 11 in scoring.
Moldenhauer missed time after taking a skate to the face last year, but came back strong and made the most of it. The injury required surgery, but it could have been so much worse. Just imagine how high he would have gone had he not missed a large portion of the campaign.
This year, Moldenhauer has taken his game to a whole new level, leading the USHL with 17 points in 11 games. Moldenhauer has been paired with 2024 NHL Draft star Macklin Celebrini to create the best 1-2 punch in the league. Combined, they have 19 goals and 31 points in just 11 games (nine in Celebrini's case). So Moldenhauer's point totals have definitely been helped by having one of the best 16-year-olds on the planet as a linemate, but Moldenhauer is a huge driving factor why.
"He loves the puck on his stick," a scout said. "And when he sets someone up, he's finding ways to get back into a return passing position. You have to love the way he wants to score every time he hits the ice."
Quality prospects will tend to dominate puck possession in junior levels, but it's never a bad thing. And Moldenhauer is among the best at getting himself and his teammates into high-danger scoring positions in the USHL right now. Many of his goals over the past two years have been because of his drive to the net, breaking in at speed through the neutral zone and holding the puck to the outside before closing in for a shot. He'll display his quick handwork in front of the net when he wants to and catch goalies off guard. And while he isn't big, he drives the net with no regard for human life, leaving defensemen weary in front of their goaltender.
Moldenhauer's confidence has taken a nice step forward this season. A year ago, he was part of the cast. This year, he's "the guy", someone who the coaching staff relies on heavily to be a game-changer. From the start, he's taken the opportunity and ran with it, and he's being rewarded for it. He's patient, and his all-around offensive game has become more effective as a result.
Moldenhauer was described as a smart, speedy 200-foot forward in his draft year, and his puck skills needed some work. He's not the most creative player by any means, especially in contrast to Celebrini, but with that extra shot of confidence has come the freedom to try more this season. Moldenhauer can play things safe, but there have been numerous examples of him taking more risks to make a play, and having it work out.
Moldenhauer is a long-term prospect. He'll likely take a step up to the NCAA next season, wherever that ends up being, and spend a few years plying his trade against older, stronger competition. He's not a big guy at 5-foot-10 and 170 pounds, so it'll be an opportunity to bulk up and take on more challenging players. Could he be a middle-six forward? Maybe a faceoff guy deeper in the lineup with the ability to set teammates up nicely?
That's still a few years away. But given his play since going 95th overall a few months, Leafs fans should be thrilled with his development.