Leafs Prospect Roundup: Trade bait, Marlies reinforcements, Miettinen and Koster earn awards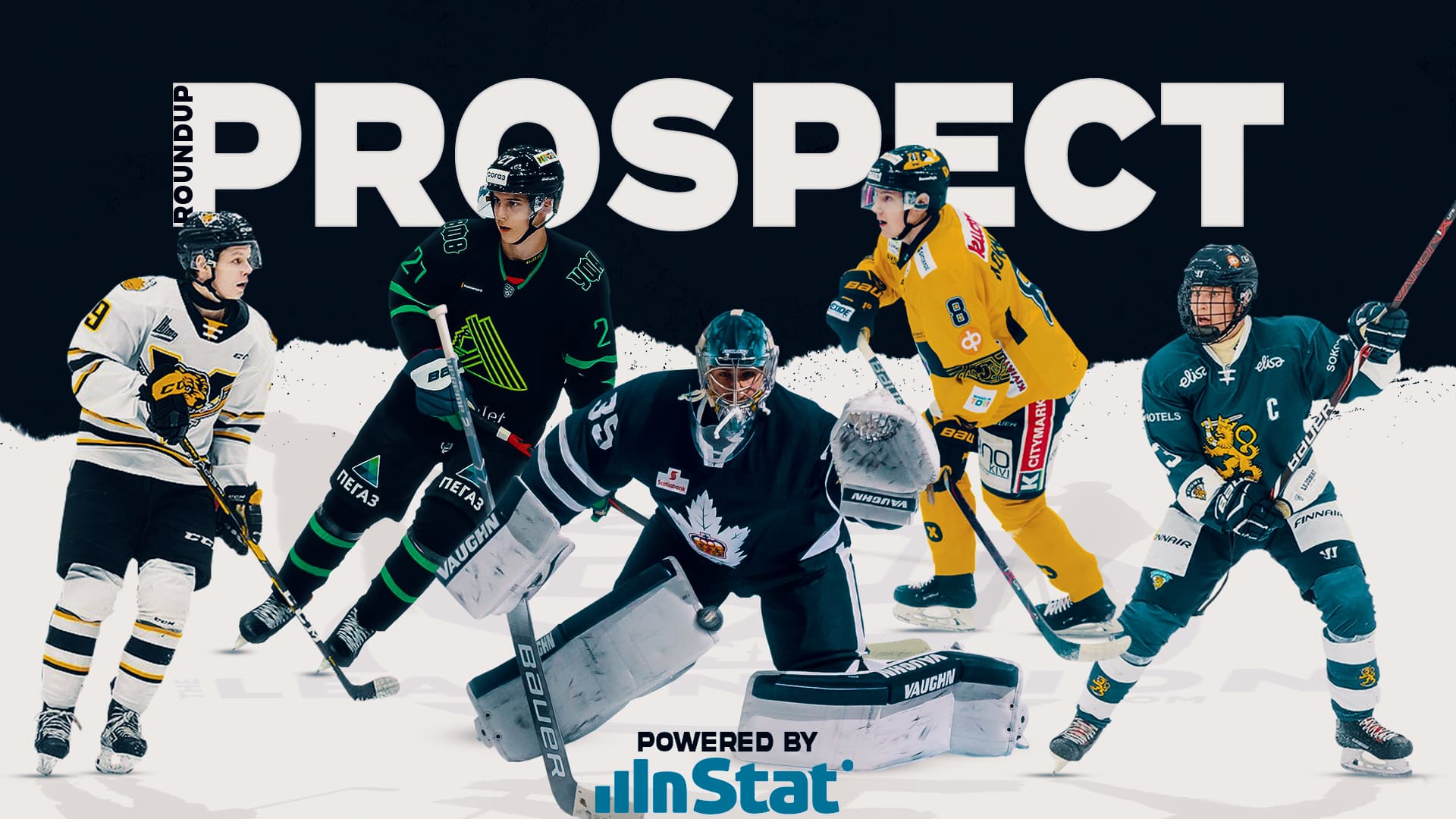 Photo credit:Nick Barden
Powered by InStat Hockey
---
Most of the focus on Leafs prospects in recent weeks has revolved around which players in Toronto's system could be included in trade talks in the lead up to the deadline, and just what kind of piece they might be able to help the Leafs acquire. Beneath all the rumors and speculation, however, several Leafs youngsters are wrapping up their seasons with some getting set for playoff runs in their respective leagues.
I'll spare you the big preamble this week. Let's get to the prospects.
@Timothy Liljegren – RHD – Toronto Marlies (AHL)
It isn't exactly a secret that the Leafs are all-in this season but Kyle Dubas confirmed it earlier this week when he spoke to the media and very bluntly stated that the he would be willing to move a top prospect if it meant acquiring a piece that could propel his group on a Cup run.
Liljegren fits that description, albeit perhaps on the bottom end of a group that features @Nicholas Robertson, @Rasmus Sandin, and Rodion Amirov. It seems as though some of the shine has wore off of Liljegren, and though it feels like he has been in the system forever, he is still just 21 years old. Admittedly, I was down on Liljegren as recently as last season but he has steadily improved and there is still plenty of upside there.
If I had to choose one word to describe how Liljegren has looked through the early part of the AHL season, it would be "ready". He has built out his game from the back end and has been far more dangerous in the offensive zone so far, looking the part of a true two-way defenceman. Through 10 games with the Marlies, he has a goal and six assists while playing over 22 minutes per game.
While he undoubtedly holds value on the trade market, I wonder if common perception makes him less valuable in a trade than he could be to the Leafs organization in the coming years. When it comes to the Leafs top prospects, Liljegren might be the toughest one for them to return commensurate value on in a deal before the deadline.
@Filip Hallander – LW – Lulea (SHL)
Lulea is getting ready to close out their regular season and head into the SHL playoffs and these could be the final games Hallander plays for their organization – at least in the foreseeable future.
He had already signed his entry-level contract with Pittsburgh prior to being acquired by the Leafs last offseason and has played out this season on loan in his home country but Dubas confirmed earlier this week that Hallander would be coming to North America to join the Marlies whenever Lulea's campaign comes to an end.
Hallander has 12 goals and 10 assists in 47 SHL games, with a good chunk of that production coming in the last few weeks where he has been much more assertive with the puck on his stick. He will be a welcomed addition to the Marlies and should play a significant role for them down the stretch as he works to put himself in a position to compete for a job with the Leafs next season.
@Denis Malgin – C/W – Lausanne HC (NL)
With 192 NHL games under his belt, Malgin isn't exactly a prospect at this point but at 24 years old, he could still be a depth option for the Leafs down the road. He has been playing with Lausanne HC in Switzerland's National League this season, leading the club with 15 goals and 18 assists in 36 games.
Like Hallander, Malgin will join the Marlies when his season wraps up and if his performance in Switzerland is any indication, he could be an impact player for Toronto's AHL squad while providing a bit of insurance if the big club runs into a string of injuries.
Malgin is versatile, able to play all three forward positions, and has some raw offensive tools to go along with plenty of speed. Though he is undersized, he plays hard and doesn't shy away from the dirty areas but he hasn't been able to put it all together consistently at the NHL level.
Roni Hirvonen – C/LW – Assat (Liiga)
Outside of the bigger names in Toronto's prospect pool, Hirvonen could be one of the most enticing pieces for opposing GM's when negotiating with Dubas in the leadup to the trade deadline.
His strong performance at the World Juniors likely increased his stock around NHL front offices but he has had a solid season in Liiga as well. He has taken on a larger role this season, and while his production might look modest with 19 points in 44 games, it is an improvement on last season's numbers and an impressive total for a teenager playing in one of the top professional hockey leagues in the world.
Hirvonen's aggressive style of play and pest-like tendencies set him apart from most of the other prospects in the Leafs' system and while they would like to retain those attributes themselves, those abilities are what could make him a target for rival GMs.
Veeti Miettinen – LW/RW – St. Cloud State University (NCAA)
Miettinen's first season in North America couldn't have gone a whole lot better. He led his team in scoring with 10 goals and 13 assists in 27 contests and racked up plenty of accolades along the way, culminating with an NCHC Rookie of the Year award and a NCHC Second Team All-Conference selection.
He was a driving force in St. Cloud State making it to the conference championship where they ultimately came up short, but the door hasn't completely closed on Miettinen and his Huskies teammates making it to the NCAA tournament just yet.
A dominant player in Finland's junior ranks during his draft year, Miettinen erased all doubts about his skill set transferring to the North American game in his freshman season. His shot is deadly and he has the vision to set up his teammates, but his work ethic and off puck play turned heads this season as well.
Chosen late in the 2020 NHL draft, Miettinen has provided exciting early returns on the Leafs' investment.
Dmitri Ovchinnikov – C/W – Sibir Novosibirsk (KHL)
Ovchinnikov's season ended without any playoff games as both his KHL squad and their MHL affiliate failed to qualify for the postseason, but the experience he gained at the KHL level this season will serve him well as he pushes for a larger role at Russia's top level next fall.
Still just 18 years old, he was dominant at the junior level this season with 51 points in just 40 games. He wasn't nearly as productive in the KHL, registering a single assist in 16 contests but he received very limited minutes playing on the fourth line or as the 13th forward on some nights.
Sibir is one of the few KHL teams without a VHL affiliate and with Ovchinnikov having little left to prove in the MHL, he should play a more significant role with the big club next season. He has a diverse offensive toolkit, good skating ability, and an advanced understanding of the game for a player his age. It's just a matter of gaining more experience and continuing to develop those skills in the coming years, but Ovchinnikov is certainly a player to monitor.
Mike Koster – LHD – University of Minnesota (NCAA)
Very quietly, the Leafs fifth round selection from the 2019 draft has put up a solid freshman season at the University of Minnesota. Through 29 games, Koster has put up three goals and nine assists.
His third goal came earlier this week in the Big Ten Championship game as Minnesota defeated Wisconsin to take home the conference title, and he earned a nod on the Big Ten All-Tournament Team to top it off. He and his teammates will go onto the NCAA tournament and should be considered one of the favorites to win it all.
Still very much a long term project, Koster's first foray into collegiate hockey has been an encouraging one. He is quite small – especially for a defenceman – but he's a strong skater and plays an intelligent game in all three zones. He will return to the University of Minnesota to continue his NCAA career next fall.
Ryan Tverberg – LW/RW – University of Connecticut (NCAA)
Tverberg's year was a bit tumultuous, jumping over to UConn at the midway point of the year after originally being committed to Harvard whose season was canceled.
All told, he got into 14 games with UConn and put up 7 points in 14 games – not a bad freshman season, especially considering the long road he took to get there. He, too, will return to the NCAA next season and should be primed for a larger role in his sophomore season.