Leafs Prospect Roundup: Analyzing Leafs' WJC performances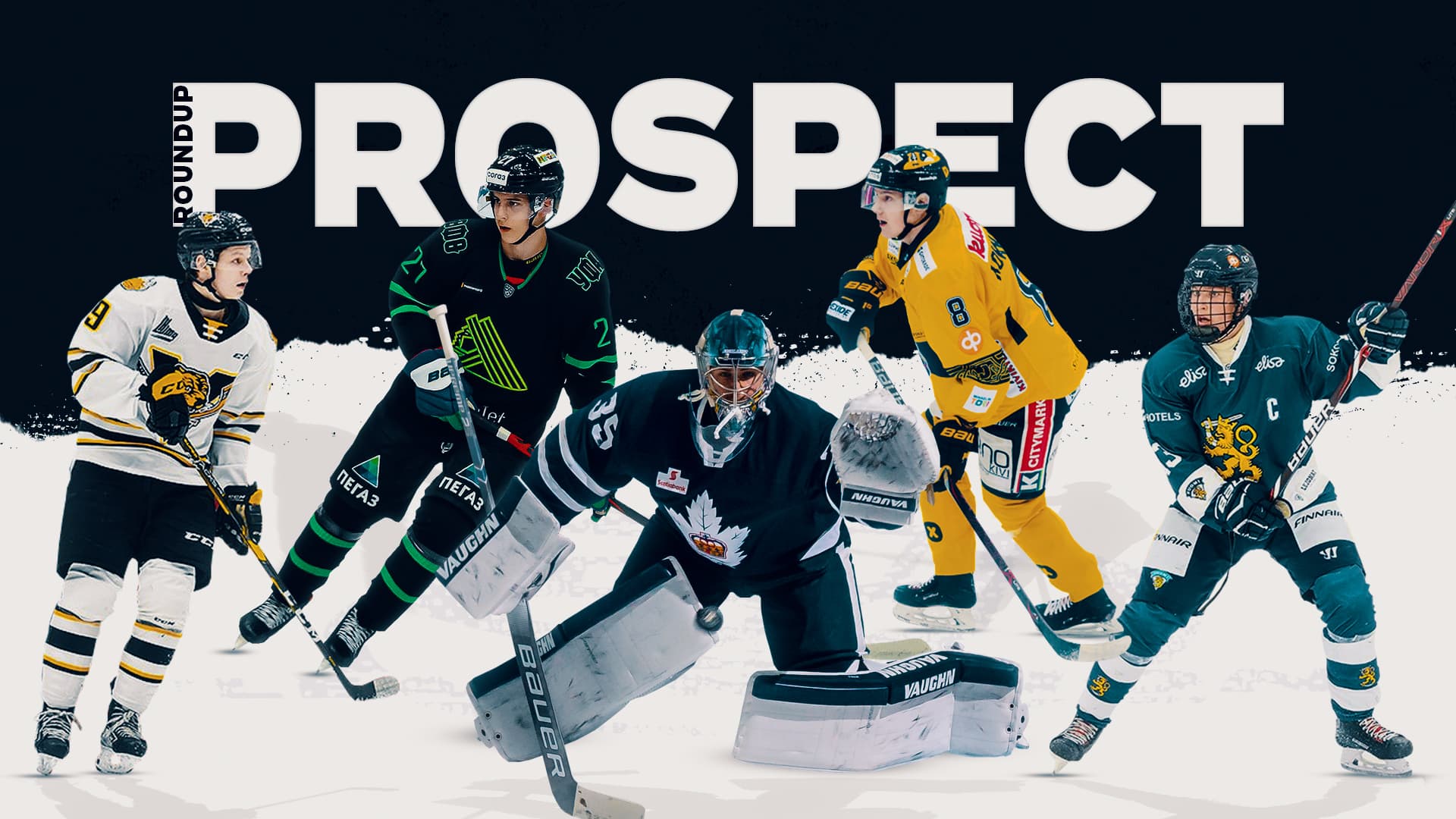 It has been quite some time since a World Juniors tournament has held so much intrigue for the Leafs and their fans, with six of the organization's prospects taking part this year. It would have been seven had the Leafs elected to send Nick Robertson to play with team USA but the decision was made for him to remain in Toronto to put himself in the best position to earn a spot in the NHL lineup on opening night.
Considering Robertson's proximity to the NHL, and just how impressive the Leafs' prospects looked at the World Juniors, management has to feel good about how they've been able to restock the prospect pool in recent drafts. Two of their mid round picks from the 2019 draft were called upon to play in the tournament, and each of their first four picks from the 2020 draft also made the cut for their respective countries.
Topi Niemela – RHD – Karpat (Liiga)
The World Juniors were a coming out party for the Leafs' 2020 third round pick as Niemela exceeded all expectations on his way to being named the best defenceman at the tournament. He played in all situations for the bronze medal winning Finnish team, finishing with two goals and six assists through seven games to lead all WJC defencemen in scoring.
Niemela's offensive exploits grabbed all the headlines and turned heads on highlight reels but his defensive contributions were just as impressive. He has very strong instincts all over the ice, allowing him to read the play as it develops and put himself in position to thwart offensive attacks. His strong skating, combined with that awareness, consistently allows Niemela to shut down opposing rushes before they get going and he has the ability to recover on the rare occasions that the play gets behind him.
Niemela's confidence will be at an all-time high as he makes his return to Karpat and he will look to continue his strong play in the back half of the Liiga season. Still just 18 years old, he will be eligible to represent Finland in the World Juniors again next season and it will be interesting to see what he offers up as an encore but it looks like the Leafs have a player in Niemela.
Rodion Amirov – LW/RW – Salavat Yulaev Ufa (KHL)
While Amirov may not have been one of the stars of the World Juniors, he was certainly one of the best players on the Russian squad and was instrumental in their team making it as far as they did. The Leafs' latest first round pick put his high end skating and puck skills on display throughout the tournament but I thought he was impressive defensively as well, especially on the penalty kill where he forced teams to respect his ability to take the puck the other way for a shorthanded chance.
Amirov led the Russian team in scoring with two goals and four assists through seven contests and was by no means disappointing, but I thought he left some meat on the bone and could have produced even more had he not settled for so many low danger shot attempts off the cycle. He has the skill to get into the dangerous scoring areas and doing that more consistently will be a point of emphasis as Amirov progresses through the ranks.
Back in the KHL, Amirov will be looking to earn a larger role with Ufa in the stretch drive of the season and become a fixture in the top part of their lineup after receiving limited minutes for much of the early part of the year. Though he didn't earn a medal or any accolades from the IIHF, Leafs fans should be excited about what they have in their 2020 first round pick.
Roni Hirvonen – C/LW – Assat (Liiga)
Hirvonen spent the entirety of the World Juniors playing on Finland's top line centered by Anton Lundell and was one of their best players throughout. He showed off his puck skills and vision, finishing with two goals and four assists in seven games, but his tenacity and physicality stood out as well. Hirvonen got into some penalty trouble early in the tournament but did a better job of playing on the edge without going over it as the tournament wore on. He's not a big player but he proved he could punch above his weight class, so to speak, and certainly displayed a flair for the dramatic on the big stage.
In Finland's quarterfinal matchup against Sweden, Hirvonen was relentless on the puck deep in the offensive zone before scoring a wraparound goal with under 30 seconds left on the clock to complete the comeback and send his team to the semifinals.
In another tightly contested matchup with team USA in the semifinals, Hirvonen came up clutch once again. Down by a goal with under five minutes remaining in regulation, he planted himself in front the Americans' net and squeezed a shot through Spencer Knight to tie the game. It appeared as though the Finns may be on their way to completing another late comeback in an elimination game but it was all for naught as the US quickly restored their lead to move on and eventually claim the gold medal.
Nevertheless, it was quite an impressive showing for Hirvonen at the annual holiday tournament and the early returns on Kyle Dubas' decision to trade down in the second round of the 2020 draft have been encouraging. Like Niemela, Hirvonen is eligible to represent Finland again next year and he will once again be one of their most important players.
Mikko Kokkonen – LHD – Jukurit (Liiga)
It came as a bit of a surprise when Kokkonen's name was called as one of Finland's three best players of the tournament considering how impactful some of his teammates were and his lack of production in a limited role. It's important to remember, however, that these awards are selected by each individual team's coaching staff and it speaks to how highly Kokkonen's coaches think of him that he was recognized as one of the most valued members of his team.
Kokkonen won't appear on the stat sheet very often and his skills don't exactly jump off the screen but he is a stout defender and an efficient, if unspectacular, puck mover. He is most effective in defensive zone coverage where he has a keen sense of passing lanes and an active stick to disrupt plays but he is also capable of starting the breakout once he gets the puck back. To be included among the likes of Ville Heinola, Anton Lundell, and Topi Niemela as one of the highest graded Finnish players in transition is impressive.
Mikhail Abramov – C – Victoriaville Tigres (QMJHL)
It was a strange tournament for Abramov who went from being a healthy scratch in the first two games, to being one of Russia's more dangerous forwards in the next two games before earning himself a one game suspension for a slew foot, and then returning to an even more prominent role in the medal round.
Abramov being a healthy scratch was a curious decision from the beginning and it only became more questionable after he got into the lineup and played well in significant minutes. He finished the tournament with just two assists in four games but definitely deserved more, given the scoring chances he was creating for himself and his linemates. He also had this goal called back in the semifinals against Canada, on what was mostly an inconsequential offside nearly 40 seconds prior to the goal being scored:
Despite an up and down tournament, I was really impressed with how Abramov played when he was in the lineup. He was surrounded by more skill than he is used to playing with in the QMJHL and he did well to generate puck possession and offensive opportunities for Russia over the course of his four games played.
Abramov will continue his season with Vicoriaville if and when the QMJHL is able to resume their season but he has already signed his entry level contract and looks ready to step into a prominent role for the Marlies in 2021-2022.
Artur Akhtyamov – G – Bars Kazan (VHL)
Akhtyamov didn't get into another game after his start against Austria, though it appeared Russia may have been close to having him relieve Yaroslav Askarov in their semifinal matchup against Canada.
Austria played perhaps their best game of the tournament against Russia but Akhtyamov was solid in stopping 17 of 18 shots he faced. He will return to the Kazan organization where he has played games across all three levels this season, but is likely to play the majority of his games in the VHL.