Leafs prospect Topi Niemelä to join the Marlies this week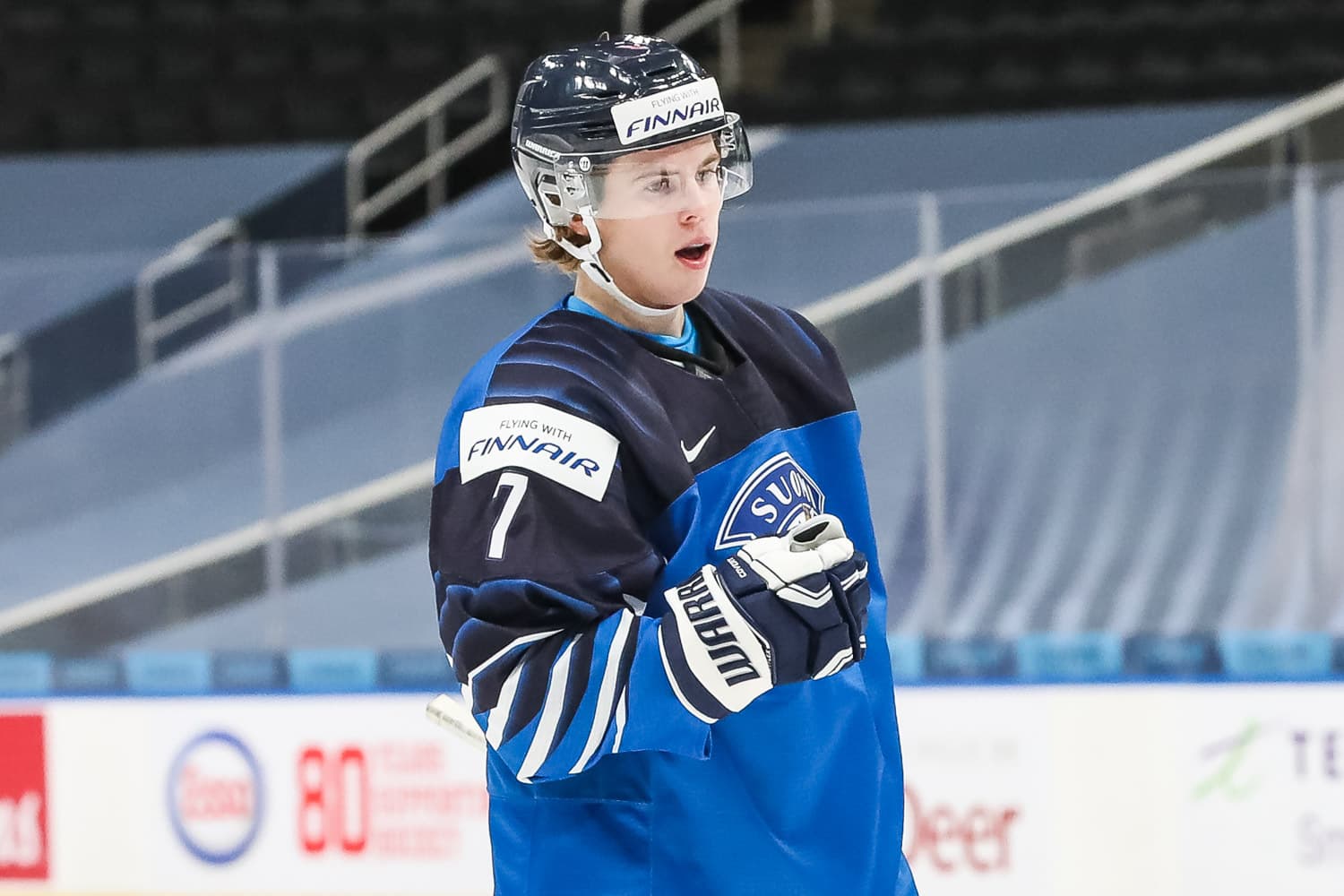 Photo credit:@leijonat
The Marlies have been one of the top teams in the AHL all season long, currently leading the North Division with 85 points despite a recent five-game losing streak, and they will soon have their blue line bolstered by the addition of one of the Leafs' top prospects.
Joshua Kloke of The Athletic reported on Wednesday that 2020 third-round pick Topi Niemelä will be arriving in Toronto to join the Marlies and begin his AHL career later this week.
Niemelä broke out in a big way during the 2021-22 season after starring at the previous season's World Juniors, setting a new record for most points by a U20 defenseman in Liiga history with 10 goals and 22 assists in 48 games for Kärpät. He was rewarded with his first NHL contract, signing his entry-level deal with the Leafs last May.
The Leafs opted to loan the young blueliner back to Kärpät for the 2022-23 season, and while his 2021-22 numbers were always going to be difficult to replicate, his offensive output took a significant step backward this season. Niemelä finished the season with eight goals and 10 assists in 58 games and was held without a point in three postseason games before his club was eliminated back on March 16th.
A couple of Niemelä's Kärpät teammates have already made the trip across the pond to join their AHL clubs, but Niemelä has been in something of a holding pattern with Finland considering him for a spot on their roster for the upcoming World Championships. It appears now that he won't be suiting up for his country this spring, and will instead begin his North American career with the Marlies as they prepare for a run at the Calder Cup.
It remains to be seen just where Niemelä will slot in on a crowded Marlies blue line that already features Jordie Benn, Filip Král, William Villeneuve, Mikko Kokkonen, Carl Dahlström, Mac Hollowell, Noel Hoefenmayer, Marshall Rifai, Tommy Miller, Matt Hellickson, and Matteo Pietroniro.
Recent additions up front – Ryan Tverberg and Dmitry Ovchinnikov – have been eased into the lineup, but Niemelä is a different caliber of prospect who could carve out a prominent role with the club in short order. Whether Niemelä becomes a top-four, powerplay contributor or serves as a depth option down the stretch, any experience he is able to gain will prove valuable ahead of his first NHL training camp next fall.
Despite his lack of experience on North American ice, Niemelä steps onto the Marlies' roster as their most talented defenseman. There has been no shortage of hype around his offensive exploits over the last couple of seasons, but he is also a high-end defender. When he was drafted, Toronto's Director of Amateur Scouting at the time said that they felt Niemelä had some of the best defensive instincts in the 2020 draft class.
Here is what I wrote about Niemelä for TLN's Midseason Leafs Prospect Rankings, where he landed the third spot on the list behind Matthew Knies and Nick Robertson:
The first thing that stood out when I watched Niemelä in his draft year was how proactive he was defensively. Rather than always reacting to what attacking forwards are doing, he takes away their time and space, whether that be smothering a passing option in transition or stepping into a lane to eliminate their primary point of attack. He processes the game very well, identifying threats and killing a lot of plays before they even get started. That proactive nature has lent itself to his offensive play as well, as he is quick to join the rush and make plays in transition. Niemelä controls the offensive blue line with poise, drawing defenders to him before finding an open teammate down low, and he activates from the point to put himself in dangerous scoring positions as well. His heavy point shot is another weapon, and it is part of what forces defenders to attack him at the blue line, which helps to facilitate the rest of his offensive game. Though he is undersized and doesn't have blazing speed, Niemelä has smooth four-way mobility, and he doesn't shy away from the physical game either.
There is sure to be an adjustment period for Niemelä as he begins his North American career, but he has the tools to be successful on this next step of his journey to the NHL.
(Statistics from EliteProspects.com)