Leafs will switch to Justin Bieber's Flipside Jerseys permanently beginning next season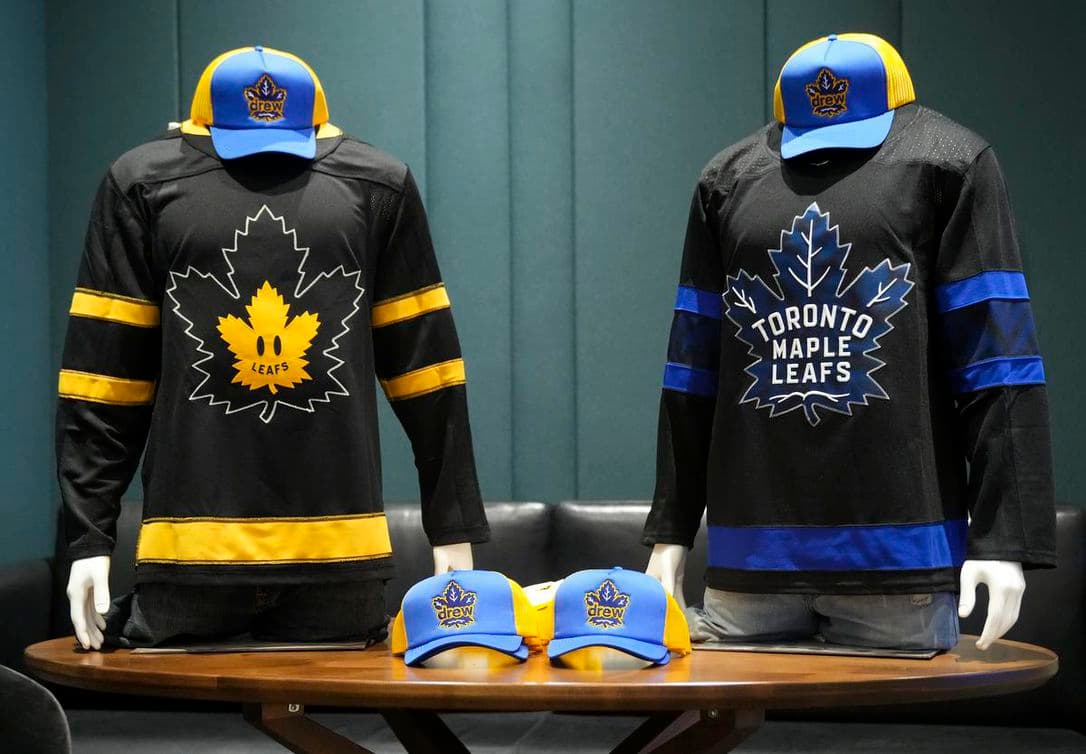 The Toronto Maple Leafs are reportedly going all in on their Flipside jerseys, ditching their traditional look after the conclusion of the 2022-23 season.
This decision further strengthens their working relationship with megastar Justin Bieber, who has long been one of their most notable fans. His innovative jersey design made by his clothing brand, drew house, was first introduced during the 2021-22 season to much success.
"I am excited to have my design be a permanent addition to the Leafs' jersey lineup," Bieber said in a statement. "It's not every day that you get to live a childhood dream of running the team you grew up cheering for."
Along with this move will come some adjustments to the ads on their helmets and jerseys. The Leafs will move on from Milk and TikTok at years end and will instead have the drew house logo replace them both. In line with the NHL's decision to have Fanatics be the jersey provider and the brand asking teams to not make major changes, the Leafs will simply have the flipside with the drew house leaf be their away jerseys.
"I was hoping that they would change the name to the 'Toronto Greyhounds' but this is the next best thing," said general manager Kyle Dubas. "We are grateful to be working more closely with Bieber, who is passionate about growing the game for the next generation of fans. Brendan and I agree that this is the right move going forward and we are excited about this change."
Many of the Leafs' current players are excited that the Flipside jersey will be staying for years to come, which includes All-Star forward Mitch Marner.
"I have already banned Max Kerman and the Arkells from attending Leafs games because he gave me gave me a '5' ranking in Florida, so I am pumped that we are sticking with the Flipside," he said. "Now Biebs needs to tell Timmies to make the 'Timbiebs' a permanent option on their menu and we're set."
When asked if this move would impact his decision to re-sign this summer, Auston Matthews said "Absolutely, so long as he has me on as a feature on one of his future songs!"
Not everyone is on board with the change. One such player includes Luke Schenn, who has yet to don the traditional home jersey since his return to Toronto.
"At least have me wear the old-school look for a bit before making such sweeping changes," he said on Leafs Morning Take with
Nick Alberga and Jay Rosehill
.
This dramatic change will be the first time that the team's primary colours were not blue and white since the team was known as the St. Pats.
The Leafs did not disclose if there would be a sale of Flipside jerseys on April Fools' to coincide with this decision.