Leafs take a swing on Easton Cowan at 28th overall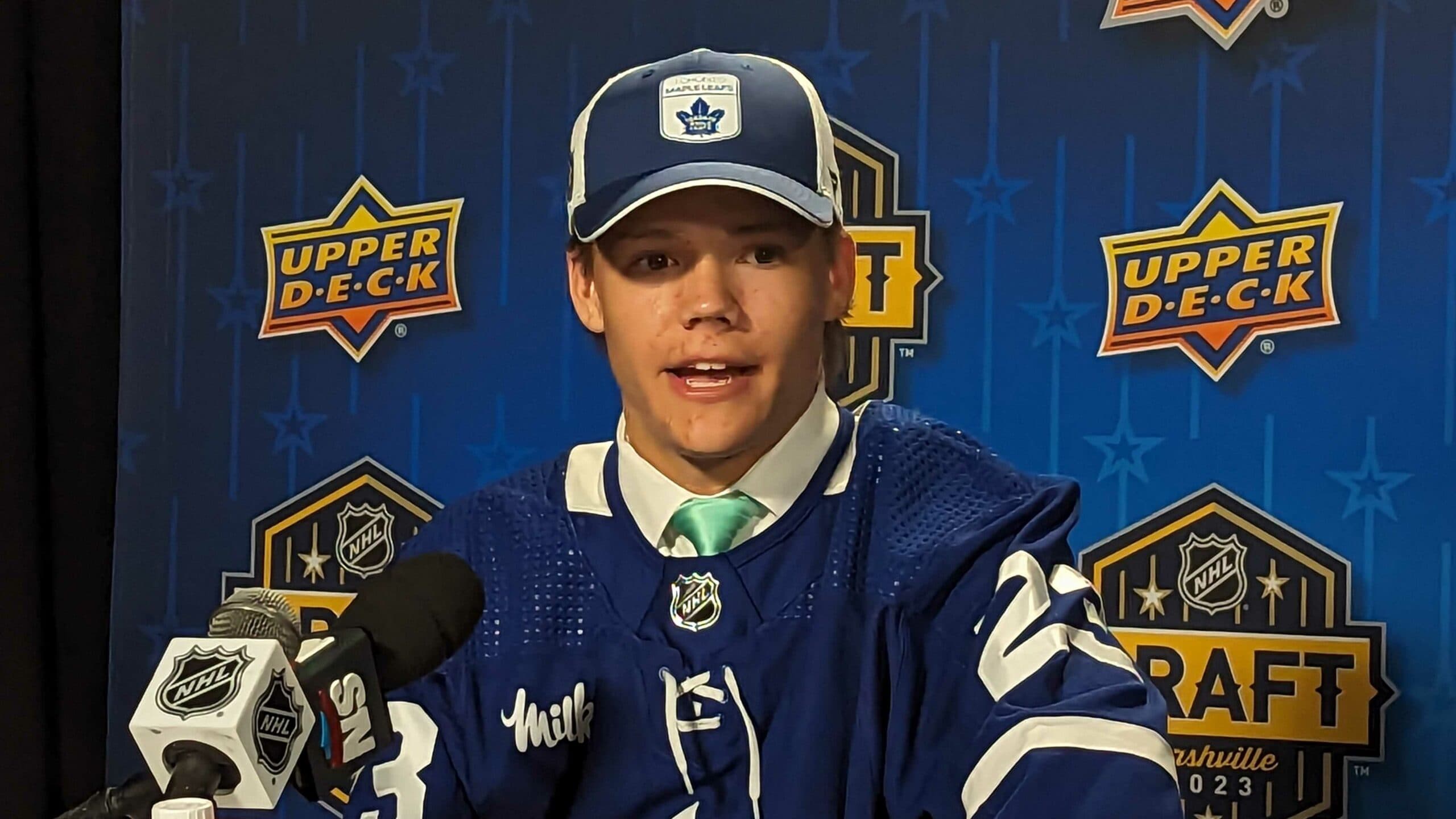 Photo credit:Steven Ellis
Wednesday was a busy day for new Leafs general manager Brad Treliving, first signing centers David Kämpf and Pontus Holmberg to contract extensions, before stepping up to the draft podium for the first time at the helm of the Leafs.
Treliving addressed the crowd in Nashville, cracking a quick joke about Wild GM Bill Guerin's open tab at a local establishment, and stepped aside for head scout Wes Clark to announce that the Leafs had selected London Knights forward Easton Cowan with the 28th overall pick. The pick was certainly off the board, and came as a shock with some of the names that were still available.
Cowan wasn't a common name in first-round discussions leading up to the draft but a late season surge that saw him tally nine goals and 12 assists in 20 playoff games led TSN analyst Craig Button to rank him 34th on his final list for the 2023 draft. Most other publications had him ranked significantly lower than that, however, raising concerns that the pick was a significant reach for the Leafs.
With reports that Treliving was working the phones in the lead up to the Leafs' selection, it is fair to assume that his scouting staff – comprised entirely of holdovers from the Kyle Dubas regime – felt they could nab Cowan a bit later but when nothing materialized on the trade front, they decided to stand pat and take the player they identified as their guy.
Just last year, the Leafs' selection of Fraser Minten at 38th overall was also considered to be something of a reach but he rewarded the organization's faith in him this past season, looking worthy of his draft slot while piling up 31 goals and 36 assists in 57 games with Kamloops. That is to say that a lot can change with these young players in a short period of time, and Cowan has plenty of runway to live up to the expectations that come along with being a first-round pick – albeit a late one.
So what are the Leafs getting in Easton Cowan?
A native of Mount Brydges, Ontario, Cowan is a competitive and intelligent two-way forward who makes up for his slight 5'10" frame with his work rate and processing speed. That work ethic was instilled at a young age, growing up and eventually working on his family's farm.
His regular season numbers (20 goals and 33 assists in 68 games) don't jump off the page but his play continued to improve as the season wore on, and he played a big role in the Knights' postseason success. He doesn't have blazing speed for a player his size but he covers a lot of ice, he is elusive in transition, and has a knack for finding soft spots in the offensive zone, anticipating and attacking with precision. Cowan reads the play well and uses his teammates effectively, both off the rush and on the cycle, dishing the puck before jumping back into open ice to spread the defense or create a shooting opportunity for himself.
Cowan developed some chemistry with fellow-draft eligible forward Denver Barkey over the course of the season, and it allowed his playmaking skills to shine through as he continued to elevate his play when the games got tighter. He disguises his intentions with head fakes and delays, quick weight shifts, and by altering the angle of his passes to find teammates in open space through traffic.
Despite his lack of size, Cowan has also earned a reputation as a tenacious, defensively responsible player whose motor never stops running. In fact, he told reporters after the draft that he has tried to model his game after former Leaf Nazem Kadri. He gets after it on the forecheck, tracks back effectively, stays above the puck, and pressures opposing puck carriers diligently to force turnovers and re-establish possession for his team. Simply put, the kid is a puck hound.
All of those skills are enticing enough in isolation but Cowan's hockey IQ and ability to layer those handling and passing skills on top of an energetic style of play makes for a intriguing combination that was too much for the Leafs' scouting staff to pass up, even if it led them to going a bit off the board.
Make no mistake, this pick will be heavily scrutinized in the coming years but Cowan has a lot of translatable tools in his game that should help keep him on an upward trajectory in his pursuit of becoming an NHLer. He isn't likely to ever develop into a legitimate top-six offensive driver, and he projects as more of a winger than a center at the pro level, but he is the type of player with the potential to anchor a third line and contribute on special teams while providing the versatility to slide up and down the lineup when needed.
The pick may have been a reach relative to public draft rankings but the Leafs obviously saw something in Cowan that made him worthy of the 28th overall pick in their estimation. Only time will tell if they were right.
(Statistics from EliteProspects.com)